This IRL Dating Experience Wants to Change the Way New Yorkers Find a Match
Hinge and Raya, who?
The Feels meetup

| Photo by Brae Lawren
The Feels meetup

| Photo by Brae Lawren
Dating isn't easy. Especially when the thought of telling yet another online someone what you do for work and what neighborhood you live in literally makes your brain hurt. Here's the thing though—dating doesn't have to be painful. Yes, it's always going to be a little (or a lot) scary putting yourself out there, but if you find yourself in a place where meaningful connection has somehow evaded you, it might be time to step outside the conventional dating app scene.
It was this train of thought that led Allie Hoffman to create her own approach to IRL dating experiences. After close to a decade working in digital media, Hoffman realized that her career choice was maybe not the right path.
"COVID felt for me, like the great revealer. It exposed all these lies in my life, and one of them was that I couldn't do what I was doing anymore. I shut down everything and I just got really quiet and still with myself. I realized that I'd been so married to this idea of myself as a successful NYC-based entrepreneur who crushed so hard, but that path had led me down all these roads that weren't really the truth," Hoffman reminisces.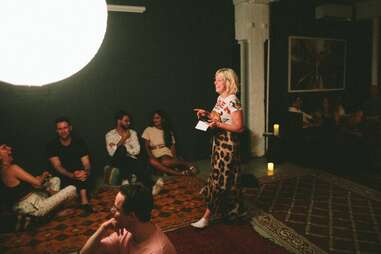 Out of this confusing time came clarity. "I got this hit. You're here to help other people be in their truth," recounts Hoffman. "At first, I thought that was the funniest thing I'd ever heard because I was like, 'Me guide others? Hilarious.' But I sat with it and sat with it. And then I started doing what felt really natural, which was bringing people together."
She started off by hosting dinner parties as part of her company, Equanimity Equation. Over the next two years, the dinners gained popularity and shifted into ticketed events with DJs and performers as added entertainment. But, as is habit for Hoffman, things were about to evolve dramatically once more.
"I realized that I actually didn't care about what flavor the cake was or what the table settings were like. It wasn't about the dinner party, it was about the connection created at the dinner party," says Hoffman. "I was about to turn 39 and super single and wanted to be around people who were thoughtfully approaching being single. At the same time, I was at Columbia [University] getting a masters in spiritual psychology and being exposed to Carl Jung, Joseph Campbell, Buddhist monks, and the somatic intelligence movement. They were teaching us how to more deeply connect to ourselves and other humans."
That was how The Feels was born. Now held on every third Wednesday of the month at The Knife Factory event venue in East Williamsburg, The Feels welcomes single-identifying participants and leads them through a series of somatic exercises designed to facilitate meaningful connection.
The night starts off with an introduction from Hoffman, which includes a rundown of the evening and words to qualm any anxieties. Following that, up to 75 participants gather in a circle and share their name and one word that describes how they are feeling in the moment. "This is a chance to kind of clock everybody and be like, 'I like her vibe. Oh, they seem cool,'" explains Hoffman. Next, everyone lays down for a five-minute body scan, which acts as a quiet moment of contemplation. Hoffman then pairs couples off to talk through prompts like "What's something you've learned about your sexuality in the last six months? How would you describe your current relationship to jealousy? Where are you currently finding the most joy?"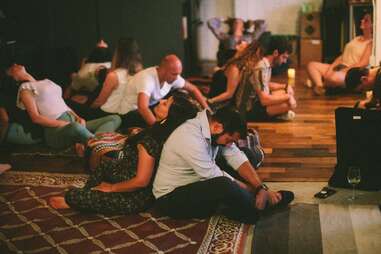 Now that the ice is broken, couples exchange compliments over something their partner shared before entering into an extended eye gaze or a back-to-back lean on one another. "What does it mean to feel another person quite literally having your back?" muses Hoffman. "What does it mean to be in contact like that? And then they put their hands on each other's hearts and breathe together in another round." The final exercise with your partner is a hug. "You're not just hugging, you're really in the experience of what it feels like to have somebody's arms holding you. What it feels like to have another heartbeat near yours." Attendees then repeat the process with three other participants, partake in a moving meditation, and close out with free time—all the while hoping someone's vibes match their own.
To clarify on the ambiance of the events, Hoffman says, "It's not sexual, it's not erotic. It's very much meant to be an opportunity to feel what's there to be felt. It's not about being attracted to or being attractive enough to somebody. It's really about showing up [and being] present."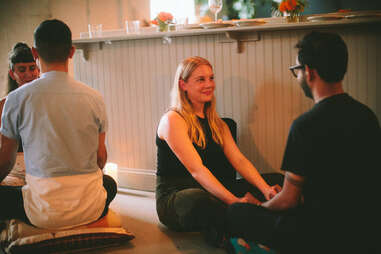 For New Yorkers that are open to exploring or identify as part of the polyamorous community, The Feels also offers an ENM (ethical non-monogamy) counterpart. Set up in the same format as the monogamous events, the meetups for those in the open community are held every last Wednesday of the month.
With the average participant age ranging from 32 to 38 (although events have previously included anywhere from 25 to 55 years old), the success of The Feels could be attributed to the kind of New Yorkers it attracts. "[The Feels] is designed for people who are at a place where they have found a lot of meaning already in their lives. At the last singles group there was everyone from a TV writer and a filmmaker to two therapists and a real estate investor, and so on," recounts Hoffman. "It's for people who are intentionally investing in their dating life."
If this whole concept leaves you feeling anxious or skeptical, don't stress. It's not an out-of-the-ordinary reaction. "I think people come in with hesitations and blocks because anytime you're doing inner work, there's a part of you that resists," Hoffman tells. "It's the hero's journey. Going through the discomfort, but coming out the other side, you realize you can do it. It's a big gift we give ourselves."
The journey to find love can be a lonely one sometimes, but thanks to New Yorkers like Allie Hoffman, we might just be that much closer to finding our special someone(s) to lean on.
Izzy Baskette is the New York City Staff Writer for Thrillist. Talk to her at izzy.baskette@voxmedia.com or find her on Instagram.