If you're a single woman living in New York City, then you are going to date a lot of people -- mostly the wrong people -- before you find "the one" or give up and move to San Francisco. But until then, these are the New York men you will most definitely pick up in the back of Niagara, date for five weeks, and later break up with when you realize living on the G and the E does not a future make.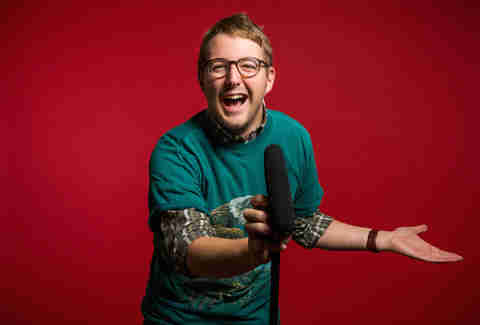 The Stand-Up Comic
Jim, 30
Neighborhood: West Village
He's been trying to make a go of it for the last 10 years playing consistent rotating gigs at The Grisly Pear or the Village Lantern. He doesn't actually live in the West Village, though. He lives in a grimy studio somewhere on Ave B and considers 2am on a Tuesday an early night.
Your first date: Drinks at one of the bars that he has regular gigs at (or at least has a good rapport with the bartenders at) so he gets drink hookups all night, because he actually cannot even afford the T-shirt he's wearing.
The inevitable breakup: Because you can only hear thinly veiled jokes about yourself told on stage to a room full of strangers so many times.
The New York Native
Jake, 29
Neighborhood: Upper West Side
He's one of those rare New Yorkers that is actually FROM the city. Like, his birth certificate says Mount Sinai St. Luke's and his high-school diploma says Dalton. For him life is just not worth living without the Yankees, Central Park, a front stoop, and 4am last calls.
Your first date: Being born-and-raised in NYC, he's going to want to impress you with something super cool and New York-y, like taking you to The Campbell Apartment followed by the whispering arch at Grand Central Station. (You knew about both of these things already but will act surprised anyway.)
The inevitable breakup: After 10 years in NYC, you're ready to try out a different city. Jake, however, thinks moving to Boerum Hill is far enough.
The Internet Guy Who Makes More Than He Should Because His Bosses Are Impressed by His Social Media Acumen
Will, 25
Neighborhood: Midtown East
He went to Cornell or Colgate or Michigan and moved to the city promptly thereafter and got a job because he knew how to pepper terms like "SEO" and "clicks" into conversations with his rapidly aging superiors. He wears a suit every day even though this is wildly unnecessary, and his paycheck is disproportionately high considering the amount of time he is actually doing work.
Your first date: Unreasonably expensive happy hour on a rooftop that his co-workers told him about, followed by an aggressive attempt to get you into bed on the first date.
The inevitable breakup: His overinflated ego is going to get old real fast. The real tipping point will be when you hear him heckling the meek office intern at the company kickball game.
The Finance Guy
Ben, 30
Neighborhood: Financial District
To this breed of Manhattan male, life is just not worth living if it isn't complete with boozy brunch, sushi at Morimoto, or the most EPIC NIGHTS EVER in the Meatpacking.
Your first date: Drinks on Stone St on one of the rare days he gets to leave work before 7pm. Or, if it's winter, drinks at the Living Room at the W Downtown.
The inevitable breakup: No amount of money earned is worth the sheer soul-deadening conversation about what he does on a day-to-day basis. Also, you never actually see him because he's always working.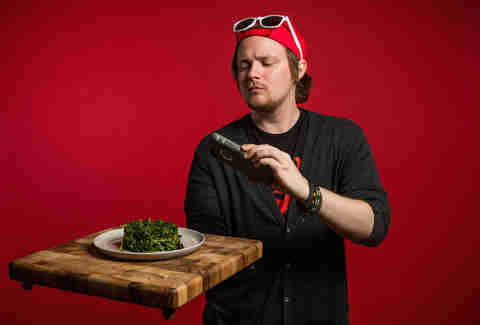 The Foodie
Chris, 29
Neighborhood: East Village
Always on the cutting edge of the newest restaurants and the weirdest cuisine, it's hard to say what will turn him on more: you in that dress during dinner... or just dinner itself.
Your first date: Dinner at the Brindle Room where you must try the duck poutine. Or taking the train out to Elmhurst for dinner at X Asian restaurant where you must try something that sounds disgusting but is actually delicious. Or dinner at this random taco truck underneath a deli on the Lower East Side where you must try the best taco you've ever had in your life.
The inevitable breakup: Sometimes you just want dollar pizza and to not feel badly about it.
The Suburbs Guy
John, 33
Neighborhood: Upper East Side
From Westchester, Connecticut, North Jersey, or Long Island, Suburbs Guy is just counting down the days until he can own a home on half an acre of perfectly manicured land with a dog and a car, and be exactly like his parents.
Your first date: Kayaking on the Hudson or taking Metro-North to look at some nature.
Your inevitable breakup: You would rather eat a dirty-water hot dog and pee in the public restrooms in Bryant Park, and then take an hour-long subway ride in the empty subway car than EVER move to the suburbs.
The Small-Batch, Reclaimed, Artisanal Guy
Aaron, 35
Neighborhood: Greenpoint
A graduate from Oberlin, Aaron doesn't believe in the world of Heinz, AMC Loews, or any meat that has not been cured nor served on a rustic slab of slate. He always uses a filter on Instagram (but will vehemently deny this) and he keeps a tube of Brylcreem in his medicine cabinet because it's what his grandfather used.
Your first date: Drinks at any bar that uses McClure's pickles in its cocktails, or perusing the Brooklyn Flea for toys from the 1930s, which will look amazing on his industrial-framed bookcase with the shelves made of reclaimed wood from a Southern moonshine distillery.
Your inevitable breakup: You will have had enough when he throws out the bottle of Hidden Valley ranch you bought to go on your iceberg lettuce salad and replaces it with sherry bourbon vinaigrette and kale.
The Superfan
Mike, 33
Neighborhood: Murray Hill
Fantasy football slowly rolls into fantasy basketball which finishes nicely with fantasy baseball. He has season tickets to the Giants, thinks the Mets are a waste of time, and only discovered Brooklyn once the Nets moved there. His entire wardrobe consists of jerseys and he alternates between his Giants beanie in the winter and his flat-brimmed Yankee cap in the summer.
Your first date: The only bars Mike knows are sports bars, so you're doing happy hour at Croxley Ales or Blondies on a night when the local sports teams are away and therefore not televised.
The inevitable breakup: There are only so many times someone can check their fantasy sports standings on their phone during dinner. That, or the horrifying rage blackout when the Yankees lose to the Red Sox is enough to make your vagina board itself up.
The Artsy Guy
David, 32
Neighborhood: Fort Greene
He's a writer or a photographer or a sculptor or a DP. He appreciates Akira Kurosawa and listens to bands like Local Natives or Sly and the Family Stone. He will certainly broaden your knowledge of music, books, and film, if he can take his nose out of the air long enough to actually look you in the eyes.
Your first date: A foreign film at the Angelika, or a tour of his favorite graffiti murals at the Bushwick Collective, or a sound/light immersion exhibition at Roulette in Downtown Brooklyn.
The inevitable breakup: After he shames you for owning all seven seasons of Gilmore Girls, you'll be happy to let this one go as you flip through the pages of Fifty Shades of Grey and turn up the volume of Mumford & Sons.
The Actor
Kyle, 28
Neighborhood: Hell's Kitchen
After graduating from Tisch at NYU, Kyle has been in a series of widely discredited Off-Broadway plays and a host of undergrad films. He still firmly believes that his big break is coming and will sometimes ask you to read lines with him as a kind of foreplay.
Your first date: Being a struggling actor, there's not much Kyle can afford. But you don't ask for much, so $2 PBRs at Welcome to the Johnson's suit you just fine. Kyle is also not above dollar pizza, so you already like him better than the foodie you dated last month.
The inevitable breakup: You finally get the chance to see him act in a new play, and you suddenly realize that you can't spend the next year of your life lying to him about how great of an actor he is.
The PR Guy
Jason, 29
Neighborhood: The Flatiron
With a string of high-end clients that include fancy alcohols, trendy NYC restaurants, and a couple of hotel groups, it's going to be a fun first few months being wined and dined by Jason. He's from Miami, so partying after hours is never a problem, and he's also entirely comfortable booking a last-minute plane ticket to somewhere warm once February rolls around.
Your first date: Guest lists don't scare Jason away, so you'll find yourself looking down over Manhattan from the lofty heights of the Boom Boom Room. You'll both order something highly potent and you'll be mesmerized by the city lights twinkling off the band of his Rolex.
The inevitable breakup: Your first time away together, you will see that his toiletry kit is heavier than yours and that he takes an even longer time to get ready than you do. Suddenly you're not quite so comfortable dating someone who is infinitely more high maintenance than you.
The Brooding Musician
Marco, 31
Neighborhood: Bed-Stuy
By day, he's a busboy at a brick-oven pizza restaurant, but after hours, he's cruising the live music venues for any other stragglers looking for someone to "jam" with. His responses to your texts are sporadic at best and he'll disappear for weeks at a time when he's found "his sound," or at least another person who will play with him.
Your first date: Food from a taco truck somewhere in Brooklyn, followed by too much liquor and sex on a rooftop.
Your inevitable breakup: That time you text him and he just never responds.
The Midwestern Guy
Kevin, 29
Neighborhood: Long Island City
He moved to the Big Apple from somewhere like St. Louis or Iowa or Kansas City. He wears plaid and work boots, not because they are in fashion but because that's how people dress out of necessity in his hometown. He does work like graphic design, which is what took him out of the Midwest, but he still loves getting back to nature, believes in solid family values, and holds doors open for you.
Your first date: You meet this one on OkCupid during that phase when you're really ready for a "relationship," and after determining you have good rapport in a few exchanged messages, you'll decide to meet up for drinks at your safety bar for some good conversation, with the possibility of dinner if it looks like it's going really well.
The inevitable breakup: All this chivalry makes you slightly uncomfortable because you're still not done chasing the 16 other douchebags on this list who will definitely not treat you as well as Kevin, but are probably better in bed.
The Foreign Guy
Nicolas, 32
Neighborhood: Williamsburg
Nicolas is here for two or three years for work from somewhere in Western Europe. He loves electronic music and all the daytime dance parties like Tiki Disco and Mr. Sunday. He speaks four languages, appreciates fine wine, and is looking to make the absolute most out of his time in NYC -- so he's up for literally anything.
Your first date: You'll meet for drinks at a bar and then do something spontaneous like get massages in Chinatown followed by late-night dim sum or fondue in the back room at Cafe Select. He'll invite you back to his place for a night cap and you'll end up naked.
The inevitable breakup: Yeah... he wasn't looking for anything serious. But six months later you might get a text at 3am.
The Holden Caulfield
Conor, 30
Neighborhood: Bushwick
Even though he comes from a privileged suburban upbringing, Conor feels that the world just doesn't understand him. He doesn't believe in possessions or commitment of any kind and periodically ghosts on you because he doesn't think anyone would miss him. When he does show up, you're attracted to his quick wit, sharp sense of humor, and the 72 books he keeps under his bed.
Your first date: You met him at the local dive bar where you both go to drink whiskey and sometimes fake-watch soccer. It wasn't supposed to be a date, but as the night went on and you kept conversing he started paying for your drinks and touching your arm and it sort of somehow became a date.
The inevitable breakup: That time he skips town and doesn't bother to say goodbye.
The Jersey Bro
Joe, 35
Neighborhood: Jersey City
Joe enjoys fantasy sports, Bruce Springsteen, bars in Murray Hill or Hoboken, and Sunday dinner back at his mom's place where he'll pick up his laundry and 35 containers of meatballs.
Your first date: An Italian restaurant somewhere along the PATH train because those are the only neighborhoods in NYC that he knows.
The inevitable breakup: See: Sunday dinner back at his mom's place where he'll pick up his laundry. You will keep the meatballs.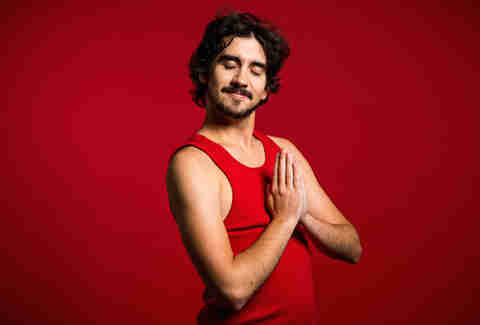 The Vegan Yoga Guy
Adam, 34
Neighborhood: Alphabet City
After spending some time in India, he has returned to NYC with a new zest for life and a whole mess of wooden bracelets on his wrists. He can't get his day going without his regular Vinyasa flow and his fridge is stocked with Daiya.
Your first date: Most likely a yoga class together at Yoga to the People. Or better yet, he'll encourage you to take one of the classes that he teaches so he can help "correct your form."
The inevitable breakup: You will get tired of hiding your shameless passion for bacon cheeseburgers, and you never really were that good at yoga in the first place.
Sign up here for our daily NYC email and be the first to get all the food/drink/fun New York has to offer.
Meagan Drillinger is a freelancer for Thrillist and has dated everyone on this list. Twice. Follow her on Twitter, Instagram, and Facebook at @drillinjourneys.