Two New Yorkers Argue the Most Important Debate In Manhattan: Uptown or Downtown
You haven't seen real pride until you witness Manhattanites defend their turf. And while East Side versus West Side is certainly a common debate, it'll never match the ferocity of Uptown vs. Downtown. To settle the dispute, we asked two local writers to duke it out over who has the better half of the island.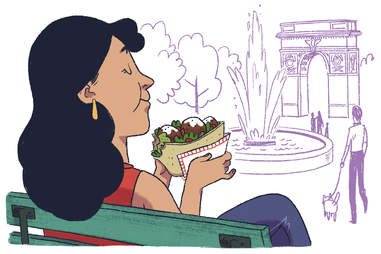 David Saracino/Thrillist
The Case for Downtown
By Marilyn La Jeunesse
Upper Manhattan has a reputation as an idyllic wonderland, with glittering window displays down Fifth Avenue and spacious apartments overlooking Central Park. But here's some bad news: this part of town is just the sleepy, dull upstairs neighbor of lower Manhattan.
The heart and soul of New York City lies below 14th Street. Down here, the city comes alive with the sound of bluegrass in Washington Square Park and performance art near the Brooklyn Bridge. It's undeniable that this area has an irresistible charm that can't be found elsewhere in the city.
From walking through movie sets to stumbling upon speakeasies hidden behind old bank doors, you never know what a day in lower Manhattan might bring. Lower Manhattan is the reason the Big Apple is known worldwide as the city that never sleeps -- and let's be honest, no one's staying up past midnight above 14th Street.
To those upper Manhattanites pining over the glamour of living above 57th Street, you can keep your tree-lined avenues and snoozing cultural institutions. Lower Manhattan, with its red brick tenements and aged fire escapes, is home to an ever-growing number of bars, restaurants, comedy cellars, art galleries, and music venues.
Speaking of music, some of the best bands from the '70s launched their careers in Lower Manhattan. Perhaps most famously, the Ramones had their debut performance at CBGB in the Bowery in 1974. This famed location also helped bring Blondie, Talking Heads, and Patti Smith to fame. Today, venues like Bowery Ballroom, Webster Hall, and Irving Plaza continue to encourage young artists to perform on their stages, keeping Lower Manhattan's edgy musical history alive.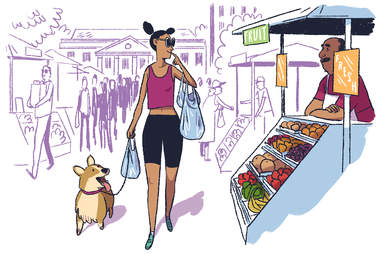 David Saracino/Thrillist
If you're just looking for a great drink without electric guitars, half of the 50 NYC Bars You Need To Drink In Before You Die are located downtown, including The Dead Rabbit and Attaboy. Meanwhile, Upper Manhattan barely made the list with just one bar featured. Take that as a testament to Lower Manhattan's superior nightlife, with unique spots like Back Room, a hidden bar that has been an active speakeasy since the '20s.
Of course, lower Manhattan is so much more than a popular nightlife destination. It's also the best interactive history book you could ask for. You can visit the spot where George Washington took his first Presidential oath or grab a beer at the Fraunces Tavern (a building that took cannonfire during the Revolutionary War), then top it all off by a ride to the top of the Western Hemisphere's tallest building.
Lower Manhattan is the New York you see in movies and on your favorite TV shows. This is the New York that convinces young artists and actors to give up everything and move into a tiny studio with three other people. This is the New York that makes you fall in love.
Upper Manhattan can keep the Guggenheim Museum and grandmothers dressed in vintage Chanel -- because it has absolutely nothing on downtown.
Advertisement
Courtesy of Amazon
Go inside both of New York's vastly different neighborhoods in the new Amazon Prime Original series, The Marvelous Mrs. Maisel. From the creator of Gilmore Girls, the series is about a fearless woman in 1950s Manhattan who goes from perfect housewife to stand-up comic after her life takes a sudden turn. Stream it starting November 29 on Prime Video.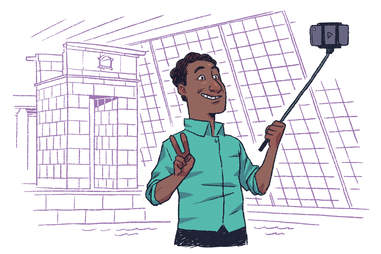 David Saracino/Thrillist
The Case for Uptown
By Sunny Montefiore
Remember that time you had to pay a lot of money to hang on a rooftop with a lot of tourists as bored bartenders doled out $16 drinks? How about that time you waited an hour for a rude host to seat you at a table barely big enough for your plate? Or the time you forked over $9 for a gluten-free, paleo, raw-whatever brownie that tasted like chalk? Welcome to downtown Manhattan!
But a few subway stops away from the hordes of tourists and stifling smells lies an urban shangri-la. Uptown NYC boasts diverse neighborhoods, restaurants, and the cultural institutions that make New York, well, New York. You can keep Gramercy and FiDi (and definitely Murray Hill) -- we'll take jogging around the reservoir or coffee-shop surfing on the upper west side any day of the week.
First, let's talk about parks. For argument's sake, if we define "uptown" as 57th street and above, we've got no shortage of veritable gems ranging from the wildly underrated Sutton Place Park to spots that need no introduction: Central Park, Morningside Park, and Riverside Park. And let us not forget Fort Tryon Park, home of the Met's medieval European outpost, the Met Cloisters.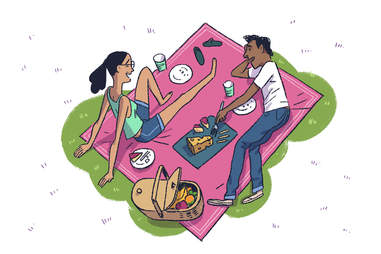 David Saracino/Thrillist
After all that park wandering, you're probably hungry. Picture this: it's a Tuesday evening and you and your three friends want to grab dinner and drinks in the West Village. Good luck getting a table, much less a barstool where you'll shoulder-joust with strangers on either side. In uptown NYC, you can waltz into practically any restaurant you want -- okay, not Per Se -- sans res on a Friday night, even if you're a party larger than two, and settle in for a good meal and no one rushing you out the door. On the off chance you have to wait a bit, warm, inviting spots like The Beach Cafe will keep you happy at the bar, sans cover charge and a wait in the bitter cold.
And for those of you shrieking, "but what about nightlife?" -- rest assured we have TAO (the original one), Osteria Cotta, Seamstress, and Flora Bar, among classics like Tavern on the Green and the Russian Tea Room.
As for the elephant in every east village room, let's talk about noise. Quiet is a good thing. Living on a cozy, tree-lined block is how non-New Yorkers define the American dream. Speaking from my second-floor apartment where (gasp!) I hear virtually no noise and see my tree's leaves turn a lovely burnt orange in the early morning autumn sun, I assure you, it is. Even better: I don't wake up to NYU students crying in despair on my stoop. Which leads me to my final point about uptown's superiority: Columbia over NYU, and you can't tell me anything different.