The 11 Most Fascinating Abandoned Places in New York State
From creepy to crumbling, explore these spots.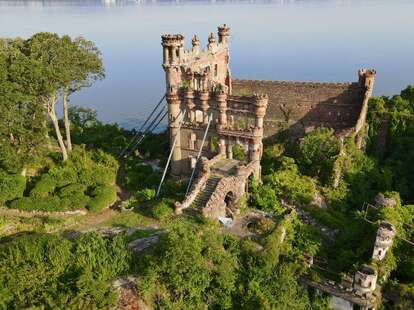 Bannerman Castle on Pollepel Island

| pilot_csg/Shutterstock
Bannerman Castle on Pollepel Island

| pilot_csg/Shutterstock
Whether it's to immerse yourself into a pre-Halloween mood or indulge in historical curiosities, New York State is home to plenty of deserted places that captivate with eccentric (and creepy) charm. From castles and psych wards to ghost towns and subway stations, even for the bravest of lone-adventurer types, we recommend bringing a friend when visiting these places.
As the weather crisps up for fall, here are the 11 most fascinating abandoned places in New York State to check out.
New York State Pavilion

| JaysonPhotography/Shutterstock
Constructed for the 1964-65 New York World's Fair (the largest ever hosted in the United States) by architect Philip Johnson, for decades, the grand structures of The New York State Pavilion have stood vacant. While the rest of the fair has slowly been demolished, the three concrete saucer-shaped observation towers and open-air arena—nicknamed "The Tent of Tomorrow"—have remained untouched. Plans are now in the works to renovate the site into a sustainable community hub (think eco-conscious suspended greenery and playgrounds), but before that, head over to glimpse this golden era of New York architecture and technology. For a complete historical rundown, tickets for a self guided audio tour are available online.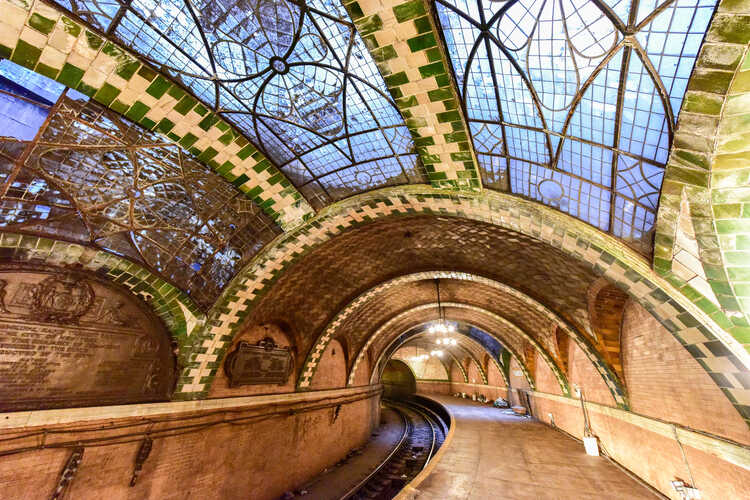 City Hall Subway Station

| Felix Lipov/Shutterstock
When NYC's subway system first opened in 1904, the City Hall stop was widely considered as the crème de la crème of stations. Designed with tiled arches and ornate skylights by engineer Rafael Guastavino, it was one of 28 existing stops that ran from City Hall to 145th Street. By 1945, updated subway cars could no longer fit on the rails, so it was ultimately shut down and a newer City Hall station for the R and W lines currently exists. Luckily for us, the former station is not completely lost. Ride through it in an original train car with a ticket from the New York Transit Museum to experience all of its vacated glory.
Paid For By

Secrets are great, when you're in on them. Luckily, it doesn't take an inside connection to get a great rate on insurance. State Farm® helps you keep more of your hard-earned dollars with surprisingly great rates. Getting the right coverage for your budget — with no secrets required — means more to spend on your preferred adventure. Like a good neighbor, State Farm is there.®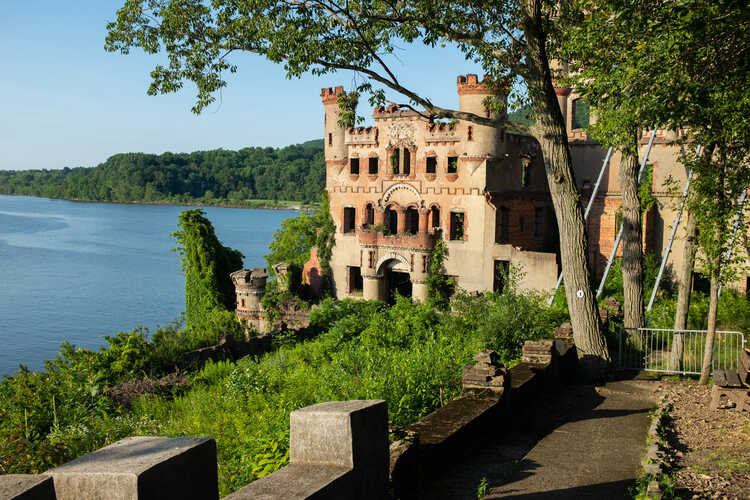 Bannerman Castle

| ALKALK/Shutterstock
Once the summer home and private arsenal of a Scottish munitions and army supply dealer, Bannerman Castle is now a crumbling ruin of a formerly robust, landmark New York business. Parts of the place unexpectedly exploded in the early 1920s, which seems like something that might happen when you house literally over a ton of shells and gunpowder in a building designed to look like a dreamy version of an old Scottish castle. These days, you can actually take a tour of the island, complete with a live band to serenade you, by boat or by kayaking up the Hudson. The space is even available for wedding rentals.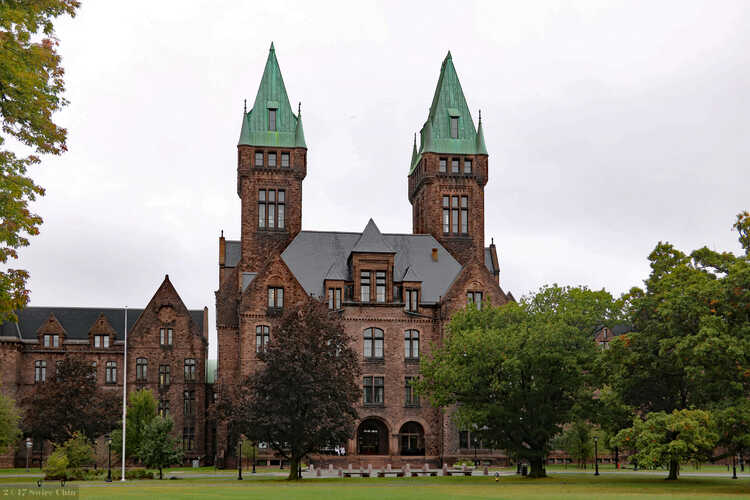 The Richardson Olmsted Campus

| Flickr/Can Pac Swire
Originally from 1880, this building was designed by one of America's greatest architects, Henry Hobson Richardson, and although it's been closed as a functioning hospital since the mid-1970s, the grounds are currently open for wandering (all legally!). Although the hospital—renamed The Richardson Olmsted Campus—was recently transformed into the hip Hotel Henry, unfortunately, the renovations were fruitless since the hotel has since shuttered because of the pandemic. However, guided tours of some of the remaining buildings are offered during the day. Reserve a ticket through The Richardson Olmsted Campus site.
This gigantic Yonkers power plant has been abandoned for years, and its bleak appearance and reputation have earned it the nickname "The Gates of Hell." The space has slowly begun a revitalization effort, with a plan for an art center, work space, and cafe—so get in while the post-apocalyptic glory-getting is good. If you ever want to stagger around pretending you're a zombie, this is the spot.
The centerpiece of a small women's college which closed in the 1970s, Halcyon Hall was once the pinnacle of Gilded Age refinement, but has been slowly declining into a more Miss Havisham type of appeal for the past 40 years. While the building has been scheduled for demolition for years, it currently still remains.
Kings Park is the abandoned mental hospital you see when you close your eyes and try to picture such a thing—it's kind of the Platonic ideal of a terrifying insane asylum. Closed in 1996, the whole thing was supposed to have been demolished, but only a few buildings have actually been torn down. Channel your inner ghost hunter and seek out the forces from beyond the grave.
Letchworth was originally intended as a kinder variant on the mental asylum, but the practices that went down here make Nurse Ratched look like Mary Poppins. After a lack of funding, the buildings shuttered in the mid-'90s, and today, the sprawling grounds are ripe for exploration. In case you need additional nightmare fodder, there's an attendant cemetery full of unmarked graves.
This massive Catskills ski resort once offered 400 rooms, an ice-skating rink, an indoor pool, and about a bajillion other amenities. Several of these have now been demolished, but large chunks of the buildings still stand, where you can scope out remains of peeling vintage wallpaper, old-school chandeliers, and loads of graffiti.
It's a whole ghost town, like in old Westerns, but in the Adirondacks! Only a handful of the original turn-of-the-century coal miners' homes remain, but the wooded area makes for a beautiful hike. Take the short trail to the elevated platforms for aerial views of what's left of this twice-deserted mining town.