NYC's Most Unbelievable-Looking Airbnbs Put Your Apartment to Shame
It's not uncommon to pay an arm and a leg for a room the size of a bed in this city -- spacious real estate isn't easy to come by -- but what if you only had to commit to a night or two instead of a year-long lease signed in your own blood? We scoured hundreds of Airbnb listings to bring you the sexiest, swankiest, most unbelievable listings that are ready for booking, whether you're putting up some friends for the weekend or simply escaping your six roommates. (Note: Prices may fluctuate based on seasonality/demand.)
Airbnb
SoHo
Price: $837/night
Bedrooms/bath: 2/2
Retreat from the throngs of Midwestern tourists shuffling down Broadway post-Lombardi's in this luxurious open Crosby St loft with exposed brick and high ceilings. The decor is sleek and modern, with a marble kitchen, porcelain basin bathtub, and a steam room inside the shower. Leave your shitty drugstore shampoo at home, because they're also offering unlimited Kiehl's products (just think of all the amino acid shampoo!!). This tech-heavy loft also features a TV built into a wall (complete with a fireplace setting, naturally) and giant projector for home-theater vibes.
airbnb
Chelsea
Price: $570/night
Bedrooms/bath: 2/1
Remember how every time Serena van der Woodsen got into her damn elevator it would open up straight into her apartment (because communal hallways are for peasants)? Of course you do. And you can make it a reality for yourself in this 2,000sqft Chelsea loft space that's straight out of an Anthropologie catalog, with a greenhouse's worth of plants, plentiful throw pillows, and rugs in mismatched patterns. The location is nothing if not convenient, located right near Penn Station and just a ten minute walk to Times Square if, you know, you're into going there. Or you could just grab some food from Eataly and take it up to the High Line instead.
airbnb
NoHo
Price: $650/night
Bedrooms/bath: 2/2
Allow all your exposed brick dreams to come true in this modern, spacious apartment in one of New York's most landmarked neighborhoods. You can invite up to eight people to come stay with you and take advantage of the full kitchen, living area, and dining space illuminated by a large, beautiful skylight. Best of all, you'll have access to a rooftop that doesn't involve climbing out onto your fire escape while hoping the neighbors don't see you outside their window.
airbnb
Columbus Circle
Price: $780/night
Bedrooms/bath: 2/2
Who hasn't dreamed of living in a hotel? Realize your fantasy in this unbelievably luxurious rental within the prestigious Essex House (you know, that one with the rooftop sign). You'll get five-star hotel treatment with a concierge, fitness center, restaurant, and room service. Every room has a panoramic view of Central Park, so you can enjoy New York's nature from 27 floors up. The space is large and recommended for families, but we think a group of friends works just fine as well. 
airbnb
Long Island City
Price: $599/night
Bedrooms/bath: 2/2
This wrap-around apartment in LIC offers an insane panoramic view of NYC from the 39th floor. It makes for the perfect city retreat, as you're just one subway stop from Manhattan and have access to all the amenities of a building that isn't, well, your friend's East Village pre-war era 5th floor walkup. Plus you're conveniently located in an excellent neighborhood for eating and drinking. If you feel like staying in, there's also a full gym, pool, game room, parking garage, and outdoor space equipped with a grill and yard games.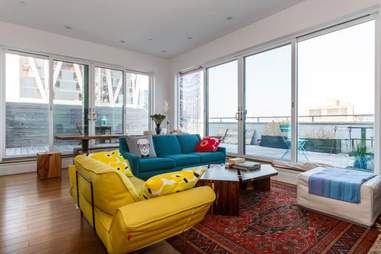 airbnb
Williamsburg
Price: $600/night
Bedrooms/bath: 2/1
Let's face it: we can't all afford the monthly rent for real estate off the Bedford stop in addition to a crippling pressed juice habit and the need for DIY bike parts. But why not pretend you can by booking a stay with a couple friends at this 2500sqft duplex loft right by the Wythe Hotel? In addition to lots of artwork, statement furniture, and a wealth of wood accents, this space has TWO enormous terraces from which to take in the Manhattan skyline.
airbnb
East Village
Price: $446/night
Bedrooms/bath: 3/1
No place in this sprawling, concrete, garbage-y metropolis can get any more quaint than this rustic little rooftop cottage. Owned by an interior designer, the space demonstrates incredible attention to artistic detail, and the two and a half floors feature windows on all sides, so you can see out into the city from what is probably its coziest perch. If you (or your dog -- pets are allowed!) need some space to stretch your legs, there's an 800sqft roof-deck that includes an elevated tiled balcony looking out over Avenue A. The cottage has a bit of ramshackle charm, but that may be just what you're looking for in an otherwise bustling area. And since it's at the junction of Alphabet City, the East Village, and the Lower East Side, there's no shortage of activity around you, should the relaxation become to much. Also, the deck alone is larger than most East Village apartments. Let that sink in.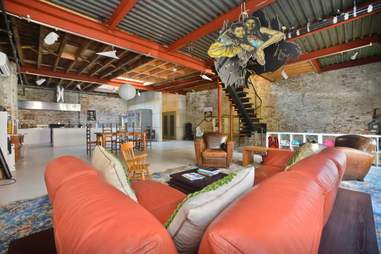 airbnb
Red Hook
Price: $1,000/night
Bedrooms/bath: 2/2
Red Hook may still be coming back from the devastation of Hurricane Sandy, but that doesn't mean it's not alive and kicking in every capacity it can. This DIY-spirited community is home to a slew of great bars and restaurants like Red Hook Lobster Pound, Brooklyn Crab, and Sunny's, plus Raaka Chocolate. Book a stay in this cool neighborhood and do yourself one better by making your rented pad an architect's house. That's right, this two-story, 2,500sqft converted warehouse has an open floor plan and is meticulously designed by a professional. The high ceilings and exposed brick walls give the space an artsy vibe and the leather furniture and wall hangings keep things homey.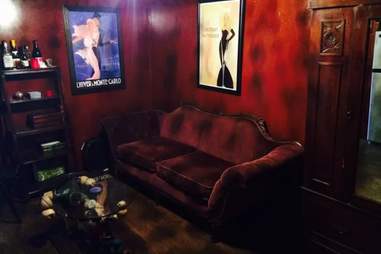 airbnb
Long Island City
Price: $189/night
Bedrooms/bath: 2/1
You can make a reservation to enter a phone booth through a hot dog joint for a New York speakeasy experience, but why would you when you can have your own speakeasy inside an Airbnb rental? In addition to two bedrooms, a kitchenette, and a full bathroom, this apartment has a hidden (and completely stocked!) bar where jazz music plays and Prohibition's a thing of the past. Relax on the red velvet couches and indulge in cocktail hour before traveling just two subway stops into the city. Or just pour another.
Sign up here for our daily NYC email and be the first to get all the food/drink/fun New York has to offer.
Sarah Anderson is the senior production assistant at Thrillist and, after writing this story, is thinking about booking a stay in her own city. See which rental she lands on at @smileforsarah and @sarah_jfa.