New York has been a state for more than 225 years, which means the oldest stuff in her is, in a lot of instances, really damn old. Here are some of the coolest examples of it, stuff that has survived wars, Prohibition, the Depression, and just the general inconsideration of fellow New Yorkers.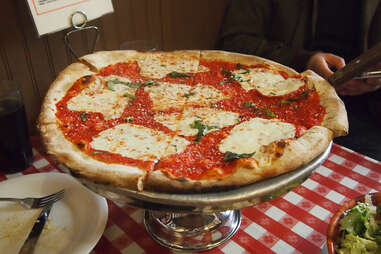 New York City
Age: 110 years old
Since it's the oldest in the US, it's obviously the oldest in... NY State, too! Whoa! Even crazier though: it's still some of the best damn pizza you'll ever have in your life, the kind of best where once you move into an apartment outside of the delivery zone you're going to consider moving back. Today it's twice the size of the original location, but it still only takes cash.

Oldest living woman: Susannah Mushatt Jones
Brooklyn
Age: 116 years old
Brooklyn's Susannah Mushatt Jones wasn't hard to find because, at 116 years ­young, she's not only the oldest woman in New York, she's holding it down as the oldest woman in the world. G​uinness certified her earlier this year.​ What's her secret? Sleep. Further proof that napping is a totally necessary for survival.
Oldest park: Niagara Falls State Park
Niagara Falls
Age: 130 years old
This is another one of those oldest in New York State AND America things (not that we're bragging or anything). Niagara Falls is actually more than 12,000 years old, but it didn't become part of an official state park until 1885. The cause was championed by environmentalists who saw nature's eminent destruction by the greedy robber barons,­­ err, um, industrialists­­ who wanted to harness the waterfall's hydroelectric power to run their factories. All the people who honeymoon there today should make sure to say a quiet "thank you" to them for all that preserve-y work.
Rochester
Age: 137 years old
It's changed hands and names a few times since it opened, and Prohibition may have halted operations for a bit, but the owner kept busy during that time by building up a baking business, which he sold as soon as Prohibition ended and re­-opened Genesee. Today it's got a variety of brews and enough space for you to have dinner or your wedding there.
Oldest covered bridge: Hyde Hall covered bridge
Glimmerglass State Park, East Springfield
Age: 190 years old
Covered bridges were apparently once a big thing and Hyde Hall's bridge was one of the originals. It's the oldest one still standing in the US (here we go again), and while you can still drive over it, don't go all Adam & Barbara Maitland on this thing and run your car ​through​ it. It's one of only 1,600 left. And yeah, that might sound like a lot until they all start to disappear and don't get rebuilt. How are they going to remake Beetlejuice without one?
Washingtonville
Age: 176 years­ old
Brotherhood Winery claims to be America's oldest winery, having managed to stay alive during Prohibition because it sold sacramental wine­ (thank God for loopholes!). Today you can take a tour of the old cellars and sample the award-winning wines on a trip up to the Hudson Valley, where you can visit other younger, less-impressive wineries, too.

Oldest prison: Auburn Correctional Facility
Auburn
Age: 199 years old
Auburn was the second correctional facility built in New York, but it's the oldest one still standing. Since it opened its creepy doors some Shawshank-­level shit has gone down behind those walls, plus it's also somewhat of a trendsetter in the incarceration industry: the very first electric chair execution took place at Auburn in 1890. The prison also became well­ known for its disciplinary system which included corporal punishment (an early form of waterboarding it called "shower baths") and putting its inmates to work to make money for the state --­­ those license plates have to be made somewhere! The "Auburn System" became a thing copied by prisons across the country. It made history again recently because it was the site of the N​ew York prison system's first same-­sex marriage​ when a former inmate married a current inmate.
New York City
Age: 214 years old
True story: The Post can actually claim it's better than The Times at something: being old af. It's not quite the oldest paper in America, but it is the oldest one to publish d​aily​ since being founded by Alexander Hamilton and some investors who wanted a sounding board for their political contempt. Things aren't much different today with the right-­leaning paper going to town in this Democratic city, in this Democratic state, under a Democratic president. It's one of the most widely circulated papers in the US probably not because of its journalistic integrity, but because of its flashy, make-­you-­do-­a-­spit-­take headlines like the famous "Headless Body in a Topless Bar." If you're into that stuff ThePost's staff created a whole book of the paper's best front pages because, as they say, "there's nothing like a New York Post headline."
Oldest lighthouse: Montauk Point Lighthouse
Montauk, Long Island
Age: 219 years­ old
"Can't wait to get to Montauk to go to that awesome lighthouse museum," said no Hamptons vacationer ever. And if you don't like it, don't worry, because it might not be there forever. When it was built back in in 1796 they put it 300 miles from the shoreline, but the Atlantic Ocean has eroded about a foot of land every year for the past 200 years and now preservationists are trying to keep it from eventually getting washed away. With modern-day technology, I don't know how useful this thing is for the maritime industry, but it makes a great backdrop for wedding photos.
Oldest college: Columbia University
New York City
Age: 231 years­ old
Because people with a degree from this Ivy League school don't have enough to brag about... "Columbia" technically only dates back to 1784, even though it was originally chartered as King's College 30 years before that and was located Downtown on Park Pl. Now it has campuses all over the state of New York and one in Paris. I don't know how hard it was to enroll back in the King's day, but now you only have a 7% shot of getting accepted.
Rhinebeck
Age: 249 years old
The Beekman Arms prides itself on being the oldest continually operated inn in America, never having closed its doors, not even when the Continental Army was drilling on its front lawn, or when the state capital of Kingston was burning across the river. It even likes to say that the beef between Alexander Hamilton and Aaron Burr started as a disagreement in one of the Beekman rooms. It's since expanded to become the Beekman Arms and Delamater Inn where you can rent a room while exploring all the Hudson Valley has to offer/just the wineries.
Oldest church: Old Dutch Church
Sleepy Hollow
Age: 330 years old
Putting aside the whole "oldest in NY State" thing, this church is a legend in its own right. It was the setting for Washington Irving's "Legend of Sleepy Hollow," plus it also housed General George Washington and some members of the Continental Army for one night during the American Revolution so they could rest up and then go kick some British ass (spoiler alert: they totally did). It's still a functioning church today where you can go sit in on a sermon or take a tour of the place if being preached to isn't your thing.
Tappan
Age: 347 years old
It was once Mabie's Tavern and it actually predated the country. General George Washington threw back his beers at the end of his long British fighting days at the very bar that is still in Old '76 today. It also doubled as a prison for one Revolutionary War spy, Major John Andre, who was kept there until he could be tried and executed. They can't house prisoners there anymore, though. It would totally interfere with brunch service.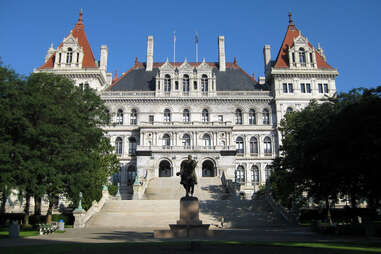 Oldest town: Albany
Albany, duh
Age: 401 years ­old
According to legend, the Dutch sponsored Henry Hudson to find a waterway to China, but he stumbled upon the Albany ­area en route and colonized while he was at it. The Dutch built Fort Nassau in 1614 and, boom: settlement. It's one of the oldest in America (here we go bragging again) and has other claims like "oldest continuously chartered city in the US," possibly the "longest-running municipal government in the Western Hemisphere," blah blah blah. We get it. It's OLD. Today it's not as badass anymore. Only about 100,000 people live there and the town is mostly made up of college kids and government people. They kind of cancel each other out in terms of "fun."

Oldest tree:​ A​lley Pond Giant
Alley Pond Park, Queens
Age: 350-450 years old
It was here before all of us and the Alley Pond Giant (aka the Queens Giant) will probably outlive us, too. Even if it is 450 years ­old like some people think, it may still have another 150 years left in it because that's how long tulip trees can live. It's hard to believe this thing was here even before the settlers came because anyone who has lived in New York City long enough knows we can't have nice things. At least not for long. Real tree­-hugging historians have been harping on the city for neglecting the Giant, but if it lasted this long without anyone helping it out then maybe we should just do it a solid and keep ignoring it.
Sign up here for our daily NYC email and be the first to get all the food/drink/fun New York has to offer.
Mara Montalbano is a contributor to Thrillist and does believe there's nothing like a New York Post headline or a pie at Lombardi's. Follow her: @MaraMontalbano.