Welcome to What I Miss Most, a recurring column in which writers wax poetic about the things from home that they found themselves yearning for upon moving to NYC (or the things from NYC they craved upon moving away from it). For an archive of previous What I Miss Most columns, click here.
Here are the things that New Yorkers know about Philadelphia. That at an Eagles game in 1968, a group of rowdy fans pelted Santa Claus with snowballs. Then later that decade, Phillies loyalists threw fruit, garbage, and batteries at first baseman Dick Allen, a player on their own team. That there are 99 miles between the cities, and more cheesesteaks there than here. That something-something Charlie Kelly Dayman in west Philadelphia born and raised something-something, et cetera.
That about covers it, depending on who you ask. During my decade living in the Empire State, I've found that most New Yorkers see Philadelphia as a provincial city, a cesspool of carrot shavings and old rubber shoes, a mysterious land of hedonism and bad choices. There's truth to the lore, but it's reductive. The entire city didn't inflict violence on that self-propelled robot, after all. And similarly, there's much more to Philly than what New Yorkers deign to acknowledge.
For example, the southeastern city does have have one thing that Gotham will never have. In New York, you can go months, years, or, god forbid, forever without ever hearing the heartwarming, human cadence of a true Phil'elfia accent. The sound of a Philadelphian speaking is a siren song to an expat, and it's a damn shame that in a city as great and bubbling as New York, the chances to hear the real deal are few and far between.
Youze guys in NYC don't know what yer missing.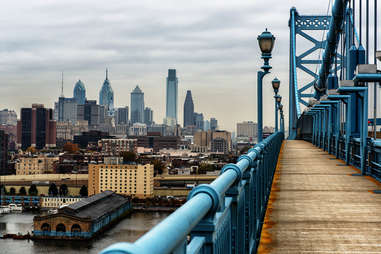 After a childhood spent in the suburbs of the City of Brotherly Love, the purity of my own accent has been largely watered down. When I arrived in New York, I self-consciously switched from wooder to "water," and I no longer say jawn or hoagie. When someone is giving me lip, I may take issue with their attitude, but never with their add-ee-tood. Not anymore. I'm an expert in non-regional dialect, as vocally aware as a TV broadcaster on their first time at the rodeo.

Hearing the accent heals the homesickness I didn't know I had.
As I left my own accent behind, though, I started listening for it more in others. In 2012, I saw the David O. Russell film Silver Linings Playbook in theaters. While critics insisted that Bradley Cooper was proving his reach as an actor by playing wack-a-jack Pat Solitano, I came out of it feeling betrayed.
The actor -- a real Philly boy -- still had the accent in him when he was asked to play the role, but it hardly came through in his lines. Considering the story was basically just an extended love letter to Philly's suburbs and the Eagles-obsessed fans who live there, Bradley's light-touch accent wasn't convincing enough for me. Where were his roots?
I ranted quite a bit after seeing Playbook, and ranted even more at the end of American Hustle (in which he basically did it again). I missed the Philly accent terribly, and felt as though Cooper had robbed me of the rush of intoxicating endorphins it provokes when done right.
Wit-out a properly performed version of the accent on TV every naow and then, I feared I'd forget its beauty forever. I may have forfeited my own Philly accent, but it's occasional and limited appearances in pop culture keep me close to home -- that one thread that we all need to tie us to where we came from.
I was in Bed-Stuy when I learned that Nick Kroll could perform a perfect Philly accent, but the dirty intonations of "haume" and "g'head" transported me back to PA, fresh out of a Wawa, driving down the Schuylkill. I felt the same deep pride and delight when Mark Wahlberg chanted "Go Eagles" in front of the pope, and Wahlberg isn't even from Philly. I feel it anytime even a few syllables of the grimy accent pass through Chris Christie's lips. I would do anything to catch post-game interviews with rabid South Philly Eagles fans, their tipsy slurring adding a certain something to the boisterous "Go Iggles" chants.
Snippets of the Philly accent are rewarding little tokens that alleviate the homesickness I didn't even know I had.
So therapeutic is the accent, in fact, that I recently forgave ol' "Lies Behind Blue Eyes" Bradley Cooper. Cooper has settled into his role as Philadelphia's best-looking son, and in several promo videos for this and last year's Eagles season, the actor redeemed himself from his former silver-lined embarrassment. "This is moawr than a faa-mly," he intoned, laying the accent on thick as sweeping panoramas of Philadelphia played across a screen. "This is oauwr faa-mly."
OK, Brad. I hear you. Don't let me down again.
I love New York for the 25-cent, hard-as-bricks Now and Laters you can buy at its bodegas, and the carbon-copy banana nut muffins that are invariably sold at whichever coffee shop you happen to be in. I am a fan of its "art." I hope I'm laid to rest in the waters at Rockaway Beach, because nothing is more awe-inspiring to me than a seaside arrived at by subway. I am not "too proud" to admit any of these things, because we all know that New York is, without question, a Great City.

If you ask for a jawn, I'll go through hell or high wooder to give it to you.
I've lived in New York long enough to be a convert, and the truth is, I don't get home now as much as I used to. But when I do take the two-hour trip south and my grandmom asks me to get her a bair (beer), or friends visiting from Philly ask if we can get New York "beggles" (bagels), the melody hits me like an icy snowball to the back of the neck. Oh you sweetly hideous accent, you remind me of simpler times. Go Phillies, and may Harry Kalas rest in peace.
The sound of where we come from is as potent as the smells, the sights, or the embrace of that place. I think it's because the auditory sense so often takes us by surprise. There's a tribal instinct that gets sparked when our local parlance is used within earshot, and whether it's the accent a person uses or a casually slung piece of slang, it can stir a reflexive, near-Pavlovian reaction.
If someone within a 100-yard radius were to ask me to pass them that jawn, I'd go through hell or high wooder to give it to them. As a New Yorker with a Philadelphian background, there is almost nothing that makes me more homesick. Well, except maybe the taste of a good soff pressel.
In New York, a thousand repetitive sounds and earworms are buzzing every moment of the day. It's numbing. You absorb everything and process nothing.
In that din, I can still sense the presence of a Philadelphian. The accent rings out to me as clear and pure as a bell. I want to bask in the nutting'-ness all day. When I hair that Philly melody, I follow it like a daydream, and it takes me back home in my mind. What a bee-you-tee-full place it is to be.
Sign up here for our daily NYC email and be the first to get all the food/drink/fun New York has to offer.
Dayna Evans is a writer for The Cut at New York magazine. She lives & works in NYC.