We get the sense that when the phrase "'Tis the Season" was coined, no one had department store fist fights and schlepping through the cold with 1,500 shopping bags in mind. That's why we built our Holiday Hideaway in Nolita. What is it? Hunger-crushing brunch recipes (waffle breakfast sandwiches!), nightcap concoctions, hot shaves, and way more. And if you didn't happen to be in NY to join us, here's a rundown of those food- and drink-stuffs, plus some before-and-after mugs from the shave station.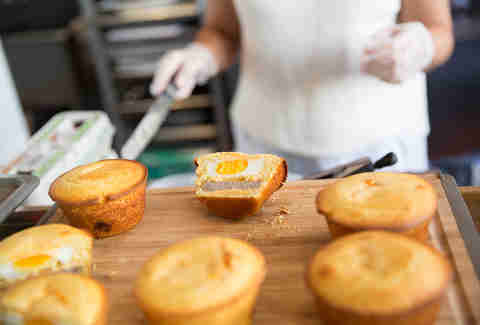 There were brunch recipes for the ages
At this event, in between killing each other in Mortal Kombat on a big-screen projector, we were absolutely crushing custom Thrillist recipes (after seeing them demoed by our very own Recipes editor). These little morsels are corn muffins with sausage, egg, and cheese inside of them.
Corn Muffin Breakfast Sandwiches
Ingredients:
Cooking spray
6 eggs
6 pre-cooked pork breakfast sausage patties
1 cup cornmeal
1 cup all-purpose flour
1/3 cup white sugar
2 teaspoons baking powder
1/2 teaspoon salt
1 beaten egg
1/4 cup canola oil
1 cup milk
6 slices American cheese, quartered into 4 squares
Directions:
Preheat oven to 300°F. Spray 6 molds of a standard size muffin tin with cooking spray and crack one egg in each mold. Fill the empty molds halfway with water. Bake for 20 minutes.
Brown sausage patties according to package instructions.
Remove eggs from oven and increase temperature to 400°F. Grease a jumbo muffin tin.
In a large bowl, mix together cornmeal, flour, sugar, baking powder, and salt. Add beaten egg, oil, and milk; stir gently to combine. Divide half the batter evenly among muffins molds.
In each muffin mold, place 2 quarter-slices of cheese over the batter, top with sausage, 1 more quarter-slice of cheese, baked egg, and 1 more quarter-slice of cheese. Fill to the top with remaining batter. Bake until muffins are puffed and begin to brown, about 20 minutes.
Breakfast Sandwich Waffles Recipe

And for a maple-soaked version of those muffins up there, check these waffle-wiches.

Ingredients:

2 cups Bisquick mix
1 ⅓ cups milk
5 eggs
2 tablespoons vegetable oil
1 pound cooked and crumbled breakfast sausage
1 cup shredded cheddar
Maple syrup, for serving
Bacon, for garnish (optional)

Directions:

Heat waffle iron; grease with vegetable oil or shortening.
Stir Bisquick, milk, 1 egg, and oil until blended. Pour ¼ cup batter onto hot waffle iron. Top with a handful of sausage and cheese. Crack an egg right over the center and top with another ¼ cup batter.
Close the lid and cook until it stops steaming, about 5 minutes.
Remove waffle to a wire rack while you make the rest.
Serve warm with maple syrup and crumbled bacon on top. 

Rebecca Sahn

Jameson was there for some cocktail creation

Drink demonstrations at events are always kind of tough -- because watching a step-by-step of a drink doesn't necessarily mean you know how to do it yourself. At Holiday Hideaway, we invited a seasoned, NY-based cocktail expert to set up a little DIY station and walk would-be home mixologists through two Jameson cocktails. Check out the ingredients to make them yourself below:

The Old Fashioned

Jameson Black Barrel
Benedictine Liqueur
Angostura Bitters
Orange Bitters
Orange Peel


Whiskey Buck

Jameson Black Barrel
Lime Juice
Ginger Syrup
Angostura Bitters

Rebecca Sahn

There were Modelo Micheladas for a little spice

If whiskey isn't your thing (we'll forgive you eventually), then check out the Michelada recipe that Hideaway guests were sipping all weekend.

Modelo Especial
Lime Juice
Maggi Jugo
Worcestershire Sauce
Salsa Picante

Rebecca Sahn

There were the hottest of shaves

Nothing says Christmas morning quite like shaving. No, really. After running through a quick master class with local high-end barbers (shout out to Steve!), we learned just how awesome it feels to shed your face of fur and look like an actual human in time for all those holiday parties you're definitely going to. Check out the before and afters below to see just what a straight razor can do, whether it's on virtually non-existent stubble or a giant yeti beard. Better to save the ugly sweaters for your torso.

Anthony Humphreys

Anthony Humphreys

Anthony Humphreys

Anthony Humphreys

Anthony Humphreys

Anthony Humphreys

Anthony Humphreys

Anthony Humphreys