Signing up to live with a total stranger is always a roll of the Crazy Dice, but it's one that many New Yorkers end up facing at some point. If you're any combination of young, broke, and dealing with a breakup -- or if you simply don't make literally 40 times your goddamn rent -- chances are you'll be trolling the questionable troves of Craigslist.
Occasionally you luck out and get to live with totally normal people, but far too frequently, you end up living with somebody who appears perfectly pleasant in an ad, but ends up being a completely unstable nightmare in real life. So we checked out the absolute weirdest Craigslist ads that were posted over the course of the past month, to give you reason to count your roommate blessings.
Good shit room baby
Just in case you thought all the total creepsters on Craigslist were male, please meet Ann, aka Madame Good Shit Room, who is only interested in living with men, and who wants you to give her either $700 or $1,200, who knows which, a month.
This has to be a cult, right?
Look, this person sounds largely like a live-and-let-live hippie, which is fine if that's your sort of thing, but their crazy starts to really show when they announce that they are trying to start a new faith in your living room. Unless you're deeply into Kool-Aid and matching tracksuits, run away.
Looking for a female that needs help
Arguably, the worst part of this deeply creepy ad is that the poster is really desperate to sound like he's a totally good guy who just wants to help someone out. He even explicitly states that he's going to be respectful of the poor, unfortunate soul he traps in his apartment. But when he notes that the space is intended for "a Female (sic) that that (sic) is in need of help" and follows this up with the ominous phrase, "We can discuss everything else as needed," you know exactly what kind of horrifying transactions will be expected from you in exchange for that $100-a-month rent.  
Come live in this toilet
This guy decided to include two photos of the toilet, both with the seat up. Because nothing says "pay $1,500 a month to live with two other dudes in a fifth-floor walk-up" like two pictures of an open toilet. Guy, we know there's a place to pee. If that's the biggest selling point in the apartment, you are in trouble, especially for the price.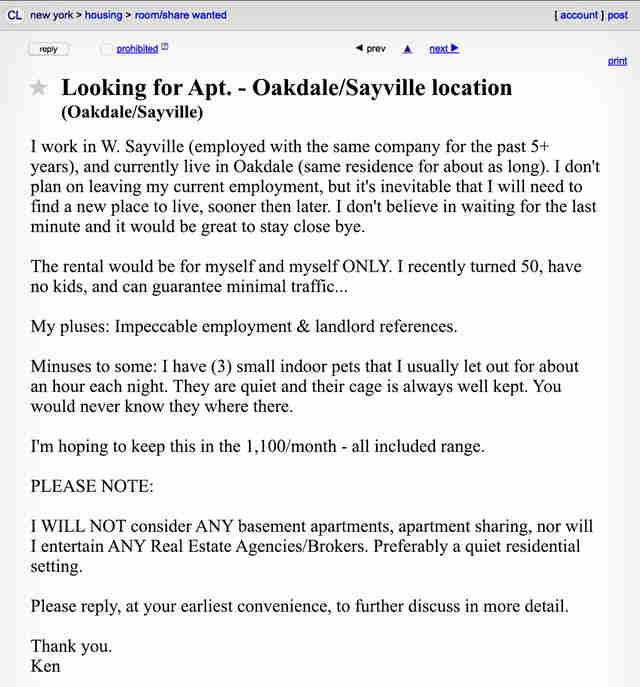 This guy definitely has Gremlins
"Minuses to some: I have (3) (sic) small indoor pets that I usually let out for about an hour each night. They are quiet and their cage is always well kept. You would never know they where (sic) there."
What are they? Seriously, what kind of animals could possibly lead their owner to discuss them in such generic terms? Why are they secret? Are they actually The Borrowers? Are they proprietary government test animals you liberated from a laboratory? Like trained assassin mice? What are your pets, dude?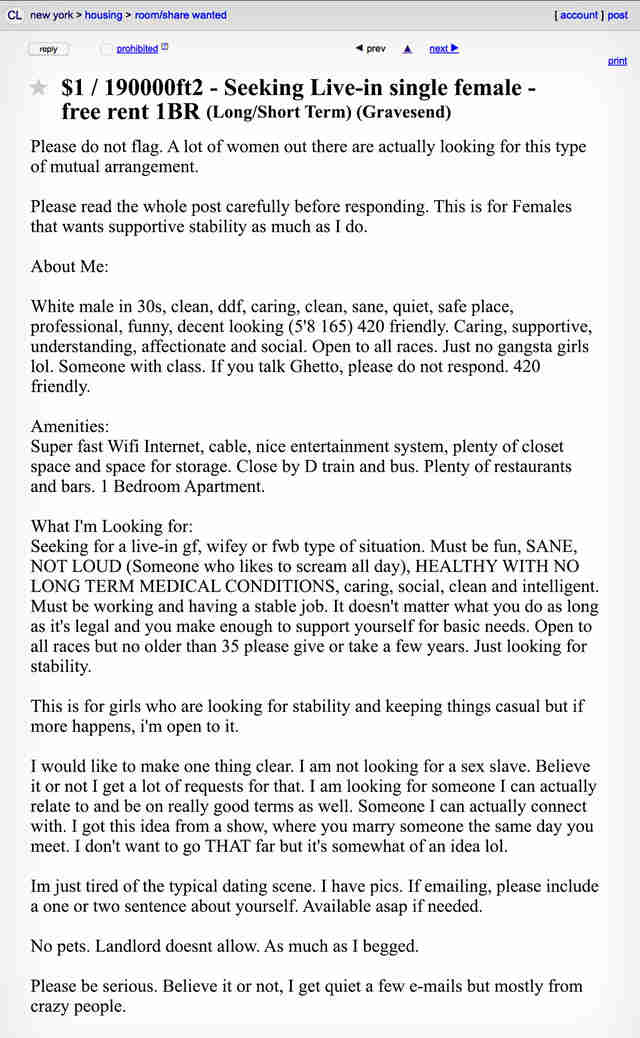 Looking for a just-add-water wifey
Must be sane, must also want to immediately move in with dude as his "live-in gf, wifey, or fwb type of situation." No, you're right, these are totally not mutually exclusive desires, bro.
"Please be serious. Believe it or not, I get quiet [sic] a few e-mails but mostly from crazy people." Well, you don't say.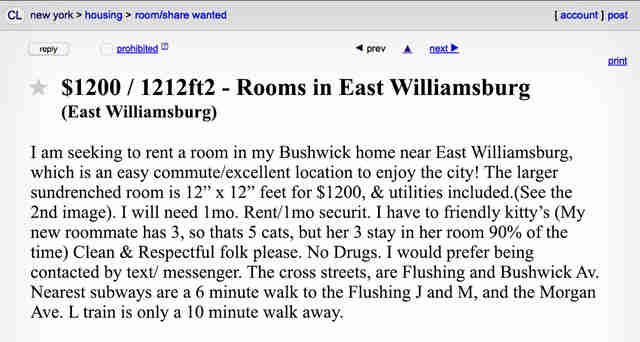 That's five cats
What. Are. You. Talking. About.
Five cats. In a Bushwick apartment. Way to bury the lede there, lady.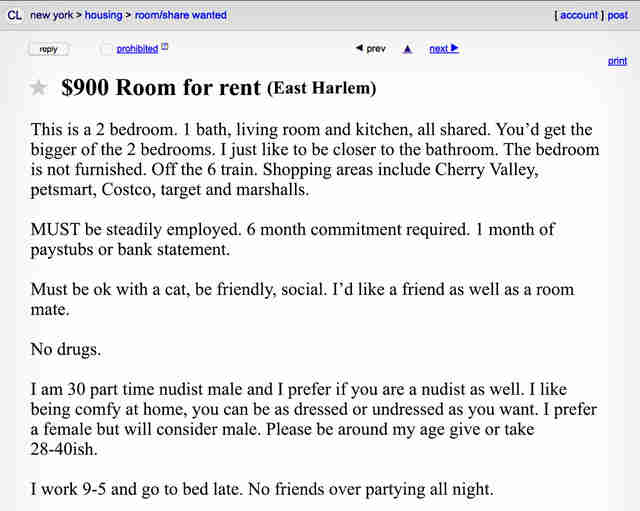 "You can be as dressed or undressed as you want"
There are actually quite a few nudist roommate listings on Craigslist, and most of them are... fine. These people have a lifestyle they're into, and they're taking care to be honest about that in the posting. Kudos, them. Then there's this guy.
He doesn't just want you to be OK with him being a nudist (that part seems reasonable enough), he wants you to also be a nudist. And female. Oh, and also his age. Normally a pretty standard roommate request, in this context, it sounds deeply, deeply creepy.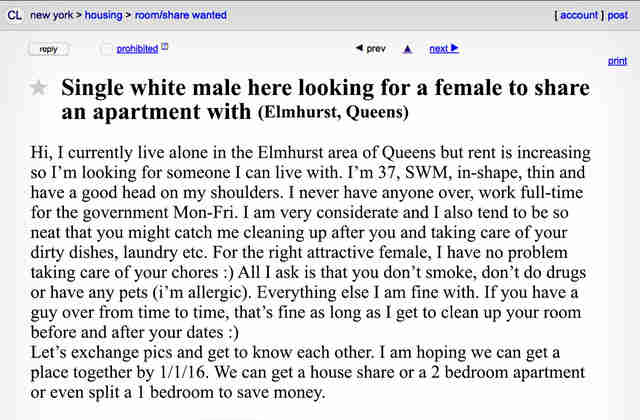 "I have no problem taking care of your chores :)"
We do not know what this fetish is called and also do not want to know. Ever, ever, ever.
In need of a boyfriend/girlfriend to live with
Given the posting title, I think this poster sounds more progressive than they intended. If you're interested, reach out with some reasonable descriptions of the apartment, mention a few good restaurants nearby, and then provide an account of your package's length, weight, and girth. No credit check required. Sure. Sounds standard.
Sign up here for our daily NYC email and be the first to get all the food/drink/fun New York has to offer.
 
Jess Novak spends an inordinate amount of time on the Farm + Garden section of Craigslist, scoping out the chickens. Make fun of her on Twitter @jesstothenovak and Instagram @jtothenovak.