A little less NYC and a little more Cape Cod, City Island is a quaint island in the Bronx full of old Victorian homes, squawking seagulls, fresh salt water, a marina full of boats, and enough lobster to stuff your face for days. While it feels far away from the cacophony of Midtown at lunchtime, the quaint community is less than an hour and a half on the subway, which means it's the perfect day trip for when you're burned out on brunch, museums, and dance parties. Just take the 6 train to the last stop (Pelham Bay Park), then take a 10-minute bus ride on Bx29 to City Island (or, if you're in a car, it's just a it's 40-60 minute drive from Midtown Manhattan). From seafood to sailing, here are 10 reasons to escape to City Island this summer.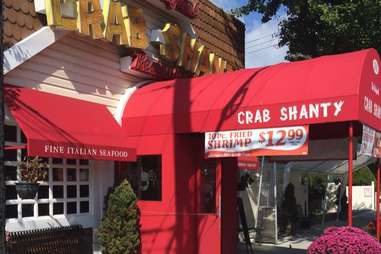 The seafood is fresh off the boat
Seafood is one of City Island's main lures, with places like Johnny's Reef, The Lobster Box, Seafood City, and Original Crab Shanty all offering that quintessential low-key, surf-shack experience you just can't get in Manhattan. Johnny's in particular can't be missed -- located right on the water, it's sort of reminiscent of a high school cafeteria (minus the bullies), with food served on trays and lots of long blue benches. Everything from lobster tails and scallops to clams and oysters can be ordered either fried or steamed, and there are frozen cocktails aplenty. Also don't miss Lobster House, Sea Shore Restaurant & Marina (where you need to get the clam chowder), and Sammy's Shrimp Box -- or if you're looking something a little more upscale, The Black Whale.
You can spend a day out on the water
In addition to serving up that New England seafood experience without having to deal with Amtrak, City Island provides plenty of ways to get out on a boat for the day. Local shop Jack's Bait & Tackle offers four-person fiberglass boats for rent on a first-come-first-served basis ($69.99 weekdays, $99.99 weekends & holidays), which aren't fancy by any means, but still a great time (so long as the thought of Long Island Sound water splashing on you doesn't freak you out). If you're looking to spend a little bit more and flex those summer camp skills, you can also go sailing (or at least learn how to) with The New York Sailing Center ($395-$795 depending on the course). Just please, don't make anyone refer to you as "The Captain."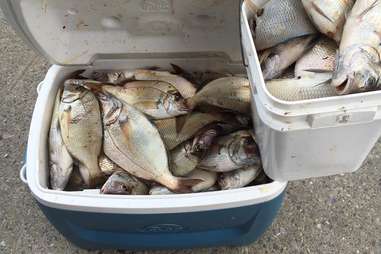 ... and catch some fish
As the name suggests, Jack's Bait & Tackle also sells bait. In fact, it's been providing locals with bait since 1945, and its staff will happily guide you to the best areas to catch porgy, flounder, bass, and bluefish (and you thought the waters of New York were only full of syringes!). For a fancier experience, you can also charter a boat with Jack's or Island Current.
You can party like an '80s pop star
Got some cash to burn? Take in the views of Manhattan while cruising Duran Duran-style on your very own yacht. Island Current offers private party boat rentals on boats triple the size of your studio apartment -- ranging from 42-76ft long -- that come equipped with a stereo, a galley, and a radar to find fish, depending on which vessel you choose. If you're looking to spend a day hanging out with friends on the water, popping Champagne, and blasting to Rio on repeat all day (colorful suits suggested), this is the move.
There's plenty of history to explore
If your idea of a good time is less hedonistic and more intellectual (or you just burn really easily), there's still something for you here. Stop by the City Island Nautical Museum to learn all about City Island's shipbuilding history and to see wooden boat displays and photographs of City Island life from years gone by.
Old-school ice cream shops reign supreme
No fishing town experience would be complete without some ice cream. After you've stuffed your face with seafood and spent some time out on the water, head over to Lickety Split for a scoop of red velvet or Birthday Bash. Housed in an old cottage, Lickety Split is the perfect antidote to all the fancy multi-ingredient ice cream you've been spending far too much of your paycheck on. It's the kind of place that brings to mind lazy summers, when you didn't have a care in the world, and didn't know what artisanal meant.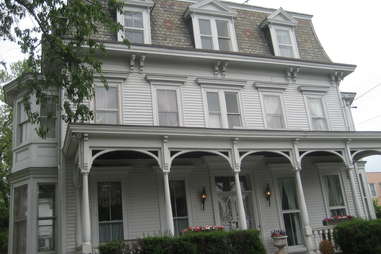 Even a simple stroll around town isn't boring
Since City Island is known for it's insanely beautiful Victorian architecture, you'd be remiss not to wander around the quiet, picturesque streets and take it all in. Streets and avenues like King, William, Belden, Horton, and Minnieford are ideal for architectural eye candy that's sure to inspire (and also depress you greatly, once you return to your apartment). Make sure you check out the Schofield House (65 Schofield St) -- built in 1840, it's the oldest home on the island and a recent NYC landmark. Another gem is the Samuel Pell house, located at 586 City Island Ave (Pell was a captain and descendant of the Pell family that once owned the land. Talk about legit.)
There are lots of great local merchants
Stroll down City Island Ave, the town's main street, to visit some of the local shops and art galleries unique to the island. Starving Artist Cafe is a gallery and coffee shop rolled into one, selling cool art books and handmade jewelry. If it's antiques you're looking for, Early Ruth Art & Antiques has enough bric-a-brac to fill that large country home you don't have. Jewelry lovers can head to Calico Juno Designs which specializes in gemstone and wire designs.
Local theater prices beat Broadway every time
Since you're not getting into Hamilton any time soon, enjoy a play by the City Island Theater Group. They've put on everything from Evita to The Glass Menagerie to Steel Magnolias. Tickets are normally $20, the theater is small, and best of all you'll feel like you're catching a small town play right in NYC.
And, of course, there's plenty to drink
Like everything else in City Island, drinking here is more reminiscent of a small town experience than any overcrowded, overpriced bar in Manhattan or Brooklyn. City Island bars are truly where everybody knows your name, and friendly locals and cheap drinks make for a welcome respite for denizens of the other boroughs. You can't go wrong with The Snug, a popular, no-frills Irish pub that's a favorite among locals for its talkative bartenders (seriously, sit at the bar and just listen to their stories). Fella's is another great option -- a local dive bar with good bar food, lots of cheap beer, and a staff that's been there for ages. For a (slightly) fancier option, head to Alehouse City Island, a gastropub known for its craft beer selection and trivia night.
Sign up here for our daily NYC email and be the first to get all the food/drink/fun New York has to offer.