The 16 All-Time Greatest Things to Do in NYC
Hang in Washington Square Park, do a dive bar crawl, and shop for vintage Y2K finds.
Washington Square Park

| Photo by Jutharat Pinyodoonyachet for Thrillist
Washington Square Park

| Photo by Jutharat Pinyodoonyachet for Thrillist
All Time Greats
is the ultimate city bucket list. Whether you're a local or a visitor, consider this the essential guide to getting the most out of New York City. Looking for events happening this weekend?
Check out our NYC weekend guide
.
Chances are, you've either been to New York City, have an upcoming trip here, or use that short period of when you used to live here as a personality trait. Regardless, this is why the Big Apple remains the Roman Empire for so many. Because this city needs no introduction, we'll get straight to the point: These are the 16 all-time greatest things to do here.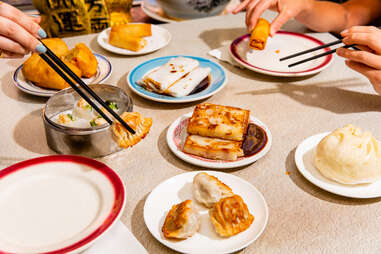 Things to Do in NYC this Fall and Winter
Macy's Thanksgiving Day Parade
Midtown
Celebrating its 97th anniversary, the Macy's Thanksgiving Day Parade is worth checking out at least once in your life. The tradition is a great way to kick-start the holiday morning and set the day's mood with some cheering and joy from witnessing large, colorful balloons floating down the middle of Manhattan. The commitment level on this is also super low with 2.5 miles of viewing route to easily pop in and out of. And if that's not reason enough, this year's headliner is the one-and-only Cher.
Lunar New Year in Chinatown
Chinatown
As one of the last remaining international enclaves in Manhattan, Chinatown in downtown Manhattan is a gem filled with notable restaurants, shops, and picturesque streets. For Lunar New Year in February, celebrate at the annual Lunar New Year Parade before making your way through spots like Wing on Wo & Co, the area's oldest store founded in 1890, for tableware and tea pots. A meal at Nom Wah Tea Parlor, the city's first dim sum parlor which is located on the famed alleyway of Doyers Street, is also a must.
Nightlife in NYC
Clubs in Bushwick
Bushwick
Within Brooklyn, a single neighborhood remains the borough's after hours epicenter: Bushwick. The industrial area is sprawling with some of the city's best nightlife and offers much-needed elbow room in comparison to high density party hubs in Manhattan. From astrology-inspired spots and live music to massive mega clubs hosting the world's top DJs when in town, go hard with your crew until the sun comes up. Favorites include Avant Gardner, House of Yes, Mood Ring, The Sultan Room, and The Turk's Inn. And yes, there will be plenty of late-night food options around.
Where to Explore Arts and Culture in NYC
Washington Square Park
Greenwich Village
Over the past few years, this gorgeous city park has become the homebase of downtown culture for a generation enduring nonstop societal shifts and social disruptions. Whether it's to rally over a cause or simply just hang, Washington Square Park and its signature arch is where the action happens. Along with prime people-watching, on weekends, independent vendors set up stands along the fountain to sell everything from pre-rolls to handmade crafts and art. Hang around long enough, and someone just might stick a camera in your face and ask, "What's poppin?"
Times Square
Midtown
Sometimes referred to as the "Crossroads of the World," everybody knows Times Square, and that's what makes it so legendary. Experiencing it IRL for yourself to figure out if you fall within the "love it" or "hate it" categories is a rite of passage. Its neon lights and frenetic vibe serve as a reminder of why we love this city so much. And thanks to years of city planning, it's become a pedestrian's paradise to easily spend hours at any given time of day or night.
Staten Island Ferry
Lower Manhattan
New York City is surrounded by water, and the easiest way to experience it is the Staten Island Ferry. The ferry is a free shuttle that connects the borough of Staten Island with Manhattan and departs from Whitehall Terminal 24 hours a day, seven days a week. Hop on and enjoy the 25-minute ride for a fresh breeze and spectacular views of the Manhattan skyline, New York Harbor, and most importantly, the Statue of Liberty. There's no better (or cheaper) way to see Lady Liberty within eyesight.
Museum Hopping
Citywide
If you're expecting a quiet museum visit with halls so empty that you can hear a pin drop, we suggest you test out that delulu fantasy in the mornings at opening hour. The reality is, these institutions can get super crowded and filled with selfie-hungry people rushing between galleries. But hey, that's what we're all here for anyway. Top destinations to achieve this include the American Museum of Natural History, The Brooklyn Museum, The Guggenheim, The Met, MoMA, MoMA PS1, The Shed, and Whitney Museum of American Art.
Intersection of Washington Street and Water Street
DUMBO
The intersection of Washington Street and Water Street in Brooklyn is the city's ultimate photo hotspot. Located in the neighborhood of DUMBO (aka Down Under the Manhattan Bridge Overpass), the charming waterfront area is known for its cobblestone streets, views of Manhattan, and proximity to the Manhattan Bridge. Head to this special crossing to grab selfies with the bridge in your background, and check out the nearby gorgeous waterfront parks while you're there.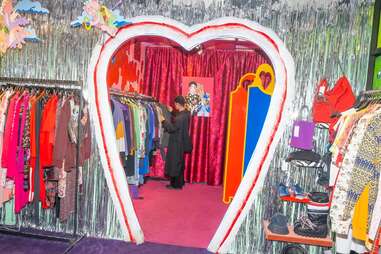 Where to Shop in NYC
Thrift Shops and Vintage Stores
Citywide
We know you're in New York City to shop and return home with cute clothes and pieces that online fast fashion companies could never. Once you're ready to rummage through racks upon racks for Y2K fits and more rare finds, head to the best thrift shops and vintage stores. Our favorites include James Veloria in Chinatown, Seven Wonders Collective in the Lower East Side, SLCT Stock NYC in the East Village, Feng Sway in Greenpoint, and Vintage Queens in Astoria.
Independent Bookstores
Citywide
Thankfully, the art of the independent bookstore is still a thing here in New York City. However, to keep this magic alive, it's important to continue supporting them. We're all about practicing tsundoku (the Japanese term for a purchased stack of books that haven't been read yet), so go and pick up some reads at the best independent bookstores. Some favorites include Bonnie Slotnick Cookbooks in the East Village, the Drama Book Shop near Port Authority, The Lit Bar in Mott Haven, and Three Lives & Company in the West Village, and Yu and Me Books in the Lower East Side.
SoHo
Downtown Manhattan
It's been said that SoHo is the new Times Square for Gen Z, and a stroll through the fashionable neighborhood known for its cobblestone streets and cast-iron architecture proves this theory right. The crowded sidewalks here practically spill over with young folks flexing innovative style that's sure to inspire future trends. Head here for some inspiration, and then check out all of the area's shops that range from mega brands to the brick and mortars of smaller designers.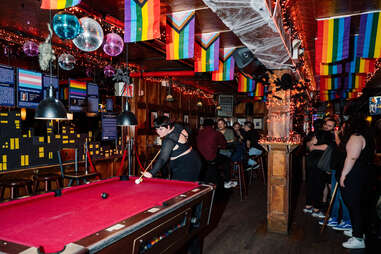 Where to Drink in NYC
The Stonewall Inn
West Village
Known as the birthplace of the pride movement, The Stonewall Inn can easily be considered the most famous LGBTQIA+ bar in the world. Its legacy dates back to June of 1969, when patrons and queer activists rioted against ongoing discrimination and harassment from the police. Now, the popular watering hole is on the National Register of Historic Places and is a designated New York City Landmark while remaining a fun hangout spot with a great weekday happy hour and friendly bartenders. During significant moments in history, it's also an important gathering place for the queer community.
Dive Bars
Citywide
Beyond New York City's glitz and glam, dive bars are a great way to get a true sense of a neighborhood and its characters. Along with the best ones speckled throughout the city, our favorites include Botanica Bar in Nolita; Do or Dive in Bed-Stuy; East River Bar in Williamsburg; Montero's Bar & Grill in Brooklyn Heights; Sharlene's Bar in Prospect Heights; Sophie's Bar in the East Village; and Welcome to the Johnsons in the Lower East Side. Afterwards, pad that well liquor with iconic dishes and bites from definitive eateries around town.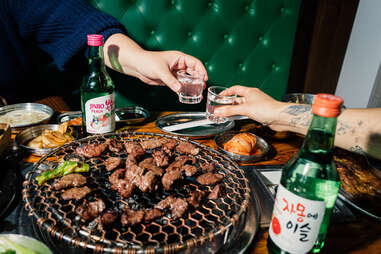 Jongro BBQ
Koreatown and Flushing
With the growing popularity of Korean culture across the globe, the jewel of its cuisine is barbecue—and the best drink to pair it with is soju. The ultimate destination for this is Jongro BBQ in both Koreatown and Flushing, Queens. All meats here are butchered in-house and grilled tableside within the restaurant's retro dining room. Check out our Insider Tips for How to Order and Eat Korean Barbecue while there, and our Ultimate K-Pop Guide for even more cool hangout spots.
Overstory
Financial District
Rather than quality drinks, rooftop bars here are in the business of creating main-character moments against the backdrop of New York City's iconic skyline. This is why Overstory soars in its own stratosphere. Located on the 64th floor of a downtown skyscraper, not only does its higher views put others to shame, but the talent of its bar director, Harrison Ginsberg, has made it one of the most sought-after craft cocktail spots in town. Along with the drinks, expect to be wowed by the wraparound terrace offering a vertigo-inducing 360-degree panorama of the city, countless landmarks, and beyond.
McSorley's Old Ale House
East Village
Touting itself as the oldest Irish saloon in New York City, McSorley's dates back to 1854 and has seen legendary patrons like Abraham Lincoln come through its doors. The Irish bar keeps their menu short and simple with two beers: Light ale or dark porter. The vibe here is relaxed and low-key, and while sipping on your suds, take in the cool visuals of old-school memorabilia like Harry Houdini's handcuffs covering practically every inch of its walls. Cash only.
Tae Yoon is the Senior Editor of East, Local cities at Thrillist. He was born and raised in Queens, New York.