There are hundreds of bars in New York City, and chances are, these places have become your go-to social scene after work and on the weekends. Here's the thing: We live in the greatest city in the world, where something fun, unique, and exciting is always happening -- and it's often happening somewhere that's not a bar. Here, we've compiled a list of accessible, incredibly varied, and affordable (if not free) things to do in this amazing city, from sword-wielding classes to dance parties that actually won't keep you out too late.
Recommended Video
This Fanny Pack Gives You an Instant Dad Bod Beer Gut
Get some cheap laughs
For a fun, inexpensive, and hilarious night out, head to the original Upright Citizens Brigade Theatre (UCBT) or its UCBT East outpost. These unique sketch-comedy and improv venues have become the best incubators of comedic talent in the entire city. (Think Amy Poehler, the girls from Broad City, and Zhubin Parang, head writer of The Daily Show, who still performs on weekends.) Nightly shows are wacky, low-key, and, best of all, cheap -- usually $5-12 a pop.
Spend Friday night at a museum
You probably don't think of museums, like the Met and the Museum of Natural History, when planning your next night out, but many of these places offer evening activities that are both interesting and fun -- especially on Friday nights. Take the Himalayan-themed Rubin Museum of Art, where admission is free from 6-10pm every Friday and the museum café becomes a lively lounge with a live DJ and pan-Asian menu. The Rubin's K2 Friday Nights also include access to live shows and film screenings. Likewise, the Museum of Modern Art similarly offers free admission from 4-8pm on Fridays, so definitely head there if you enjoy long lines and looking at the most progressive and iconic modern art of our time.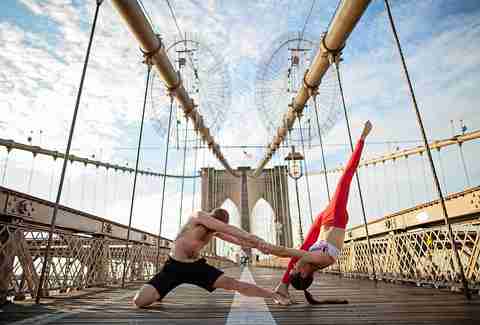 Get high -- literally
AcroYoga meets somewhere in the matrix of yoga, martial arts, acrobatics, and Thai massage technique, and it goes down most nights and weekends at the South Street Seaport's Warrior Bridge studio. Here's how it works: One person serves as a "base," lying on her back and using her arms and feet to hoist a partner through a series of acrobatic positions. (You've probably seen these yogis randomly putting on live impromptu demos at one of the city's many public parks.) No experience required -- just a lot of faith in a friend or a stranger to keep you balanced as you contort into various positions midair. It's also a tightly knit community, so it's a great place to make new friends, which can be challenging as an adult. Single classes cost $20 but new students can get 10 classes for $75.
Host a dinner party with minimal effort
NYC-based food-delivery service Feastive eliminates the hardest part of hosting a dinner party -- namely, the menu-planning process. The company's website lets you select from several themed dinners and then brings all the ingredients and cooking directions to your door. Each boxed order serves four to five people at $120 a pop. There's an emphasis on experiential, often exotic fare, so you can basically show off and invite people over for a sushi-making evening at your house, or a meal of Korean-style beef bulgogi.
Catch a movie at a tricked-out cineplex
Movie theaters in this city are getting upgraded AF right now -- two of them in particular, combining dinner and a movie. There's Nitehawk Cinema in Brooklyn, which shows old-school films as well as new releases while offering extensive in-seat dining options during every flick. (Check out the cinema's new-movie-themed menu items.) Then, there's iPic at the South Street Seaport, which, if you opt for the "premium-plus" package, sets you up in a cozy "pod" for two people, complete with blanket, pillow, free popcorn, reclining seats, and a personal waiter to serve you lunch or dinner (see the iPic menu) at the push of a button. Even the Regal Battery Park City now offers reclining seats, which are way nicer than anything you have at home.
Make a great escape
Escape games are a thing now and they're actually really fun. The concept is simple: You and your friends are locked in a room and you have an hour to figure a way out. While it may be something to skip for the claustrophobic set, the rest of you can check out Escape Entertainment in Midtown and Escape Games NYC in lower Manhattan, both of which offer multiple storylines to choose from. Use those analytical and cognitive skills to discover, decode, and analyze clues in order to get free. Group prices generally range between $25 to $50 per person.
Choose your own NYC adventure
If you're looking for a unique urban experience, check out the New York Adventure Club, which organizes theme parties, after-hours tours of interesting NYC institutions, and other outings around town. Recent events have included a Play-Doh-sculpting-and-wine-pairing night, as well as a rare-access tour of an NYC recycling facility. For January, organizers are finalizing an event with popular local sex-toy shop Babeland, which might be something along the lines of "Aphrodisiac Workshop & Tasting." Sign up for the group's newsletter to get regular updates about upcoming events, but anyone can join the fun without formally joining the "club." Prices vary based on the activity.
Experience a secret musical performance
Sofar, founded in 2011, arranges under-the-radar performances in people's apartments, stores, churches, and more. Sign up on the website to become a host, performer, or guest. As a prospective audience member, you can apply to attend an event put on by an up-and-coming artist at a secret location that will be disclosed to you, if you're chosen. Or, if you're into classical music, specifically, check out Groupmuse, which hosts classical music events in living rooms around the city -- same sign-up rules apply, but anyone can attend, and musicians are paid by the audience.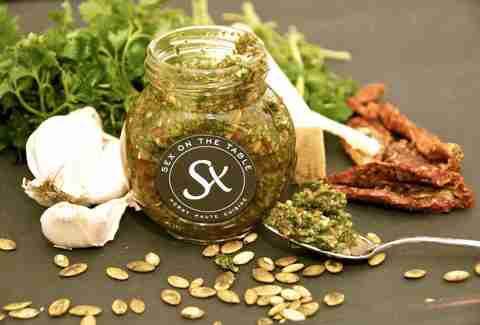 Acquire a new skill
Don't just "take a class." Take a really baller class. CourseHorse curates most of the city's coolest classes in one place, and plenty of them level out, cost-wise, to what a couple rounds of drink plus tip would cost you and a date anyway. Learn to paint a masterpiece even if you can barely draw a stick figure. Or, learn to juggle, because honestly, it's a great ice breaker at parties. Or, better yet, learn to wield a katana sword with a beginner kendo course. You can even improve your cell-phone flirtations with the help of Thrillist's own sex and dating editor, GiGi Engle, who is teaching Sexting 101 on January 17th.
Dance the night away (earlier than usual)
Clubbing before midnight? On a weekday? Yep. The Get Down happens from 7-10pm every other Thursday. The location alternates between Cielo, House of Yes, and Output. People of all ages, occupations, gender identities, and backgrounds show up to get down after work, so don't be surprised to find yourself on the dance floor with a businessman in his work clothes or a young fitness buff wearing yoga pants. The event is headlined by DJ Tasha Blank, who is always joined by a guest (ever hear of Tony Touch and Mr. V?), along with live musicians. The bar is open and people will take breaks from dancing and go have a drink, but there are no drinks or phones allowed on the dance floor. If you're not drinking, you're in luck, because with free juice, tea, and pineapple, you've got everything you need to stay energized.
Sign up here for our daily NYC email and be the first to get all the food/drink/fun New York has to offer.