Calling All Introverts: Here's Where to Unplug and Go Off the Grid in NYC
Cancel those plans for some solitary socializing.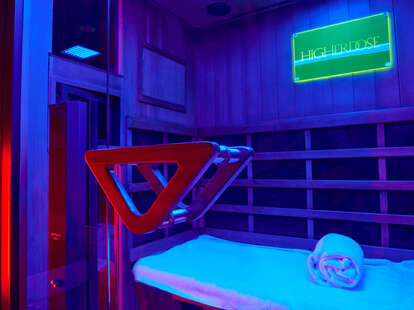 Infrared Sauna at HigherDOSE

| Photo courtesy of HigherDOSE
Infrared Sauna at HigherDOSE

| Photo courtesy of HigherDOSE
If there was ever a viral TikTok some of us introverts could make into our personality trait, it would be that one about going out in public and then wondering why the hell the public is also there.
Contrary to popular belief, introversion isn't about being shy or quiet—it's about introspection. That means we're actually just as loud, opinionated, and obnoxious as people who have entire speakerphone conversations on elevators. The main difference is, we're rarely caught in the act because we love minding our own business and are choosy about who we divulge our true selves to.
So when it comes to living in New York City, we're absolutely obsessed with its general magic, iconic foods, and even a main character moment in Times Square every blue moon. But what irks us the most is the inability to enjoy it without throngs of strangers around.
The next time you're itching to escape your apartment for some solitary socializing, we've got you. Here's an introvert's guide to unplugging in NYC.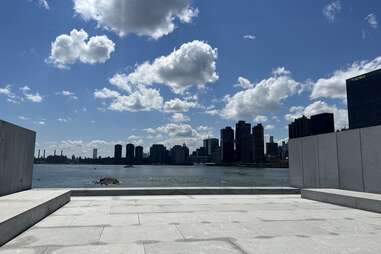 Peaceful Public Spaces in NYC
Behind the FDR Bust at FDR Four Freedoms State Park
Roosevelt Island, Free
Although Franklin D. Roosevelt Four Freedoms State Park officially debuted in 2012, it remains a hidden gem to many New Yorkers. Located near the infamous Smallpox Hospital on a patch of land at the southern end of Roosevelt Island that was once a landfill, the beautiful triangle-shaped park lined with trees features a large bust of FDR at its endpoint. But introverts should make a beeline to the square directly behind our former president's giant head. Serene with a stunning panorama, take in one-of-a-kind views while nestled on the East River between Queens and Manhattan. The concrete benches also make for a great reading nook.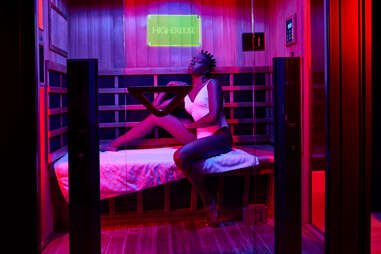 Health & Wellness in NYC
Individual Saunas at HigherDOSE
SoHo, $45 for Quick Dose and $65 for Full Dose
Sweating it out at the sauna is an age-old joy shared across cultures throughout the world, but the traditional NYC experience is often relegated to gym locker rooms. Avoid the post-workout rush for HigherDOSE and their spa of private Infrared Saunas. Located on the third floor of the 11 Howard Hotel in SoHo, their perspiration sessions utilize state-of-the-art infrared technology that's reported to promote improved circulation and decreased inflammation. Slots are available for 30 or 60 minutes and take place in your very own hotel room with a shower. For any super fans, the wooden units are also available for purchase.
Deprivation Tanks at Vessel Floats
Greenpoint, $85 a session
These aren't the deprivation tanks of the 1950s. As one of the East Coast's biggest float studios, Vessel Floats offers a modern-day experience within a chic Greenpoint homebase. The aim of each 1-hour session is to block out all stimulation and promote mindfulness while weightless. The tanks are spacious with 7.5-foot ceilings and intended to completely block out all noise and light. But if you're looking to doggy paddle before you butterfly, feel free to flick on the gorgeous light system that resembles stargazing or play some bops through the speakers. Napping is also encouraged.
Meditation at Buddhist Temples
Various locations, Free but donations welcomed
There's nothing zen about what some meditation spots charge nowadays for their crowded sessions. A different option is to pop into one of the many Buddhist temples around the city instead for an easy mental check-in. Usually open throughout the day, simply go in at your convenience, do your thing, and drop in some cash in the donation box if you like. Standouts include Wat Buddhathai Thavornvanaram in Elmhurst, Queens; Chogyesa in the Upper West Side, and Mahayana with two Chinatown locations on Mott Street and Canal & Bowery.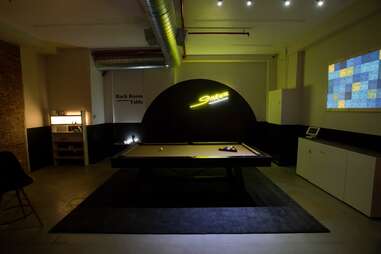 Games & Recreation in NYC
Sharks Pool
Various locations, starts at $36 per hour
Pool halls don't usually top our list of social plans, but a game of private pool where we can BYOB and play our own music is a game changer. With locations in Astoria, Rockefeller Center, Two Bridges, and Williamsburg, at Sharks Pool, knock back a few rounds within cool rooms featuring amenities options like lounge areas, flat screen TVs, mini fridges, and your own bathroom. Bookings and door access are all via app. Let off some steam alone, impress the cutie you just met at the bar with a 2:30 am hangout spot, or celebrate special occasions for parties of 40 if needed.
Dining in NYC
Conveyor Belt Sushi at Kaiten Zushi Nomad
Nomad, Dishes start at $4.50
When you're looking for a solo meal to the extreme, Kaiten Zushi Nomad keeps human interaction to a bare minimum. The new restaurant features a massive 5,000-square-foot space and over 100 sushi varieties along with rice bowls, desserts, and drinks delivered via robots. All seating is located along the 3-level conveyor belt system, and after placing orders through a tablet, each dish arrives with a zip of the belt. The unserious and fun vibes aren't just a gimmick either: the sushi quality is also solid.