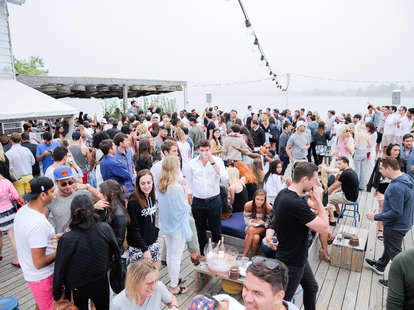 The Surf Lodge

| Matthew Eisman/Stringer/Getty Images Entertainment
The Surf Lodge

| Matthew Eisman/Stringer/Getty Images Entertainment
There's far more to the Hamptons than just drinking rosé while lying on a giant swan-shaped pool float (though you're absolutely welcome to do that if you so please). From a secret sculpture-dappled nature preserve to the best cocktail spots and the coolest place to spend the night (for just $35!), these are the things you absolutely must do in the Hamptons.
Explore Jackson Pollock's home studio
Where else can you touch Pollock's artwork without getting arrested? At the National Historic Landmark Pollock-Krasner House and Study Center in East Hampton, visitors can explore the Abstract Expressionist painter's still-intact home, where Pollock laid his canvases on the floor to drip paint over masterpieces like Blue Poles. There's also a piece of art on the barn studio floor that you can literally walk on.
Eat a gigantic lobster roll
The seasonal reopening of Amagansett's The Lobster Roll every May has marked the unofficial start of summer since 1965. In addition to its famed blue "LUNCH" sign (arguably the best roadside attraction on the East End) the restaurant is best known for its fantastic lobster roll, piled high with meat in a butter-soaked bun.
Walk along the beach and stare at homes you can't afford
If you only have time for one stroll along the seashore, head to Coopers Beach in Southampton for the rolling dunes, wide sandy beach, and homes of billionaires like Calvin Klein and David Koch -- and the house from the Showtime series Billions.
Drink rosé
Even if pink isn't your preferred shade of wine, it's not a true Hamptons experience until you've Instagrammed a photo of your glass of rosé. The least obnoxious place to do it? The newly revamped Wölffer Estate & Vineyard, where you'll often find locals lingering on the wine stand, overlooking the vines while enjoying live music and sipping Finca rosé and dry rosé cider.
Go to a concert at an iconic music venue
One of the original Hamptons night spots dating back to 1970, the Stephen Talkhouse in Amagansett has hosted everyone from Crosby, Stills & Nash and The Rolling Stones to Van Morrison, and continues to showcase indie talents and popular acts like Rufus Wainwright, Donavon Frankenreiter, and even Kiefer Sutherland -- because why not.
Have a drink (and a burger) at John Steinbeck and Paul Newman's old stomping grounds
In the 1960s, legends like John Steinbeck, Paul Newman, Art Garfunkel, and Truman Capote regularly converged over strong drinks at Baron's Cove in Sag Harbor. Fifty-plus years later, the waterfront resort is still one of the best spots to have a fancy cocktail and a good burger while looking out over the harbor.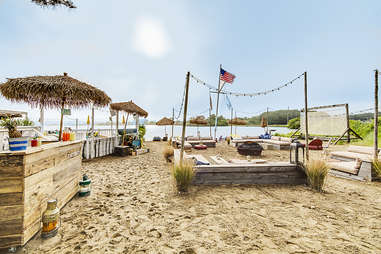 Attend the most scene-y Hamptons party (with actually good music)
Despite the comically pretentious crowd that jams the waterfront deck at the Surf Lodge in Montauk, the free indie concerts -- featuring the likes of Miike Snow, Zoë Kravitz's band Lolawolf, Leon Bridges, and Wild Belle -- are one of the best parts of summer in the Hamptons.
Elevate your cookie game
Tate's Bake Shop in Southampton has a lot more than the brand's famous crispy cookies -- there's also cupcakes, brownies, blondies, and great coffee. But your best move on a hot summer day is the Tateswich: a chocolate chip cookie vanilla ice cream sandwich that's best enjoyed on one of the tables on the front patio.
Escape the crowds in a sculpture garden
The 16-acres of creatively landscaped gardens and outdoor installations by the likes of Willem de Kooning, Sol LeWitt, and Yoko Ono make LongHouse Reserve in East Hampton's Northwest Woods feel like the perfect antidote to city life -- especially in the late afternoon after a few glasses of wine.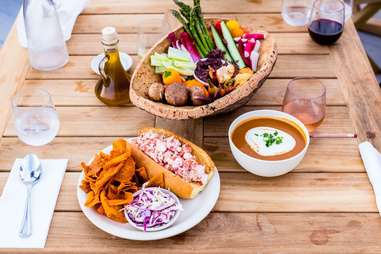 Discover a historic seafood spot in Montauk
Fresh seafood by the water is mandatory when visiting the Hamptons, and 81-year-old Duryea's in Montauk is the place to do it. Grab a picnic table out on the wooden deck and order a dozen oysters and some baked clams, before checking out the recently opened 1,200sqft market, where you can pick up lobster and other fresh fish to take home.
Get some homemade ice cream before getting on the Jitney
The Candy Kitchen, Bridgehampton's famed old-school diner, makes perfectly good grilled cheeses and other simple hangover-curing foods, but it's the homemade mint chip and chocolate fudge brownie ice cream that make it a mandatory stop on your Hamptons agenda (plus, it's conveniently located across the street from a Jitney stop).
Save your money at the island's best happy hour
If you're doing the Hamptons on a budget (or even if you're not) kick the weekend off cheaply at East Quogue's Dockers, which offers $5 happy hour on cocktails, beer, wine, and appetizers (and great views of the water) every Friday.
Eat one of the best donuts of your life
If you like your donuts old fashioned, East End staple Dreesen's (found at Scoop Du Jour in East Hampton) is your go-to for a cinnamon and powdered sugar fix. But since last summer, locals have been lining up at Grindstone in Sag Harbor for fluffy inventive brioche donuts like thin mint, mocha Frappuccino, and the top-selling Nutella s'mores, featuring torched marshmallow.
Have a romantic date night
Nestled on the lush banks of Lake Montauk, The Crow's Nest (from hotelier Sean MacPherson) is a perfect place for a romantic night out in the Hamptons. Grab a spot on the lawn under the twinkling lights and pergolas and dine on truffle ricotta, crab tagliatelle, and strawberry rhubarb crostini with Tahitian gelato.
Get lost in a corn maze with Alec Baldwin
Join the local celebrity residents (like Alec Baldwin) who frequent Hank's PumpkinTown in the summer and fall for sweet corn, apple, and pumpkin picking, and some of the best cider donuts you'll ever have.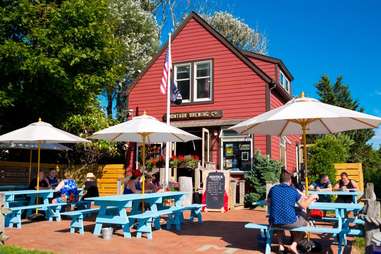 Drink a Montauk summer ale in Montauk
The best post-beach plan is a cold pint (paired with a plain cheese slice from Primavera Pizza a block away) on the sky-blue picnic tables at Montauk Brewing Company, where there's always a fun crowd and great brewery-only beers.
Bring the best of the Hamptons home with you
Before your trip out east, pack a couple of empty bags to stock up on goods like mixed berry pies, fresh lobster salad, fried chicken, and BBQ ribs from family-owned Round Swamp Farm in East Hampton.
Go surfing at Ditch Plains
Ride the waves at this popular surf break -- or just watch other people do it while eating an egg sandwich from the beloved Ditch Witch food truck. If your surfing skills aren't exactly Kelly Slater-worthy, Whalebone's Jesse Joeckel recommends a lesson with the Montauk Boardriders.
Go off the beaten path in a fertile paradise
The Vineyard Field Preserve at The South Fork Natural History Museum in Bridgehampton offers 40-acres of unexpected green grandeur that'll cure even the most miserable of hangovers.
Enjoy a truly wild feast in Amagansett
An Outstanding in the Field feast at Amber Waves Farm is what sustainable dining is all about. Come fall, savor Long Island's super-fresh bounty during a meal prepared by Chef Hillary Sterling from NYC's Vic's.
Sleep underneath the stars
Amongst all the high-priced hotels in the Hamptons, the most memorable place to spend the night is on the beach for a $35 camping adventure in Hither Hills State Park. The Montauk sunrises at your feet are worth the long trip out.
Have the most fun you've ever had at a museum
After admiring some of the East End-inspired contemporary artwork at the Parrish Art Museum (one of the most beautiful New York day trips for architecture and design lovers), set up a not-embarrassing-at-all-cause-everyone's-doing-it photo shoot in front of the various indoor light installations.
Bike up the island's most scenic coastline
Unless you're willing to shell out at least $500 for a private flight out to the Hamptons, the best way to take in the sights is on a bike. Rent a road bike, hybrid, or mountain bike at Amagansett Beach & Bicycle and cruise along Montauk Highway 17 miles out to the famed Montauk Lighthouse.
Enjoy some seriously good barbecue
Want to avoid a fast-paced weekend in the Hamptons? Appreciate a slow-smoked meal at Texas-style Townline BBQ in Sagaponack. Order a pulled pork sandwich, buffalo French fries, and a local pint from Moustache Brewing Co.
Spend the night in a Scandinavian sanctuary
When Stevie Nicks, Jimmy Fallon, and Bill Clinton want to relax in the Hamptons -- and eat some delicious Swedish meatballs -- they go to c/o The Maidstone, a 19-room hotel run out of a 150-year-old Greek Revival house, where guest perks include coveted beach parking passes, complimentary bicycles, yoga classes in the Buddha garden, and, of course, hand-painted clogs.
Drink like a local while watching the sunset
When locals want to bask in the magic hour without the tourists, Montauket is their hallowed barebones bar for a sundowner on the bluff facing Fort Pond Bay. (But you didn't hear it from us.)
Splurge on a meal at Bay Kitchen Bar
On the harbor in Gardiners Bay, Bay Kitchen Bar's Mediterranean-inspired Eastern Shore cuisine from celebrated slow food chef Eric Miller will satisfy all your seafood cravings -- especially if you order the Hampton Clambake extravaganza with a 1lb lobster, mussels, and Amagansett steamers.
Get a bagel from Goldberg's
The best beach pregame since 1949, Goldberg's is how locals do mornings in Montauk. Order the Spicy Hobo with crisp bacon, eggs, pepper jack cheese, hash browns, and hot sauce on a freshly made everything flagel or the smoked salmon with scallion cream cheese.
Sign up here for our daily NYC email and be the first to get all the food/drink/fun New York has to offer.
Lauren Matison is a New York-based writer and the founder of offMetro.com and is determined to make this the summer she finally surfs at Ditch Plains. Follow her on Instagram.