What to See, Eat, and Do in NYC's Meatpacking District
As home to some of the city's hottest attractions, partying in this ultra hip area is a quintessential NYC rite of passage.
High Line

| pisaphotography/Shutterstock
High Line

| pisaphotography/Shutterstock
One of New York City's most compact neighborhoods packs a large reputation. Resting within the confines of Greenwich Village and pushing up against Chelsea, the Meatpacking District is a modest wedge of land where the past and the future collide. Named for its slaughterhouse origins, Meatpacking still has its share of butcher shops and meat wholesalers—but its present-day status has more to do with its exclusive dining and nightlife options, many of which have become celebrity favorites.
A popular place to wear down your credit card, Meatpacking is defined by niche shopping, upscale restaurants, and chic clubs nestled in historic basements and atop newly remodeled rooftops. Given its prime Manhattan location along the Hudson River, the district has also ramped up its free attractions, now housing two wildly popular high-concept green spaces that sit high on the to-do lists of both tourists and locals.
In order to properly experience the neighborhood, you'll need comfortable shoes and a curiosity for both history and innovation. And by the end, you'll understand why this locale helps the Big Apple attract more visitors each year than any other American city. Here's what to see, eat, and do in NYC's Meatpacking District.
Explore why the neighborhood sets a high culinary bar
The Meatpacking District keeps its visitors caffeinated and fed all day long, flaunting a smattering of coffee shops, popular eateries, and corporate chains with select locations dolled up to fit the local vibes—like an airy new Shake Shack with large windows and hanging vines.
Kick off the day at Kobrick Coffee Co., an enormous local café with superior roasts, comfortable seating, and stellar brunch food. For your next energy boost, the Starbucks Reserve Roastery will suit your fancy. As one of only six locations in the world, the interactive coffee museum of sorts serves higher-quality drinks than the average Starbucks location, and also has a full Princi Bakery & Cafe inside with fresh-made breads. Other solid café experiences include Banter's brunch-forward Hudson Street location, the amazingly beautiful Old Rose at the Jane Hotel, and Hector's Cafe & Diner, a classic no-frills cure for your hangover.
For more substantial meals in the day, the seafood-focused Mollusca offers an extensive raw bar menu with influences from around the world. Catch is another winning choice, housed in a historic building and serving shareable seafood, sushi, and steak dishes. For a Mediterranean twist, Fig & Olive is the spot, highlighting a variety of crudo bites, meat and seafood entrees, and other veggie dishes.
Italian food is best served at the gorgeous La Pecora Bianca; French cuisine flourishes at the famed Pastis; hearty meats are found at the Old Homestead Steakhouse; the contemporary menu at The Standard Grill currently has a build-your-own-Bloody-Mary program; and upscale Chinese takes center stage at Hao Noodle. For an ultra-modern Korean hotspot that's a hidden oasis, unwind with views of the Hudson River and The High Line at Genesis House and its tea pavilion.
When the day comes to a close, Aubi & Ramsa is the chic boozy ice cream bar where you can satisfy your sweet tooth and pregame your late-night plans.
Experience one of the world's most famous nightlife scenes
Partying in Meatpacking is a quintessential New York City rite of passage that allows everyday people to experience the city through celebrities' eyes. Here, you'll find revelers wobbling down cobblestone streets in high heels, exclusive clubs that are both below street level and sky high, and a few regular ol' bars that still manage to impress.
The Standard, High Line is the epicenter of Meatpacking nightlife, housing three notable destinations: Le Bain, the hotel's boisterous rooftop venue that's also infamous for its hot tub; Top of the Standard (aka the Boom Boom Room), a swanky rooftop lounge that's set to reopen in February 2023; and for a chill time especially ideal for large groups, it's all about the street-level Standard Biergarten, with traditional German fare and stein-friendly games.
For elevated drinks, the RH Rooftop is a unique date spot, resting atop a Restoration Hardware and giving guests the chance to sip wine and gawk at unattainable furniture. And SoHo House New York is a members-only hotel and wide-ranging event space, featured in shows like Sex and the City; here, connections matter—if you know someone who's in the club, you can gain entry and live like a star for one night only.
For a more traditional night out, head to reliable neighborhood spots. Brass Monkey has indoor and outdoor spaces including, yes, a roof; Common Ground Bar is the cute happy hour destination that gets rowdier by the hour. Helen's is a sexy basement bar with Asian-inspired cocktails and dim sum carts; and SNS Bar is a party hub beneath a shoe store boasting "shitty drinks made great."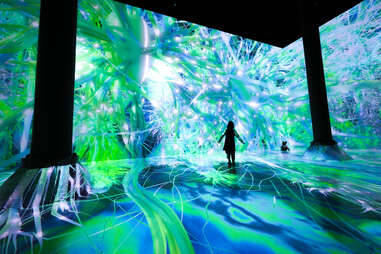 Fill in the itinerary with green spaces, retail therapy, and culture
Meatpacking is home to two of the city's most popular and innovative parks: The High Line and Little Island. The former is a refurbished train track zig-zagging through the Manhattan skyline, allowing visitors to take a scenic walking tour 30 feet up in the air all the way north to 34th Street. The latter is an even newer attraction and another architectural tour de force—a handcrafted island that sits above the Hudson River, elevated into the sky by concrete pillars. Little Island is a full-blown nature park, with rolling hills, world-class landscaping, and an outdoor amphitheater for live performances.
Shopping is another strong draw to the Meatpacking District, where high-end stores skew more boutique than they would on Fifth Avenue. But most notable is the Chelsea Market, an appealing center of shopping, food, and culture often frequented by even the most jaded New Yorkers.
One of the market's main attractions is Artechouse, an immersive art destination that can only be described as psychedelic. It perfectly complements the Whitney Museum of American Art just a few blocks south, which helped boost Meatpacking's art cred when it opened in 2015.
For something more active, jaunt up a few blocks to Chelsea Piers, a massive activity center with a bowling alley, year-round ice rink, indoor sports complex, riverside driving range, and marina harboring daytime cruise boats for your pleasure.
Choose your adventure with jaw-dropping area hotels
Some of the city's most impressive hotels lie right in the heart of the Meatpacking District and its surrounding streets. The obvious boarding option would be the reliably fun The Standard, High Line, a window-heavy tower straddling the elevated park that boasts sweeping views of Manhattan.
If you're looking for the most unique experience in the area, you have three truly unforgettable choices. The Maritime Hotel is a nautical-themed evocation of the Titanic—designed by an apprentice of famed architect Frank Lloyd Wright—that feels classic, modern, and whimsical all at once. And speaking of the Titanic, the historic boarding house–style Jane Hotel once housed the cruise ship's survivors; a living piece of the past, the Jane continues to build community and offer passers-through a stay to remember. Then there's the High Line Hotel, which occupies old seminary grounds and offers a quiet yet centrally located respite from the bustling city with a Parisian-style courtyard.
Finally, for visitors who prefer the future to the past, Dream Downtown is the move. Technically in Chelsea, the luxury hotel offers a wide variety of room options, each unique and modern in their own way.
Kyler Alvord is a former staff writer at Thrillist who keeps coming back for more. Find him on Twitter and Instagram, or in any Brooklyn coffee shop that serves bagels.