How to Celebrate New Year's Eve in Times Square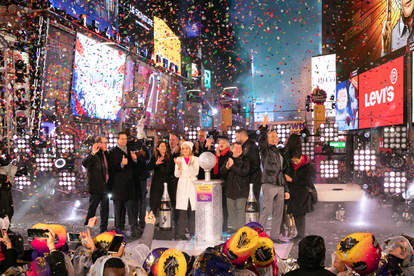 Whether you've lost a year-long bet, just moved to New York to pursue your vlogging career, or are a tourist (Welcome! If you look at your Samsung Galaxy on the top of the subway stairs, I'll smack it out of your hand!), you're celebrating New Year's Eve 2020 in Times Square, baby!
This year, Times Square is expecting about one million revelers, and you don't want to get lost in the crowd. We've got everything you need to know: where to stand, what to wear, and how to make your 12 hours in Times Square as amazing as 12 hours in Times Square can possibly be.
What should I wear and how should I prepare?
If you want a good spot to see that big ol' beautiful ball, you've got to get there around noon -- that means, at minimum, a full twelve hours standing in the freezing cold. Forget fashion; think warmth. Layer long johns or thermals under the warmest clothes you own, then cover those with a wind- and water-resistant top layer. Bring hand warmers, gloves, extra socks, a toasty hat, and maybe even a Pussy Riot-style balaclava. By the time you're done layering, you should look like a perfect circle and make a "swish-swish" sound when you walk.
Get lots of sleep the night before and eat a filling breakfast and lunch, since there's no telling when you'll eat a meal again. Or stay out until sunrise and eat a handful of Skittles -- what am I, your mother?
What should I bring and what should I leave at home?
Committing to New Year's in Times Square is a little like being a doomsday prepper: You're sensibly considering contingencies, but overall you've lost your goddamn mind. Much like packing for the apocalypse, you should bring high-protein snacks, bottled water, and extra gloves and socks. Alcohol is banned (boo!), as are backpacks, big bags, and umbrellas. All bags will be searched, so you might want to leave anything cops don't care for at home. And don't bother bringing noisemakers or novelty 2020 glasses; they'll hand those out in the crowd.
What's the best spot and how do I get there?
The best views of the ball drop are on Broadway between 43rd Street and 50th Street and along Seventh Avenue up to 59th Street. If you're in it for the lip syncing, the sound system will be set up where Broadway meets Seventh Avenue.
To get there, the subway is pretty much your only option -- a Lyft or taxi won't be able to come anywhere close. The MTA is warning of "crowding conditions" at the 42nd Street Subway Station on New Year's Eve, so exit at a nearby station (think Herald Square or Rockefeller Center) and walk the rest of the way.
The earlier you arrive, the better chance you'll have at a prime spot; the NYPD will close pedestrian access to Times Square block-by-block as it fills up, starting at the viewing areas at 43rd Street and moving north. That means that once you're there, you can't leave and come back in.
When does the celebration start?
The ball will be lit and raised at 6pm; live performances start soon after on both the Countdown Stage and the Planet Fitness Center Stage; and at midnight, 3,000 pounds of confetti will rain down from the sky, each piece printed with a New Year's wish from around the world. Hope you catch a good wish and not a bad or gross one!
What are the food and drink options?
Hungry? Better open that bag of cashews you packed. There won't be any food or drink vendors allowed inside the barricades, so what you eat is what you brought. Thirsty? First, consider your options: If you drink water, you won't die; but if you don't drink water, you won't have to pee.
Wait. There are no bathrooms?
There are no bathrooms. I repeat: There are no bathrooms! You must choose between purposefully dehydrating yourself -- risking both death and your skincare routine -- or wearing a diaper. Cops usually look the other way when little kids are passed over barricades to pee in the street, but you're not a baby, are you? No? Then put on your diaper.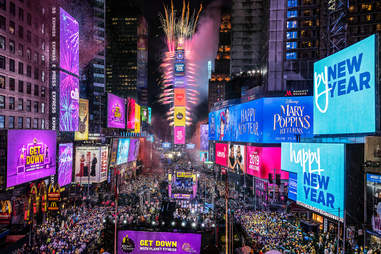 New Year's Eve in Times Square

| Countdown Entertainment, LLC
Who's performing this year?
Post Malone will be headlining Dick Clark's New Year's Rockin' Eve with Ryan Seacrest 2020, and he'll be joined by the eclectic combo of K-pop boy band BTS, singer-songwriter Sam Hunt, and the inimitable Alanis Morissette.
 
Other live performances will feature Lucy Hale, LL Cool J, Julianne Hough, and X Ambassadors.
How do I get on TV?
Try wearing a funny hat! Stage a fake engagement, or stage a real engagement and then drop the ring down a grate. Dress your baby up real cute. Do a floss or a dab or the Pete Buttigieg viral dance. If you can't get attention from the cameras, don't worry -- just fire up your Instagram Stories and suddenly, you're a star.
What resolution should I make?
Turn off your push notifications; try to make it past the first three days of Drynuary; achieve Inbox Zero; do one nice thing a day; find out what's actually in an Impossible Burger.
Is there really a booze ban? What am I supposed to toast with?
Make friends with a news crew… they always sneak in a little something. If you don't like making friends, you can try a hidden flask, but be prepared for the possibility of having to get friendly with the police.
What should I do after?
Get the hell out of Times Square! The crowd will take a while to move, which gives you plenty of time to decide whether you want to hit one of the many Midtown clubs, head straight home to warm up and start drinking, or take one last Juul hit before you start your resolutions.
First, though, you should probably take off your diaper.
Hmm, sounds like a lot. Should I just watch this thing on TV?
Yes!
Sign up here for our daily NYC email and be the first to get all the food/drink/fun New York has to offer.