Forget that five-borough footrace after Halloween. The real NYC marathon is December, a blur of orgiastic spending and tourist invasions and booze-fueled holiday parties and tightrope negotiations with your new partner about whether you're going to "do" Christmas with each other this year.
Once you find a moment to catch your breath, though, you can have some of the biggest fun the city has to offer. You and your boo have probably already hit up the city's biggest holiday attractions, so we've got some zigs to go with your zags. These are some of the season's best activities to check out in lieu of more popular -- and more crowded -- favorites. Who knows, maybe you'll start a new tradition.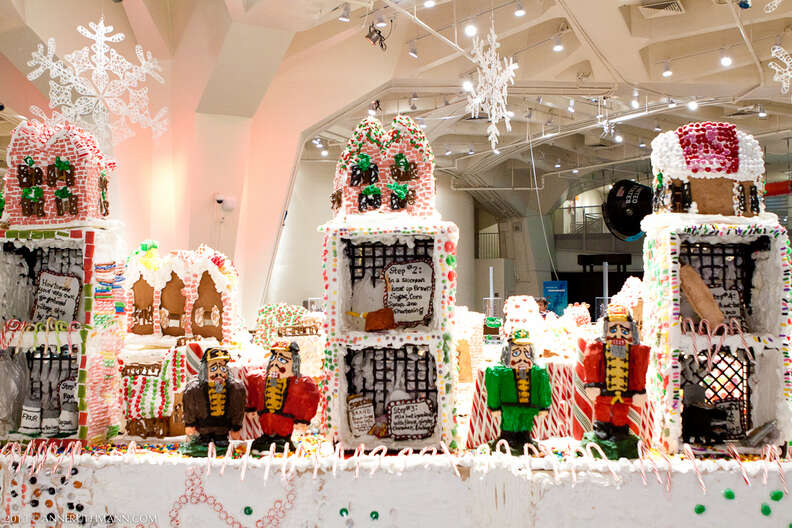 Take a walk down Gingerbread Lane
Flushing
Instead of:The Holiday Train Show at New York Botanical Garden
We don't have a bad word to say about The Holiday Train Show at the Botanical Garden, but if that's your type of holiday whimsy, you've probably been there already. While nothing can really compare with seeing miniature trains zipping through NYC landmarks recreated with twigs, moss, and an actually reliable public transportation system, we suggest taking a trip to another model city altogether -- Gingerbread Lane. Displayed in the New York Hall of Science, the gingerbread village was the largest in the world last year, created by chef Jon Lovitch from 3,640 pounds of icing, 748 pounds of candy, and 630 pounds of gingerbread. The aim, naturally, is to go even bigger in 2017...
Party like Harry Potter at The Yule Ball
Gowanus
Instead of: Another ugly sweater party
Enjoy all the magical merriment of the Yule Ball, without the looming rise of the Dark Lord (hopefully). Gowanus bar the Bell House invites you to dress up in your fanciest wizard robes for performances by the likes of Harry and the Potters (the self-described original wizard rock band) and the Potter Puppet Pals. Proceeds go to the Harry Potter Alliance, a nonprofit that uses the Harry Potter books to introduce issues of social justice to young people. And hey, if you really want to wear an ugly sweater, there was no shortage of them in the Harry Potter series, so go ahead and live your dream.
Marvel at Christmas trees around the city
Various locations
Instead of: The tree at Rockefeller Center
Christmas trees are most certainly not a case for "if you've seen one, you've seen 'em all," especially in New York City. The biggest and baddest is the behemoth at Rockefeller Center, and there's no denying it's a great starting point. But don't sleep on the tree at Washington Square Park, a holiday-season fixture for 93 years, and because the park is not usually busy at night, you can bask in its glow sans mobs. Elsewhere, the Met tree is hung with elaborate 18th century baroque ornaments, the Natural History Museum tree features decorative origami, and the tree in the Stephen A. Schwarzman Building is set in the library's show-stopping lobby.
Take the ferry to a Winter Wonderland
Staten Island
Instead of: The Bryant Park Winter Village
Don't get us wrong, there's a lot going for Bryant Park's Winter Village -- namely the centerpiece skating rink, open-air holiday market, and blockbuster events like the Winter Carnival. But a short ferry ride away, Winter Wonderland Staten Island offers a "fully immersive holiday experience" -- which means it's pretty badass. It has the customary rink and a holiday market of course, as well as also light shows, elf mini-golf, an igloo cocktail bar, and attractions like a snow-tube slide and a life-sized snow globe. Plus, there won't be as many tourists as in Bryant Park, which is as good as a bonus Christmas present.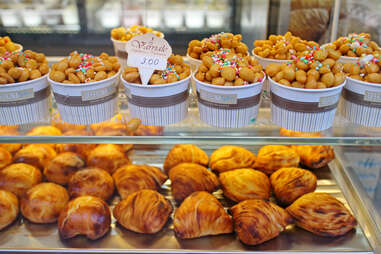 Sample traditional holiday treats from other countries
Various locations
Instead of: Standard holiday snacks
Far, far beyond a typical mug of eggnog and a gingerbread cookie, a whole world of holiday snacking traditions awaits. At Polish bakeries like Syrena in Greenpoint, try sugar-dusted chrusciki (literally "angel wings" -- a twisted ribbon of crispy fried pastry), szarlotka (spiced apple cake), and the crowd-pleasing Christmas favorite, makowiec (rolled poppy-seed cake). For Italian classics, head to Arthur Avenue in the Bronx and choose from any of the amazing Italian bakeries to stock up on rainbow cookies and festive struffoli (deep-fried dough balls, Neapolitan style).
Feast on latkes at a glow-in-the-dark Chanukah dinner
Upper East Side
Instead of: Visiting the Largest Menorah, Grand Army Plaza
The Largest Menorah stands 33-feet tall and is the site of live music and latkes on the eight nights of Chanukah each year, making Grand Army Plaza a December favorite. But how many people can say they've been to a glow-in-the-dark Chanukah Dinner? Everyone's welcome at the 92nd Street YMCA for a catered meal (featuring heaps of latkes), an evening of music, and of course -- glow sticks. Don't forget to bring a flashlight!
Avoid SantaCon and join Santathon instead
Sunnyside
Instead of: SantaCon
If you hide behind triple-locked doors when the scourge of SantaCon comes to the city each Christmas, we feel your pain. But if you'd still like to don a festive costume and have a drink without slipping on a puddle of urine in Grand Central station, we suggest Santathon as a friendly, low-key alternative. The annual neighborhood bar crawl features nine watering holes and the chance to raise money for local causes like the Floating Hospital in Long Island City and the Mission Church in Corona. Fuel up with hot wings at Bar 43, hit the dance floor at Maggie Mae's, and allow yourself a late-night slider at the 24-hour White Castle.
Discover a new neighborhood of holiday lights
Various locations
Instead of:Dyker Heights holiday lights
You know your neighborhood has made it when there are organized bus tours making holiday-light pilgrimages. But as cool as the seen-from-space Dyker Heights houses are, there's no harm in switching it up this year. Venture over to Queens for Whitestone's own neighborhood winter wonderland, check out Anthony Gurino's gloriously over-the-top "Christmas in Jamaica Estates" display, or ogle at the "Little North Pole" in Rockaway. Bonus: Stop by the Garabedian Christmas House in the Bronx, where life-size mannequins of celebs and Disney characters stand alongside a piano, a stagecoach, and perilously perched religious figures.
Sign up here for our daily NYC email and be the first to get all the food/drink/fun New York has to offer.