You've already been to the least-secret date spots in the city. Skating at Rockefeller Center, dinner at a Shake Shack or four, some sort of $300 Knicks-related outing that you'd rather forget. While it's comforting to gravitate toward the familiar, ask yourself whether the first impression you want to make on your Tinder match is to propose a cutting-edge jaunt to jam-packed Chelsea Market. Great spot, yes. But why not hew a little more... mysterious?
We're going to let you in on this secret: There's something sexy about being in on a secret. When you're looking to really impress a person and make some memories, check out one of these under-the-radar date spots in New York City that offer much more than a prix fixe menu and wine-paired buzz.
135 Atlantic Avenue, Brooklyn
Push open the bookcase-obscured hidden door at French bistro Chez Moi and descend the stairs into a sexy underground cocktail bar with Versailles-style allure. The cavernous Le Boudoir, designed in the vein of Marie Antoinette's chambers, is located below the restaurant and remains one of Brooklyn Heights' sultry semi-secrets. Cozy up with your date in a red velvet booth and sip goblets of craft cocktails, like the French 75, Intruder, or Duchesse (all created by Dead Rabbit alum Franky Marshall). Live music ups the ambiance on Mondays.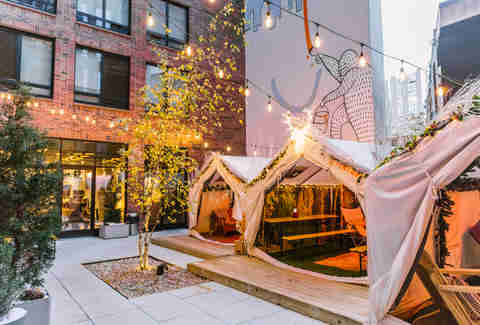 231 Hudson Street
Ready for something in tents? The boutique hotel has pitched five large camps -- three in the courtyard, two on the roof -- that are mini woodland wonderlands open all winter for (funny) business. Each one is decorated and equipped with picnic tables, fake fireplaces, and shot skis. Avoid the tent with the queen-size bed unless your date messaged you first on Tinder with "u up?" The hot toddies and good conversation in Adirondack chairs are sure to please.
20 Kenny Road, Staten Island
If your date into long walks on the beach, head to Staten Island for exactly that, minus the Coney Island throngs. This secluded nature preserve boasts three hiking trails, each of which lead you to a mile of coastline, lush grasslands, and freshwater wetlands -- all within city limits. It's also a great spot for bird watching, if you both dig that sort of thing (in which case, congrats on finding each other!) Just don't forget to check each other for ticks later (wink, wink).
149 Mulberry Street
Follow a red light downstairs for an urban-cool date at this gastropub/speakeasy that's all about taking chances, where a mixologist will concoct one-of-a-kind libations suited to your tastes. During warmer months, head out to the mural-lined patio to sip and chat about your (hopefully) mutual interests. If it turns out you have opposing political views, at least the truffle fries and house-made donuts are reasonably priced (and damn delicious).
In Manhattan: West 172 Street and Amsterdam Avenue
In the Bronx: University Avenue and 170th Street
The High Line? Been there, done that, seen the tourists. The deeper-cut urban walk is the scenic stroll from the Bronx to Washington Heights across NYC's oldest standing bridge. The historic High Bridge was originally built as part of the Croton Aqueduct in 1848; it closed for 40 years and re-opened in 2015 as a picturesque pedestrian walkway offering a unique viewpoint of the city from 140 feet above the Harlem River. Find the entrance nestled in Highbridge Park and look for the High Bridge Tower straight up ahead.
The downtown 6 train from Brooklyn Bridge
While the word "subway" evokes such romantic images as pizza rats and mystery puddles, the 6 train offers a beautifully nostalgic ride through history. The abandoned City Hall subway station hasn't been in service since 1945, yet it's remained an unspoiled treasure throughout the years with its grandiose skylights, vaulted tiled ceilings, and brass chandeliers. The New York Transit Museum offers tours of the station, but you both must be members ($75 for a yearly dual membership) and pay an additional $50 for the tour; plan ahead because tickets sell out quickly. If you're a couple who live life on the edge, hop the downtown 6 and discreetly remain on the train at the Brooklyn Bridge final stop; the train loops back uptown via the secret station.
21 West 52nd Street
If you're really looking to woo (and have some cash to burn), treat your date to an unsurpassably intimate dining experience in 21 Club's Wine Cellar. This expertly restored speakeasy turned upscale dining room takes "secret" to a whole new level, as its brick-wall door was designed to be invisible (that's how it survived numerous raids in the Prohibition era). Indulge in delectable American cuisine paired with award-winning wines, then cap the night off with a lead tour of the actual cellar, where some of Richard Nixon's wines are still aging.
A changing location in the city
If you and your companion are feeling uninhibited, why not retreat to Brooklyn for some sexploration? Chemistry NYC is a sex party for the free-spirited (but still organized; singles and couples alike must apply online and answer a questionnaire in order to attend). Monthly events are held in tasteful spaces where you can meet new friends to "play with"... or not. If getting naked and frisky on the dance floor is all you're after, then go for it -- this is your date night, after all.
113 St. Marks Place
Serving up Old Fashioneds alongside deep-fried franks, this covert cocktail lounge is the perfect balance of high- and lowbrow. PDT is hidden within the East Village hot dog joint Crif Dogs; enter through a vintage phone booth and emerge into a snug speakeasy with low lighting and taxidermied decor. While the bar maintains the pretense of exclusivity, many New Yorkers are now in-the-know; make a reservation so you can get a seat and eat your bacon-wrapped dogs at the bar.
Throughout the park
Take a stroll around Central Park and look a little closer -- you'll both fall in love with New York City (and each other) all over again. Many don't notice this, but 4,500 of the 9,000 benches in the park have been adopted and engraved with words of love -- marriage proposals, anniversary milestones, amorous professions of adoration, the works. As we continue to live and date in the age of swiping (mostly) left, a self-guided romantic scavenger hunt could be your reminder that every New Yorker has a story, and that love still exists in this great city.
Sign up here for our daily NYC email and be the first to get all the food/drink/fun New York has to offer.