Jeremiah Moss is the pseudonymous creator of Jeremiah's Vanishing New York, a local blog launched in 2007 to document NYC's ever-changing landscape. For the past 10 years, Moss has meticulously chronicled the closures of everything from classic punk bars to cafes with cult followings. This summer, his book, Vanishing New York: How a Great City Lost Its Soul, will be published by HarperCollins.
Over a decade ago, I began to notice that the New York I loved was vanishing. While the city is always changing, this change was much bigger, more intense, and very specific. The local diversity of the streetscape was getting wiped out by a global corporate monoculture of chain stores and luxury. In that moment of crisis, I started the blog "Vanishing New York" to record the closures of local businesses and expose the phenomenon I call hyper-gentrification, a powerful force that's killing the soul of the city.
Almost without variation, the shops I chronicled were forced to shutter because the rent was hiked to impossible heights, or a developer bought the building and demolished it. What replaced them was almost always a chain store, a luxury shop, or a bank.
Every year, we lose countless small businesses. To take stock of some of the biggest losses, I picked one for each year of the blog's life, from 2007 to 2017. My choices are personal and idiosyncratic; for some years, the choice was easy. For others, not so much.
Recommended Video
France's Fête des Lumières Is a Light Festival Unlike Anything You've Ever Seen
2007
THEN: Playpen and Funny Store
NOW: InterContinental hotel and Shake Shack
Times Square
The Playpen and the Funny Store once shared the first floor of what was the Ideal Theater, originally opened as a Beaux-Arts vaudeville house in 1916. At the Playpen, you could buy pornography and see "live girls" perform behind Plexiglas. At the Funny Store, you could buy rubber chickens and whoopee cushions.
When the landlord sold the building, both businesses shuttered. The old theater, with its antique architecture, was demolished. In its place today stands a giant tourist hotel, the InterContinental, with a Shake Shack downstairs.
2008
THEN: Bobby's Happy House
NOW: Capital One bank
Harlem
Opened in 1946, Bobby's Happy House was one of the first black-owned businesses on Harlem's 125th St. Owner Bobby Robinson not only sold records, he also produced them, helping to launch groups like The Shirelles and Gladys Knight & the Pips. His record shop was a community place; people socialized inside and danced outside, moving to the music played from outdoor speakers.
When the Bloomberg administration rezoned 125th St, speculative real estate took over. Bobby's landlord sold to a developer and the shop was evicted. The developer demolished the place, along with much of the block, and put up a box filled with chain stores. Instead of the Happy House, there's now a Capital One bank.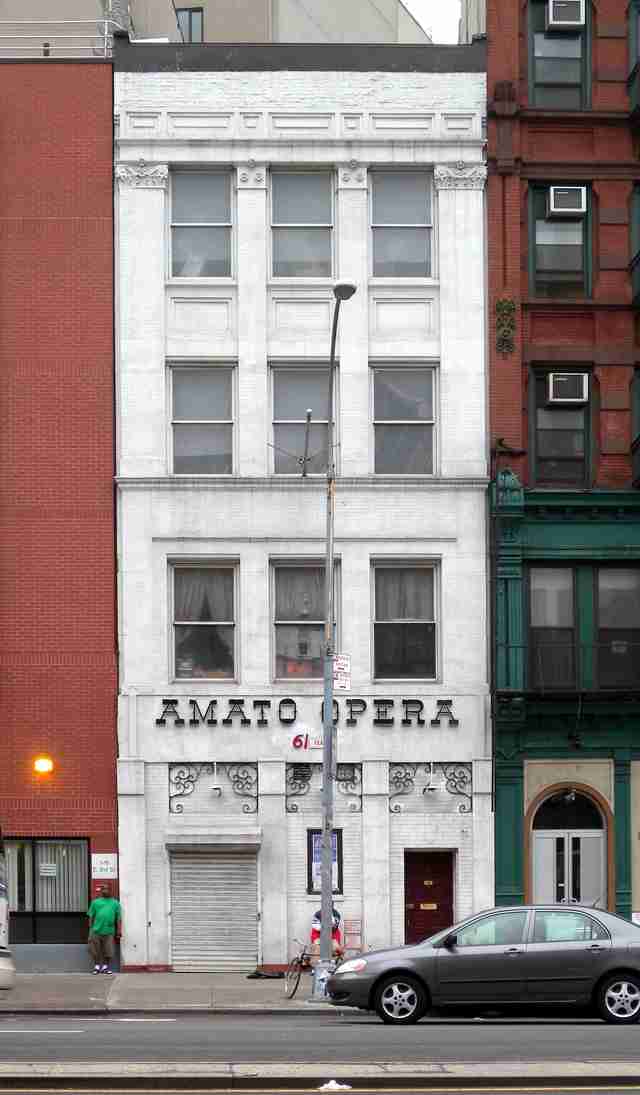 2009
THEN: Amato Opera House
NOW: Nothing
Bowery
Founded in 1948 by husband and wife Tony and Sally Amato, the Amato Opera House traveled around the city, putting on performances at various locations, before settling permanently on the Bowery in 1964. All the classics, from La Boheme to Madame Butterfly to Carmen, were produced on a shoestring budget in a tight little tenement building with uncomfortable seats. During intermissions, an elderly woman sold homemade brownies and tea. On weekend afternoons, the singers used to practice in the parking lot next door (you could hear them as you walked by).
In 2009, after Sally died and Tony decided to retire, the Amato Opera House closed. Today the place sits empty and silent.
2010
THEN: Restaurant Gino
NOW: Sprinkles cupcake chain
Midtown, East Side
Open in Midtown since 1945, Restaurant Gino was one of the last of New York's elegant red sauce joints. Frank Sinatra ate there. The waiters wore jackets and bow ties. The red walls were papered with zebras, a design created especially for Gino by Flora Scalamandre in 1945 -- though you might remember it best from Margot Tenenbaum's bedroom in The Royal Tenenbaums. Then, the landlord raised the rent by $8,000.
On my last trip to Gino's, a woman sipping Campari & sodas said, "I was practically born here. I can't explain how I feel at this bar. Safe. I feel safe. Like I'm home. Is that silly? I don't know what I'm going to do now." Gino's was gutted and rented to the cupcake chain Sprinkles.
2011
THEN: Mars Bar
NOW: TD Bank
East Village
Opened in 1984, Mars Bar was the dive bar to end all dive bars. Frequented by punks, poets, artists, lunatics, and assorted dipsomaniacs, it was a last outpost of the old East Village. The walls were covered in art. Fat cockroaches strolled brazenly across the knife-scarred bar. A sign on the door read: "Not for Everybody. For Madmen Only!"
The building was sold, demolished, and replaced with condos. In its final days, someone scrawled on the window: "Save a city -- kill a yuppie." Where Mars Bar used to be there is now a TD Bank.
2012
THEN: The Lenox Lounge
NOW: Nothing
Harlem
The Lenox Lounge opened in Harlem in 1942 and saw performances from the likes of Billie Holiday, Miles Davis, and John Coltrane. It was an Art Deco jewel, right up to the end when the landlord doubled the rent from $10,000 to $20,000 and the lease went to Richie Notar of Nobu. When Lenox's owner left, he stripped the façade. Notar moved on to other things, and the Lenox was left to rot. When a Whole Foods went up across the street, the landlord doubled the rent again, to $40,000. An unknown LLC has plans to demolish the building and replace it with a Sephora in a glass box.
2013
THEN: Rawhide
NOW: Lingerie boutique
Chelsea
Opened in Chelsea in 1979, the Rawhide gay bar was a repeated survivor. The oldest Levis-and-leather bar in the city, it outlived homophobic neighbors throwing bricks at the windows, the high-crime years, and the AIDS crisis. But it couldn't survive hyper-gentrification; the building was sold, the rent went up, and the Rawhide departed.
2014
THEN: Cafe Edison
NOW: Nothing
Times Square
Since 1980, Cafe Edison, aka the Polish Tea Room, was known for serving perfect bowls of matzo ball soup and plates of latkes and blintzes inside the Hotel Edison's grand dining room -- a greasy cathedral of sky-blue ceilings and powder-pink walls, decorated in plasterwork cherubs. Being there was like being inside a giant wedding cake.
Then the new hotel owner told Cafe Edison to go. Save Cafe Edison, an activist group I formed, fought for it to stay, hosting protests and lunch mobs and gaining support from local politicians, including Mayor Bill de Blasio. But the cafe closed anyway, and today it sits empty.
2015
THEN: Market Diner
NOW: Nothing
Hell's Kitchen
New York City's diners are a critically endangered species. In Hell's Kitchen since 1962, the Market Diner was arguably the most beautiful, a unique piece of mid-century Googie architecture with an octagonal chrome roof. It was once a regular hangout for Frank Sinatra and the Westies gang.
Eventually, the landlord sold the building to a big developer, the diner was put out of business, and then demolished. A glass tower of luxury apartments is rising there today.
2016
THEN: St. Mark's Bookshop
NOW: Nothing
East Village
The East Village used to be full of bookstores, a reflection of the intellectual health of the neighborhood. But as the neighborhood's changed over the years, and that health has diminished, so have the bookstores. The biggest loss was St. Mark's Bookshop, in the neighborhood since 1977 and known for its arts-focused selection.
As with all independent bookstores across America, the drive towards Barnes & Noble and Amazon took a bite out of St. Mark's Bookshop's sales. Then the landlord raised the rent. The community fought for it, signing petitions and holding rallies. Michael Moore spoke on its behalf. The shop eventually moved to a new location on East 3rd, but it continued to struggle there as well. Then, last year, it was gone. Its last two locations still sit empty.
2017
The year has just gotten started and we've already lost more coffee shops, including the Evergreen, the Neptune, and the Greek Corner. We've also lost Fong Inn Too, the oldest family-run tofu shop in New York City founded in Chinatown in 1933.
Until the City Council passes the Small Business Jobs Survival Act to help secure fair lease renewals, until City Hall takes action to stop the bleeding with a rezoning to control chain stores and a vacancy tax on storefronts purposely left empty in a phenomenon known as high-rent blight, New York City will keep vanishing, block by block.
Sign up here for our daily NYC email and be the first to get all the food/drink/fun New York has to offer.