It's been a stressful week (Month? Year? Adult life?), and the prospect of spending several days celebrating the holidays with your family, friends, and coworkers probably isn't helping. Channel that stress into something positive by volunteering some of your time to help people in the city who need it most. Whether you have a full day to give or even just one free hour, there are plenty of opportunities to volunteer throughout the five boroughs. Lift up your fellow New Yorkers, contribute to the greater good, and make the world a better place with these volunteer opportunities all season long and into the new year.
Welcome refugees to New York City
The Hebrew Immigrant Aid Society (HIAS), founded on the Lower East Side in 1881, has assisted refugees fleeing oppression for more than 130 years. Today, they need volunteers to help resettle recently arrived refugees and asylum seekers. Translators, ESL tutors, English conversation partners, and college and career mentors are all encouraged to get involved.
Help New York City's Greenmarkets run smoothly
Can't commit to weekly volunteering? Grow NYC offers tons of one-off volunteer opportunities that you can sign up for days or weeks in advance. Help distribute fresh food boxes, photograph events and markets, and assist with cooking demonstrations. We know you're not in it for the free food samples, but they're definitely an added perk to this gig.
Support immigrant communities
The Mayor's Office of Immigrant Affairs (MOIA) is looking for organizers and interpreters to help with a variety of services, both municipally related and more personal. Volunteers can help newcomers secure IDNYC, learn and practice speaking English, and familiarize immigrants with their legal rights.
Keep The New York Public Library running
The New York Public Library may be the city's greatest free treasure, and it takes a team (along with your taxes) to keep the institution running. The NYPL is currently seeking language tutors, extracurricular tutors (to teach enrichment classes like chess or crafting), and event volunteers.
Support LGBTQ+ homeless youth
Hell's Kitchen shelter New Alternatives needs volunteers for a variety for services with an emphasis on Sunday night dinner service. Help prep and serve a hot meal each week from 4:30-7:30pm.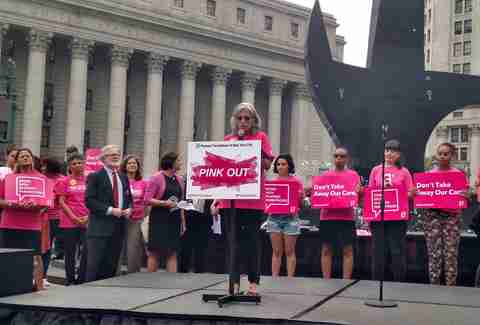 Help out at Planned Parenthood
New York City is the birthplace of Planned Parenthood, and the reproductive health organization is always in need of volunteers. Sign up to be part of PPNYC's Activist Council, which will train you on reproductive rights and justice and give you the tools to be part of projects including escorting patients to health centers, advocating for comprehensive sex ed, and fundraising and outreach.
Secure justice for New Yorkers
You don't need a law degree to help out at the New York Civil Liberties Union. Anyone with a little know-how can contribute their time to help with administrative work and contribute graphic design, public relations, fundraising, writing, photography or teaching skills to help NYCLU defend New Yorkers' fights for their rights.
Provide crisis intervention and suicide prevention services for LGBTQ youth
The Trevor Project's New York City branch is always looking for volunteers to help out at events, fundraise, research community partnerships, and plan events that support mental health wellness in LGBTQ youth and ensure they have the support they need when facing a potential suicide crisis.
Support refugees
The International Rescue Committee helps people fleeing violence and persecution from all over the world resettle in America. In New York City, the IRC's branch helps provide refugees with a furnished home, health care, nutritious food, English classes, education, and legal services. Volunteers can help mentor refugees and assist them with job seeking and interviewing.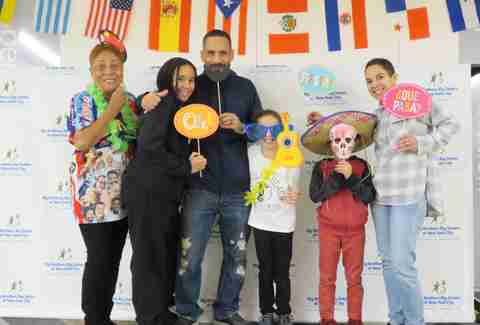 Become a big
Big Brothers Big Sisters of NYC (BBBS of NYC) is looking for mentors, or Bigs. Though the impact on young New Yorkers can be huge, the time commitment is pretty minimal: You'll meet your mentee twice a month on your own schedule and serve as a positive influence and role model in the youth's life. Volunteers over the age of 21 will be matched with children between the ages of 7-17 living in all five boroughs. Currently, there's a high demand for male volunteers to be matched with boys on the waitlist, and willingness to travel to the outer boroughs is a plus.
Spread Thanksgiving joy
Gobble Gobble Give 2018 will gather hundreds of New Yorkers on Thanksgiving morning to create Thanksgiving meals and organize canned food, toiletry, clothing, toy, and blanket donations that will be delivered throughout the city to families, shelters, and retirement communities. Volunteer roles vary, and each helper is required to bring a casserole-sized, Thanksgiving-inspired dish in a recyclable container, so start scrolling through Pinterest.
Bring meals to the elderly
Citymeals on Wheels is seeking volunteers for Thanksgiving, Christmas, and New Years. You'll personally deliver meals to the homebound elderly and maybe even make a few new friends as you socialize with the meal recipients. Not around for the holidays? Citymeals on Wheels is also looking for people to chat weekly with seniors (free advice!) via phone or in person, make cards for special occasions and help with office work or meal prep in local senior centers.
Help new immigrants adjust to life in NYC
Cabrini Immigrant Services relies on volunteers to help immigrants acclimate to their new lives. Lend a hand in the food pantry, teach social media, basic Microsoft programs, and English to your new NYC neighbors, or share your knack for knitting, cooking, or whatever passion you'd like to pass along. English and Spanish speakers are welcome, and Cantonese translators are also in demand.
Fight hunger in New York City
The Food Bank of New York City has myriad options to help feed hungry New Yorkers. Sign up for a shift to organize a food pantry or to serve dinner at a community kitchen. Opportunities abound during the holidays, and FBNYC needs volunteers all year long, so carry that holiday generosity into 2019 and beyond.
Help out at a public school
New York Cares has ongoing calendar listings for both short- and long-term volunteers to help public school children and teens with math, reading, and other classroom activities. Early morning activities can easily fit into your work schedule and is your boss really going to be mad if you're a few minutes late because you were helping a kid with their multiplication skills?
Support the trans community
The Trans Lifeline needs transgender people and cis allies over the age of 18 to act as phone operators and counselors to trans and gender nonconforming people in crisis. Help organize fundraisers, assist in administrative work, tech support, and training, or sign up to provide emotional support to phone operators.
Workout with adults and children with disabilities
Cancel that gym membership! Simultaneously give back and get fit with programs like KEEN (kids enjoy exercise now), which needs volunteers to coach teams and help with fitness activities. Sign up to bike with vision-impaired cyclists at InTandem bicycling and pair up with disabled runners via Achilles International.
Support LGBTQ youth
The Ali Forney Center for LGBTQ Youth has various three month long volunteer opportunities. Prepare meals any day of the week, assist in counseling, help organize the donation closet, and facilitate workshops. Any and all skills can help Ali Forney clients, 80% of whom have been kicked out of their homes after coming out.
Share leftovers with the homeless
Rescuing Leftover Cuisine gives leftovers a second life by enlisting volunteers to pick up unwanted meals and deliver them to homeless shelters. Volunteer shifts take less than an hour, and you can choose when you want to help out. If you're hosting an event, you can also enroll to have the leftovers donated after your guests leave.
Support LGBTQ+ media coverage
No matter how little or how much time you have to volunteer, GLAAD wants you. You can sign up to help out at their annual media awards in NYC or volunteer throughout the year at events and on projects that help encourage fair representation of LGBTQ people in the media.
Help Syrian refugees
The Multifaith Alliance, an organization of secular and faith-based groups, is seeking volunteers to help work with religious groups and nonprofits. You'll help raise awareness of the refugee crisis, fundraise to support humanitarian organizations in Syria, and plan programs in NYC.
Support LGBTQ students and education
The Gay and Lesbian Student Education Network (GLSEN) needs volunteers to help out with mailings and outreach, and to further their mission to ensure safety and respect for all students, regardless of sexuality or gender. Email nycr@chapters.glsen.org to join GLSEN's 100% volunteer-run board and help the nonprofit in find new and sustainable ways to support LGBTQ students, or just to keep upcoming GLSEN events on your radar.
Expand New Yorkers' minds with radical reads
Bluestockings, New York City's very own volunteer-run (and feminist!) bookstore, event, and community space needs volunteers who can commit to working weekly three-hour shifts selling books, organizing shelves, working the cafe, and helping out at events. Stop by the shop to fill out an application and pick out a radical book (maybe try Bad Feminist by Roxane Gay) on your way out.
Provide mental health support
The Icarus Project, which finds creative ways to promote self-care and mental illness awareness and support, is seeking volunteers to help with activism, political theatre, community art projects, writing, and grassroots organizing.
Sign up here for our daily NYC email and be the first to get all the food/drink/fun New York has to offer.