When Earth Day first debuted on April 22, 1970, NYC's then-mayor had already established the first civic-based Environmental Protection Administration in 1968. Since then, NYC has launched a series of ambitious climate change policies (especially in the last two decades)—including a goal of sending zero-waste to landfills by 2030; setting targets like carbon-free electricity by 2040 and net-zero carbon emissions by 2050; and passing legislation that requires all new developments to incorporate solar panels and green spaces.
While there have been definitesetbacks, NYC retains an abundance of fiercely dedicated community organizations wholly focused on mitigating the effects of the climate crisis.
This year, to take advantage of the spring weather (especially for a good cause) and the newly-vaccinated freedom for some, we offer opportunities for hands-on volunteering and IRL ways to support the 52nd anniversary of Earth Day. From events and programming hosted by organizations across all five boroughs, here are some ways to help make a difference.
Help cultivate 30,000+ acres of city parks all month long
NYC's Department of Parks & Recreation oversees over 30,000 acres of the city, including millions of trees (literally), almost 1,000 playgrounds, 800 athletic fields, thousands of athletic courts, plus beaches, pools, nature centers, and more.
In recognition of the 2022 theme, Restore our Earth, NYC Parks has a whole slew of activities throughout April (and beyond) to celebrate Earth Day: a tree planting at Cunningham Park (Queens) on April 22; a class on soap making with garden herbs and essential oils at the Phoenix Community Garden (Brooklyn) on April 22; an urban wildlife nature walk at the William T David Wildlife Refuge (Staten Island) on April 23; a volunteer event at Van Cortlandt Park (Bronx) on April 23: and a challenge to collect local data on biodiversity at Forte Greene Park (Brooklyn) on May 1.
Immerse yourself in a Staten Island botanical haven
Back in the 1970s, artists and activists came together to convince the City of New York to purchase the property that, today, has become the Snug Harbor Cultural Center & Botanical Garden. Today, it's a thriving cultural resource for the public—featuring 14 botanical gardens (including a Chinese Scholar's Garden and a Tuscan Garden, inspired by a 18th century garden in Florence); one of the city's oldest concert halls; and buildings showcasing classic architecture (which host art and history exhibitions).
On April 23, Snug Harbor will host a Compost Site Tour event. Attend to learn more about food waste and how composting is done across the city through various systems.
Partake in Bee-A-Pollinator Service Day
Dating back more than three centuries, the 47-acre Queens County Farm (currently on the National Register of Historic Places) resides on NYC's largest plot of self-contained farmland. Based in Floral Park, it comprises a greenhouse complex, planting fields, an orchard and herb garden, and historic farm buildings.
On April 22, visit the farm for Bee-A-Pollinator Earth Day Service Day, to clean up the property, take an apiary walk with an NYC beekeeper, experience a self-guided nature scavenger hunt, and learn about composting.
Amp up your gardening skills
What began as a garden society exhibit over five acres is now a thriving botanical center in Flushing. The Queens Botanical Garden, home to an urban forest of 800 trees (from crabapple to gingko biloba), refreshed its master plan in 2020 to support a holistic urban vision of connecting the water, culture, and environment through garden expression.
On April 26, the Queens Botanical Garden hosts its Farm Community Volunteer Day, inviting the community to help grow produce that will be distributed to food pantries and communities in need. Learn the basics of gardening and take part in a variety of activities including raking, weeding, harvesting, garden bed maintenance, and more.
Almost three decades after its formation, the Randall's Island Park Alliance has helped transform the island—nestled between the Bronx, Manhattan, and Queens— into a sports and recreation hub (60 athletic fields, state-of-the-art track and field center, and 20 tennis courts) and a natural wildlife destination, by restoring wetlands to improve water quality, protecting wildlife inhabitants, and growing produce through RIPA's Urban Farm.
On April 29, take part in its Arbor Day Planting event by planting trees native to the park followed by a tour of its natural areas.
Head uptown for an all-day Harlem Earth Day fest
On April 23, check out the all day Harlem Earth Day Festival featuring a series of events as part of a community initiative to support local businesses in the area. Enjoy entertainment like live music and DJs spinning tracks, along with food from Harlem vendors The Cecil, Steakhouse, Afterwards, shop for eco-friendly goods that include arts and crafts, wellness items, and clothing.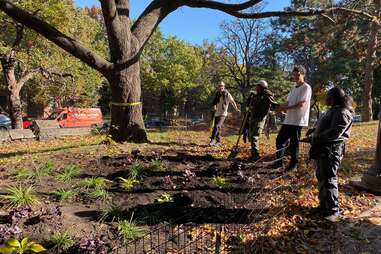 Participate in an event from the Fort Greene Park Conservancy
Walt Whitman is credited with persuading Brooklyn to designate Fort Greene as its first official park in the late 1840s. Since then, this 30-acre downtown parkland has seen a local community of almost 200,000 residents enjoy its green acreage of open fields, rolling hills, and playgrounds.
On April 23, the Fort Greene Park Conservancy holds its annual Earth Day event—where locals can volunteer to clean up the park and learn about the sustainable initiatives being deployed onsite.
Join the Hudson River Park Green Team
The Hudson River Park Trust (established in 1998) was set up to ensure a public park and sanctuary was built, designed, and operated along the Manhattan shoreline. The River Project maintains the 400-acre estuarine sanctuary, centering its efforts around fish ecology, shoreline debris, pathogens, microplastics, and water quality.
On April 23 and additional dates throughout the year, volunteer with the HRPK Green Team to cultivate your green thumb with their horticulture staff while pruning, trimming, and more to learn skills while helping a worthy cause.