How to Vote in NYC This Election Day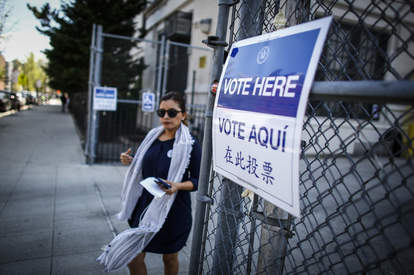 Election Day 2018 is days away and there is a lot to think about. Will there be a Blue Wave? Did Brett Kavanaugh amp up conservatives? And what will this all mean for immigration, health care, and our finances?
For us New Yorkers there's an additional layer of drama leading up to the ballot box. About 400,000 city residents received warning letters earlier this month warning that they would be purged from the voter rolls for failing to vote in past elections. But many people say there were falsely accused of not casting previous ballots, leading to a flood of complaints across Twitter. If you got one of these letters, check out your status online and make sure it says "active."
Despite all this stress, we still urge you to exercise your civic duty on Tuesday, November 6, and get out there to vote.
US House Chamber

| Mark Reinstein/Shutterstock
WHAT'S AT STAKE
The House of Representatives, for one thing. Democrats are trying to take control of the chamber away from Republicans. This means the left is trying to flip as many seats as possible.
Here at home, there are 12 US congressional districts that are part of the five boroughs. Not surprisingly, the city's congressional races are all leaning blue -- except for the lone spot of red in Staten Island. Rep. Dan Donovan is New York's only Republican down in DC. Yes, he seems like the favorite in the land of cops, firemen, and other working-class heroes out in Staten Island. But there's a chance for an upset by Max Rose, a US Army veteran and Democrat.
Another race to watch isn't competitive right now, but it sure was stunning back in the primaries. Alexandria Ocasio-Cortez, a 28-year-old former bartender from the Bronx, beat out the once-powerful Democrat Rep. Joe Crowley to represent northern Queens and the eastern Bronx on the Hill by running as a more liberal liberal than he was. It's extremely likely she will blast to victory, but the result will be interesting nonetheless.
Things are less dramatic on the state level. New Yorkers are strongly expected to re-elect Governor Andrew Cuomo, and choose New York City Public Advocate Letitia James as the next state attorney general.
A Fine-Looking Brooklyn Polling Place

| Angela Weiss/AFP/Getty Images
WHERE TO VOTE
The polls open at 6am on Election Day and close at 9pm. Where is your local polling place? Plug in your home address into the search bar on the city's Board of Election website to find out. Internet down? Call the Voter Phone Bank (1.866.VOTE.NYC) Monday to Friday from 9am to 5pm, to speak with a human for help.
Polling sites tend to be housed in your local senior citizens home, public school, library, or community center. It's hard to predict whether the lines will be long, although some experts have predicted record turnout for the midterms.
WHAT TO BRING TO THE POLLS
Technically nothing. That's right, nothing. New York is one of few states where identification is not needed to vote.
If you ARE a virgin voter, bring an ID. The city Board of Education site quotes an obscure law that says first-time voters need to prove their identity, or they can't vote the traditional way. No ID, and you are a first-timer? At the polling site, you can fill out an "affidavit ballot" aka a paper ballot which takes a few days, or weeks, to process. These ballots are problematic, and sometimes get lost in the system. Our advice: Bring ID. It's not worth the hassle.
WHEN TO VOTE  
November 6, 2018, a Tuesday. Polls open at 6am and close at 9pm. (Yes, we are putting the time and date twice to stress the fact that you need to get off your keister and vote!)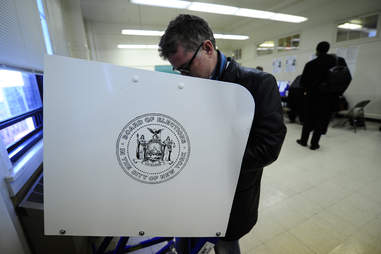 Be Like Him!

| Emmanuel Dunand/AFP/Getty Images
POLLING PLACE 101
Don't worry if this is your first ballot-casting rodeo. The process can appear intimidating with all the pencils and bubble-sheets. But trust us. Exercising your democratic right is oodles of fun. When you walk into the polling site, you will be greeted by a worker who will ask for your address. Then they'll send you to another table where you will state your name in front of poll workers with a big book. The book contains all the registered voters in the immediate area. If you registered to vote before the October 12 deadline, then your name will be in that book. (At least, it should be). Next: Sign your name under your printed information in Mr. Big Book and proceed to the row of privacy podiums.
The podium, with its covered sides reminiscent of horse blinders, is where the magic happens. You fill out the paper ballot with a pencil (don't worry, polling sites provide pencils). There is an empty circle next to each candidate's name waiting for you to either fill it in, or leave it blank. For the novices out there: Leaving the bubble blank means that you are NOT voting for that person.
Insider tip: Turn the ballot over to the backside. Sometimes there are judges to vote for back there or proposed amendments to the City Charter, which is like the Constitution for New York City.
If you'd like to get a head-start and see who is on your ballot, put your address in here.
Once you've filled in your ballot's desired circles, walk it over to the scanning machine where it's safely sucked inside. That's it, you are done and it's sticker time! This is the most important part of Election Day: Posting the obnoxious, yet necessary, Instagram selfie with your prized sticker. #nycvotes
RESOURCES FOR VOTERS
Nothing in life is free, except on Election Day. Uber is offering no-cost rides on November 6 to the voting booth, and Lyft is slashing trips to the ballot box by 50 percent. Once you get to the polls, and for some reason they can't find your name on the voter rolls, ask for an affidavit ballot (see above). Still have a beef? There are several reporting options: the city Board of Elections, or the New York State Board of Elections enforcement counsel board.
Your boss has to allow up to two hours of paid leave so you can cast that ballot, according to New York state law. Don't get too happy. The time-off rules don't apply if an employee starts their work day four hours after the polls open, or ends it four hours before they close.
I MISSED THE DEADLINE TO REGISTER TO VOTE. ANYTHING I CAN DO TO REDEEM MYSELF?
For starters, there's always next time. Register to vote for the next election season by logging on to this online voter registration portal on the state Department of Motor Vehicles' website. Red alert: You need to have a New York state driver's license, permit, or Non-Driver ID to do so. Or, to assuage the guilt of not registering in time, sign-up with New York Cares, which matches you to all sorts of volunteer jobs like assisting high school students preparing for the SAT, or collecting winter coats. Too busy to work for free? Donate money to a cause close to your heart. Such as puppies. Help puppies who are rescued from kill shelters in the South, and brought to animal rescue Bad Ass Brooklyn. You can find more volunteer opportunities right here.
Sign up here for our daily NYC email and be the first to get all the food/drink/fun New York has to offer.