A delivery by Doobie

| Photo courtesy of Doobie
A delivery by Doobie

| Photo courtesy of Doobie
While some might look at it as slightly dystopian, we perceive NYC's ability to deliver almost anything to our doors as another unparalleled perk of city living. And with recreational cannabis now legal across New York State, weed delivery has become (unsurprisingly) a thriving business. While we still love dropping by our hyper-aesthetic crew of local dispensaries in-person, the accessibility and convenience of it all has our curiosity piqued—especially when temps drop unpleasantly low. Here's our guide on the where, what, and how of weed delivery services in NYC.
Can you have weed delivered to you in NYC without a medical card?
You do not need a medical card to buy weed from the below delivery services in New York City.
What neighborhoods can you get weed delivered to?
It all depends on which service you're using. There's a map function or perimeter guidelines on each website that will help you determine if your apartment is within range.
What can weed delivery services bring to my apartment?
Most everything that a storefront dispensary sells, including flower, prerolls, vapes, tinctures, gummies, and plenty of accessories.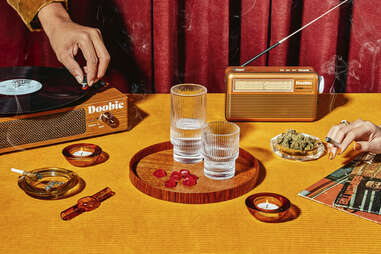 Inspired by a shared dream to normalize cannabis use and destigmatize formerly incarcerated people in NYC, knowledgeable budtenders at CONBUD are all individuals who have been previously affected by unjust cannabis laws. The Black- and Latino-owned storefront has a wide selection of cannabis goods available for downtown Manhattan deliveries.
If you're looking for high-quality products from Union Square Travel Agency, Doobie has you covered. As one of the delivery arms of the downtown dispensary (you can order directly from the USTA website as well), there are more than 300 products to choose from. Express and regular deliveries are available across all five boroughs, as well as the Hamptons during the summer months.
Gotham's mission is to provide a bespoke experience for shoppers on the hunt for luxury cannabis products. The woman-owned store teams up with STRIVE, a non-profit that provides career resources and guidance for those impacted by the justice system, and proceeds from the store go to help create economic opportunities and empowerment for the local community. Gotham recently added cannabis delivery to their repertoire.
The first woman-owned recreational dispensary in New York state, Good Grades is also the first legal dispensary to open in Queens. The recently reopened shop's mission, aside from selling high-quality products, is to provide an inclusive atmosphere, spread positive cannabis education, and inspire the community. Delivery from Good Grades is available throughout neighborhoods in Queens.
Run by the Housing Works non-profit, which has supported unhoused and AIDS-affected communities since 1990, the Housing Works Cannabis Co. was the first legal recreational weed store in New York City. Delivery for a wide selection of products from LGBTQIA+-, BIPOC-, and women-led brands is available for a few neighborhoods around the Greenwich Village area.
For those living in the Bronx and Upper Manhattan, Sesh NYC is the answer to your delivery questions. Through this online service, customers can peruse NY state-certified products like flower, vapes, topicals, and concentrates. The website also uses a convenient text message service for confirming and keeping track of your order.
The ethos behind Statis Cannabis is driven by a desire to bring the highest quality and most luxurious cannabis goods to the people of the Bronx. The minority- and woman-owned business offers a selection of flower, edibles, concentrates, and more. Additionally, delivery is available from 58th Street and above in Manhattan, as well as throughout the Bronx.
In addition to providing cannabis delivery across the city, Urban Aroma focuses on activism, social equity, and cannabis education. While filling up your online cart, peruse the website's resources like Cannabis 101 or Laws & Politics for interesting feature pieces and helpful guides.
Izzy Baskette is the New York City Staff Writer for Thrillist. Talk to her at izzy.baskette@voxmedia.com or find her on Instagram.