NYC Hotel Employees Share Their Most Insane Guest Stories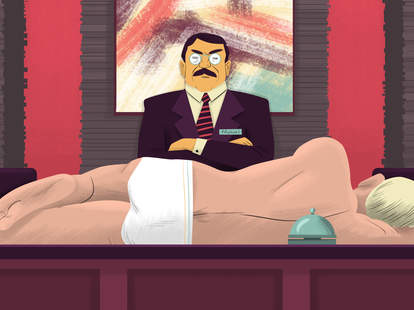 If you think dealing with tourists on your way to work is painful, just talk to someone who does it for a living. New York City hotel staffers are constantly welcoming a never-ending stream of visitors who do a lot worse than stop to look at a map on the subway steps. From the seriously strange sex stuff that we all know happens behind closed hotel doors to the gross debris that guests leave behind in their wake, NYC hotel clerks see it all. Here are some of their craziest stories.
Soundproofing questions are a big red flag
"A woman came to the hotel and asked to check out the luxury suites for her boss. While on a tour of the King Suites, she expressed concern about the quality of insulation of the walls and insisted on checking whether guests in adjacent rooms would be able to hear anything from 'her boss's' room. She then asked the housekeeping supervisor for her help in checking the noise insulation, and headed to an adjacent room, where instead of saying anything out loud, she started jumping up and down on the bed... She left only to return a month later as a guest. The following morning of her stay, the front office received a disturbing phone call from the adjacent guests, expressing their concern about a lady's safety in the room next to theirs; it sounded like a lady was in distress and they were wondering if they should call 911. Management rushed up to the room and after knocking on the door, a tall gentleman opened the door with a smile on his face while the 'damsel in distress' appeared from behind him dressed as a schoolgirl. All parties were safe and sound." -- Anonymous employee of the Paper Factory Hotel, Long Island City
The guest requests are just as insane as you'd think
"We had a Middle Eastern Princess pay $1,400 to have someone wait in line for hours to get an order of Cronuts, from Dominique Ansel Bakery. A guest requested a saxophonist to serenade his girlfriend, as he proposed in Central Park and another guest requested access to a nightclub, arranged accompaniment of ladies, and a photographer to stage a photo op for himself." -- Arik Kislin, co-owner of the Gansevoort Hotel Group
"One guest requested two dozen live tarantulas for a special dinner. [We] also had guests who wanted to re-live the night they met, which down to the detail included a scuba diver they'd seen in the river and a helicopter in the sky. Also, a guest only wanted to be driven in a limousine that was an exact replica of the one used by Donald Trump." -- Employee at The Plaza, Midtown
Tourists say the dumbest things, especially about 9/11
"The hotel where I worked was across the street from Ground Zero. When we reopened in 2003, many tourists came in and asked questions about what happened that day. One tourist said: 'Didn't people come back -- like in the afternoon -- to get their luggage?' WOW. 'Was the hotel damaged?' It's literally across the street -- what do you think??" -- Laura MacLeod, creator of From The Inside Out Project
Don't be stingy with the Charmin
"A woman at the restaurant connected to our hotel requested extra toilet paper in the restaurant's bathroom. We're not affiliated and she refused to use the hotel's lobby restroom. She ended up covering the stall in menstrual blood and shit and then disappeared. The houseman only gets an extra five dollars for every 'excessive mess' they have to clean." -- Chris Russell, hotel doorman and creator of the "Doorman" webseries
Homelessness even affects the honeymoon suite
"One guest was found sleeping naked on a couch in one of the public areas at the hotel. It turned out he had a fight with his girlfriend after partying and drinking at the hotel restaurant. The girlfriend locked him out of the rooms and the poor guy had to go around the hotel to various locations looking for somewhere to hide, but had instead simply just passed out!" -- Anonymous employee of the Paper Factory Hotel, Long Island City
Stoners will never find the proper waste receptacle
"We had a group [visiting] who specialized in drugs, alcohol, and associated technologies. Someone got so high that they stumbled into our lobby and started eating fried chicken and leaning up against one of our sculptures. They left chicken bones all over the lobby and the artwork, we were like, 'Dude... but why? Why there?'" -- Former upscale hotel employee
Kinky sex parties are just plain normal
"There are groups of people who have booked events in our suites specifically to have sex. Like, the event name was called 'Intimacy Event' and they'll book out a suite and order like 10 chairs and a couple bottles of Champagne and literally practice having sex with each other. It's so common, but nothing illegal happens, so like what can ya do?" -- Former employee of a well-known upscale Midtown hotel
Even the pros aren't immune to wardrobe malfunctions
"Sit in a hotel bar late at night and just people watch. You can pick [sex workers] out so easily, and they go to everyone -- guests, employees (they'll wait for them to get off work). There was once this transgender prostitute (male transitioning to female) who got in a big fight with security for trying to solicit services to the guests at our bar. The funniest part about it was that on the way out, when security was forcibly pushing her out the door, her boob fell out of her very low cut tank top -- but like, good for her! It was a nice boob." -- Former employee of a well-known upscale Midtown hotel
Sign up here for our daily Thrillist email, and get your fix of the best in food/drink/fun.
Melissa is a writer based in NYC who would be very happy to live in a hotel, even if they do get weird.