What to See, Eat, and Do in the East Village in NYC
Known for its creativity and unique vibes, this downtown epicenter of cool never goes out of style.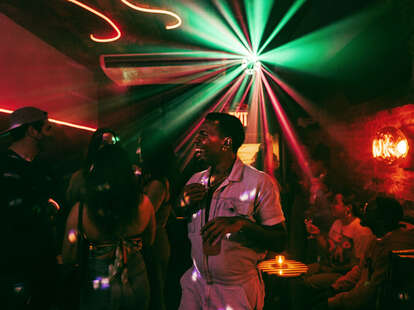 Wiggle Room

| Photo by Spilled Milk Creative
Wiggle Room

| Photo by Spilled Milk Creative
Since becoming its own neighborhood in the 1960s, the East Village in New York City has blossomed into a downtown epicenter of cool where eccentricity and nightlife flourish.
Edged between the Bowery/Third Avenue until Alphabet City with 14th Street to the north and Houston Street to the south, since the early 19th century, the area has been home to large immigrant populations including those of German, Ukrainian, Chinese, Japanese, and Irish descent. After eventually separating itself from the Lower East Side, it began its journey of icon status with many famed distinctions, including the birthplace of the rowdy 1970s and 80s punk and new wave music movements in part to the legendary (and now closed) CBGB; and where groundbreaking artists like Jean-Michel Basquiat and Keith Haring resided.
These days, as home to top city restaurants and inimitable cultural hubs like Little Ukraine (along with being a fave for generations of new college students from nearby universities to live out their NYC-main-character moments), the neighborhood carries on its stylish and bohemian legacy. From quirky bookstores and eclectic record shops to beloved dive bars and shiny new eateries, here's everything to see, eat, and do in the East Village.
Explore quirky shops and a unique vibe steeped in arts, music, and creativity
With its picturesque streets and funky mix of aesthetics, the East Village is known for whimsical vibes and eclectic hubs of culture.
One of the most identifiable stretches in the area is undoubtedly St. Marks Place, which is famous for its bustle and small businesses like the secondhand bookshop East Village Books; an outpost of the coffee supplier Porto Rico Importing Co.; and the more than 30-year-old tattoo parlor Fun City Tattoo.
At the junction of St. Marks Place and Avenue A, Tompkins Square Park is a gritty 10.5-acre park that's hosted many protests throughout history and is perfect for park hangs. For a quieter alternative, there's the community-run Creative Little Garden.
Alternatively, get your steps in by wandering a museum. The Ukrainian Museum celebrates the local Ukrainian community and the country's rich history through a large collection of fine and folk art; discover rare and preserved films at Anthology Film Archives; and The 4th Street Photo Gallery founded by Alex Harsley in 1973 displays works by emerging and professional photographers.
For live music, Webster Hall traces its roots back to 1886 and now hosts everything from themed raves to indie concerts. If listening to yourself sing is preferred, Sing Sing Karaoke is a crowd-favorite. Other venues for live acts include the historic Nuyorican Poets Cafe, a multicultural institution for spoken word, jazz, and more; the Connelly Theater, a hub for off-Broadway productions; and the La MaMa Experimental Theatre Club, a renowned starting point for up-and-coming playwrights and artists.
For retail therapy, snag Y2K fits at Metropolis Vintage Clothing or the curated Tokio7 consignment shop; and La Sirena has clothes and goods made by Mexican artisans. Bookstore-wise, there's the first of its kind cookbook shop Bonnie Slotnick's Cookbooks as well as Mast Books, which displays rare titles alongside contemporary publications. To add to your vinyl collection, Stranded Records and A-1 Record Shop are go-tos.
Dine within a globally-inspired food scene at local institutions and shiny debuts
From local institutions and budget-friendly options to globally-inspired fare and exciting newcomers, the East Village's food scene can easily be considered as one of the most dynamic in town.
For Big Apple institutions, order up local traditions at B&H Dairy, an old-school deli with fresh challah bread baked daily since 1938; Veselka, a Ukrainian destination opened in 1954 that's always popular with the cool kids; and Casa Adela, a celebrated Puerto Rican spot famous for 46 years of homestyle cooking. Other decades-old classics include Moroccan eats from Cafe Mogador; Mexican take out from Downtown Bakery Cocina Mexicana; Italian pastries from Veniero's; Middle Eastern bites from Mamoun's Falafel; and BYOB Indian feasts and IG-flexing at Panna II.
Alternatively, the latest class of recent debuts making their mark include Dhom, a Southeast Asian-inspired all-day tapas spot showcasing chef Soulayphet Schwader's Laotian roots; and the first Manhattan outpost of the beloved Nigerian eatery Buka. Other notables are Monsieur Vo from the team behind the Vietnamese powerhouse Madame Vo; Unapologetic Foods' Indian fried chicken spot, Rowdy Rooster; and Claud, a wine bar/European small plates eatery.
Along with stellar brunch destinations and general East Village go-to's, check out Miss Lily's 7A Cafe for Caribbean bites; chef Shenarri Freeman's plant-based soul food at Cadence; the Bowery Meat Company chophouse; Bar Primi for pasta; and San Antonio-style tacos at Yellow Rose.
The area's long history of Japanese shops and businesses helped make it the home of T.I.C. Restaurant Group, which includes eateries Curry-Ya and Sobaya. For more Asian-inspired menus, there's Hawaiian fare at noreetuh; comforting Thai dishes are a can't-miss at Soothr; the Taiwanese eatery 886 is a must-try; Korean-American pub Nowon is known for their burger; Korea-born chef Kay Hyun runs both Mokyo and Thursday Kitchen; and David Chang's Momofuku Ko and Momofuku Noodle Bar helped launched an empire.
For sweets, Ray's Candy Store and Mikey Likes It remain frozen treat quintessentials. Other dessert destinations where the specialty is baked goods are Lady Wong, from wife-and-husband duo Seleste Tan and Mogan Anthony; and Smør Bakery, the sophomore concept from the team behind Smør.
Fuel a memorable night out at craft cocktail spots, cheap dives, or a basement sake bar
After the sun goes down, the East Village lives up to its legendary nightlife status.
For something lowkey, a bevy of dive bars include the city's oldest Irish bar, McSorley's—which dates back to 1854 and choice orders are a light or dark ale; Sophie's, where stiff drinks and a packed pool table are the norm; and the cash-only classic on Avenue A, Lucy's. Among the neighborhood's LGBTQIA+ watering holes, no-frills spots include The Boiler Room and the welcoming Nowhere Bar.
For innovative craft cocktails, Death & Co. and PDT are local fixtures; grab a booth at hotspot Mister Paradise before the crowds pile in; drop by the pop culture icon-themed Little Rebel for celebrity-inspired drinks; and explore the impressive mezcal selection at Bar Lula. Additionally, the darkly lit and basement level, Sake Bar Decibel, has been a stalwart for its collection of sake and Japanese whisky since 1993.
For newer neighborhood bars (which we also consider as some of New York City's best new bars), head to the Thai-centric 11 Tigers, where the specialty is ya dong-based cocktails; and Wiggle Room, which boasts a subterranean dance floor.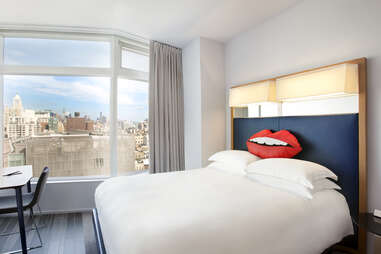 Spend the night at hip digs and charming boutiques
At The Standard, East Village, this charming boutique location of the well-known chain boasts minimalist-styled rooms with floor to ceiling windows and pet-friendly policies. Be sure to take full advantage of their on-site coffee shop, Café Standard; al fresco cocktail bar, The Garden; and the nightclub, No Bar.
Don't be surprised if you have a celebrity sighting while staying at The Bowery Hotel or dining at their Italian trattoria, Gemma. The Moxy East Village is another popular option. Located across from Webster Hall, expect hip elements like indoor graffiti, in-room retro turntables, and rain showers. There are also two subterranean eateries, Cathédral and Little Sister Lounge; along with the ground floor Alphabet Bar and Café; and the sky-high The Ready Rooftop Bar.
For a more affordable stay, the cozy East Village Hotel features exposed brick design touches and in-room kitchenettes. Additional chic lodgings within walking distance of the East Village include Ian Schrager's ultra cool PUBLIC Hotel; Hotel Indigo; Sixty LES; and The Ludlow.