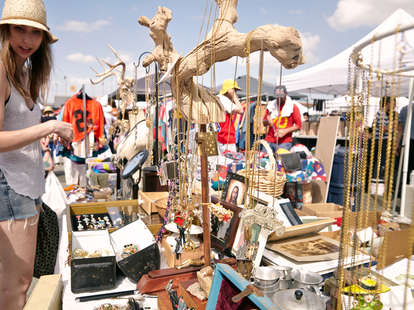 Brooklyn Flea/John von Pamer
Brooklyn Flea/John von Pamer
Want to upgrade your dingy fifth-floor walk-up but don't have the cash to bid on Picassos at Sotheby's? Fortunately, you don't need a hedge fund to add pops of color and creativity to your non-working fireplace mantle. And you also don't need to settle for the same Urban Outfitters décor all of your friends have.
New York City is filled with people trying to make it in the art world, which means there's an endless stream of fairs, open galleries, flea markets, and quirky shops where you can find amazing works from emerging artists. Whether you're looking for abstract paintings or moody photographs, you're sure to find something in-budget at these places.
Chelsea
Since 1999, the Affordable Art Fair has been making it possible for New Yorkers to decorate their ridiculously overpriced apartments with seriously affordable art. The fair happens biannually in the spring and autumn (next up: September 13-17) exhibiting artworks that cost between $100 and $10,000 (which, yes, is actually considered "affordable").
DUMBO
If you thought flea markets were just for vintage clothes and dusty antiques, think again. At the Brooklyn Flea (which operates every Sunday beneath the arch of the Manhattan Bridge in DUMBO, and opening soon in SoHo) vendors come to hawk their artworks and decorative crafts. You might walk away with a mounted sculpture for $48 or an illustration for $15.
Chelsea
You'll find everything from Renaissance-era portraits to still-lifes of artichokes at this Chelsea shop and online store. Art:Addiction used to specialize in framing (and you can still bring your prints here to get the job done) but it recently became a one-stop shop for artwork, selling prints of some 10,000 photographs for as little as $280 a piece.
College student shows
Various locations
Art enthusiasts in search of the next big household name (and a wallet-friendly buy) should hold out for the city's twice-annual, end-of-semester shows and exhibitions. More than a handful of universities and colleges in New York -- among them Pratt, Parsons, NYU, and Hunter -- launch their newest batch of MFA grads into the art world with presentations designed for curators and buyers. Check out the universities' events calendars for details.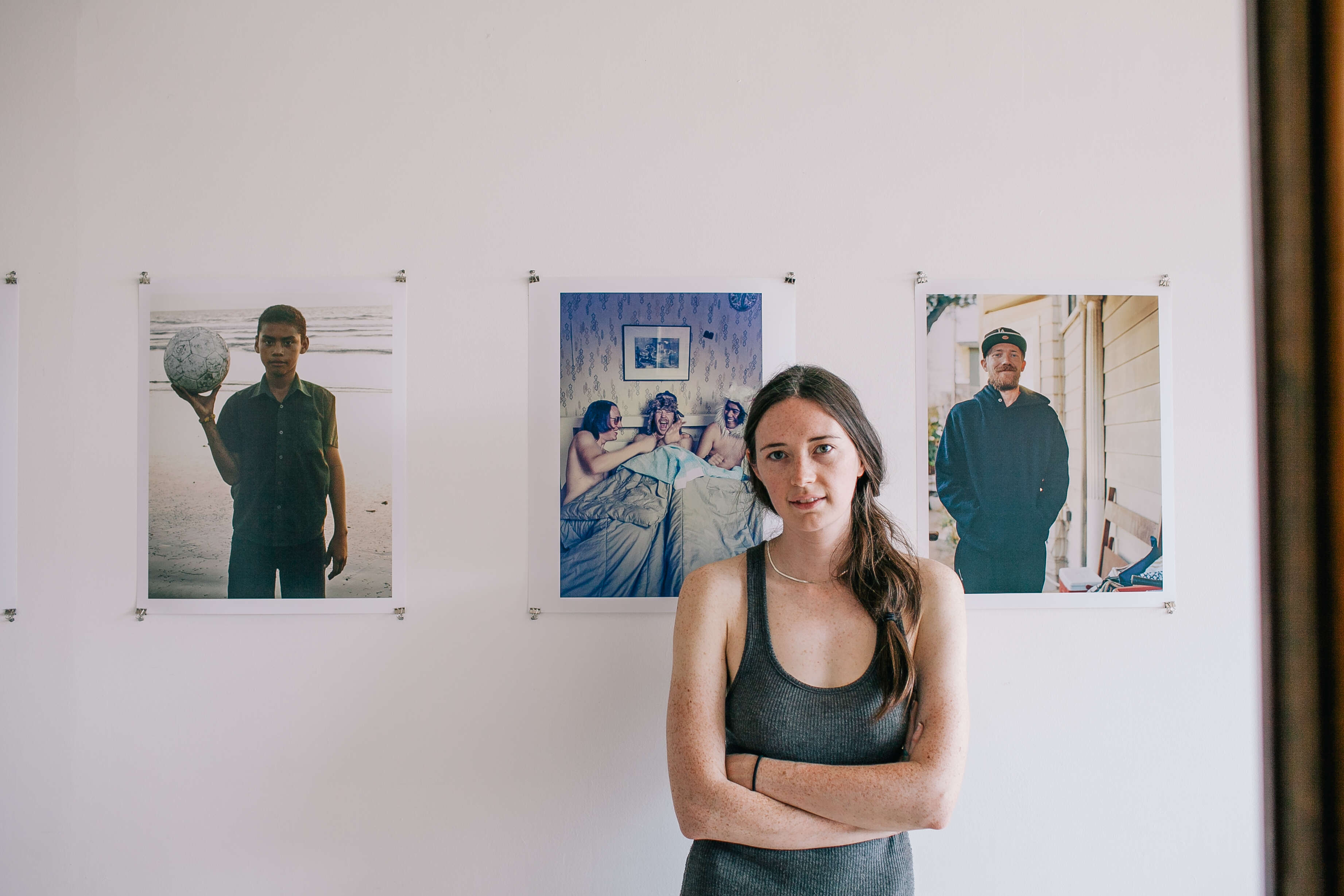 Bushwick
Every September, arts organization Arts in Bushwick hosts a weekend-long arts and culture festival in which local artists are encouraged to open their loft and studio doors to the public, inviting art seekers inside to see (and buy) their latest works. It's the largest open studio event in New York, meaning your chances of finding work you'd love to make an offer on are pretty high. The next event will take place September 22-24.
With your morning coffee...
Various
The next time you're grabbing your double espresso from the neighborhood cafe, take a minute to admire the art on the walls -- and see if it's for sale. NYC coffee shops like Fair Folks & a Goat and Happy Bones are known for displaying works by local artists, sometimes even going as far as displaying rotating collections or hosting regular art shows (like Steeplechase Coffee in Brooklyn).
... or your evening cocktail
Various
Bars, too, are unlikely places to hunt for art. But New York City's cocktail lounges and beer halls often double as galleries. Take S'Zen, for example -- the new art lounge/bar on the second floor of the Hotel on Rivington. Here, you can admire the rotating exhibits (currently on display is a collection of contemporary Pop Art) while sipping equally creative, Asian-inspired beverages. Across the river in Brooklyn, both Sunny's Bar in Red Hook and Freddy's in South Slope host regular art shows.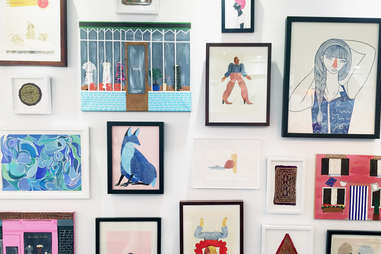 Brooklyn Heights
Best known as a home goods and furniture store, this Brooklyn Heights shop also has an impressive collection of art on sale. Pieces range from $1,900 oil-on-canvas landscapes from a New York Academy of Art graduate to $120 stitchings.
Midtown West
Students taking classes at this independent art school have their works -- a mix of paintings, sculptures, prints, drawings, and mixed media -- displayed at the Phyllis Harriman Mason Gallery in Midtown from mid-January until late May. Almost everything (oil on canvas, watercolors, wood block prints) is available for purchase, and the pieces exhibited rotate on a weekly basis, making it easy to see fresh work.
Long Island City
Sculptures, photographs, and wooden figurines are just a few of the works you'll find at the largest arts festival in Queens. Since kicking off in 2011, the LIC Arts Open has expanded from a two-day open studio event into a week-long celebration of the borough's performing and visual arts scene. It's free to the public, and a great opportunity to meet the creators in the community and find the perfect piece of art to complement your one exposed brick wall. Check for 2018 dates here.
Sign up here for our daily NYC email and be the first to get all the food/drink/fun New York has to offer.
Melanie Taryn Lieberman collects artworks made by friends and family, including floral charcoal illustrations and a Pollock-style painting. Maybe one day they'll all be famous?