Events
Sponsored By
The Ultimate Guide to Celebrating St. Patrick's Day in NYC
Sponsored By
As precautionary measures to combat the spread of COVID-19, or coronavirus, continue, please note that many events are subject to cancellation. Please check back frequently as we'll be updating stories as changes occur.
St. Patrick's Day is (it must be said) the messiest day in NYC. For the March 17 holiday, which celebrates the life and death of the patron saint of Ireland, the no-alcohol restriction of Lent was often lifted -- so there's a historical precedent for the bros wearing shamrock deely boppers puking on the West 4th Street B/D/F/M platform after a green beer bar crawl.
If you're looking to party from now until the St. Patrick's Day parade, the city's got plenty of opportunities to wear your "Magically Delicious" shirt. There are other ways to celebrate, too: with a loaf of the city's best soda bread, studded with caraway seeds; a city-wide giveaway of books from Irish writers; an Irish film festival; and even a ghost tour of a museum that's said to have Irish spirits. So put on your favorite green outfit and hit the town -- we've rounded up our favorite ways to toast to St. Patrick in NYC. 
Saturday, March 7
Rockaway Park
Kick off ten full days of celebrating St. Patrick at the 45th annual Queens County parade in the Rockaways. This year's after-parade party is at the Rockaway Rugby Club, where you can start day-drinking (or, um, keep day-drinking) at 2pm. There'll be live music from Shilelagh Law, Two Degrees, and The Narrowbacks, along with traditional tunes from the Pipes and Drums. If you start practicing now, you might be able to hold your liquor by March 17. 
Cost: $20 at the door; drinks available for purchase
Multiple locations
Amy's Bread has already stocked their shelves with fresh-baked Irish soda bread, but if you want a loaf on St. Patrick's Day, make sure to call a few days ahead -- they sell out fast. Their soda bread is baked simply -- with buttermilk, butter, caraway seeds, and raisins -- for a not-too-sweet bite with a perfect crumb. Bring a loaf with you to snack on while you watch the parade, or use it as a base to soak up all the green beer you'll be drinking. 
Cost: $11.50 per loaf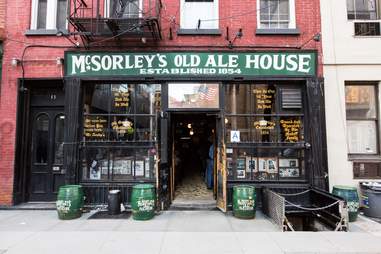 McSorley's Old Ale House

| Cole Saladino/Thrillist
Citywide
Raise a pint (or a fork, if you're ordering the corned beef and cabbage) at one of New York's storied Irish bars. McSorley's, the oldest tavern in the city, has been serving drinks since 1862, all the way back when the Gangs of New York were roaming the streets. Sure, you can drink seventeen Guinnesses and sing a sorrowful rendition of "Danny Boy" at an Irish pub any day of the year, but St. Patrick's day makes it topical. 
Cost: Costs vary 
Thursday, March 12; Friday, March 13; Saturday, March 14
Chelsea
The Craic Fest, an Irish film and music festival, brings the best of Irish cinema to NYC. On opening night, you can catch The Prizefighter, a film about Irish boxing champion Spike O'Sullivan, before hitting the afterparty at Bar 13. Come Saturday, they'll be screening the US premiere of Heyday, an award-winning documentary about singer Mic Christopher. Stick around for the closing night gala, where you'll find an open bar stocked with beer and whiskey. 
Cost: Tickets start at $18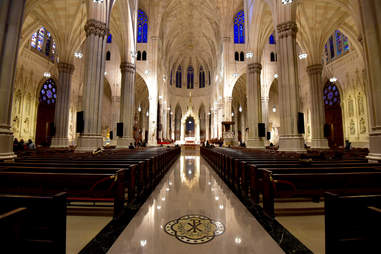 St. Patrick's Cathedral

| Rafael Xavier/Shutterstock
Thursday, March 12
Midtown
Celebrate the Man, the Myth, the Snake-Banishing Legend in Midtown's St. Patrick's Cathedral. St. Patrick, the patron saint of both the Cathedral and the Archdiocese of New York, will be celebrated with a night of music by the St. Patrick's Cathedral's choir and the spectacular organ. Mick Moloney, an Irish musician, folklorist, and scholar, will be taking the stage, too, to perform a concert that celebrates Irish heritage. The Cathedral itself is worth a visit -- built in 1878, it's a neo-Gothic beauty right across from Rockefeller Center. 
Cost: Free
Friday, March 13
Noho
In honor of St. Patrick's Day, the Merchant's House Museum is hosting a Friday the 13th ghost tour that aims to get in touch with the house's Irish spirits. Many visitors have experienced spine-chilling supernatural phenomenon in the Merchant's House -- especially on the fourth floor, where the home's Irish servants lived. This tour will take you through the museum, learning its history and (hopefully) helping you get in touch with the Irish on the other side. 
Cost: $40
Friday, March 13
Gowanus
This St. Patrick's Day party lets you tie one on with the Brooklyn hipsters instead of the Kips Bay bros. It's still St. Paddy's day, though, so expect the usual green garb and shamrock-soaked carousing. There'll be performances by the Loop Troupe Family Band and the Freaky Demon Dance Brigade, a crowd wearing spectacular themed costumes, and drinking contests for those of us who would like our talents for getting toasted to finally be recognized. 
Cost: Tickets are $15; drinks available for purchase
Friday, March 13; Saturday, March 14; Tuesday, March 17
Multiple locations
It might be on the opposite end of the color wheel from Santacon, but just about everything else at this pub crawl is the same. Don your greenest duds and join the crowd at the registration bar -- from there, you'll get a map of participating bars, a list of drink specials, and a wristband that identifies you as a pub crawler to passersby when you pass out in front of the fountain at Washington Square Park.
Cost: Tickets start at $11; drinks available for purchase
Sunday, March 15
Park Slope
The crowd at this quaint neighborhood parade is a far cry from the sidewalks of Midtown. After Mass at the Holy Name of Jesus Church, the parade takes to the streets with local car enthusiasts, horses, bagpipers and drummers, Irish dancers, and the Green-Wood Cemetery trolley. Neighbors gather to watch from their stoops, wearing green and waving at friends. Even if you're not a local, you can take the train to the 'hood and pretend you're in a small town for an hour.
Cost: Free
Book Day Pop-Up

| Courtesy of Irish Arts Center
Tuesday, March 17
Citywide
Now in its tenth year, the Irish Arts Center Book Day celebrates St. Patrick by handing out 10,000 books by Irish and Irish-American authors. The Irish are, famously, storytellers -- James Joyce, Edna O'Brien, Samuel Beckett, Elizabeth Bowen, Oscar Wilde -- and the Irish Arts Center celebrates their contribution to literature. They'll be giving out books at a dozen pop-up stations across all five boroughs, so you can grab something to read while you nurse your Wednesday hangover. 
Cost: Free
Tuesday, March 17
Soho
If you want to pay your respect to St. Patrick without kneeling before the porcelain throne, the Sober St. Patrick's day celebration is for you. There will be Irish music, including All-Ireland champion button accordion and fiddle players, Irish dancers from the Donny Golden School of Irish dancers, and a traditional Irish supper. It kicks off after the St. Patrick's Day parade, so head downtown right after to skip the risk of somebody spilling green beer on your shoes. 
Cost: Tickets are $25
Tuesday, March 17
Bushwick
The "Get Lucky" party at House of Yes lets you test the luck o' the Irish with games of chance and lots of cute dance partners. Even if you don't meet somebody special, you might just win a hand of blackjack! There'll be Guinness-fueled dancing, beats from Dirtyfinger, and the usual House of Yes over-the-top costumes and debauchery. The party goes until 3am, so start planning your excuse to not go into work on Wednesday. 
Cost: Free to enter; drinks available for purchase
Tuesday, March 17
Midtown
New York City's St. Patrick's Day parade draws around two million revelers to watch the Irish dancers, bands of bagpipers, and over 100,000 marchers. The parade starts at 11am and ends at 5pm, winding its way up 5th Avenue from 44th Street to 79th Street. Stake your spot early for a good view of the festivities, or -- if you're not feeling the crowds this year -- just stay in your shamrock-printed jammies and watch the parade on TV. 
Cost: Free
Sign up here for our daily NYC email and be the first to get all the food/drink/fun New York has to offer.