So much has changed since last year's Academy Awards: Apparent miracle app MoviePass briefly afforded fans the ability to binge big-screen superhero features, romantic comedies, and action flicks for a song -- before unceremoniously fizzling out. One of the worst movies of all time was finally released. And Oscar lost his host. So who's supposed to guide you through this meshugas now? You've come to the right place.
The time has come to cast your most important ballot: which venue deserves your patronage on Oscar Sunday? Which screening spot best appeals to your Black Panther, Bohemian Rhapsody, A Star Is Born, Roma, BlacKkKlansman, The Favourite, Green Book, or Vice proclivities? Read on to decide where to watch the Academy Awards in NYC, depending on your own Best Picture pick:
If you've been blasting Bohemian Rhapsody: Joshua Tree
Murray Hill
Aside from Rami Malek's eerily on point portrayal of Queen frontman, Freddie Mercury, the very best part of this flick is singing along to the band's many megahits. What better place to do so than Joshua Tree, a bar known for its '80s music and music videos? While the awards play on one screen, ask them to have "We Are the Champions" geared up on another, so you can hit play the second Malek is called to the stage. Bonus: Happy hour ($4 select drafts, $5 frozens, $6 wine and mixed drinks) goes until 4am on Sundays!
If you're pulling for Black Panther: Gotham City Lounge
Bushwick
Until JFK starts offering flights to Wakanda, we'll have to make do in good ol' Gotham. Gotham City Lounge is covered in comic book memorabilia, so keep your eyes peeled for assets from Shuri's lab. The best part? The drinks are absurdly cheap (many are in the $5 range and most are under $10), so you can ball with or without a vibranium inheritance.
If your favorite was The Favourite: Oscar Wilde
NoMad
The Oscars are wild, am I right? Though Oscar Wilde, the famous writer for whom this bar is named, lived more than a century after Queen Anne, he also indulged in a life full of Victorian extravagance during the height of career. The space is filled with gorgeous period antiques, and at 118.5 feet, boasts the longest bar in the city. (Plenty of room for duck racing, yaaas!) Order their favourite cocktail, the Pere Lachaise -- made with gin, lemon, tarragon and absinthe spray, and guaranteed to keep the gout at bay.
Upper East Side
The Loews Regency New York, then known as the Regency Hotel, is one of only a handful of NYC hotels still open that was included in the real life Green Book; it was added to the list in 1963, a year after the film takes place. The hotel bar will screen the awards, and offer a specialty cocktail, plus their fried chicken sliders (no bones to throw out the car window here). It's only a few blocks away from Carnegie Hall, if you want to catch a modern Dr. Shirley in action beforehand. (Just call ahead to guarantee they have a Steinway on hand -- it's in our contract, OK?)
Bedford-Stuyvesant
Though the movie takes place in Colorado Springs, there's no place in the world more closely tied to Spike Lee's work than Bed-Stuy, Brooklyn. Plus, Captain Dan sounds like the name of a police chief who would definitely be down to let Denzel Jr. and Kylo Ren infiltrate the KKK. Seriously, though: One of the bar's signature cocktails, made with bourbon, brown sugar cube, and orange bitters, is even called the "American Ruse." Do the right thing and watch the Oscars here.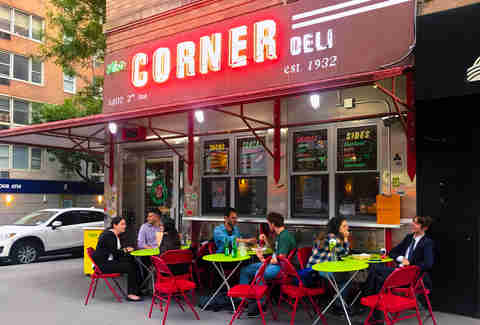 If you've been raving about Roma: La Esquina
Upper East Side
Named for the Mexico City district where this film takes place, Roma is as beautiful as it is heart wrenching. Eat your feelings and prepare to declare "¡Salucita!" at La Esquina, which will screen the awards (most likely in color and English) alongside signature tacos at its UES location. Post-taco toe touches are optional.
If you're nice on Vice (and glitzy AF): Kimpton Ink48
Hell's Kitchen
Did Christian Bale's performance make you feel like part of Cheney's inner circle? Live like "Satan" himself with Ink48's "Red-Carpet Ready Viewing Package." For a cool $5,000, you and up to 12 guests will indulge in a private viewing party in the "Heaven Over Hell" penthouse, complete with red carpet glamour shots, Champagne, edible gold luster dust cocktails, an overnight stay (for two), and replica award statuettes to take home.
Alternatively, budget-conscious politicos can live the High Life (as in Miller) at the Bushwick Country Club in Williamsburg. The dive bar will be serve snacks and the Champagne of Beers in swanky flutes all night. Victorious golf claps encouraged.
If you're starry-eyed over A Star Is Born: Planet Rose
East Village
Tell me something, girl: How badly are you stanning Lady Gaga and Bradley Cooper after seeing their wicked performance (and chemistry, yowza) in ASIB? Get your Jackson Maine impression ready and nestle into a zebra couch at this karaoke bar -- each commercial break is your time to belt out a hit from the soundtrack and shine. If your performance catches any side eye, don't worry: They probably just wanted to take another look at you.
If you can't make up your mind: Nitehawk Cinema
Williamsburg
Not sure who you want to win? Or rather, are you feeling like this year's nominee list is incomplete? (Where's Sorry to Bother You? Eighth Grade? Crazy Rich Asians?!?!) Nitehawk's Ultra-Mega Oscars 2019 viewing party is the cinematic event of the season… and because of that, it sold out weeks ago. But fear not! You can still gather with fellow movie buffs (and maybe scalp a ticket) at the cinema's bar, Lo-Res. Pro tip: A ticket stub from the same day will score you $2 off your first drink.
Sign up here for our daily NYC email and be the first to get all the food/drink/fun New York has to offer.