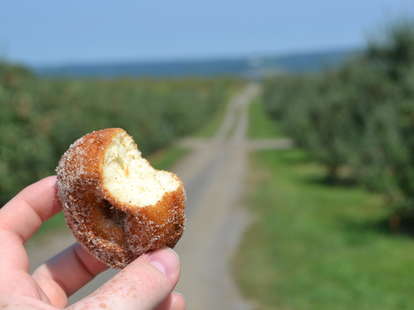 With Permission From: Julie Hershman
With Permission From: Julie Hershman
Summer is officially done (booooo), but that's no reason you can't commandeer a weekend over the next few weeks and pretend it's still vacation season with a badass hybrid summer-fall trip. Enter: the Finger Lakes region in central New York. Just a four-hour drive from the city (read: how long you probably spend on the subway every week), this upstate area bound loosely between Interstates 81, 90, and 390 will fill a long weekend with more vineyard tastings, cheese housing, college beer bar-ing, and gorge hiking than almost any other area within driving distance we can think of.
Here are our picks for the best ways to fill just such a weekend:
Best cocktail bar
Argos Inn Cocktail Bar (address and info)
Ithaca, NY
Sitting right in what was once obviously a Victorian mansion parlor, the bar at Argos Inn is a refreshingly legit cocktail bar with bartenders who know their craft. With some killer top-shelf spirits and a few choice liquors from distilleries along the Finger Lakes themselves (more on those later), the cocktails are on point. Plus, just recently, two other cocktail bars in Ithaca closed up shop, including the quirky Downtown joint Felicia's. So if you want next-level drinks, you're gonna need to to post up at Argos.
What you have to do: Order up the Wax Poetic (Hendrick's gin, lavender limoncello, Cynar, and herbs de Provence tincture) and ask the bartenders where to score dinner -- they aren't afraid to tell you where the food rocks or where the service sucks.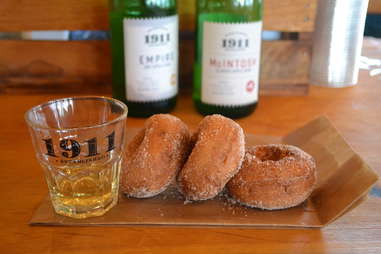 Best hard cidery
Beak & Skiff (address and info) and 1911 Distillery (address and info)
Lafayette, NY
Just 20 minutes south of Syracuse -- not quite to the main wine drags of Cayuga and Seneca Lakes -- sits Beak & Skiff, a ridiculously huge apple orchard with an expansive cider house and tasting room, a bakery/café, a general store (with face-stuffing wares from all over NY State), and an on-site distillery. The distillery itself isn't directly on property, but if you don't want to drive across the street, the folks at the cider tasting room are happy to let you sip on the gin and vodka between cider glasses.
What you have to do: Go to the bakery, pick up a few cider donuts, then kick back for a complimentary cider tasting.
Best tapas joint
Just a Taste (address and info)
Ithaca, NY
Due to Cornell's prestigious hospitality programs, Ithaca's small Downtown area legitimately thrives with killer eateries opened by post-grads looking to stick around the area. A prime example is Just a Taste with its tiny spread of sought-after tables and a chill little back patio (that you have to walk through a sketchy back hallway to get to). Be prepared to order, like, 15 different small plates, because pretty much everything on this menu is delicious.
What you have to do: Order the giant plate of fried russet potatoes with chipotle aioli that's, like, $3 and wash it down with a glass of perfect house sangria that's around $5. Take that $8 work-lunch salads!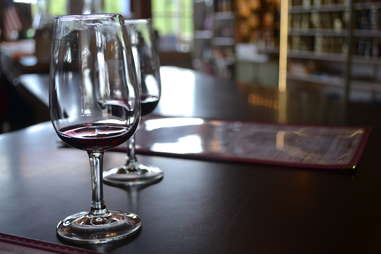 Best booze trail
The Cayuga Lake Wine Trail (address and info)
Rt. 89 along Cayuga Lake
The Finger Lakes are probably best known for their NorCal-like wine scene, and boy does that ring true no matter which lake you traverse. As a result, both of the big lakes tout their own lineup of vineyards, and the Cayuga Trail just barely edges out Seneca's counterpart for two key reasons: it's real close to Ithaca, which is a perfect home base for a trip, and it's got vineyards most often recommended by locals. Just drive up and down Rt. 89 along Cayuga Lake and you'll find a new winery, distillery, or farm (with food) every mile.
What you have to do: Hit up the Thirsty Owl Wine Company or the Swedish Hill Winery. The former has the only true ice wine made in the region and the latter has a list of wine that's so long, the tasting operators will routinely give you several more glasses than you paid for just to show off their favorite blends.
Best non-booze trail
The Finger Lakes Cheese Trail (address and info)
If you're picturing a gluttonous, utopian version of the Oregon Trail where all you do is eat cheese and totally don't get dysentery, then you have pictured correctly. The trail includes 11 local farms that produce varying types of cheeses -- one of them makes the only Dexter cheese in North America! The group is much more spread out than the wine trails, and many of the joints ask that you call ahead (which is actually kind of cool because you're basically just hitting up someone's house and having them serve you scratch-made cheese), so make sure you slot a whole day for exploring the trail. But it'll totally be worth it.
What you have to do: Start at Muranda Cheese Co. to warm up your chops because it's the most prepared for visitors with regular hours, has a long tasting table lined with a dozen plattered cheeses, and features an aging room that holds 1,700lbs (!) of the stuff. Seriously, look at those up there, just waiting to be toothpicked and devoured.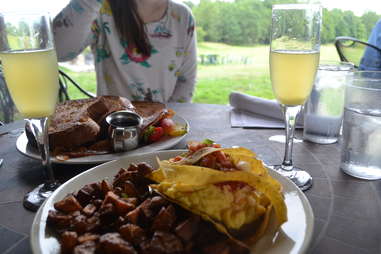 Best vineyard brunch
Americana Vineyards (address and info)
Interlaken, NY
Brunch = excellent. Brunch + sipping on wine while staring at the grapevines from whence it came = excellent-er. Americana Vineyards not only offers an expansive selection of wine (go for the award-winning Crystal Lakes white), but its outdoor brunch patio and reservable gazebo amount to a brunch for the books. And we haven't even gotten to the farm-fresh food yet, either (make sure you do).
What you have to do: Order up the brioche French toast with local syrup alongside the Pimosa, a brunch cocktail that one-ups mimosas with a splash of fresh pineapple.
Best morning hike
Green Lakes State Park (address and info)
Fayetteville, NY
Upstate New York is utterly filled with places to hike, but a quiet lake park is the best way to start a morning -- especially one with a mineral water composition that makes the lake fluorescent turquoise (!?). Setting aside the ridiculously beautiful gorge parks (more on those later), Green Lakes' network of hiking paths and fishing spots will ease you into your day way better than a rushed continental breakfast.
What you have to do: Stop off at Brooklea Bakery and Café en route to the park to pick up a ciabatta, egg, and cheese for hike fuel (pro tip: add avocado).
Best gorge waterfall
Taughannock Falls State Park (address and info)
Trumansburg, NY
Anyone who's ever driven through Ithaca will lament at the number of shudder-worthy "Ithaca is Gorges" bumper stickers along the highway, but with Taughannock Falls (one of the state's must-see waterfalls) as exhibit A, the pun proves true. The massive limestone gorge that flanks the stream leads all the way from the main highway entrance to a massive 200ft waterfall, which works out to be roughly three stories taller than Niagara Falls.
What you have to do: First drive up to the scenic overlook to hike the rim for a top-view vantage, then head down to the main entrance and hike roughly a mile to see the falls up close. Both views are excellent, and though it's frowned upon, you can take a quick dip in the gorge pond below.
Best museum
Corning Museum of Glass (address and info)
Corning, NY
Located a little farther south than most of the Finger Lakes stuff, the Corning Museum of Glass is definitely worth the trek. This amazing homage to glass art houses more than 3,500 years of shiny, translucent history spanning from ancient Egypt to modern glassblowing. Currently, it's running a surprisingly interesting exhibit on Pyrex that'll make you rethink your stack of leftovers containers in the back of the fridge right now.
What you have to do: Hit up one of its mini glassblowing courses, like the weekend-long "Beginning Flameworking" Workshop, because making stuff out of fire is the ultimate vacation story (settle down, skydivers).
Best beer garden
Boathouse Beer Garden (address and info)
Ovid, NY
Technically, Boathouse is one of only a couple "beer gardens" in the region, but even if there were dozens, it'd probably still reign supreme thanks to its lake-view porch section, direct access from the main road, and its ample Adirondack chairs. Plus it's got a bunch of historic boats in a museum right on-site and it's dog-friendly!
What you have to do: Try not to let the wall of locally sourced taps daunt you and order up one of the pre-curated flight boards -- the IPA theme is clutch. And if you head there when it isn't crowded, the bartender will even let you craft your own from anything on the wall (just don't tell anyone they let you).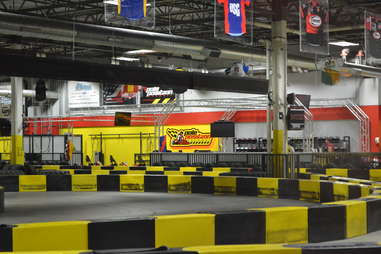 Best place to ride go-carts and then eat at, like, three chain restaurants
Destiny, USA (address and info)
Syracuse, NY
Think of Destiny, USA like a mini Mall of America; this kingdom of shopping and dining completely outsizes any other NY mall with 2.4 million square feet of space. Bottom line: whether you're doing it ironically or not, hitting up a massive go-cart track before doing a chain restaurant crawl is a memorable way to spend an afternoon.
What you have to do: Go there late to avoid the crowds and pull up a stool at the World of Beer before edging out your pals at the go-cart track right next door.

Best winery in an old, converted church
Eremita Cellars (address and info)
Lodi, NY
While it may seem like spending an entire day on a wine trail is akin to worshipping the stuff, you can take a more literal approach by swinging by Eremita Cellars, a wine operation housed in an actual 1800s Presbyterian church. It makes almost a dozen wines right in the Finger Lakes, and the tasting room also features four rotating guest beers on tap.
What you have to do: Go in for a tasting during some of its limited hours and chat up owner Josh about all the cool, repurposed materials (including original stained glass) that they used to renovate the church.
Sign up here for our daily NYC email and be the first to get all the food/drink/fun New York has to offer.