Organizing the night around a dinner party is the only way I can settle into the fact that later on, I'll be going to a strip club. I don't know what to expect, truth be told. I'm more of a frequenter of cozy, retro cocktail spots and dark, shadowy wine bars than I am of strip clubs. I've never even been to a strip club, let alone a "hipster strip club" like Pumps in Williamsburg, where I'm heading tonight.
When I heard about Pumps from a friend of a friend, who described going as a deeply uncanny experience, a kaleidoscopic carnival of oddities in the form of a "hipster strip club," I knew I had to visit. I was really curious about how Pumps fit (or didn't fit) into the pre-existing culture of strip clubs in New York. I wondered what bestowed upon it this sensationalist title of a "hipster strip club," and what in fact that even meant. Hipster is a nebulous term full of blanket signs and signifiers, and as it relates to the general vibe of a venue, I wanted to know if there was any objective merit to that designation.
Would I see strippers who look like American Apparel models? Would the clientele be comprised of bearded Bushwick biker dudes? Would the bar only serve PBR and play a Stereogum-approved playlist? I was on my way to find out.
Williamsburg is synonymous with a kind of attitude and vibe that people want to make commodifiable in as many ways as possible. Why not a titty bar?
Strip clubs in NYC exist as arenas to hyperbolize the very qualities this city is built upon: wealth, power, sex, and excess. They're where hedge funders go to rain $100s on bombshell beauties post-"crushing it" on Wall St. And they're typically found in Manhattan, not in Brooklyn. There's one full-nude place in Queens (the only one in the entire city) and, in addition to Pumps, two other spots in Brooklyn (one in Sunset Park, another in Coney Island), but that's really about it.
In New York, there are two tiers of strip clubs: on one tier, you have the clubs alongside the West Side Highway (Scores, for example) -- titty bars that scream of plush hedonism, home to rowdy post-work frat bros with cash to spare. On that same tier are the clubs in Times Square; the ones you see repeatedly plastered on the side of taxi cabs. Occupying the former spaces of peep shows and porn cinemas, these places are revitalized remnants from NYC's 1970s porn-tastic past, and are close enough to Midtown to entice even the stiffest of suits.
The upper-echelon spots like Sapphire on the Upper East Side, however, are a tier of their own. The 1% of strip clubs, Sapphire is where Gordon Gekko would go. It's frequented by celebrities and millionaires, and is largely bottle service only. Justin Bieber was reportedly denied entry.
That there's a strip club in Williamsburg, Brooklyn, is something that raises eyebrows. Where does a place that describes itself as "your local topless bar, keeping the hipsters in check" fit into this schema of NYC strip clubs? Pumps exists separate from these two tiers of NYC strip clubs. It's entirely its own place, and that's a good thing. It's a raucous spot where it's clear that both people working there and the patrons visiting are having fun and not giving a fuck.
The fact of the matter is that NYC is a real-estate town; every neighborhood has a different cache and personality ascribed to it, and Brooklyn (and to that end, Williamsburg) is still an internationally known signifier of cool. You may roll your eyes and point out that it's "so over," but Williamsburg remains synonymous with certain kind of attitude and vibe that people want to make commodifiable in as many ways as possible. Why not a titty bar?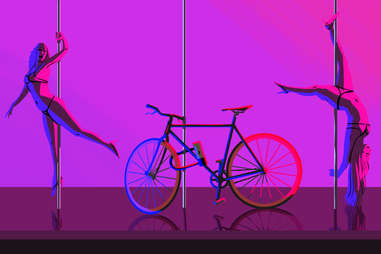 Going to Pumps for the first time is nerve-wracking. I'm with my mild-mannered boyfriend and two friends from college. We've spent all dinner wondering what would await us and here we are: in East Williamsburg, walking along a shadowy stretch of Grand St nearly kissing the border of Queens. "I think it's there," my friend says, pointing to a concrete slab in the distance, directly adjacent to a combination BP gas station and Dunkin' Donuts. I squint; the NYC skyline is barely visible. I feel like I'm at a truck stop in New Jersey.
We scamper in like lemmings. A heavyset bouncer checks and scans all our IDs into a computer and then thoroughly pads down my boyfriend's entire body before letting us enter.
The place is essentially comprised of only a 30ft narrow, rectangular bar area, behind which the dancers take turns gyrating on three silver poles, and at 10:30pm on a Saturday night, it's fairly empty. We take our seats at the right corner of the bar, near the exit. One Flew Over the Cuckoo's Nest is playing on mute on a flat-screen TV affixed to the wall and Guns N' Roses' "Sweet Child O' Mine" is blaring unrepentantly from the stereo system. Cascading text from a neon sign above the bar reads what I'll soon understand to be the Pumps motto: If you ain't got no money, take your broke ass home. A thick-bodied woman wearing electric-blue tights with a weave too wide to accurately call them fishnets is slowly spinning upside down, her crotch lasered into my line of sight. So it goes.
We order drinks. There's no menu here and nothing on draft. I survey the scene. The clientele is scant -- there's a kind of scummy-looking middle-aged guy sitting to the right of us who, over the course of the night, will keep having the girls come over to him and give him kisses. There are also two 30-something guys on the far side of the room. Besides that, us.
We start to watch the girls work. The playlist churns out one Kanye song after another, and, like clockwork, the girls begin their routines. It's almost clinical in a way; the beat drops, they'll twist and shimmy, and once the song ends, rotate around the bar clutching their breasts, freeing up the pole for another girl to start the same pattern. The strange transactional nature of the workflow quickly becomes visible. There's no cover charge here, so their insistence makes sense, but within the first 10 minutes of our being there, we are asked to tip at least 10 times by different women.
In attempting to deflect this never-ending carousel of advances, I scan above the bar area and notice balloons and a large banner reading "Happy 30th Birthday Sarah*!" A few seconds later, a blonde wearing a childlike tiara descends upon our section. "Welcome to my party!" Sarah says, holding on to her breasts for dear life. "Happy birthday, Sarah," I say. Sarah then sticks her breasts in my face and asks for a dollar.
We only stay for one drink. I can't get any of the dancers to talk to me, beyond asking me for money, which I am quickly hemorrhaging at a rate of $1 a minute. If you ain't got no money, take your broke ass home, indeed.
Here are some tips for getting the most out of this place: first off, go late. The second time we go, we arrive promptly at 1am and the bar is packed. Secondly, drink up. Probably what made my second time at Pumps more fun than the last (and surely this is true of strip club visits in general) is that I properly imbibed for the proceedings. "When Beyonce came on, you started throwing your hands up in the air," my boyfriend tells me as we recount the night the next day. Noted.
Also, get a lap dance. That second night, a buxom blonde walks over to us and starts talking to my boyfriend's friend, and the possibility of a lap dance is raised. "She wants one?" the dancer, who goes by the name of a city in Texas, asks. Yes, I do.
Houston* leads me past the black velvet curtain into the communal lap dance area. "Have you ever gotten one of these before?" she asks.
I have not. Houston spreads my thighs apart and hoists herself on top of me. "How long have you been working here?" I ask.
"About five years," she says, her pillowy butt gyrating on top of me, in tune with some random R&B song. "I do the bookkeeping." Houston lowers herself down to the floor and and cradles her breasts in between my knees. "I usually do this move, regardless of gender," she says. "It makes my titties look good, don't you think?"
Having another person jiggle all over you is distracting, but I resolve not to get off track -- I'm genuinely curious to learn more about her and about this place. Thankfully, Houston continues the conversation for me. She tells me she's worked at other clubs before, in DC, before making the move to New York.
"The clubs are different everywhere you go," she says.
"Even in New York?" I ask.
"Yeah," she says over her shoulder, ass in my face. "And this place is a whole thing unto itself."
"Huh, it really seems like it," I manage to eek out as she starts motorboating my face.
"Mhm." Houston props herself upright. "Your three minutes are up, sweetie."

"I usually do this move, regardless of gender," she says. "It makes my titties look good, don't you think?"
Nothing about Pumps is really "hipster" in the least. The first time I went, as I was leaving, I saw some girls who looked like extras from The Bedford Stop sauntering in, but maybe that was just a fluke. More than anything, Pumps seems like what I would imagine a strip club in Manhattan to be; the second time I go, the place is filled with groups of men who look like they're on some sort of corporate bonding retreat -- synergy through lap dances, I call it.
But even so, deep down Pumps does indeed seem like its own kind of place. Unlike other clubs in the city, Pumps doesn't cater to a VIP clientele. There's no Champagne room, no bottle service; the floors are sticky with beer and a sign in the women's room jokingly makes reference to contracting STDs from the toilet seat. Nothing about the aesthetic of the club is high end or manicured in the least.
Because of its geographic location within Williamsburg proper -- home of ironic mustaches, $12 juices, and a Baby DJ School -- and the fact that the neighborhood serves as a blanket term for all things gentrified and "hip" within NYC, Pumps' brand of bawdiness and grit feels even more unique and raw. And just because the signifiers of hipster-approved commercial gentrification that New Yorkers have grown accustomed to recognizing, inhabiting, and eventually maligning aren't on display at Pumps, that doesn't mean it's not fun or worth your time. Maybe that is what makes it fun; that it isn't what you'd expect when you hear about a "hipster strip club" in Williamsburg.
Unlike other businesses in the area that have rebranded themselves to fit the mold of gentrification or have felt its death knell, Pumps' staunch resistance to following the zeitgeist is in fact what makes it cool. There's nothing bougie, locally sourced, or Girls-esque about this place.
Case in point: the second time I go to Pumps, my friends and I congregate in a small opening next to the private room and can peek inside through an opening in the curtains. A brunette guarding the door, wearing an ass-less fishnet contraption, glares at me, but I can't help but laugh at what's going down inside. Asses in faces. What essentially looks like at the very least an over-the-pants hand job while a prominent "ABSOLUTELY NO TOUCHING" sign glows through the darkness. I don't think anything like that would go down in those shadowy booths at Union Pool, no matter how crazy you say it is.
*Names have been changed.
Sign up here for our daily NYC email and be the first to get all the food/drink/fun New York has to offer.