7 Women-Owned Businesses You Need to Know in NYC
From Brooklyn- and Queens-based restaurants to pop-ups, food trucks, and supper clubs, these entrepreneurs are changing the game.
Eden Gebre Egziabher of Makina

| Photo courtesy of Makina
Eden Gebre Egziabher of Makina

| Photo courtesy of Makina
Being a food entrepreneur in NYC has always been a true labor of love—because it means tolerating tiny kitchens, frustrating bureaucracies and of late, pandemic-era closings. But at the forefront of NYC's oscillating food scene are a coterie of women entrepreneurs, casting aside standards of the past and evoking the power of community.
Their starting point has never been if, but rather how, they will champion the underrepresented, support sustainable practices, pay their staff a living wage, offer resources for professional advancement, and be a wellspring of strength for those who work with them and the communities which rely on them.
"There's no other way to be, but open," says chef Surbhi Sahni, whose Indian restaurant Tagmo, which opened last fall, pays homage to the regional legacies of home cooks, farmers, and spice wallahs. "If you're not able to speak the truth and share whatever you're doing in a real way, then how is the younger generation going to learn and grow from it?"
In exploring the roots of what's on our plates, a greater purpose is revealed. Nkem Ogedho, founder of Adá Supper Club which illuminates the talents of Black and female chefs, says, "I believe that Black chefs and female chefs have important, interesting, weird, thoughtful, delicious things to say through their food—and their expression deserves to be celebrated!"
While the month of March is dedicated to showcasing the achievements of women past and present (International Women's Day was March 8), these ten female entrepreneurs show us that building an equitable society for all requires tapping into the collaborative spirit of community every day.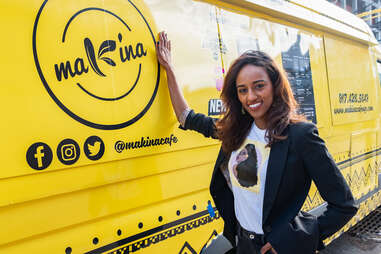 Eden Gebre Egziabher
Makina Cafe (@makinacafe)
Sunnyside
For Eden Gebre Egziabher—the founder of Makina Cafe, NYC's first and only Ethiopian and Eritrean food truck—cooking began not as a professional pursuit, but instead, as a form of survival and a connection to childhood memories disrupted by war.
"My story comes from a place of division, I'm a child of war and lived in a space of conflict. But my childhood memories and the memories of my family are filled with love, appreciation, and unity," says Gebre Egziabher in sharing the vision behind Makina Cafe.
Born in Ethiopia and of Eritrean descent, Gebre Egziabher was forced to leave her home country early in life, fleeing to Kenya with her family during the war which broke out in the late 1990s. And as young teenagers, she and her sister attempted to recreate the flavors of their beloved habesha food, a term that refers to the combined cuisines of Eritrea and Ethiopia.
The family subsequently immigrated to North Carolina before Gebre Egziabher came to NYC to pursue an MBA and worked in restaurant marketing. But the urge to bring the habesha food she loved into the culinary mainstream remained.
Translating to "truck" in both Amharic and Tigrinya—the languages spoken in Ethiopia and Eritrea—Gebre Egziabher launched her venture as a food truck because she wanted to be an independent operator. And in 2017, the cheery yellow truck began making its way through Queens and Brooklyn, greeting a hungry fanbase with its daily dose of injera (fermented flatbread), to scoop up spiced tibs (cubed chicken), gomen (collard greens), and miser (red lentil stew).
This spring, Gebre Egziabher will open Makina Cafe as a brick-and-mortar restaurant in Sunnyside. The trucks will still operate at lunchtime, and Gebre Egziabher notes that the restaurant menu will expand to feature lesser known regional specialties, including vegan and seafood dishes.
The new location will also further Makina's community outreach efforts across female empowerment initiatives, educational support, and food donations. Her staff today is 80% women; she also brought on a female designer to the restaurant's interiors. Gebre Egziabher also partners with local food pantries weekly to donate dry goods and local shelters to supply cooked meals. Outside of professional development for her team, she has also given scholarship funds to organizations that help students of African descent with tuition needs.
"Community is such a big part of who we are as a business. When I came to this country, there were so many people in different ways who helped us get on our feet," says Gebre Egziabher. "Internally I embedded that—someone opened the door to afford me an opportunity, now it is my responsibility to do the same."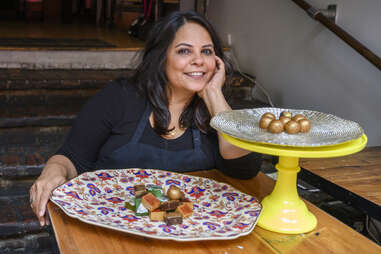 Surbhi Sahni
Tagmo (@tagmonyc)
South Street Seaport
When chef Surbhi Sahni, who opened Tagmo last fall, landed in NYC in the late '90s, she was startled to find herself heartbroken upon leaving her beloved India. "When you come here to start building a life, that's when you realize that you took the support system you had for granted." So Sahni set about creating that sense of community in her adopted home—through her food.
A 20-year veteran of the fine-dining scene in NYC (Surbhi was part of Tamarind's launch team and oversaw creative teams at lauded spots like Devi and Tulsi), and prior to that, she led culinary teams in the hotel kitchens of Delhi, India's capital city. An interest in the arts held appeal from a young age, but cooking as a creative endeavor did not—until a conversation with her father, an artist himself, helped her see otherwise.
Her arrival in NYC to pursue higher education offered wider exposure to Western-centric cuisines, but resulted in her gaining greater appreciation for cuisine from the diaspora. "It created a deep respect for the regional differences in Indian food," says Sahni. "Until you really start cooking from them and thinking about how these different communities have created these spaces for themselves—how the Indian diet has been formulated for the Indians living within those communities specifically is pretty amazing."
Tagmo, whose name hails from the Bhutanese word for "tigress," has undergone its own avatars since opening in 2019: Shifting from handmade mithai shop to meal-delivery service amidst the pandemic, Surbhi crafted an array of regional dishes (like gushtaba, Kashmiri lamb dumplings and sabudana vada, the crispy tapioca cakes of Maharashtra), many of which now appear on Tagmo's dinner menu (the sweets shop continues to ship mithai nationwide).
Through it all, Surbhi has provided her growing staff with a living wage, job training with professional culinary education opportunities, collaborated with female food producers and artisans in the South Asian and queer communities, and partnered with local nonprofits to provide donated meals.
"I can only create this community if every person who works at the restaurant is happy, wants to work with me, and wants to be a part of the Tagmo story," says Sahni.
Nkem Oghedo
Adá Supper Club (@adasupperclub)
Delivery across all five boroughs
The mission behind Adá Supper Club is as unguarded as it is uplifting: to celebrate Black and female expression through food.
"A poignant truth is that Black Americans—due to what jobs were accessible to us in our country's history—have defined American culinary traditions since the inception of this country," says founder Nkem Oghedo. She launched Adá Supper Club in February of 2020, as a series of shared dining experiences to showcase the diverse talents of Black chefs and female chefs, recognizing that a communal table naturally invites a deeper connection.
"It seems that once cooking becomes profitable or celebrated, women and Black people are erased from the conversation," notes Oghedo, who recalls often being one of the few Black or female faces in any given space, whether as an engineering undergrad at Yale, later at Harvard for business school, or as a management professional (she currently works with wellness startup Care/of).
After the pandemic halted all in-person events, the supper club was reimagined as an upscale, at-home dining experience for New Yorkers—featuring a three-course meal from the chef, accompanied by a personal video message, insights into their menu, and a custom playlist all delivered to your door. Entitled A NIGHT IN, it now occurs on a quarterly basis.
More recently, and very much in keeping up with today's remote work culture vibes, Adá has expanded its supper series to include virtual corporate team events. Each meal is created and cooked by a chef within Adá's culinary community, and can be shipped nationwide so hybrid teams can stay connected through the interactive, virtually-hosted dinner party.
Through Adá, Oghedo spotlights Black and female talent like Adwoa Kittoe, a chef who caters plant-focused modern West African cuisine in the tri-state area; chefs Angelique Kingston and Christina Perotte, whose Haitian and Guyanese upbringing informs their interpretation of Caribbean cuisine; first-generation Haitian-American chef Nicky Marcelin who has worked in numerous fine dining restaurants; chef Jahvel Fraser, a Queens native influenced by the foods of Barbados, who owns a private catering and BBQ sauce company; and plant-based chef, holistic researcher, and health and wellness advocate Shenarri Freeman, currently the executive chef at Cadence.
"I founded Adá Supper Club to challenge this narrative," says Oghedo, in regards to the glaring lack of representation within the restaurant industry. "To me, ownership of our own narrative is the first step towards liberation."
How to order: A Night In (Adá Supper Club's next delivery experience is May 14-15, featuring chef Lana Lagomarsini). To book a team event, visit the website or email hello@adasupper.club.
Debbie Tanudirjo & Liz Margaretha
Sundae Service (@sundaeservice.nyc)
Midtown

Sisters Debbie Tanudirjo and Liz Margaretha never expected to launch an Asian-inspired digital ice cream parlor eighteen months ago, but when slim pickings at the drugstore were their only option during a pandemic summer (when few other pleasures were to be had), they made the leap.
From the start, they would only use natural ingredients for Sundae Service, in stark contrast to the poor quality taste and low-grade elements (preservatives, artificial flavors) prevalent in widely available ice cream brands. Focusing on Asian flavors was a natural extension as well. "Many of the flavors reminded people of their childhood. We wanted to give people a sense of home, which is underrepresented in the typical ice cream lineup," says Margaretha.
What began as a budding home production in the summer of 2020 (the sisters initially made all flavors made by hand, delivered weekly to local customers) has since transitioned into a full-blown business venture—with manufacturing now outsourced and Sundae Service's ice cream being sold in select retail stores across NYC. The success hasn't come without its share of well-earned lessons: a recent packaging typo and recipe mishap led to a viral TikTok video which marked the brand's debut on the social media app.
The current lineup of flavors includes Ginger Black Sesame, inspired by the Chinese soup tangyuan, which has black-sesame filled glutinous rice balls in a sweet ginger base; Pandan Coconut, a vegan option lifted from the coconut-milk based dessert Es Puter they loved growing up in Indonesia; Earl Grey Strawberry Cheesecake; and Pineapple Cookie, which pairs Taiwanese and Indonesian influences.
Sustainability remains a conscious extension of Sundae Service (their pints are made from post-consumer recycled fiber), as do community partnerships. "We're always trying to gather support for WOC-owned businesses, so in addition to our brand partnerships (they partnered with Taiwanese-American tea brand, Us Two Tea last year), we also donate 10% of our profits to Grameen America every month," says Tanudirjo, adding that they will be launching on delivery apps in Queens next month and plan to hold pop-up events this summer.
How to order: Available for purchase in select stores across Manhattan, Brooklyn, and Queens; limited pickup via the online shop; launching on delivery apps for LIC/Astoria residents soon.

Meet one of the Mujeres Fuertes of Zacapa Rum, a powerhouse group of women who share a love for Zacapa and breaking down boundaries in traditionally male-dominated industries. Miami-born Chef Grace Ramirez grew up around rum and when she's not repping Zacapa as its global ambassador, you can find her working with World Central Kitchen, a chef relief team that provides meals to people in need during difficult times.
Bianca Kenworthy & Martina Rossi Kenworthy
La Rossi Pizza (@larossipizza)
West Village
"How you treat your world is reflected in every element of what you do," says Martina Rossi Kenworthy. This rings deliciously true at La Rossi Pizza, the frozen pizza company founded by food-world mavens and mother-daughter duo Martina Rossi Kenworthy and Bianca Kenworthy.
What began as family-and-friends pizza parties nearly a decade ago eventually led to launching a sustainably-minded business endeavor in January of 2021—in which even how the ingredients were sourced was a key focus of the company. They assembled a team from their own community of accomplished females, also bringing on a director of sustainability.
"If your moral compass is applied to everything you do business-wise, you want ingredients produced by someone who treats their employees well. You also want the ingredients to be produced with respect for the environment and for the soil," says Rossi Kenworthy, a Bologna native whose previous stints include founding the Italian online food shop, Gustiamo, and supporting Slow Food New York City, to which La Rossi donates a portion of its proceeds.
"Pizza is so authentic to who we are as a family. Through the lens of technique and technology coming out of Italy, it allows us to bring this exceptional product that respects local and responsibly-sourced ingredients to more people," says Bianca Kenworthy, also a founding partner at hospitality consultancy group Pomme Creative.
To that end, they source mozzarella from New Jersey; organic grains and flour from Upstate New York; and the best tomatoes they can find from California. To reach the required 950 degrees Fahrenheit, they imported an electric (more sustainable than wood-burning) stone conveyor oven from Italy.
In the past year, they've branched out from their original West Village headquarters to expand delivery across all NYC boroughs, ship La Rossi pizzas along the East Coast, taken on multiple distribution partners, and are sold by select retail shops in Brooklyn, the Hamptons, and Catskills. With an eye to the future, the team at La Rossi Pizza is working on an apprenticeship program, a clinic of sorts to share their collective food world expertise with a new generation of women seeking to cultivate marketing skills or start a food business.
"I always say, with pizza there are no limits," says Bianca Kenworthy. "And we are all about collaboration and uplifting people."
How to order: Order pickup or delivery via online shop; online orders also available at Our Harvest and Farm to People; available in-store at select retailers; delivery available in all NYC boroughs.
Stephanie Gallardo & Keavy Landreth
Love, Nelly (@lovenelklybk)
Ocean Hill
"It is so much of who I am, without even realizing it. No matter which fine dining experience or food space that I've worked with in the past, this just felt more true to who I am," says Stephanie Gallardo, about the Brooklyn-based bakery Love, Nelly—which she co-founded with business partner Keavy Landreth in July of 2020.
The intimate grab-and-go neighborhood spot, named as a tribute to Gallardo's mother, sells Colombian-inspired sweets and empanadas made in small batches daily, by hand. (Landreth and Gallardo met years ago while working at the beloved Crown Heights bakery Butter & Scotch, which now sells its desserts nationwide.)
From the outset, they pledged to pay their staff a living wage. "I keep telling people who have never worked in restaurants, it's so important. People who work in this industry work harder than anyone else with no healthcare, no benefits. The very least we can offer is a livable wage," says Landreth.
Gallardo, who previously worked as a pastry chef at A Voce and Café Grumpy, agrees. "Despite any pushback we may receive for being too expensive, we're not wavering and try to remind customers that our prices are 15% higher to allow us to pay our staff and eliminate tipping so that everyone gets paid a fair wage."
Nearly two years in, the team behind Love, Nelly has expanded their business model to include selling their popular empanadas at Stumptown coffee shops across New York City, increased their wholesale accounts, and is gearing up to launch more retail goods this year.
Their tiny crew is invested in the success of the business, often taking on expanded roles as needed (the staffer who makes empanadas also oversees the newsletter; a barista helps manage their daily Instagram stories). "We're very vocal about being women-owned and being good to our employees, and you know what? I think women want to work for other women," says Landreth.
How to order: Open seven days a week for in-store purchases and orders or call 347-240-6951; order via online shop, GrubHub, Doordash.
Beatrice Ajaero
Nneji (@nneji_astoria)
Astoria
It was the friendly inquiries about West African cuisine by visitors to her Astoria gift shop, IBARI, that led Beatrice Ajaero to open her eatery, Nneji, in June of 2020.
Sustainable practices with a focus on high-quality ingredients and produce were important right from the start—using the whole vegetable, utilizing small-batch preparation, incorporating multi-use products. Ajaero notes that at her flagship location, IBARI Roosevelt Island, she always sourced fine foods which were packaged in paper, glass, and tin.
"We launched Nneji as one way to share heritage through West African cuisine. Inspired by our warm welcome from neighbors and businesses near IBARI, we created a menu of dishes that have a connection to several countries in West Africa, the West Indies, and the American South."
Her affinity for the food world began at a young age, informed by her Nigerian ancestry and American upbringing. "As a child, okra, red stew, and pounded yam filled my Beatrix Potter sectioned plates," recalls Ajaero. "When we visited friends and relatives, my mom would cook with them in their kitchens. In New Jersey, where my maternal kindred gathers very often, food was at the center of every occasion."
Before opening her burgeoning West African culinary empire (prior to IBARI Astoria, she launched IBARI Roosevelt Island as a food center), graduated from Bard College, attended law school in Buffalo, and returned to Bard to pursue an MBA in sustainability after spending time in The Gambia region of Africa, where she oversaw restaurants and bakeries.
At Nneji, Ajaero offers traditional West African soups like egusi, okra and red stews, as well as jollof rice, and garri. Building community connections through food continues to serve as the guiding principle for her legacy. "One highlight this year is that Nneji was recognized by Congresswoman Carolyn Maloney for serving meals to vulnerable families in the height of the pandemic and beyond. We have served over 2,000 meals and counting to families, pantries, front line workers, and more," shares Ajaero.
How to order: Open for indoor dining Monday-Friday in Astoria or call 917-832-7338; learn more about IBARI via Instagram.
Sign up here for our daily NYC email and be the first to get all the food/drink/fun New York has to offer.
Swathi Reddy is a Louisiana-born, NYC-based freelance writer and marketer. Formerly a
Food & Wine
staffer for over a decade, she can't think of anything better to do in life than talking about food while eating food. Except maybe discussing cocktails (or wine).