Meet the Leading Ladies Behind NYC's Most Badass Woman-Owned Businesses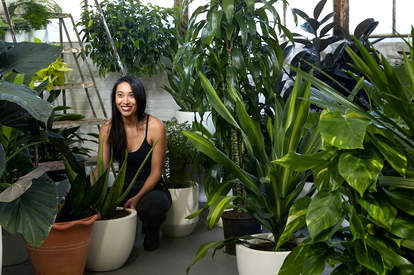 "People tend to think we're hobbyists," Erin Patinkin, co-founder of growing pastry empire Ovenly told Thrillist in a recent phone call. "That we're still up baking cookies until 4am. I was once asked if we even write our own emails."
It's true that Patinkin and her counterpart, Agatha Kulaga, spend countless hours dusted in flour, piecing together their next confectionary masterpiece -- but at the same time, their small, ambitious baking company, established eight years ago, distributes some 6,000 pastries to over 160 venues across New York, daily. They're not hobbyists. They're business owners.
In its earliest form, Ovenly operated out of a rented half-oven in a pizza shop kitchen. Now, the company has laid roots in a commercial kitchen in Greenpoint, Manhattan and Park Slope bakeshops, and as of March 3, a Williamsburg location. "We are not necessarily business-minded -- we started out as bakers," Kulaga said. "But we've learned a ton. And now we're building an enormous bakery empire." The women create jobs for political refugees and the formerly incarcerated, minimize their landfill-bound waste, and guarantee maternity and paternity leave to all employees. Yes, they are truly prodigious bakers -- that is the foundation of their company. But they are also brilliant entrepreneurs, with a successful bakery franchise to show for it.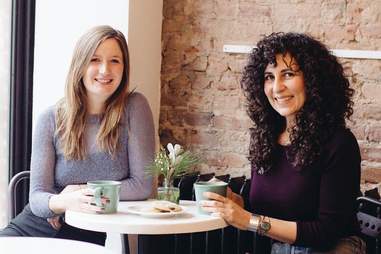 Patinkin and Kulaga at Ovenly

| Chloe Leroux
Fortunately, Patinkin and Kulaga are part of a growing trend. The slew of lady-led businesses in New York is comparatively impressive on a national scale: New York has the country's largest number of women-owned businesses by far, nearly double the number in second-place LA. Per a 2017 report by Ventureneer, 39% of US firms are currently run by women, which is no small sum. But still, 90% of America's women-owned businesses have no paid employees, and as a whole, they contribute only 4.2% of the country's total private business revenue.
In short, it's not enough. And March 8 -- International Women's Day -- is your chance to do something about it. Yes, the holiday is geared towards celebrating female accomplishment, but more so, it's a call to action. It's been a hell of a year for women all over the country, and the 8th is your invitation to pay attention to what they've created -- and to show your support. In addition to the fearless founders of Ovenly, here are a few of the brilliant, accomplished New York women you should celebrate on International Women's Day -- and every day after.
Rony Vardi

| Courtesy of Catbird
Rony Vardi
Catbird
219 Bedford Avenue, Brooklyn
At the epicenter of Williamsburg's tirelessly hip main drag, Catbird is your local cool-girl jewelry brand. The narrow shop, lined with rows of knuckle rings, stackable pendants, and various home goods trinkets, has been drawing a notable crowd since its 2004 founding. Half curated products, and half original pieces, the place has garnered a cult following. At the helm of it all sits Rony Vardi.
Previously a graphic designer and a seamstress, Vardi never intended to own a shop. But after stumbling upon a shabby storefront on Metropolitan Avenue, she dumped her savings into purchasing the space on what she calls a whim. She opened the shop with a stock built of clothes and products from various vendors and designers, but before long, her own jewelry designs became the shop's premier products -- and thus a jewelry brand was born. After a move to the current Bedford Avenue location, Vardi opened a wedding annex and a private workshop, which puts out as many as 700 pieces of jewelry daily.
"In the beginning, the actual store was set up to constantly evolve through trial and error," Vardi said. "Even today with the Catbird brand solidified, there's a constant stream of factors we have to be able to anticipate and manage." In the early 2000s, Varni began wearing a toe ring she had purchased from a street vendor in the East Village around her knuckle. Years later, similar knuckle rings have become one of the store's top-selling trademarks.
"The most taxing part of being a woman in business is balancing work and life -- I suppose that's the tried and true answer," she said. "That's all constantly evolving and shifting. But it's also nice to be able to mix that all up, and find answers for work problems in life, and vice versa."
Eliza Blank

| Courtesy of The Sill
Eliza Blank
The Sill
84 Hester Street
In a city more gray than green, The Sill is an oasis of vegetation. The overgrown plant purveyor maintains locations on both the Upper West Side and in Chinatown, while conducting the vast majority of its business online -- selling Instagrammable plants optimal for tiny, low-light apartments. The brick-and-mortar locations offer planting workshops and courses, consultations for better plant care, and a helpline for plant-related emergencies.
Raised in rural Massachusetts, The Sill founder Eliza Blank felt starved for plants when she moved to New York. After graduating from college in the city and working for two years as a brand strategist, Blank veered away from her burgeoning career to contribute some green to the city.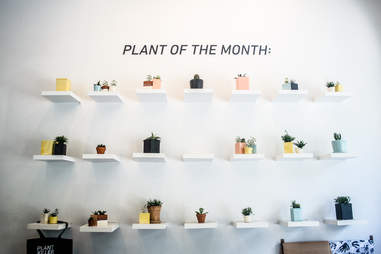 Courtesy of The Sill
"The most mentally demanding part of being a business owner, female or otherwise, is walking the fine line between risk and reward," Blank said. "You have to be willing to live with discomfort."
First a Kickstarter, then a small e-commerce site, the Sill has grown enormously since its inception, and now counts Google and WeWork among its clients. The brand will likely expand beyond New York, but the city is built into its DNA. "I love owning a business here because you're in such great company," Blank said. "Nearly all of my friends are entrepreneurs and small business owners. If you're going to do this, it helps to have a group of women that are supportive."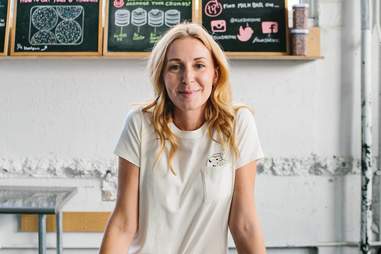 Chrstina Tosi

| Milk Bar
Christina Tosi
Milk Bar
Citywide
"On a daily basis I tell myself to bring the creative mind into the boardroom and business mind into the kitchen," Milk Bar mastermind Christina Tosi told Thrillist. "Running my beloved business is a constant reminder that I am human."
Founded in 2008, Milkbar is an enormously popular bakery chain, best known for its crack pie and cereal milk soft serve. The brand began with support from Tosi's then-employer David Chang of Momofuku, before catapulting its way to the top of the trendy dessert scene in a matter of months. Back then, Tosi worked in operations for Chang by day, and baked late into the night, bringing her most delectable creations into Momofuku in the morning. Soon, Chang gave Tosi space to sell her goodies -- and she went from restaurant employee to CEO in a year.
In the simplest of terms, Tosi just wanted to bake. It was the one thing she wanted to wake up and do every morning without lapsing into a state of unambitious malaise. "It's an all-out test of endurance every day," Tosi said, "and I love it. I embrace everything -- especially failure." Now, she sits at the helm of 13 locations, nine of which are in New York.
"New York is where I call home -- there's inspiration everywhere: swagger, grit, vibe, appetite," she said. "I opened the doors to my dream on its streets, and it will always be the first heart of Milk Bar."
Sandeep Salter

| Courtesy of The Picture Room
Sandeep Salter
Picture Room 
117 Atlantic Avenue, Brooklyn; 50 West Eighth Street
It's hard not to love McNally Jackson. The Wi-Fi-free indie bookstore and cafe, replete with its very own printing press for aspiring authors, is a refuge from crowded book warehouses like Barnes & Noble or the Strand. It's small, carefully curated, and delicately assembled, with a staff so full of hearty recommendations you may never need to select your own reading material again.
But as charming as the bookshop itself are its two spin-off locations: Goods for the Study and the Picture Room.
After Sarah McNally opened her literati home base, she decided to create an outpost with her co-conspirator, Sandeep Salter: Goods for the Study. Born out of the desire to find a place especially for gorgeous stationery items, the shop is exactly as it sounds -- a flawlessly organized room lined with pencils and pens and an enticing array of planners and notebooks. After creating creating and co-founding the space, however, Salter broke her partnership with McNally in order to focus more fully on Picture Room.
Courtesy of The Picture Room
Picture Room, which followed Goods for the Study, operates as a gallery of rare prints, art books, and vintage posters. The idea was to make art-buying accessible to folks who don't have time or means to spend hours shopping around galleries and art fairs. The prices range from 50 cents to $12,000. The roster of work is equally expansive. "Picture Room is a space for artists to show the rough edges of their practice, and not just a pristine transactional space," Salter said. "Because of that, New York is the natural home for a space like Picture Room." The walls are perpetually papered with a rotating series by local artists on the rise. "I'm working to foster and encourage a community of artists," she said. "There is no greater motivator than seeing people you admire succeed."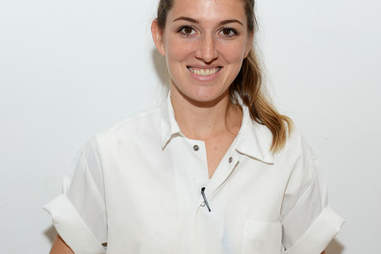 Sarah Sanneh

| Courtesy of Pies n' Thighs
Sarah Sanneh
Pies 'n' Thighs
166 South Fourth Street, Brooklyn
In its original iteration, Pies 'n' Thighs could have fit inside a spacious walk-in closet. In 2006, Sarah Sanneh and partner Stephen Tanner took over a beer storage closet in Williamsburg and jammed a few vinyl stools against a countertop that faced a pleasantly sweaty open kitchen. Soon, the spot's trademark delicately crispy, exceptionally salty fried chicken, served alongside remarkably decadent pies, earned the venue a reputation that transcended its humble quarters.
But the New York City restaurant industry can be unkind to even the most popular newcomers. Two years after it opened, the humble venue shuttered, and Sanneh's business partner split.
Sanneh hung in there, and in 2010, with new business partner and co-owner chef Carolyn Bane, she pulled Pies 'n' Thighs back from the ashes in a new location, just a few blocks away.
"Carolyn and I have been working side by side for years," Sanneh said. "And over those years, we've become better leaders, cooks, schedule makers, bookkeepers, novice electricians, bureaucracy navigators, and all the other things being a restaurateur requires. But being in New York, we also get to see former co-workers and friends succeed in this tough industry. Whether they're running empires, writing cookbooks, food styling, teaching, or waking up at 4am for decades to get the donuts out on time, it's a great feeling to think of our friends making it happen across the industry."
With a new team behind her, and Bane by her side, the restaurant's second life is an overwhelming success.
"Our struggles are as varied as our responsibilities," she said. "Today, my struggles are getting the credit card processor to work, patching a hole in the floor, thinking of something for family meal, and figuring out how to turn our electric water heater up. Tomorrow will have its own scintillating list of challenges. But if we're able to finish the day in a better place than we started, it's a good day."
Emma Straub signs copies of Modern Lovers

| Michael Chin
Emma Straub
Books Are Magic
225 Smith Street, Brooklyn
Last year, as residents of Cobble Hill mourned the closure of Smith Street's Book Court, Emma Straub swooped to the rescue. And while Books Are Magic no longer bears the name nor the classic aesthetic of its predecessor, the newly renovated independent literary community space pays sufficient homage.
Author of renowned bestsellers The Vacationers and Modern Lovers, and a former Book Court employee herself, Straub was a natural choice to take charge of the vacant bookshop. With the blessing of the shop's prior owners, she opened up her take a few blocks away from the original location.
"Every writer should work in a bookstore," Straub said. "And I'm not just saying that to make my employees feel good. It's a way to stay plugged into this enormous ecosystem of writers and their work without being zapped of all your creative energy. It gives me a little space to breathe when I'm working on a book."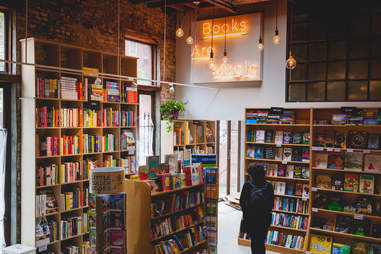 Courtesy of Books Are Magic
The spot is as much a community literary home base as it is bookstore, hosting readings, release parties, and talks with the likes of Jesmyn Ward, David Sedaris, and Lauren Groff. Straub spends several days a week curating the store's selection, organizing events, and offering recommendations to customers, while simultaneously raising two kids at home.
"I truly love what we've created," Straub said. "The truth of being a fiction writer is that you can't really choose what kind of book you're going to write or what kind of writer you're going to be. But with the store, I get to stand in a room full of books that I've chosen. It's an incredible feeling. As a bookseller, I get to say, Let's talk about these books on the table -- I put them there for a reason."
Sign up here for our daily NYC email and be the first to get all the food/drink/fun New York has to offer.