9 Women Redefining NYC's Culinary Culture
From guaranteeing a living wage to bridging the diversity gap, these women are setting a new standard for the restaurant industry.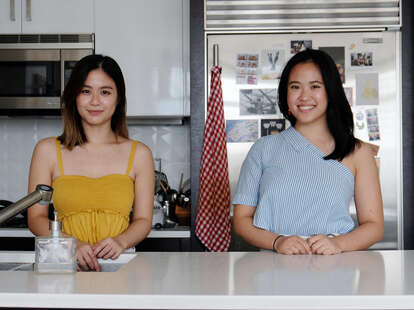 An emerging vanguard of women entrepreneurs is turning the tables in NYC's food scene.
Even with endless challenges and the crushing effects of COVID-19 to consider, these women are bringing the underrepresented to the forefront, embracing sustainability, championing community, and unequivocally supporting their staff.
"I believe that Black chefs and female chefs have important, interesting, weird, thoughtful, delicious things to say through their food—and their expression deserves to be celebrated!" says Nkem Oghedo, founder of Adá Supper Club, the elegant, communal dining series launched last year to illuminate Black and female chefs.
"We're very vocal about being women-owned and being good to our employees, and you know what? I think women want to work for other women," says Keavy Landreth, co-founder of Brooklyn bakery, Love, Nelly, which committed to paying their staff a livable wage since opening last July during the pandemic.
Even pre-pandemic, running a food business in NYC was anything but easy. But now, being nimble is a prerequisite for survival. And while the month of March is dedicated to celebrating achievements of women both past and present (International Women's Day is March 8), these nine entrepreneurs demonstrate that collaboration and community are what truly build a better society every day.
Adá Supper Club (@adasupperclub)
Delivery across all five boroughs
Adá Supper Club was launched in February 2020 as a series of shared dining experiences to showcase the diverse, dynamic talent of Black chefs and female chefs while recognizing that a shared table naturally invites a deeper connection.
After the pandemic halted all in-person events, the supper club was reimagined as an upscale, at-home dining experience instead, featuring a three-course meal, video message from each chef sharing personal insights into their menu, and a custom playlist all delivered to your door.
Founder Nkem Oghedo recounts her childhood ambitions of being a chef, where exposure to cooking shows, exploration of grocery stores in Queens, and observing her own family in the kitchen were among the influences which led to the creation of Adá Supper Club. "Through this interest, I developed an early appreciation for how food can profoundly impact how we feel, express, and connect," says Oghedo.
"A poignant truth is that Black Americans—due to what jobs were accessible to us in our country's history—have defined American culinary traditions since the inception of this country," says Oghedo.
"It seems that once cooking becomes profitable or celebrated, women and Black people are erased from the conversation," points out Oghedo, who recalls often being one of the few Black or female faces in any given space, whether as an engineering undergrad at Yale, later at Harvard for business school, or as a management professional (she currently works with wellness startup Care/of).
To address this glaring lack of representation, Oghedo spotlights a diverse coterie of Black and female talent, such as Rasheeda Purdie, a DC-based chef who shifted into the culinary arts after a decade in luxury retail; private chef Kwame Williams, who specializes in Jamaican cuisine from New Jersey; Brooklyn-based chef Anya Peters of Kit an' Kin, a Caribbean catering and events company; and Cybille St. Aude-Tate, a Haitian-American chef and children's book author based in Long Island.
"I founded Adá Supper Club to challenge this narrative. To me, ownership of our own narrative is the first step towards liberation," says Oghedo.
How to order: A Night In (Adá Supper Club's next delivery experience is March 20-21, featuring chef Chris Lynch).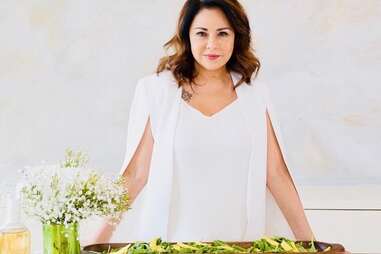 Chaiwali (@chaiwalinyc)
Harlem
For self-taught chef and owner of Harlem-based eatery, Chaiwali, it was Anita Trehan's natural talent in melding flavors—not family recipes or maternal influences—that led to opening her popular plant-based Indian restaurant.
"I've never been to culinary school, or to a restaurant school. I've never taken a single cooking class in my life, never followed a recipe book. Just like when you write something you know what you want to express—I know what I want my food to taste like," says Trehan.
Even naming her restaurant was an intuitive blend: Merging the word chai (the centering start to her day) with wali (the feminine version of the term, signifying "someone who does") was the perfect alliance—recognizing it is women who are the true nurturers and center of any home or space.
Walking the streets of Harlem one day led her to the brownstone that would become Chaiwali. "It has the feeling of a village and a real community, similar to what I grew up with in India," recalls Trehan, who opened her restaurant in 2015 (extensive renovations of the landmark space led to a reopening in late 2019).
While Chaiwali has served both meat and vegetarian items, the shift to plant-based cuisine came in response to support her daughter's dietary allergies as well as a reflection of her heritage. "I grew up with such food, and I believe Indian women are particularly adept at using vegetables, pulses, and grains to create endless variations of our cuisine."
When the pandemic created constant upheavals (shutdowns, weather constraints, limited capacity) she decided to simplify. "I said let's just do delivery, and to make it more healing and present day, I'm changing the whole menu to a plant-based menu," says Trehan.
But when her customers vehemently protested removal of the lamb chops (practically stalking her, Trehan jokes), she compromised, albeit marginally: Delivery will remain all-vegan, but in-house dining, which re-opens mid-March, will include three meat dishes, including a sustainable seafood dish.
Moving forward, her mantra is to keep doing everything even better. "I have learned a lot about how food heals—and hurts—if we are not conscious of what we put into our bodies, and it is entirely reflected in the food I serve at Chaiwali."
How to order: Order delivery or pickup via website or call 646-688-5414; limited indoor dining set to resume on March 12.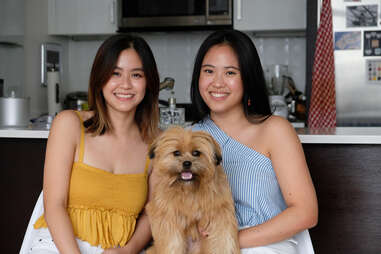 Debbie Tanudirjo & Liz Margaretha
Sundae Service (@sundaeservice.nyc)
Midtown
Sisters Debbie Tanudirjo and Liz Margaretha never expected to launch an Asian-inspired digital ice cream parlor in the midst of a pandemic. But when slim pickings at the drugstore were still their only option come summertime, they took the leap.
Sundae Service was launched last July after Tanudirjo started experimenting with flavors using an ice cream maker received as a birthday gift. What started as a way to treat themselves became a chance to turn pro.
They decided at the outset to stick with natural ingredients. "During the pandemic when you could only get ice cream from CVS, we could taste the difference in quality, and that really bothered us. We wanted something that was natural, no preservatives," says Tanudirjo.
Focusing on Asian flavors proved a natural extension as well. "Many of the flavors we select, like the recently launched White Rabbit Almond Cookie, reminds people of their childhood. We want to give people a sense of home, something that is underrepresented in the typical ice cream lineup," says Margaretha.
Other flavors include Ginger Black Sesame, inspired by the Chinese soup tangyuan, which has black-sesame filled glutinous rice balls in a sweet ginger base; and Pandan Coconut, lifted from the coconut-milk based dessert Es Puter they loved growing up in Indonesia, which fit the bill when requests for a vegan option arrived.
Tanudirjo credits their entrepreneurial spirit to their Indonesian upbringing (before finding a full time job post-graduation, her sister Liz launched a cupcake business). "We definitely get our ability to explore and be adventurous in starting different businesses from the way we grew up. Seeing people our own age back home start their own businesses inspired us to try that here."
Sustainability and community partnerships are conscious extensions of Sundae Service. From pints to delivery bags, they shun plastic and only use paper products. They also employ Asian delivery drivers to support the local community, particularly hard hit by the pandemic. Additionally, they partner with minority, female-founded small businesses like Taiwanese-American tea brand, Us Two Tea, as well as donate 10% of their profits to Grameen America in support of WOC-businesses each month.
How to order: Order via online shop; deliveries every Sunday across Manhattan, Brooklyn and Queens; contact shop to pre-arrange pickup in Manhattan.
Martina Rossi Kenworthy & Bianca Kenworthy
La Rossi Pizza (@larossipizza)
West Village
"I always say, with pizza there are no limits," says Bianca Kenworthy. "And we are all about collaboration and uplifting people."
This rings deliciously true at La Rossi Pizza, a frozen pizza company founded by mother-daughter duo (and food-world mavens) Martina Rossi Kenworthy and Bianca Kenworthy. Whether sourcing ingredients locally, adopting sustainability practices, or staffing their operations, the team behind La Rossi Pizza has been unstoppable since its official launch in January.
What began as family-and-friends pizza parties nearly a decade ago eventually led to the consideration of a new business endeavor. They assembled a team from their own community of accomplished females—including a director of sustainability, a key focus of their business.
"If your moral compass is applied to everything you do business-wise, you want ingredients produced by someone who treats their employees well. You also want the ingredients to be produced with respect for the environment and for the soil. How you treat your world is reflected in every element of what you do," says Rossi Kenworthy, a Bologna native whose previous stints include founding the Italian online food shop, Gustiamo, and supporting Slow Food New York City (to which La Rossi donates a portion of proceeds).
To that end, they source mozzarella from New Jersey; organic grains and flour from upstate New York; and the best tomatoes they could find from California. To reach the required 950 degrees Fahrenheit, they imported an electric (more sustainable than wood-burning) stone conveyor oven from Italy. Next will be a measured roll-out of nationwide shipping for their pizzas, which include margherita, maialina, and veggie options.
With an eye to the future, La Rossi Pizza plans to create an apprenticeship program for women to shadow them at their West Village headquarters—be it in marketing or learning to start a food business, it will be a clinic of sorts to share their collective food world expertise.
"Pizza is so authentic to who we are as a family. Through the lens of technique and technology coming out of Italy, it allows us to bring this exceptional product that respects local and responsibly-sourced ingredients to more people," says Kenworthy.
How to order: Order pickup or delivery via online shop; online orders also available at Our Harvest and Farm to People; pickup available in West Village location; delivery available in all NYC boroughs.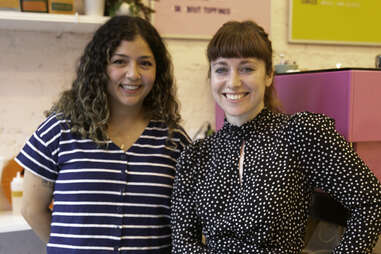 Stephanie Gallardo & Keavy Landreth
Love, Nelly (@lovenellybk)
Ocean Hill
At Love, Nelly, the bakery they opened last summer, co-founders Stephanie Gallardo and Keavy Landreth sought to create an intimate grab-and-go neighborhood spot for locals to enjoy an array of empanadas and other Colombian-inspired sweet treats.
Last spring, their original plan was to use the large back area as an expanded kitchen space to increase offerings from Butter & Scotch (the Crown Heights bakery where they first worked together). The pandemic then forced a reassessment, but the concept behind Love, Nelly—named as a tribute to Gallardo's mother—has always remained intact.
"It is so much of who I am, without even realizing it. No matter which fine dining experience or food space that I've worked with in the past, this just felt more true to who I am," says Gallardo, who previously worked at A Voce and Café Grumpy.
Another crucial business decision was pledging to pay their staff a living wage. "I keep telling people who have never worked in restaurants, it's so important. People who work in this industry work harder than anyone else with no healthcare, no benefits. The very least we can offer is a livable wage," says Landreth.
She notes that while it's not always easy, staff morale remains high—with their tiny crew of six invested in the success of the business and enthusiastic to take on expanded roles: The staffer who makes the empanadas also oversees the newsletter, while a barista also manages their daily Instagram stories.
In December, they launched monthly Care Packages which ship nationwide, filled with ever-changing offerings from local purveyors (tea blends, truffles, small batch soaps), and for which Gallardo's mother Nelly creates the bright, cheerful messages that accompany each package. Plans to expand their empanada selections are next, following a website refresh.
"There are all these elements—the retail store, care packages, empanadas, but ultimately, the big picture goal is to grow our staff and help them grow with us," says Landreth.
Adds Gallardo, "We're happy to be here, cranking out treats day-to-day, being able to support our staff, and sending care packages to people across the country. That's all we can do right now."
How to order: Open seven days a week for in-store purchases and orders or call 347-240-6951; order via online shop, GrubHub, Doordash.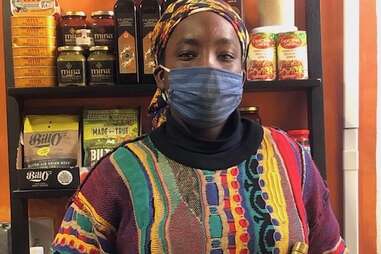 Nneji (@nneji_astoria)
Astoria
It was the friendly inquiries about West African cuisine by visitors to her Astoria gift shop, IBARI, that led Beatrice Ajaero to open her eatery, Nneji, last June. "We launched Nneji as one way to share heritage through West African cuisine. Inspired by our warm welcome from neighbors and businesses near IBARI, we created a menu of dishes that have a connection to several countries in West Africa, the West Indies, and the American South."
Her affinity for the food world began at a young age, informed by her Nigerian ancestry and American upbringing. "As a child, okra, red stew, and pounded yam filled my Beatrix Potter sectioned plates. When we visited friends and relatives, my mom would cook with them in their kitchens. In New Jersey, where my maternal kindred gathers very often, food was at the center of every occasion," says Ajaero.
Before opening her burgeoning West African culinary empire (prior to IBARI Astoria, she launched IBARI Roosevelt Island as a food center), she graduated from Bard College, attended law school in Buffalo, and returned to Bard to pursue an M.B.A. in sustainability after spending time in The Gambia region of Africa, where she oversaw restaurants and bakeries.
Sustainable practices with a focus on high-quality ingredients and produce were important right from the start. "At IBARI Roosevelt Island, our flagship, we began with sourcing fine foods packaged in paper, glass, and tin. We believe in using the whole vegetable, small-batch preparation, and seeking out finished products that have multiple uses," says Ajaero.
At Nneji, Ajaero offers customers a taste of traditional West African soups like egusi, okra and red stews, as well as jollof rice, and garri. Building community connections through food—whether offering Greek pastries in recognition of the shared food traditions between the Mediterranean and African regions or donating meals to pandemic-affected families—have served as the guiding principles for Ajaero's legacy.
"With IBARI Roosevelt Island, IBARI Astoria, and Nneji, it is our hope that, one visitor at a time, we can share West African food with a broader audience," says Ajaero.
How to order: Open for indoor dining Monday-Saturday in Astoria or call 917-832-7338; learn more about IBARI via Instagram.
Sign up here for our daily NYC email and be the first to get all the food/drink/fun New York has to offer.
Swathi Reddy is a Louisiana-born, NYC-based freelance writer and marketer. Formerly a
Food & Wine
staffer for over a decade, she can't think of anything better to do in life than talking about food while eating food. Except maybe discussing cocktails (or wine).