"I am not free when any woman is unfree, even when her shackles are very different from my own," feminist writer and civil rights activist Audre Lorde said at the National Women's Studies Association Conference in 1981. Decades later, Lorde's words capture the essence of the Women's March factions, which have brought millions of people together in solidarity nationwide since the 2016 presidential election.
In the march's first and second year, hundreds of thousands of poster-toting, anthem-chanting marchers took Manhattan. One sign read, "anything you can do I can do bleeding." Another, held by a small white-haired woman, read "Ninety, Nasty, and Not Giving Up!" And another read "this is my resisting bitch face." This year, on Saturday, January 19, crowds will return to Columbus Circle for the Women's March on NYC to make clear, once again, that when any woman is unfree, no one is free.
Also this year, a second demonstration will take place in Foley Square at the same time. The Women's Unity Rally, presented by the grassroots group behind the game changing march on DC in 2017, will assemble downtown from 10am-2pm. Accusations have flown between the two unaffiliated groups, eliminating any chance that they may join forces. In spite of their differences, each group is working toward an ultimate goal of gender equality.
Here, you'll find details on the Women's March in Columbus Circle. You can find additional information on the Women's Unity Rally in Foley Square on its event page.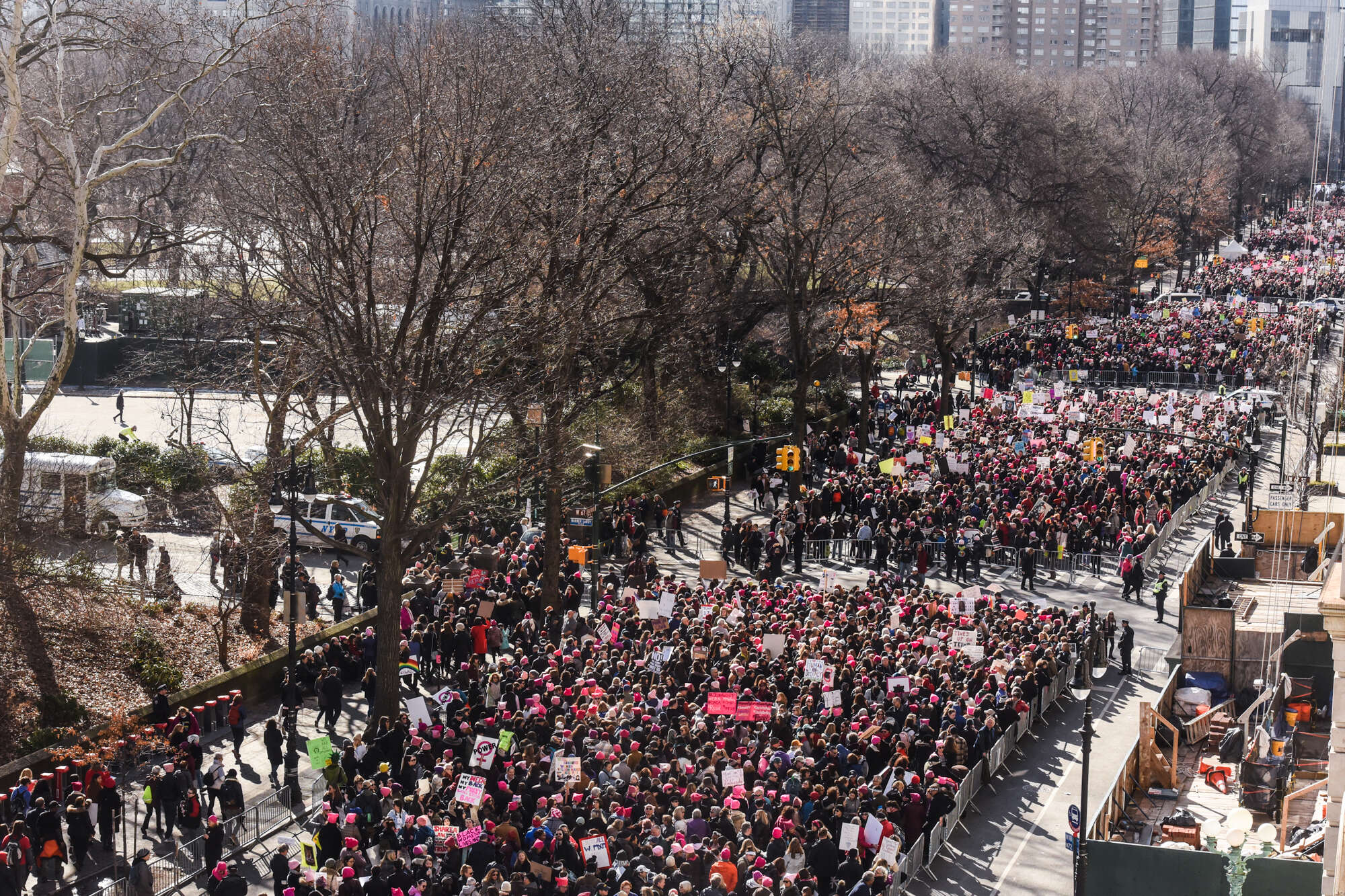 When and where
Marchers should begin lining up at 72nd Street and Columbus or 72nd Street and Central Park West at 10am. The march kicks off at 11am from Columbus Circle, proceeds down 8th Avenue, wraps around Central Park South, heads down 6th Avenue, and concludes at 44th Street.
Differently abled and ASL-communicating folks may choose to enter a bit farther downtown at 61st Street and Broadway. Latecomers arriving after 11am should expect to pick up the parade's caboose and navigate circuitous barricades to join.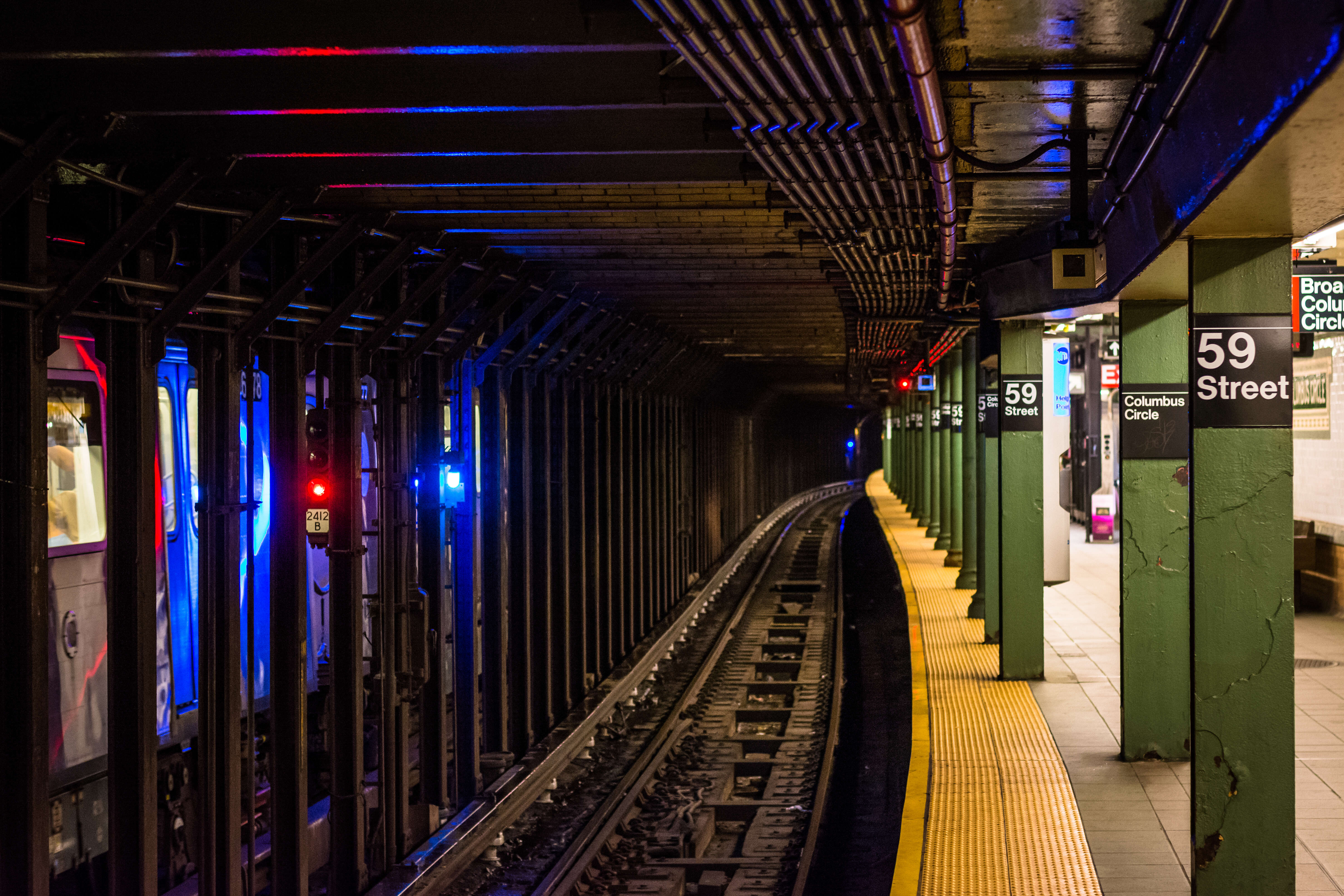 How to get there
The subway is your best bet to avoid road closures and Uber surge prices. Take the A, B, C, or D train to Columbus Circle or the B, C, 1, 2, or 3 train to 72nd Street.
What to wear and how to prepare
The weather forecast calls for a high of 37-degrees and possible snow on Saturday. That's big coat weather. Pile on your thermals, zip up your warmest puffer, slip some hand warmers into your gloves, and layer those socks under your most comfortable walking shoes.
Bookmark this guide to your demonstrating rights, make a sign if you're so inclined, bring a snack, and pack a portable phone charger so you can capture other all the clever, gut-wrenching, punny, heart-rending, and history making moments in the crowd.
Reasons to march
The #MeToo Movement spread like wildfire, but needs oxygen to continue apace. Scores of women ran for office and won, but we've only just begun. A Supreme Court Justice was sworn in despite allegations that he committed sexual assault, and we need to ensure greater accountability for our public officials. Women have simultaneously seized national stage and remained as vulnerable as ever since the first Women's March. Whether these or other news stories resonate with you, or you're moved by personal experiences, there are myriad reasons to participate and spring into action this Saturday.
Where to re-fuel en route
Avoid marching on an empty stomach and swing by Rex on 10th Avenue between 56th and 57th Streets pre-march -- grab an oozing eggy breakfast bagel and an energizing coffee. Waking up a little earlier will be worth it. The even earlier birds can make an event out of the morning with a classic diner breakfast at Mom's Kitchen and Bar on 9th Avenue and 48th Street, where you can get extravagant brunch beauties like a pancake burrito. Avo toast enthusiasts should stop by Bluestone Lane on 8th or 6th Avenue.
After the march, when you're starving and your feet are sore, take a load off at a sit-down lunch. Carboload on a layered masterpiece like the ciabatta stuffed with cider braised pork butt, broccoli rabe, pepper jelly, dijon mustard, and sharp cheddar at Untamed Sandwiches on Lexington Avenue between 54th and 55th Streets. Or, warm up with hand-ripped noodles and lamb at beloved local chain Xi'an Famous Foods. UrbanSpace Vanderbilt is a great squad spot: the food hall has a variety of sweet, savory, hearty, and light bites to satiate every palate.
Sign up here for our daily NYC email and be the first to get all the food/drink/fun New York has to offer.