France is no stranger to beautiful things -- it's a country high on its own supply of museums, palaces, and natural beauty. But it's also pretty big, and believe it or not, a lot of that natural beauty can get lost. So, if you're looking to go beyond the clichés, we've scouted out a few of the more surprising places in France that are downright beau.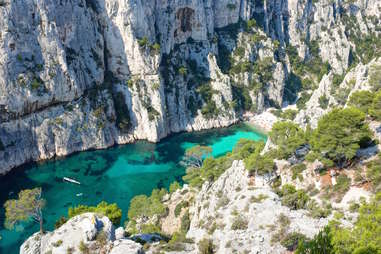 Calanques
Marseille/Cassis
Whether by land or by boat, these cliffs are some of the most stunning natural sights along the Mediterranean. From the city of Marseille to the town of Cassis, some 20 kilometers of dramatic white cliffs -- OK, maybe more of an eggshell -- slice into the blue azure of the sea. Hike them, sail around them, but no matter what, see them.
Grottes de Choranche
Grenoble
There are a lot of grottos in France, but these are some of the most surprising. Once inside the underground caves, dramatic lighting highlights the stalactites hanging like icicles from the ceilings. Some are as long as 3m, reflecting in the subterranean river that flows through the caverns. Beyond all the beautiful cave stuff, you can also meet the infamous, yet less-than-attractive blind salamanders that live down there.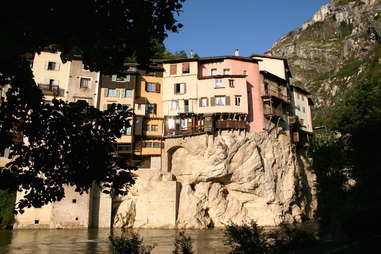 Pont-en-Royans
Isère
You're not just going to stumble across this sleepy town, but if you do manage to pass through, check out its famed hanging houses. They're perched precariously over the river, and there used to be three times as many as there are now -- but there are still plenty to see. Vividly painted -- well, vivid for France -- the hanging houses are a major draw for those visiting the area. They're a quirky, but strangely beautiful, sight to see while exploring the rest of the town.
Rocamadour
Lot
Better known for its eponymous cheese, this medieval town is perched precariously on a hillside, begging to be photographed. It's a famous pilgrimage site that has been recognized by UNESCO, and that's all you really need to know. Its tiny little streets and staircases up to the main church are not for the out of shape, but they're mandatory if you've made it to this little corner of France.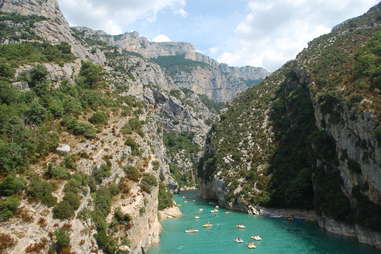 Lac de Sainte-Croix
Alpes-de-Haute-Provence
Some beautiful things actually did come out of the 1970s in France, and this lake is one such example. Created following the construction of a dam, the pristine blue lake and sandy beaches make you think you're on the Mediterranean, but it's at least 80 kilometers away. The surrounding mountains and waterways leading towards the even more stunning Gorges du Verdon make this a surprising little slice of French nature (well, man-made nature).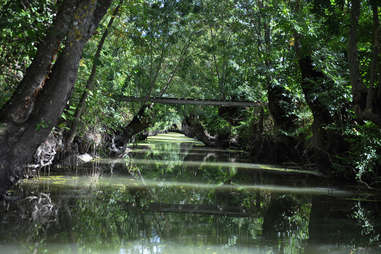 Marais Poitevin
Poitou-Charentes
They don't call this place the Green Venice for nothing. The canals stitched across this green marshland were begun back in the seventh century, in part thanks to monks who inhabited the area. Today, a rowboat through the canals reveals one of France's best-kept secrets that's not really such a secret to the French. To really enjoy the canals, hire a guide to do all the heavy rowing for you.
Villandry Gardens
Loire Valley
While the Villandry château was once owned by Napoléon's brother, it's the gardens here that more than 300,000 people come to visit annually. The ornate Renaissance-style gardens are unique specimens, at least for those who know a thing or two about gardening. The superb geometric shapes, decorations, and diverse flora make it one of the most beautiful spots in the Loire Valley, though less well-known than the more famous château found there.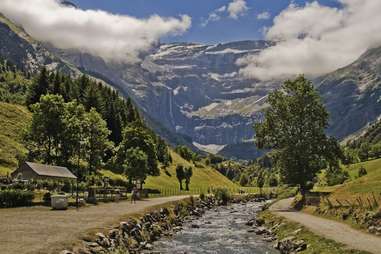 La Cirque de Gavarnie
Hautes-Pyrénées
This cirque, a mountain feature carved by icebergs, is basically like Mother Nature's version of an amphitheater. With snowy peaks and jagged cliffs hovering over the valley below, you're sure to get at least one good photo of this place. Look for the waterfall and troops of horses to add that extra sparkle to the massive chunk of natural beauty in front of you.
Le Gouffre de Padirac
Lot
Need another reason to head to Lot? Of course you do. Why not visit the most beautiful hole in the ground found in France? This chasm, part of an underground cave and river formation, has crystalline water and stunning rock formations waiting for travelers who dare to descend into the tunnels by foot or by boat.

La Cité Episcopale d'Albi
Tarn
Traveling through France, you might feel like you've seen enough churches to last a lifetime -- which is correct -- but this one is a bit different. Several buildings, including the cathedral of Saint Cécile, make up this old medieval complex, constructed with a distinctive red-hued brick. The rusty tones of the buildings, some dating to the 10th century, are a surprising change of pace from the rest of the grey churches found throughout France.
Camargue
Bouches-du-Rhône
Think of this as France's outback, without the marsupials. Troops of white horses run through fields of purple flowers while flamingos fly over lagoons of blue water. It's all very surreal-feeling, but rest assured it is very real indeed. The natural preserve is accessible by car, though it's best to soak up the beauty by bicycle to really see all the Camargue has to offer.
Sign up here for our daily Paris email and be the first to get all the food/drink/fun in the City of Light.
Bryan Pirolli is a Paris-based writer, photographer, tour guide, and PHD candidate at the Sorbonne who is more than likely currently drinking wine. Follow him on Twitter right here.