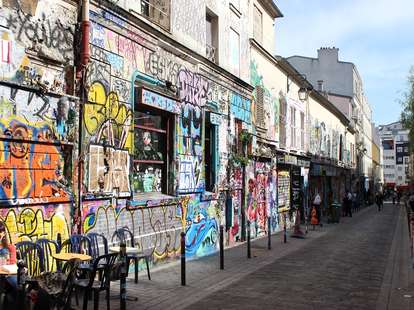 When friends come to visit, you want to take them to places that don't scream selfie sticks and fanny packs. Sure, they should totally check out the Louvre and Notre Dame, but you don't need to visit for the nth time -- besides, you need to spend that time catching up on Game of Thrones. If you push outside of the eternally tourist-filled center, however, you can find worthwhile places to spend a few hours -- or even the whole day -- with your guests... all without seeing even one English-language menu.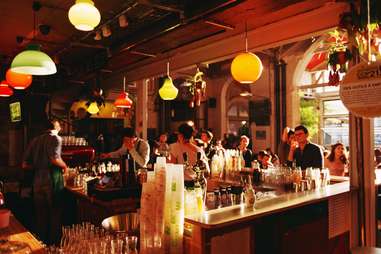 Metro Porte de Clignancourt
Part café, part community center, part market, part farm... this renovated train station on the old Petite Ceinture definitely does not attract buses of tourists. Bring visitors for a brunch that focuses on local fare (with good vegetarian options), or come later at night for tapas and cocktails. It's a totally random and crunchy spot to meet up for a coffee or a drink.
Montparnasse Cemetery
Metro Raspail
Visitors flock to the Père Lachaise Cemetery and the Catacombs, but this cemetery is usually devoid of annoying tourists, while being arguably equally beautiful. It's south of the much more touristy Luxembourg Gardens, so it's not too far from the rest of the action, and is the final resting place of celebrities like singer Serge Gainsbourg and architect Charles Garnier, who designed the Paris opera house. Unlike Père Lachaise, most of the celebrities buried here are actually French -- no offense to the beloved Oscar Wilde or Jim Morrison.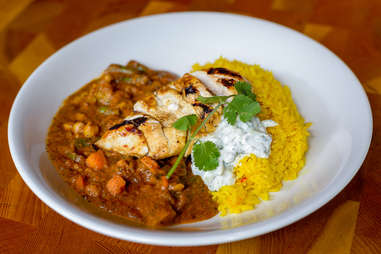 Little India
Metro Gare du Nord or La Chapelle
You'll find the city's best Indian restaurants wedged between Gare du Nord and Gare de l'Est in the 10th arrondissement. While they can't really compete with the curry shops in London (or, like, restaurants in India), they're still really good -- and they're cheap. Krishna Bhavan has been a favorite of locals for years with its vegetarian dishes. It's a great neighborhood to take friends when -- or if, really -- you've had enough of the foie gras and cheese.

Flea market at Porte de Vanves
Metro Porte de Vanves
Tourists tend to rush to the flea markets up north at Clignancourt, but try heading south to Porte de Vanves on the weekends for a more local flea market. The selection might not be quite as diverse, but it's still be an enjoyable morning of picking through other people's belongings... just with a crowd of French people, instead of European tourists.
Riverbanks at Bibliothèque
Metro Quai de la Gare
You wouldn't think of the riverbank as a place to avoid tourists, but down by the National Library, or Bibliothèque, you'll find mostly locals. In warmer months, bars and cafés open up along the Quai Francois-Mauriac, serving up pizza, charcuterie plates, and drinks, which attract mixed crowds well into the evening. Some of the boats even double as bars or clubs, like the famed Batofar. Take your friends down here for an evening that will feel more French than a beret full of frog legs and escargots.
Château de Vincennes
Metro Château de Vincennes
Versailles is a tourist magnet, so head east to another castle instead. Just over the city's limits in the Bois de Vincennes, the Chateau de Vincennes lacks the pomp of Versailles, but it's got history to compensate. With 12th-century roots, this place predates Versailles by a few hundred years, and has an impressive keep and chapel that are open to visit. Afterwards, you can stroll through the adjacent park, rent a rowboat on the lake, relax, and enjoy the afternoon.
Parc de la Villette
Metro Porte de la Villette or Porte de Pantin
This park offers a unique combination of green space and culture, with a weird hodgepodge of contemporary design surrounding the 19th-century iron pavilion that once housed the main Parisian slaughterhouse. The city's canal runs through the park, which on the west bank has the science & industry museum, while the east bank is home to all things music, including the shiny new Philharmonie de Paris. Take your friends for a walk before settling down with a picnic while watching a soccer match and enjoying not hearing any English.

Butte-aux-Cailles
Metro Place d'Italie
The cobbled streets around this hilly little neighborhood are still rarely trod by tourists, but the distinct village feel makes it worth the trek to the city's 13th arrondissement. Go for a stroll, have a meal at Chez Gladines, check out the street art around every corner, and end up at one of the tiny bars. Le Merle moqueur is a favorite, with its many infused rums getting you all rowdy before you simply roll down the hill with your friends.
Tour Montparnasse
Metro Montparnasse
It's in the guidebooks, sure, but this skyscraper still qualifies as non-touristy. Wow your friends with the lack of lines as you take the modern elevators to its rooftop observation deck. Laugh at those who are waiting to go up the Eiffel Tower as you sip Champagne at the Ciel de Paris bar. You get a 360-degree view of the city, including the Eiffel Tower, and your friends will feel like they took advantage of one of the biggest Paris hacks out there.
Marché d'Aligre
Metro Faidherbe-Chaligny or Lédru-Rollin
Less touristy than the Bastille market, this is the outdoor market that serves it all. You've got fresh produce and flowers. You've got an indoor part with meat, beer, cheese, and more cheese. You've got restaurants like Pink Flamingo pizzeria. You can't really go wrong bringing visitors here to see real Parisians stocking up on groceries -- it's like a French-themed safari that out-of-towners (rightfully) love to experience.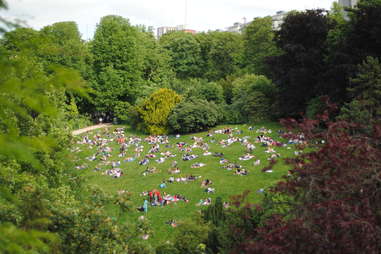 Parc de Buttes-Chaumont
Metro Botzaris or Buttes Chaumont
This hilly green patch in the 19th arrondissement isn't full of tour groups, but welcomes joggers and local families, especially on Sundays. The park is crowned by a little temple-esque gazebo overlooking the central lake. Kids will enjoy the puppet shows and donkey rides, while adult visitors will appreciate a drink at Le Pavillon du Lac. It's a bit of a hike out on the weirdest metro line (the 7bis) but hey, even the commute will be non-touristy.

Belleville
Metro Belleville
The mix of Asian cultures and a wave of hipsters make Belleville the place to be... it's where you need to go to prove to your friends that you are indeed still cool. Stroll uphill along rue de Belleville to check out the graffiti at rue Dénoyez, then hike up the stairs at Parc de Belleville for unique views of the city. Take your pick of Chinese, Vietnamese, and Thai restaurants in the district, or just grab a coffee at hipster hangout Cream. It's basically full of as much non-touristy fun as you can hope for.
Sign up here for our daily Paris email and be the first to get all the food/drink/fun in the City of Light.
Bryan Pirolli is a Paris-based writer, photographer, tour guide, and PhD candidate at the Sorbonne who is more than likely currently drinking wine. Follow him on Twitter right here.