Is your wallet feeling a bit thin after trying out all of the city's best new restaurants? Worry not, fellow Philadelphian. It's entirely possible to have a great time around town without breaking the bank. Feeling skeptical? Here are 40 things you can do in Philly for less than a 10-spot. Start rounding up those quarters.
 
South St
Price: $7
Take a nice, mesmerizing stroll through Isaiah Zagar's mosaic masterpiece on South St.
 
2. Pay what you wish at the Art Museum
Art Museum
Price: $1-$10
Pay what you want (but don't cheap out!) at the Art Museum every first Sunday and Wednesday night of the month.
 
University City
Price: $5.50
Going to the movies definitely ain't cheap anymore. That is unless you head to the Cinemark in University City for $5.50 tickets on Tuesdays, which you totally should.
4. Snake two 30-minute bike trips around the city with Indego
Citywide
Price: $8 for an hour
Got somewhere to go? Rentals from Indego are definitely cheaper than an Uber trip, plus you'll get to pedal around places you might not have ever noticed from the backseat of a cab.
 
5. Drown your sorrows with the citywide special
Citywide
Price: Less than $7
Drinking on the cheap is pretty easy in Philly when $7 (or less) will get you a shot and a beer at pretty much every bar in the city.
Citywide
Price: Under $10
Looking to chow down on the cheap? How about one of our picks from the 15 best cheap eats under $10?
 
Old City
Price: Free
On the first Friday of every month, Old City's art galleries hold an open house that oftentimes includes a free drink (or two).
 
8. Get a half-dozen oysters at the Olde Bar during happy hour
Old City
Price: $6 for six oysters
Granted, you could get up to 10 oysters for your Hamilton, but c'mon. Gotta leave some money for a tip.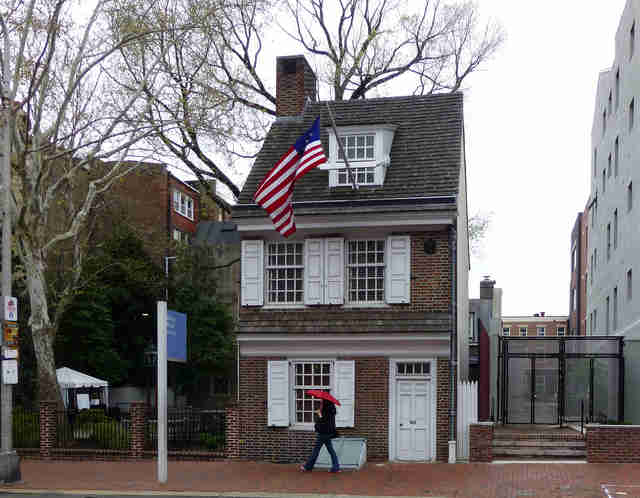 9. Take a self-guided tour of the Betsy Ross House
Old City
Price: $5
Did she actually sew the first American Flag? Maybe. Perhaps it's about time you find out.
 
10. Ice skate in front of City Hall at the Rothman Ice Rink
Center City
Price: $5
Assuming you have your own set of skates (rentals will set you back $9), you can skate until your legs fall off all winter long.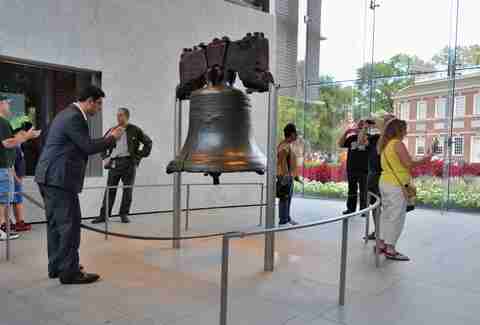 Old City
Price: $1.50 for reserved tickets, free for walk-ups
Be a tourist in your own town and actually see the Liberty Bell and/or inside of Independence Hall, ya know, instead of just casually walking by it.
 
12. Use that (valid?) student ID to visit the Penn Museum
University City
Price: $10
Assuming you are a current student (or still have your old student ID), you can get a discounted admission to the Penn Museum of Archaeology and Anthropology.
 
13. Visit the Barnes on the first Sunday for free admission
Logan Square
Price: Free
The normally $22 tickets to the Barnes are free on the first Sunday of every month... or you could use that "valid" student ID for $10 admission all month long.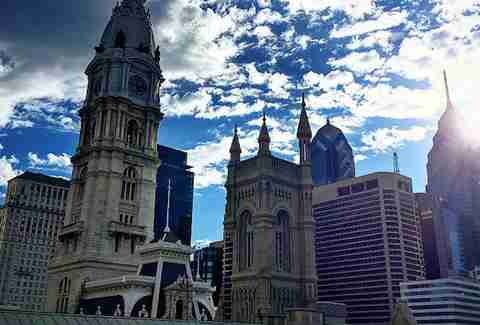 Center City
Price: $6
For $6, you can get a 360° view of the city from what used to be the highest point in town.
 
15. Take a run with the Pig Trotters and get some free bacon
Fairmount
Price: $3 drinks
Every third Tuesday of the month, take a three- to five-mile run with the Vetri Pig Trotters and fuel up after with $3 beers, food specials, and the occasional free bacon.
 
Market East
Price: $10
If you've got 10 bones to spend, you could do a lot worse than finding a cool antique or vintage item at the Franklin Flea.
 
Kensington
Price: Free
Tours are free on Saturdays (only), as are the beer samples.
18. Eat a world-renowned cheesesteak
Citywide
Price: $7-$10
They're famous for a damn good reason... but make sure you pick a good one.
 
Manayunk
Price: Free
Just outside Manayunk there are more than 50 miles of free trails to hike. Pick one.
 
20. Catch a free show at the Kimmel Center, grab a happy hour drink at Volver
Avenue of the Arts
Price: $6-$10
Have a high-class night for the price of an extra value meal at McDonald's.
Rittenhouse Square
Price: $5
Most of the shows with real performers will cost you more than $10, but tickets for open mic night are a whole lot cheaper (who knows, you could see the next Aziz Ansari).
 
South Philly
Price: $10
With Okafor now on the court, $10 may actually be a bargain.
 
Rittenhouse Square
Price: Pay what you want
Most yoga classes are at least $10 a pop, but at the Philly Yoga Factory, you can pay whatever you want.
Northern Liberties
Price: $4.95 for one game, $4.40 for shoe rentals
Actually, if you can bowl a 300 you probably have your own pair of bowling shoes...
 
25. View some contemporary art at the ICA
University City
Price: Free
Bet you didn't even know there was an Institute of Contemporary Art (at UPenn) -- well there is, and it's free. It also features some pretty superb exhibitions.
 
26. Have a drink with some live music at the Twisted Tail
Queen Village
Price: $5-10
With the recent closing of Legendary Dobbs, Twisted Tail is absolutely the best spot to catch live music on South St.
 
27. Find a new (used) book at Book Trader
Old City
Price: $1-$10
Because reading books is still cool, find something new to read at Old City's biggest used bookstore.
Citywide
Price: $5-$10
Choices range from tacos to waffles to waffle fries to... well, there's A LOT of choices.
 
29. Movie Mondays at the Troc
Chinatown
Price: $3
Every Monday night, catch a classic movie and get a $3 food/drink credit.
 
30. Drinks and Quizzo at Fergie's
Gayborhood
Price: $5-$10
Show off your trivia skills and enjoy a few pints at Fergie's Pub.
 
Callowhill
Price: Free
Quoth the Raven, "It's free."
South Philly
Price: $3.50
It's a little dinky, but come on, where else can you see a museum dedicated to Philly's favorite social groups?
 
33. Dollar taco night at Loco Pez
Fishtown
Price: $1
With $10, you can get 10 tacos -- that's cheaper than Taco Bell.
 
South Philly
Price: $8-$10
Because this is the closest you'll ever get to the field without the chance of getting arrested.
 
35. Put it all on black at SugarHouse
Northeast Philly
Price: $10
Granted there are smarter ways to gamble $10, but you could always let it ride at SugarHouse... and be sure to show us a cut if you end up winning big.
Rittenhouse Square
Price: $8-$10
Amateur actors = amateur prices at the Philly Improv.
 
Old City
Price: $8
Sample two red, two white, and one dessert wine -- all from PA and with free snacks -- during Wino Wednesdays at Pinot Boutique.
 
Rittenhouse Square
Price: Free
Hear some of the country's best young classical musicians for free every Monday, Wednesday, and Friday at the Curtis Institute.
 
39. Thursday night drag show at Bob & Barbara's
Graduate Hospital
Price: $7
Come see Miss Lisa and other performers at the original home of the citywide special -- entry also gets you your first drink.
 
40. See the stars during Night Skies
Logan Square
Price: $5
Once a month, head to the Bloom Observatory at the Franklin Institute for a lecture and some serious stargazing through the observatory's five rooftop telescopes.
Sign up here for our daily Philly email and be the first to get all the food/drink/fun in town.
Dan's top pick for your $10 are tacos at Loco Pez -- on dollar taco night, $10 can get you a lot of tacos. You can follow him on Twitter/Instagram at @dannypageviews.