7 Must-See Abandoned Places in Philadelphia
For spooky season and beyond.
Rife with history (and ghosts from said history), Philadelphia is the perfect city to explore abandoned and dilapidated spaces. From empty warehouses to inactive piers, there are a handful of spots for urban adventurers to marvel upon and for history buffs to imagine how each locale would've looked in its heyday. Just remember, no trespassing—only look from the outside.
Mount Moriah Cemetery
6201 Kingsessing Ave.
When the owners of this more than 150-year-old cemetery abandoned it in 2011, a group called the Friends of Mount Moriah Cemetery stepped in to restore the space, which is the final resting place for notable Civil War veterans, entertainers, and more. While not technically abandoned, the cemetery still has an overgrown vibe with weedy mausoleums and crumbling arches.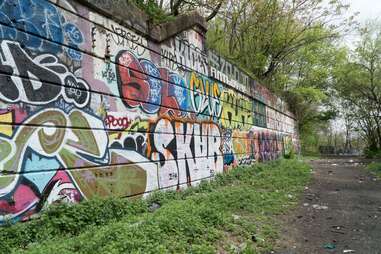 Graffiti Pier
Pier 18
Perhaps one of the most well-known abandoned spaces, this former Reading Railroad terminal turned coal transfer wharf is home to the city's largest public art project. The pier's ruins are covered in colorful graffiti, making this spot one of the most Instagrammed locales in Philly. Catch the space in its gritty glory before it's transformed into a public park.
Hahnemann University Hospital
230 N. Broad St.
Since it closed in 2019, this former teaching hospital of Drexel University has sat empty just north of City Hall. Completed in 1928, this Neo-Gothic style hospital features a Gothic arch at its former entrance and ornate window architecture at the top of the building—reasons it was nominated to Philadelphia Register of Historic Places.
National Security Bank
714-16 W. Girard Ave.
First built in 1887, this former bank served a German-American population at the end of the 19th century. The building then became a dance club in the early 2000s but has sat empty ever since (save for the occasional dance party). Its hodgepodge of architectural styles are definitely a feast for the eyes.
Delaware River Generation Station
1325 N. Beach St.
Just north of Penn Treaty Park is a former power plant known as the Delaware Station of the Philadelphia Electric Company. Construction on the massive Beaux-Arts style concrete building began in 1917 and operated until 2004. It's slated to be converted into residences soon, so pay this spot a visit before it's glammed up.
Willow Steam Plant
9th and Willow Streets
Just a stone's throw from Franklin Music Hall, the Willow Steam Plant, sitting on the edge of Center City, has been vacant since the 1970s. The space was erected in 1927 with an overabundance of pipes, gauges, and all the other industrial edge expected in a plant. Today, the towering smokestacks give off a menacing quality over Callowhill. It's recently been cleared of asbestos and the giant plant will likely be repurposed sometime soon, so see it in its current incarnation while you still can.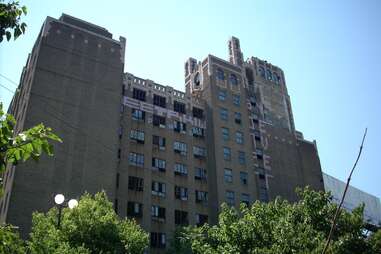 Beury Building
North Broad St & West Erie Ave
This 14-floor Art Deco building was designed in the late 1920s to house the National Bank of North Philadelphia. Today it is better known as the building, thanks to some charming graffiti adorning the buildings' sides. It continues to loom over North Philly and was even placed on the National Register of Historic Places in 1985. Though it has sat vacant for more than 20 years, the building will soon be transformed into a Marriott Hotel, a project that's been delayed by the pandemic.