Dating life going about as well as a zoo fire? It could be the fact that your date ideas are always some combination of dinner/drinks/movies followed by a ploy to "chill." Snap out of it and add a little spice to your love life. How, you ask? Great question. Try one of these nine date ideas that we absolutely, positively can't condone under any circumstances since they are all illegal as hell. But we can't exactly stop you from doing them either now, can we?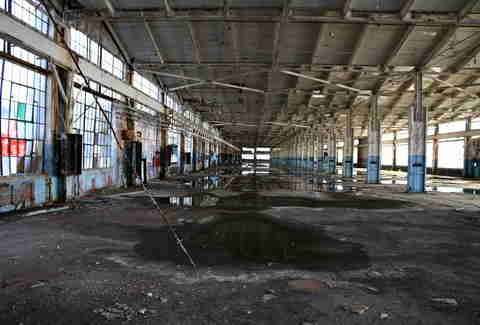 Explore abandoned Philadelphia
How to pull it off, even though we explicitly said it's not a good idea: Urban exploring is the perfect illegal date idea. It's semi-dangerous, definitely prohibited, and will give you no less than seven really awesome Instagramable shots to #tbt for the next few months. Also, given the amount of photos floating around the web, it really doesn't seem that hard to sneak into these places...
Laws you'd be breaking: Breaking and entering, trespassing, burglary
Crash a kegger in Edgeley Park
How to pull it off despite our pleas against doing something flagrantly unlawful: The parties still going at Edgeley, just like in high school. Except this time you're invited! And you brought at date! And you can probably drink a lot better than you did in high school.
Laws you'd be breaking: Public drunkenness, disorderly conduct, open container laws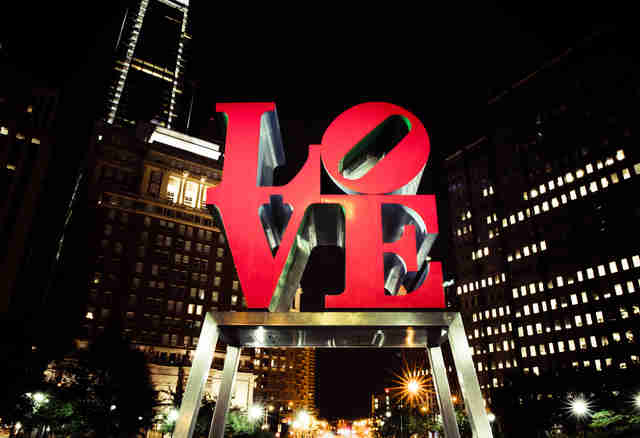 Make love in Love Park
How to pull it off without getting arrested, filmed, or caught by your parents: Make some sweet, sweet love in Philly's namesake park. All you need is a blanket, a Sisqó CD, and a 4-pack of Bartles & Jaymes. Just be discreet... that's one photo you do not want to be tagged in.
Laws you'd be breaking: Disorderly conduct, indecent exposure, open lewdness, open container... making Thanksgiving dinner extremely uncomfortable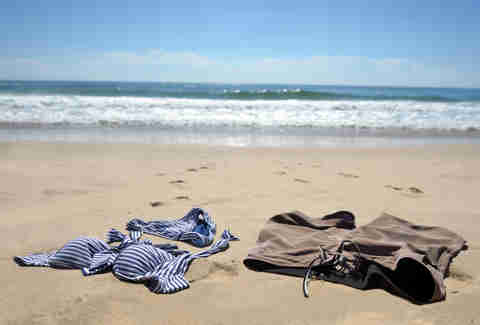 Skinny dip at the Shore
How to pull it off even though we sound like a broken record telling you not to: Here's the thing... you probably won't get caught unless you are being incredibly foolish/loud. Late night beach patrol can be pretty sporadic -- especially during the colder months -- so be quiet heading to the beach, remember where you put your clothes, and be ready to run if you have to.
Laws you'd be breaking: Indecent exposure, open lewdness, unfortunate shrinkage
Have a boozy picnic in Rittenhouse Park
How to pull it off despite our strongly worded disapproval: Despite what the cops think, drinking in public just ain't that hard. Head to Wawa, procure an empty cup, and viola -- inconspicuous consumption. The cops or anyone else in the park will be none the wiser. Until your date starts crying because of your refusal to put labels on the relationship.
Laws you'd be breaking: Open container violation, public drunkenness (?), disorderly conduct
Sneak into a hotel pool/gym
How to get away with it even though it goes against all our best advice: The key to this one is confidence and doing your research up front. Know the layout of the hotel, what your room number is (make sure it is an actual room in the hotel), maybe have an older room key from the same hotel. If you look natural, no one will stop you, and you can just sneak in as someone else is leaving. Play it cool, man.
Laws you'd be breaking: Trespassing
Get married after drinking adult beverages all night
How to get away with it even though it's a really bad idea and you WILL regret it later: It's illegal to get married in PA when you're... over-served. So IF you want to tie one on and also tie the knot, you'll need to employ the same strategy with the minister that you used for your parents in high school: eye drops, mouthwash, short answers, and little to no eye contact.
Laws you'd be breaking: Only one per the PA marriage license requirements: "The marriage law forbids the Clerk to issue a marriage license or the Officiant from performing the ceremony if either applicant is under the influence of intoxicating liquor or narcotic drug at the time they make their application or during the ceremony."
Take a cold dip at Devil's Pool
How to pull it off despite our obvious looks of disapproval: It might not have the same appeal that it holds in summer, but taking a jump off the cliffs into Devil's Pool is a time honored tradition on the Wissahickon Creek. Now that the weather's cold, it's actually a real polar bear plunge. Advice on how to get there? It's not that hard to find, and we think there probably won't be any cops freezing their butts off looking to grab kids crazy enough to jump into freezing water in November.
Laws you'd be breaking: It's illegal to swim in any rivers or creeks around Philadelphia so you're breaking the city law -- rumor has it that enforcement is pretty lax.
Eat peanuts and walk backwards outside the Barnstormers Theater during a performance
How to get away with it even though... wait, never mind. Go ahead and do this one, but good luck landing a second date: You heard it right; it's illegal to eat peanuts outside Barnstormers Auditorium in Ridley Park while walking backwards during a performance. It's still unclear if you can do this heinous act walking forwards or during off-hours. But if you're a rebel (you are) and like living your life a quarter mile at a time (you do), grab some peanuts, your main squeeze, and see what happens (jail time, maybe). Who have you become?!
Laws you'd be breaking: Reverse peanut consumption in public -- we are unable to verify what "punishment" exists if you got, but it's probably something stupid... or horrible!
Sign up here for our daily Philly email and be the first to get all the food/drink/fun in town.
Dan McKay has only done one thing on this list -- it's your guess. You can follow him on Instagram or Twitter @dannypageviews