The Best Dispensaries for Legal Weed in Philadelphia
How to register for a medical ID, plus the best medical dispensaries and CBD shops in Philadelphia.
Photo courtesy of Sunnyside
Photo courtesy of Sunnyside
Ever since medical marijuana was legalized in Pennsylvania in 2016—and first became available in the state two years later—dispensaries have popped up all throughout the city. From local outposts of national chains to independent shops selling CBD products, there's a little something for everyone, from flower to lotions.
Even with 4/20 soon approaching, keep in mind that marijuana for recreational use is not legal in Pennsylvania—just medical marijuana. So in order to purchase items containing THC, you need a medical marijuana ID card, which you can register for online. (You don't need a medical marijuana ID card to purchase CBD, which does not have the same psychoactive effects as THC). Within Philadelphia, specifically, marijuana is decriminalized, meaning possessing, buying and using up to an ounce of weed is not considered a crime in the city. All of this is to say, if you hope to shop at any of the dispensaries selling THC, you'll need your medical ID card ready.
Now, with all of that business out of the way, here are a few top-notch spots to get some bud in Philly.
Fishtown
Philly's first dispensary, Restore opened in 2018 in the heart of Fishtown: Within arm's reach of the Fillmore, Barcade, and the bustling intersection of Frankford and Girard. Inside, there's a relaxing plant wall behind the front desk. As for the menu, take your pick from an assortment of flower, extract, tinctures, lotions, and vapes in a variety of strains: indica, sativa, hybrid, and CBD.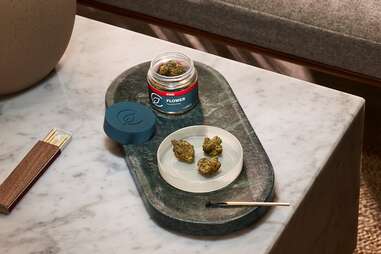 Various locations
With locations in Arizona, Illinois, Florida, Ohio, and Utah—among others—Curaleaf has a nationwide footprint. Within Philly, Curaleaf has medical dispensary locations on City Avenue and East Passyunk Avenue. At both locations, you can find oral capsules, Doctor Solomon's tinctures and lotions, of course flower, and a super friendly and knowledgeable staff to help guide you.
Various locations
Out of the 30-plus locations nationwide, 18 of them are located in Pennsylvania. Philly is home to three medical dispensaries—one in University City, another in Center City, and one more in Northern Liberties—making Beyond Hello one of the more accessible dispensaries in the city. All branches boast an open and airy layout with product displayed in glass cases and shelves behind the counter. Hundreds of products are available at each location, ranging from THCa sand to vapes—many of which are sourced from local Pennsylvania growers.
Various locations
With over 60 locations in six cities, CBD Kratom stocks more than 600 cannabis products including edibles, topicals, tinctures, oils, skincare, beverages, and pet treats—as well as over 20 strains of kratom and kratom specialty products. You can find their Philly locations in Rittenhouse Square and Fishtown (a South Street outpost is coming soon) and don't need a medical marijuana ID card to buy vape cartridges, CBD gummies, and kratom capsules.
Francisville
First opened in late 2020, this independent shop has a wide assortment of glassware, CBD hookah, CBD tinctures, delta-8 prerolls, CBD juices and more in a laid-back environment. All are welcome here—no medical marijuana ID necessary.
Various locations
Providing access to patients in Northeast Philly as well as Washington Square, Ethos' two medical dispensary locations have knowledgeable staff providing product recommendations based on your lifestyle: For what pain you need relief, the time of day you'd like to consume. In stock they have tinctures to help with insomnia and cured budder, among hundreds of other products.
Various locations
Similar to Curaleaf, Sunnyside holds down the fort on both City Avenue and in Midtown Village with their hard-to-miss signature look: bright orange signage and storefront lettering that beckons patients to the doors of their medical dispensaries. Expect Apple store vibes—neat and orderly displays—as you shop for flower, vapes, ingestibles, concentrates, tinctures, and accessories from over 20 brands.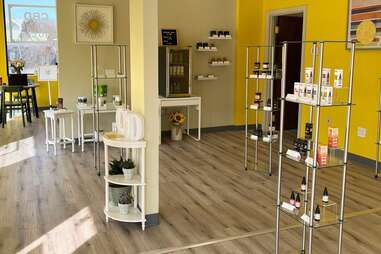 East Passyunk
This recently-opened CBD dispensary offers all certified organic products meant to relieve pain and anxiety and increase focus and relaxation. The shop evokes a friendly vibe, thanks to its bright yellow walls and a focus on community by forging relationships with customers. Not only do you not need a medical marijuana ID card to make a purchase here, but the store carries products for menstrual relief, women's health, intimacy, and even CBD dog chews.