Get an Endorphin Rush at Philly's Hottest New Workout Classes
The best workout classes in Philly include mini trampolines and free first visits.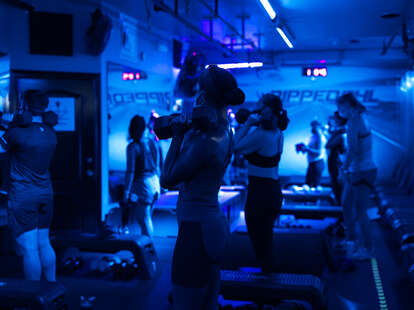 Photo courtesy of RippedPHL
Let's be real: regardless of your athletic ability, sometimes the thought of working out is just too much. Who wants to schlep to the gym when sitting down is so nice and easy? But after a session at these Philly-based specialty gyms and fitness classes, your endorphins will be asking for more.
Thanks to engaging instruction, unique class types, and multisensory immersion, you'll hardly feel the burn. Time to lace up those sneaks and work up a sweat in a totally fun way. Here's where to take a class at the hottest and coolest new workouts in Philly.
University City
How's your balance? Level 28, the lifestyle and wellness club at AKA University City, hosts the city's only yoga on the water fitness classes. The indoor pool, located 400 feet above street level, is where you'll find stand-up paddle board yoga classes, boasting incredible views and serene vibes.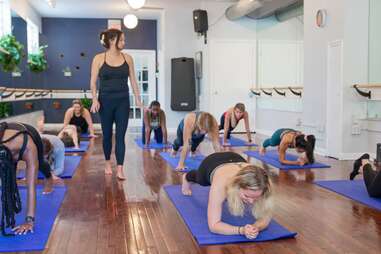 Northern Liberties
Channel your inner child during this barre class where every participant gets their own mini trampoline, known as a rebounder. You'll alternate between traditional barre exercises and bursts of cardio on the rebounders (think: high knees and simple bouncing). While Tuck Barre and Yoga has three locations, the BarreBOUNCE is only held at their Northern Liberties location. Try it out for free if this is your first time visiting.
Gayborhood and Rittenhouse Square
Flex your dance muscles at any number of classes at Philly Dance Fitness. Their Bollywood class, offered at both locations, features traditional North Indian Bhangra, mixed with modern hip-hop moves. Classes focus either more heavily on cardio or choreography.
Newbold
Pole fitness is having a moment, but none do it quite like Flaunt Fitness in Newbold. Billed as a gender-neutral studio, anybody (literally) is encouraged to learn twirls, spins, floor work, climbs, inverts, shoulder mounts, and the like. Their classes range from intro and beginner levels to advanced, plus specialty classes like climbing and inverting and seductive dance. Stay tuned for the opening of their second location at 22 Wolf Street this spring.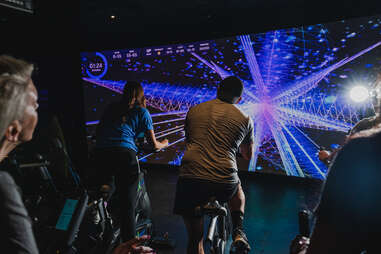 Old City
This isn't your mother's spin class. Sweat your way through a high-tech ride featuring surround sound and a huge concave cinematic screen. Each class has its own visual and sonic experience, from deep sea to outer space. Take a ride for free to try it out.
Northern Liberties
Philadelphia native Maleek Jackson turned a decade of being incarcerated into an opportunity. After discovering his love for boxing during custody, Jackson opened a gym in Northern Liberties where he now trains the likes of city officials, professionals, athletes, and entrepreneurs. Stop by for boxing training or strength and cardio conditioning classes—the first visit is on the house.
East Passyunk
If you're looking for more personal instruction, Movement Source Pilates Studio offers one-on-one and duo pilates classes. Learn the ropes of the pilates equipment under the watchful tutelage of the studio's three instructors or unwind at a foam roller class to work out all those kinks.
Rittenhouse Square
Combining high intensity interval training with the vibe of a nightclub, RippedPHL is equal parts aesthetics and instruction. During class, you'll alternate between cardio work on the treadmill (sprints, hills, endurance running) and strength moves—all at your own pace. The low lights and music will inspire you through each set. Even better? The first class is free.
Fairmount, East Passyunk, Fishtown
This one is for all the ladies. Train & Nourish is a fitness studio exclusively for women, designed to eliminate the intimidation of big box gyms. You'll learn about equipment, strength training exercises, and proper weight lifting form, through personal training or small group classes that max out at 11 participants. With three locations—Fairmount, East Passyunk, and Fishtown—you (hopefully) won't need to travel far.
Olde Kensington
Focusing on mid-sized group bootcamps, WillPower offers targeted classes based on different muscle groups each day. The circuit-style workouts are easily tailored to your fitness level—just grab the appropriate weights for you—and camaraderie is more than encouraged. As an introductory bonus, come for your first free class and score two weeks of boot camps for just $20.