Philly's 15 Best Music Venues, Ranked
Philly has always been an arts town, and the rise of new music venues over the last decade has only made more room for local bands to find a place on stage. These new venues do well to complement Philly's historic concert halls, those long-running theaters that have a history of hosting every kind of performance you could find in this city -- which helps make Philly's music scene today all the more vibrant. From balconied halls with velvet chairs, to hole-in-the-wall stages in dive bars, we've gathered our 15 favorites for a not-at-all-definitive ranking of the city's best venues.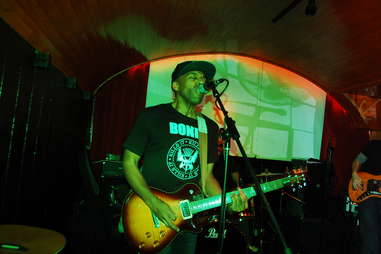 Fishtown
Kung Fu Necktie's biggest asset as a venue is its character. The commercial froufrou is set aside, and you're left with a gritty (yet still trendy) hole in the wall with a small stage that caters to punk bands. While this does attract avid punk followers, the venue is also full of other stragglers who, despite having to pay a cover fee because of a show, aren't really there for the show -- so don't expect a hush to fall over the bar or for people to pay attention just because a band is playing. Nevertheless, it's a good place to catch younger, smaller touring acts, and the occasional dance party.
Fishtown
It turns out The Fillmore is actually two venues in one, with the smaller, upstairs venue -- The Foundry -- pumping out just as many shows as its mainstage counterpart. As one of the newest venues in Philly (it's not even a year old), The Foundry draws comparisons to other small GA venues in the city (though not as large as the TLA or the Trocadero), and offers a lounge setting with plush sofas scattered throughout. The stage is small, and standing room is tight, but the sound quality is still intact. Plus, another benefit of being a new venue: it's still relatively clean, including the bathrooms. Get in now while it lasts!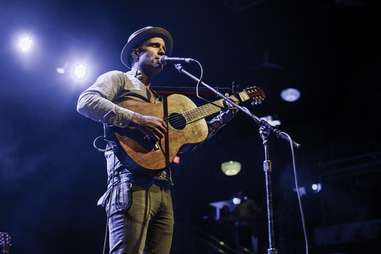 Spring Garden
Electric Factory is one of the city's bigger GA venues, attracting key performers across genres thanks to its 3,000 standing room capacity. Attracting big names is one of Electric Factory's most significant selling points, though the venue is not without its shortcomings. Complaints of overcrowding and acoustics in the long (but not very wide) space, as well as hard-to-get-to bars, are a couple issues that keep this venue from ranking higher, especially after the emergence of a handful of venues over the last five years. But not all is lost: once you make it to those difficult bars, prices are pretty fair considering the setting.
Fishtown
One of Philly's newest venues (it opened its doors last October with an inaugural performance by Philly natives Hall & Oates) packs a lot of promise into its 125-year-old building. The former Ajax space is now decked out as a trendy music hall: a renovated Volkswagen bus sells merchandise, and there's a repurposed American flag mural and delicate white chandeliers in the main music hall, which houses approximately 2,500 standing room visitors. The venue's design, at least so far, has been able to avoid the problem of overcrowding, common at some older Philly venues.
Market East
If you want to skip the high-profile musicians in the midst of a billion-stop world tour, take a break at MilkBoy. The second-floor stage's laid-back vibe and easily accessible bar (not to mention cheap tickets) make for a great spot to see a sampling of dedicated local bands or rising acts from other cities slowly making a name for themselves. When the show is over, just move downstairs to keep the fun going at MilkBoy's main bar.
Fishtown
Something about the dark corners, ambient lighting, and rotating pool tables make JB's an instant comfort charmer when you walk in, and that's without even heading to the second floor where the music is. There are shows upstairs almost every night, hosting a range of local and touring musicians, as well as experimental performance artists. The intimate space also lends itself to great views: park by one of the upstairs bars, grab a spot on the standing room floor, or take a seat from the balcony and enjoy the high production value, both acoustically and aesthetically, that JB's packs into such a relatively small venue.
Passyunk Square
Over the last couple years, Boot & Saddle has risen as a go-to stop for smaller indie acts on tour, and the unpretentious, divey venue accommodates in a homey space that still has some breathing room. The booking is in the same vein as Union Transfer, with an emphasis on indie rock bands. During showtime, you can also expect some solid drink specials, like $3 cocktails and half-priced drafts.
Chinatown
The Troc has a little something for everyone, which makes it the perfect bric-a-brac of new and old Philly's many quirks. The GA space is intimate inside (1,200 people at standing room capacity), offering what feels like easy accessibility to your favorite bands, but the interior reflects its past as a historic theater dating back to 1870. When not hosting music acts, it has been known to feature headlining comedians, burlesque shows, and weeknight film screenings of cult classics.
Fairmount Park
The indoor-outdoor Mann Center creates the ideal setting for seeing a live show, particularly in the warmer months. The venue gives off the ambiance of a musical festival without having to actually go to a music festival. GA admission means you can arrive early to park up front in a seat that will protect you from the elements, but you can also bring a blanket and find your place in the grass. Depending on the act, the open space doesn't always make for the best acoustics, but rest assured it will always look pretty when the sun sets and you can see the city skyline in the distance.
Upper Darby
The Tower Theater has the same regal ambiance inside as it did when it opened in 1927, even as the area surrounding its location at 69th St has changed a lot. If you want to feel old-world fanciful in a venue that hosted David Bowie during one of his first-ever performances in the US, then look no further. The high ceilings lead to some stunning acoustics and a nostalgic feel that lingers no matter who you're seeing live. Plus, it's just across the street from the El.
Rittenhouse
It's funny to consider "The Church" one of the hotbeds for hosting alternative music (if you liked an emo band in the aughts, you probably saw them here). The church basement (Griffin Hall) continues to be home to many punk and indie acts while still functioning as a community center in daylight. The venue doesn't fall prey to high booking fees, in part thanks to locally beloved R5 Productions. Just beware: all good concerts might get sweaty, but they are extra overheated in the church.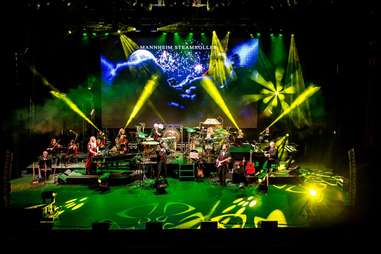 Avenue of the Arts
As much as Philly loves its gritty GA music venues, there's no denying the beauty of a show at The Academy of Music. The venue (which, having opened in 1857, may or may not be haunted) has been known to attract indie superboy Sufjan Stevens on more than one occasion, as well as other modern music acts. Within a block of The Academy is the Kimmel Center. The two have a lot in common when it comes to ambiance and highbrow performances. The Kimmel Center is much newer -- it opened its doors in 2001 -- and is known to host touring theater productions as well as orchestra, chamber music, and jazz. The domed glass ceiling -- not to mention Volvér next door -- make it a grade-A venue worth a visit even if you're unsure whether the events are your style or not.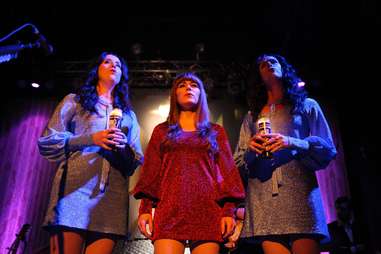 Callowhill
Since opening in 2011, Union Transfer has become a go-to for emerging and top-rated artists on the indie rock trajectory (returning artists include Courtney Barnett, St. Vincent, and Clap Your Hands Say Yeah, who gave the venue's inaugural performance), though M83, Aesop Rock, and other artists outside the indie rock bubble are also known to make appearances. Besides attracting what seems like every trendy artist who's on tour, it also hosts a generous bar you can hide out in if you're not feeling the opener -- plus it's just across the street from beer garden Llama Tooth, so basically you have access to music + beer = a great night.
University City
Two stages sharing a building with Philly's most loved and most quintessential radio station -- WXPN -- easily make World Cafe Live one of Philly's best venues (the Friday Free at Noon shows don't hurt either). The main stage downstairs has exactly zero bad views -- the space is at once intimate and spacious, making you feel close to the performers, but not while also getting all sweaty and clamoring between other concertgoers. Local musicians and rising bands tend to take over the upstairs stage, so whether you're looking for emerging artists or well-established indie acts, World Cafe Live has it.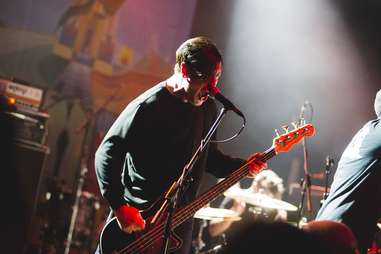 South Street
This long-running South Street staple has seen a lot of change over the years, starting in 1908, when it was opened as the Crystal Palace. Today, it's been heralded for its great acoustics, making it one of the best venues in the country, even if renovations over the last decade mean you can't rest your elbow and your drink on the stage anymore. The set-up is similar to the open space at venues like The Fillmore, but on a smaller, more intimate scale, and with excellent sound no matter how close you get to the stage.
Sign up here for our daily Philly email and be the first to get all the food/drink/fun in town.
Marielle Mondon is a writer from Philadelphia. Her first concert was The Strokes at the Electric Factory 10 years ago. Follow her @MarielleMondon on Twitter and Instagram.