This Is the Newest Batch of Spots Making Fabric Row Cool Again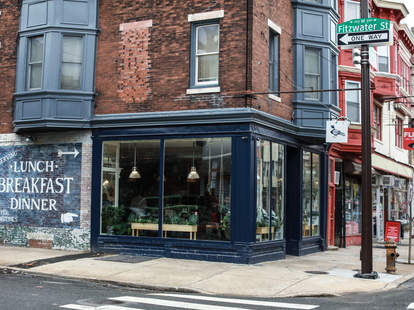 Philadelphia is often referred to as a "city of neighborhoods," and this is certainly true -- confuse Port Richmond with Bridesburg, and you'll hear about it, loudly. But maybe more precisely we're a city of blocks, a city where the rhythm can change corner to corner, where crossing the street can feel like crossing international waters. (South St, we're looking at you, you beautiful weirdo.)
Although technically part of Queen Village, Fabric Row has been doing its own thing since establishing itself as the city's Jewish Garment District more than 100 years ago. And while the name is still appropriate -- from luxurious silk chiffons to bolts of knock-off Louis Vuitton microfiber, it's all there -- there's plenty more than fabric retailers on this stretch of Fourth St, especially these days. After holding down the fort for years, destination gems such as Moon + Arrow and Bus Stop Shoe Boutique have plenty of new company thanks to a business baby boom, many following in the steps of Philly's maker tradition. Meet the new kids on the block this fall.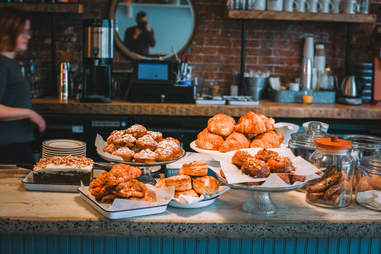 Neal Santos
743 S. Fourth St
Just a couple months after opening, it's hard to believe that Hungry Pigeon hasn't always been part of Fabric Row. Aggressively charming despite its less-so namesake, the restaurant prides itself on serving locally grown food in a gorgeous old-meets-new space. Come for dinner, but be sure to come back for brunch and stick your face in a pile of warm buttermilk biscuits -- Chef Pat O'Malley spent eight years at NYC's famed Balthazar Bakery, so this pretty much counts as church.
739 S. Fourth St
After testing the waters as a holiday pop-up, Cactus Collective made things official over the summer. The tiny, well-curated coop offers up a little bit of everything -- vintage clothing, handmade jewelry, ceramics, screen-printed stationery for people more thoughtful than you -- all watched over by a fashionable guard Chihuahua. Pro tip: give the little dude a scratch under the chin and he warms right up (by Chihuahua standards, at least).
Courtesy of Southwark
701 S. Fourth St
Southwark isn't new, per se. A Fabric Row mainstay with a rabidly loyal following, the restaurant is a neighborhood fixture, which is why panic spread when it was put up for sale last year. But fear not: under the watchful eye of new owners Chris D'Ambro and Marina De Oliveira, Southwark 2.0 is a worthy, reverent successor. If you can find a seat at the throwback bar, get cozy and spend a little time with the new -- dare we say improved? -- cocktail list, now organized by era. We're always down to bounce from the Dark Ages to Pre-Prohibition and slide right into the Modern Era, all for $11 or less.
410 Monroe St
Since reopening in January, the yoga studio formerly known as Dig has established itself as one of the most beautiful places in the city to fall flat on your face. Thanks to owner and instructor Mariel Freeman, the fall schedule includes a savvy mix of Serious Yogi Business and Beyoncé-fueled classes. Thanks to neighbor and national treasure,
Red Hook
, bagel sandwiches are only steps away from shavasana. Namaste, Queens.
759 S. Fourth St
How do you make a coffee shop even better? For some of us, the answer is very simple: fill that sucker with cats. Part coffee shop, part cat adoption center, Kawaii Kitty Cafe provides a cozy, natural environment for fine felines from the Philadelphia Animal Welfare Society (PAWS) to hang out and rub up against potential owners. The response has been so positive that reservations are now recommended and after-hours movie nights and wine parties are scheduled for fall. Moral of the story: drinking with your cat is now a totally acceptable, socially sanctioned way to spend a Saturday evening. You heard it here first, people.
Sign up here for our daily Philly email and be the first to get all the food/drink/fun in town.