11 Epic Mountains for Skiing and Snowboarding Near Philadelphia
Hit the slopes for a winter weekend getaway.
In Philadelphia, we possess an embarrassment of recreation riches. The Jersey Shore beaches and lakes of northern and central Pennsylvania beckon in the summertime. Come winter, the Poconos are the setting for a snowy wonderland and a fun weekend getaway. Whether you're a master of the mountains or you prefer the bunny slopes, here are more than a dozen ski resorts to hit, all under a three-hour drive of Philadelphia.
Schwenksville, Pennsylvania
Less than an hour from Philly, Spring Mountain Adventures is perfect if you don't have a lot of time or are looking to give skiing a whirl for the first time. With seven trails, five lifts, a terrain park, and ski and snowboarding lessons, this manageable-sized facility is very beginner-friendly. After you've hit the slopes, lace up for a few laps around the ice rink. Season passes, lift tickets, and equipment rental are available online.
Distance from Philly: 50 minutes
Find an Airbnb nearby: Search near Schwenksville, Pennsylvania
Macungie, Pennsylvania
Spread over 330 acres, this resort is equipped for tons of outdoorsy activities. Most notably, the ski and snowboarding scene comprises 23 slopes, trails, and parks, for athletes of all skill levels. Six lifts will get you to the top and a 50% slope for expert skiers will bring you back down. Lessons, three terrain parks, snow tubing, and gear rental are also available. For those who don't want to mess with the cold, an on-site spa is the perfect respite. Lift tickets, season passes, tubing, and rental bookings are online.
Distance from Philly: 1 hour and 10 minutes
Find an Airbnb nearby: Search near Macungie, Pennsylvania
Palmerton, Pennsylvania
How does a 1,082-foot vertical drop sound? Blue Mountain maintains the highest vertical drop in the state, plus 40 ski trails, 16 lifts, and a separate snow tubing park. For those who want to show off some tricks, head to any one of five terrain parks, equipped with jumps, rails, and turns. Newbies can sign up for beginner ski lessons plus rent skis, boots, and even snow pants. Lift tickets, rentals, and ski lessons can be booked online.
Distance from Philly: 1 hour and 30 minutes
Find an Airbnb nearby: Search near Palmerton, Pennsylvania
White Haven and Lake Harmony, Pennsylvania
Technically two mountains, visitors get access to both properties and all 35 trails and 22 lifts that come along with them with a lift ticket to Jack Frost - Big Boulder. Big Boulder opened in 1947 as the first commercial ski resort in Pennsylvania, and Jack Frost opened in 1972. Both mountains feature a main lodge with rentals, tubing, and slopes of all difficulties. Just remember if you're renting equipment from one resort, you must return it there before visiting the other resort. Lift tickets, rentals, and lessons can be booked online.
Distance from Philly: 1 hour and 35 minutes
Find an Airbnb nearby: Search near White Haven and Lake Harmony, Pennsylvania
East Stroudsburg, Pennsylvania
Ideal for beginners looking to get their ski legs, Shawnee Mountain offers 23 slopes, many of which are easy or moderate. Two terrain parks, snow tubing, 10 lifts, and a rental shop round out this laid back facility. Of course, lessons and kids' programs are also on the docket. Lift tickets, rentals, lessons, tubing, and season passes are available online.
Distance from Philly: 2 hours
Find an Airbnb nearby: Search near East Stroudsburg, Pennsylvania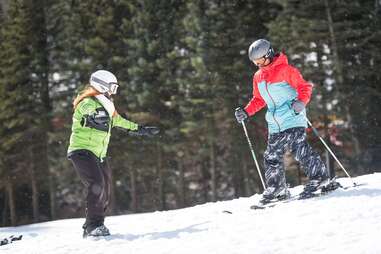 Tannersville, Pennsylvania
One of the most popular and inclusive mountains in The Poconos, Camelback Mountain has a resort (with a free indoor waterpark) at the base of the mountain. One of the bigger facilities in the area, Camelback has 39 ski trails, 42 snow tube lanes, three ski-in-ski-out dining options, and ski and snowboard lessons. With a nice balance of beginner and uber expert routes (and equipment rental), there's something for everyone. Lift tickets and season passes can be reserved online.
Distance from Philly: 2 hours
Find an Airbnb nearby: Search near Tannersville, Pennsylvania
Scranton, Pennsylvania
Just outside of downtown Scranton, you can get both city and slope vibes within minutes at Montage Mountain Resorts. The ski resort boasts 1,000 vertical feet and 27 trails, with a majority rated as intermediate and advanced. Seven lifts will deposit you at the apex and if you need a break, glide into the Midland for bites and beer. Tubing, one terrain park, and lessons for adults and kids are also available. Book lift tickets and tubing online.
Distance from Philly: 2 hours and 15 minutes
Find an Airbnb nearby: Search near Scranton, Pennsylvania
Lewisberry, Pennsylvania
Head west instead of north and you'll find Roundtop Mountain Resort. Equipped with 20 trails, nine lifts, two terrain parks, and tubing. Plus, it's a 45-minute drive from Hersheypark if you want to visit Chocolatetown on your way. Lessons and gear rental are also up for grabs. Book your lift tickets and tubing online.
Distance from Philly: 2 hours and 15 minutes
Find an Airbnb nearby: Search near Lewisberry, Pennsylvania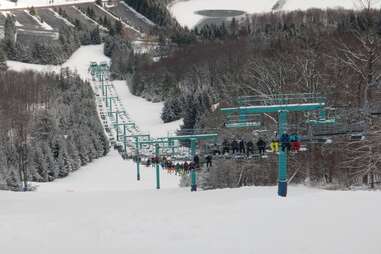 Union Dale, Pennsylvania
This ski resort dates back to the late 1950s and now features 27 slopes and trails, a terrain park, seven lifts, and a 1,000-foot vertical drop. Eleven of the trails are the most difficult, making this a great locale for those who know their way around a mountain. Lift tickets, season passes, and learn-to-ski packages are available online.
Distance from Philly: 2 hours and 45 minutes
Find an Airbnb nearby: Search near Union Dale, Pennsylvania
Lackawaxen, Pennsylvania
Soar down 18 trails (six of which are ideal for beginners) including winding paths to the bottom at Ski Big Bear at Masthope Mountain. Less imposing than some of the larger resorts, beginners will find lessons and equipment rentals easily accessible. On weekends, the tubing course is open for even more snow fun. Lift tickets are available online.
Distance from Philly: 3 hours
Find an Airbnb nearby: Search near Lackawaxen, Pennsylvania
Carroll Valley, Pennsylvania
Right on the Maryland border, Liberty Mountain Resort holds it down for Southern PA. Sixteen trails and eight lifts service the mountain; most of the trails skew more advanced, but the side of the mountain closest to the lodge is where you'll find the easier slopes. Two terrain parks, including one for beginners, offer ample space to show off your moves. Tubing, lessons, and rentals are also add ons. Book lift tickets, rentals, and tubing online.
Distance from Philly: 3 hours
Find an Airbnb nearby: Search near Carroll Valley, Pennsylvania