Day-to-day city life can make it difficult to remember just how wonderful watching stars in the middle of the countryside actually is -- somehow, gazing up at a smog-filled sky pierced by police sirens just isn't quite the same. Unless your kicking around the concrete jungle have turned you into an emotionless robot, there's a good chance that you're jonesing for the sort of leaf-peeping, pumpkin-catapulting, and charming mom-and-pop shopping that only Pennsylvania's finest small towns can provide. Whether you're in Pittsburgh or Philadelphia, the Keystone State has plenty of quaint towns where you can unwind among the foliage, and we've picked out our favorites below (as well as a couple smaller cities that still feel intimate compared to the two Big P's).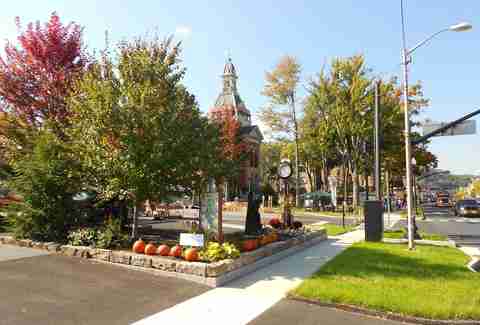 Ridgway
Located at the eastern edge of the Allegheny National Forest, Ridgway is an artsy small town with enough charming mom & pop establishments and antique shops to fill up an entire weekend. Set up basecamp by booking a night at Cooke's Murphy House Bed & Breakfast (wake up for the complimentary breakfast featuring delicious homemade muffins), or the luxurious-yet-comfortable Tower's Victorian Inn, with its ornate Victorian decor and deep clawfoot tubs. Downtown Ridgway is home to a number of art galleries and antique shops, all of which are far more fascinating after a wine tasting at Buddy Boy or a sample of Pennsylvania Country Moonshine at Chicken Hill Distillery. In downtown Ridgway, you can join the locals as they welcome in the new season at the Flavors of Fall Festival. Shop sidewalk sales, peruse the car show, and buy some hand-knitted wares to keep you warm on hay rides around town. 
Must-eat foods: Ghost pepper cheese fries at The Depot at Doolittles; Black & Blue Wings at Summit Fireside Grill and Lodge; housemade donuts at Joey's Bakery
Getting there: 2 hours and 20 minutes by car from Pittsburgh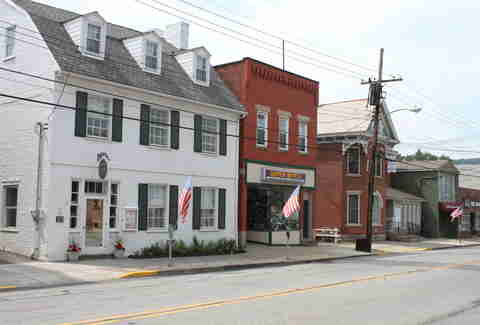 Zelienople
This charming town popularly referred to as "Zelie" is the epitome of quaint, and can serve as the starting point for unforgettable day trips. A stroll down Main Street will bring you to Buhl House, Zelie's oldest standing building; and Passavant House, where you can learn about the town's history and see preserved artifacts (including framed art made of human hair). Which is totally normal and not at all terrifying. After a history lesson, fill yourself to the brim with coffee and syrup at Kountry Kitchen and head up Route 19 to Breakneck Campground for the Pumpkin Festival at Cheeseman Farm, or take a free horse drawn wagon ride at the two-day Country Fall Festival. The 35th annual celebration features a scavenger hunt, live music, a chili cook-off, and an old fashioned Car Cruise full of pristine vintage vehicles.
Must-eat foods: Biscuits and gravy at Kountry Kitchen; beef jerky at Herb Brittner's Smokehouse; Maggie's Farm burger and a seasonal shake at the original Burgh'ers; bear claw at Carol's Pastry Shop.
Harmony
Just a mere 20 minutes up Route 19 past Harmony, you'll find McConnell's Mill State Park: a national natural landmark covering 2,546 miles of the Slippery Rock Creek Gorge. Nine miles worth of trails run along the water, with options for every skill level that will lead you on a scenic journey of waterfalls, huge boulders, and a canopy of fall leaves. Hell's Hollow, though it may sound daunting, is a two-mile loop that crosses Hell Run and leads you to Hell's Hollow Falls, and, with a little bit of careful footing, you can easily climb up the cliffside and stand behind the majestic falls. This season, be sure to check out Owl Prowl at McConnell's Mill to learn about the nocturnal creatures that call these woods their home. 
If you're looking for something a little spookier, you can change into your Halloween costume and go to the Sleepy Hollow Festival in the heart of Harmony. After dusk, make your way to the Harmonite Graveyard. This plot of land encased by a stone wall looks empty to the naked eye, but it's actually home to approximately 100 graves (only one of which is marked). To enter, visitors must push open a one-ton revolving stone gate. 
Must-eat foods: Spaetzle at Harmony Inn; French crepes at Wunderbar Coffee House; pork belly nachos at Shu Brew; triple-dipped malted milk balls at Baldinger's Candy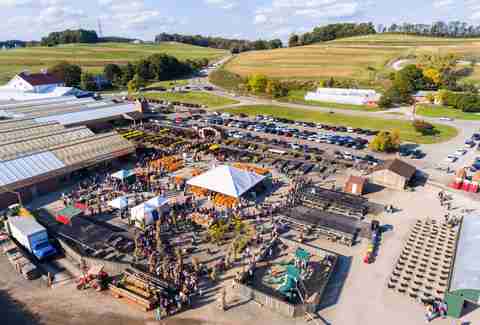 Finleyville
A family institution in Finleyville for six generations and counting, Trax Farms is the perfect spot to pick apples and partake in picturesque fall activities all season long. Explore the pumpkin patches and corn maze at the 50th Annual Fall Festival, or buy a six pack and head up to the recurring bonfires on a tractor-pulled hayride. Just south of Finleyville you'll find Mingo Creek County Park, a densely forested, 2,600-acre region with an approximately 120-year-old covered bridge, and the Creek Park Observatory. Throughout the year, the observatory hosts Star Parties where stargazers of all ages and creed can climb to the top of a hill and observe the night skies through two permanently installed professional telescopes. Early in the fall, you can venture to the Covered Bridge Festival at 10 different sites throughout the county for a day of home-style food, historical exhibits, and unique crafts and entertainment. 
Must-eat foods: Brisket sandwich at Brian's Barbeque; melted BLT at Beach House Restaurant; .40 cent wings (Monday nights) at Hunting Lodge II.
Jim Thorpe
Nestled amongst the Poconos in the Northeastern region of Pennsylvania, Jim Thorpe is a town (not a guy) that the Swiss Tourism Board named "The Switzerland of America" due to its European inspired architecture and, frankly, just how damn quaint it is. Jim Thorpe is rich with historical goodies like the Asa Packer Mansion, a handful of beautiful cathedrals, and the Old Jail Museum which hosts nighttime ghost tours. Throughout October, you can visit nearly 50 shops and galleries at the Jim Thorpe Fall Foliage Festival in the middle of the scenic Lehigh Gorge. Explore all of the Victorian architecture in Jim Thorpe during the Old Mauch Chunk Ghost Walk, where a guided tour will teach you about some of the town's haunted history. 
Even during the fall, Jim Thorpe is a great place for outdoor recreation. Visit Lehigh Gorge State Park and hike the Glen Onoko Falls Trail for stunning views -- just make sure to take the orange trail up and the blue trail down. If you're looking for a more relaxing activity, hop onto the Lehigh Gorge Scenic Railway. One of the most scenic fall foliage train trips in the US, a ride on one of their 1932 coaches will transport you to another era through tall cliff sides and beautiful mountain scenery. 
Must-eat foods: Slow Braised Pork (Guisado) at Moya; huevos rancheros and quiche at Stone Row Pub & Eatery; crab cakes at Tony Stella's Encore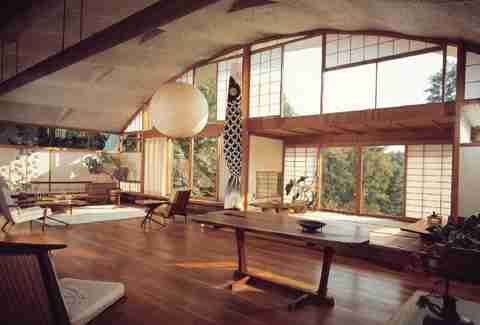 New Hope
One hour north of Philadelphia, this small Bucks County town is home to a nature preserve, food and wine tours, an open air flea market, and a children's museum, meaning it's bound to please every single road trip attendee. Rice's Market is a great opportunity to get a taste of the local arts and crafts scene and do some early morning shopping before you hit it big at brunch. Protip: go on a weekday to avoid crowds and to get access to the best vendors. If you feel like getting lost in a 5-acre corn maze and petting some goats, be sure to go to PumpkinFest: a season long event with way too many attractions to list, including bonfires and pig racing. If you opted to leave the kiddos at home, check out HorrorFest at Shadow Brook Farm.
Before you leave town, make sure to check out Nakashima Woodworkers. George Nakashima, a revolutionary architect, purchased nine acres of land in the 1940s and began building what is now a museum dedicated to his work and philosophy. Eight buildings sprawled along a hillside are framed by a Japanese-inspired landscape. Visitors can schedule tours to the inside of Nakashima's work compound, learn about his experiences during WWII, and see furniture being made by a group of woodworkers who continue his philosophy and practices. 
Must-eat foods: Dipped cones at Nina's Waffles; porchetta sandwich at Triumph Brewing Company; Eggplant Ophelia at Marsha Brown
Bethlehem
Although it's the seventh largest city in Pennsylvania, Bethlehem still manages to embody small town charm with a collection of museums and art galleries highlighting the region's rich history. Fill up a whole day by investigating the Hoover Mason Trestle, learning about the people and machines who built Pennsylvania at the National Museum of Industrial History, or visiting the Lehigh University Campus to see the community-made Stolfo Sculpture Garden. More local artistry can be found at The Banana Factory and SteelStacks: a multi-stage space where art films, documentaries, live music, and comedy performances take place on a daily basis. Once you've taken in all that hoity-toity culture, it's time to unwind at the biergarten at Bethlehem's annual Harvest Festival. Purchase a "passport" for a tasting tour of some autumn inspired beers, wines, and soups. 
Must-eat foods: Oysters and butterscotch pudding (though not necessarily at the same time) at Bolete Restaurant and Inn; croissant French toast with bourbon bananas at The People's Kitchen; shots hoagie at The Goose.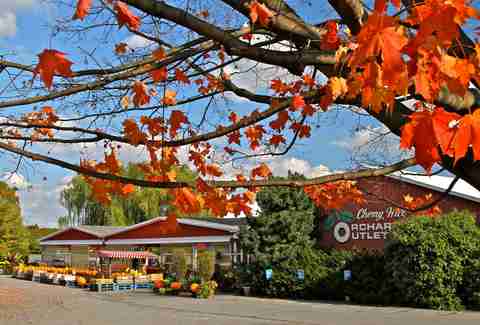 Lancaster
At the mere mention of Lancaster, you've surely already begun picturing horse-drawn carriages, vast fields, and unadorned cotton garments, but this little town is far more than the Amish lifestyle it's associated with. Less than two hours outside of Philly, it's the go-to destination for a weekend full of breweries, Pennsylvania Dutch cuisine, vintage shopping, and celebrations of the fall harvest throughout the whole county. Seriously, there's so much stuff to do in Lancaster we gave it it's own article. Lancaster County's own Oktoberfest, Liederkranz, has been keeping lederhosen in fashion since 1810 and is your one-stop shop for a taste of this small town's rich German history. To sample some of Lancaster's locally made brews, head to Lancaster Brewing for a Baked Pumpkin Ale or grab a Braaains! Pumpkin Ale for Zombies at Spring House Brewing Company. Tastings at the breweries and taprooms can easily fill up an entire weekend, but before you go ham on all those heavy beers, pick some apples at Cherry Hill Orchards or indulge in homemade pie at the National Apple Harvest Festival.
Must-eat foods: Chow-Chow at Kitchen Kettle Village; Whoopie Pies at Achenbach's Pastry Inc; duck fat fries and a draft beer at Federal Taphouse; Wilbur Buds at Wilbur Chocolate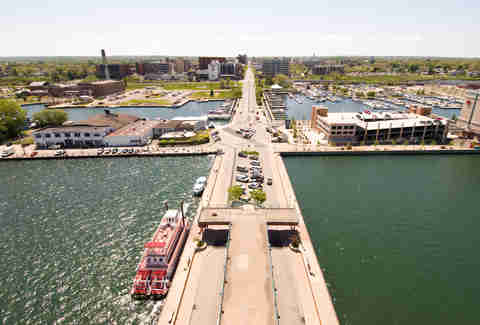 Erie
This aptly named city is one of the best places to find yourself during the spookiest time of the year with annual events like a haunted amusement park and historical cemeteries with ghost sightings. Erie plays host to a slew of autumnal festivals all season long. Dozens of pumpkin patches and corn mazes surround the city, and you can hop into a ski lift for a birds-eye-view of the area's beautiful fall foliage at the annual Mount Pleasant Fall Festival. For something a bit more exhilarating, head to Pumpkintown's haunted house, or indulge in a good ol' fashioned pumpkin launch with the giant gourd slingshots at Sissons'. If you're looking to explore the city, Erie's free Cultural Loop trolley service is a great way to hit local highlights like the Erie Playhouse, Warner Theater, and Liberty Park. To cap off your visit, stop at The Brewerie for a handcrafted ale and a haunted historical tour that features a paranormal medium and will lead you through the city's underground tunnels. 
Must-eat foods: Fresh Lake Erie perch at Freeport Restaurant; fried zucchini and steak at Ricardo's; coconut cream pie at Lawrence Park Dinor; sponge candy at Romolo Chocolates; lime cake at Pineapple Eddie Southern Bistro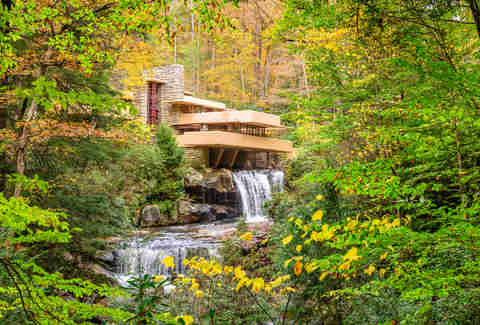 Ohiopyle
The name Ohiopyle is derived from a Lenape phrase ahi opihəle meaning "it turns very white," which refers to the dozens of frothing waterfalls that fill this region. The town of Ohiopyle is a permanent home to less than 100 people year round, but it's one of Pennsylvania's most sought-after tourist spots. The surrounding state park is comprised of over 20,000 acres of hiking and endless wilderness, and while the summer might seem like the perfect time to visit given all of the outdoor recreation, you'll find that Ohiopyle transforms into a quiet and beautiful place during the fall with a lot less tourists than usual, but still plenty of activities. 
Ohiopyle State Park is full of trails, including one around Ferncliff Peninsula that will take you to the Ohiopyle Falls, a National Natural Landmark. After exploring the Great Allegheny Passage, go back to town for Ohiopyle's Fall Buckwheat Supper, an annual event where the community comes together to enjoy live entertainment, local craft vendors, and all-you-can-eat buckwheat pancakes with plenty of other breakfast fixings.  
No one should come to this part of Pennsylvania without visiting what the Smithsonian has deemed one of 28 places to visit before you die. Fallingwater is an organically designed home brought to life by Frank Lloyd Wright. Built partially over a waterfall, the innovative structure is built to complement its surroundings, and is a must-see feat of 20th century architecture.
 
Must-eat foods: Apple dumplings and pumpkin black bean chili from Ohiopyle Bakery & Sandwich Shoppe; fried pickles at Falls Market; fresh baked sourdough bread at Bittersweet Cafe.
Sign up here for our daily Pittsburgh email and be the first to get all the food/drink/fun in the Steel City.