The Best Small Towns in Pennsylvania
From Lancaster's quaint country feel to art hubs like Bethlehem.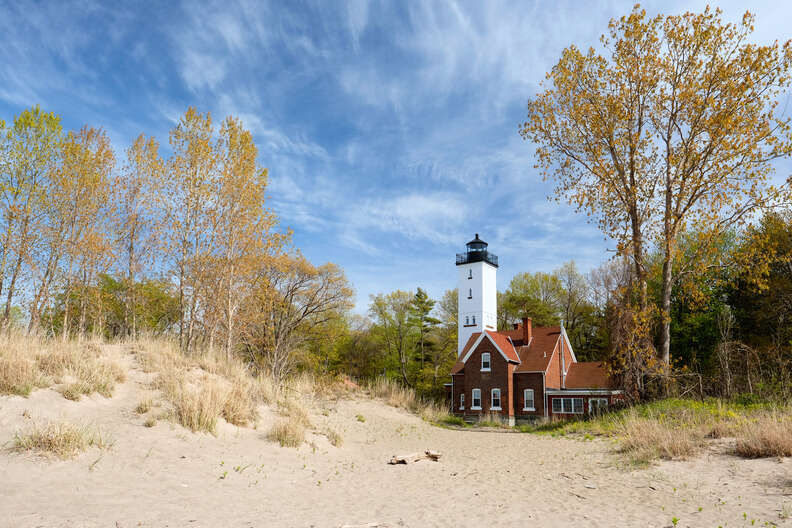 Presque Isle lighthouse, Lake Erie, Pennsylvania

| haveseen/Shutterstock
Presque Isle lighthouse, Lake Erie, Pennsylvania

| haveseen/Shutterstock
Sure, city life is exciting with the downtown bustle, the neighborhood-y charm, and no shortage of places to eat, drink, and shop. But sometimes you need a little bit of a breather (literally—all of the congestion and smells of the concrete jungle can be a little stifling) and a dose of small town life is just what the doctor ordered. From quaint country villages like Lancaster to art hubs like Bethlehem, the Keystone State has plenty of compact locales chock full of mom-and-pop shopping, historic main streets, and scenic views.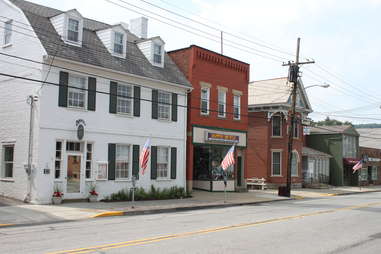 This charming town is the epitome of quaint and can serve as the starting point for unforgettable day trips. A stroll down Main Street will bring you to Buhl House, Zelie's oldest standing building; and Passavant House, where you can learn about the town's history and see preserved artifacts (including framed art made of human hair, which is totally normal and not at all terrifying). After a history lesson, try locally made craft beer at ShuBrew, check out a live performance at The Strand Theater, or shop for tchotchkes at Stocking Stuffers Plus.
Must-eat foods: Any kind of candy imaginable at Baldinger's Candy, beef jerky at Herb Brittner Smokehouse, Maggie's Farm burger at the original Burgh'ers.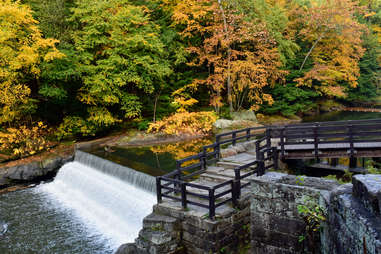 A mere 20 minutes up Route 19 past Harmony, you'll find McConnell's Mill State Park: a national natural landmark covering 2,546 acres of the Slippery Rock Creek Gorge. Eleven miles worth of trails run along the water, with options for every skill level that will lead you on a scenic journey of waterfalls, huge boulders, and a canopy of leaves. Hells Hollow, though it may sound daunting, is a half-mile one-way trail that crosses Hell Run and leads you to Hell's Hollow Falls. With a little bit of careful footing, you can easily climb up the cliffside and stand behind the majestic falls. Back in town, leaf through pages at the Little Green Bookstore or shop for high end artisan goods at Murderingtowne Press & Co. and Darn Yarn, both housed within a former opera house now called The Center Of Harmony. After dusk, make your way to the Harmony Cemetery. This plot of land encased by a stone wall looks empty to the naked eye, but it's actually home to approximately 100 graves (only one of which is marked). To enter, visitors must push open a one-ton revolving stone gate.
Must-eat foods: Spaetzle at Harmony Inn, French crepes at Wunderbar Coffee House, bear claws at Lagerhaus Bakery.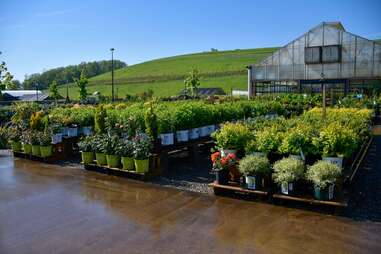 A teeny town outside of Pittsburgh, Finleyville manages to squeeze in a winery (Giant Oaks), a chocolate shop (Pink House Chocolates), and a dive bar (Roy's by the Tracks) despite its small size. A nearby family institution, Trax Farms is the perfect spot to grab seasonal produce and local wine and cider. On your way back to town from Trax Farms, stop at Coconut Joe's Tiki Bar for frozen beverages, live music, and caribbean vibes in western PA. Just south of Finleyville you'll find Mingo Creek County Park, a densely forested, 2,600-acre region with two covered bridges, and the Creek Park Observatory.
Must-eat foods: Brisket sandwich at Brian's Barbeque, melted BLT at Beach House Restaurant, wings at Hunting Lodge II.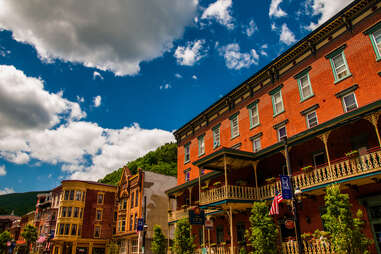 One hour north of Philadelphia, this small Bucks County town is home to a nature preserve, food and wine tours, an open air flea market, and a children's museum, meaning it's bound to please every single road trip attendee. Rice's Market is a great opportunity to get a taste of the local arts and crafts scene and do some early morning shopping before you hit it big at brunch. Pro tip: go on a weekday to avoid crowds and to get access to the best vendors. Shadybrook Farm has farm-fresh seasonal produce, homemade ice cream, and an on-site pub. Wander along Main Street for unique boutiques and end the day with some evening entertainment at the Bucks County Playhouse.
Must-eat foods: Waffles and ice cream at Nina's Waffles, Nashville hot mushroom sandwich at Triumph Brewing Company, a burger at The Salt House.
Although it's the seventh largest city in Pennsylvania, Bethlehem still manages to embody small town charm with a collection of museums and art galleries highlighting the region's rich history. Fill up a whole day by investigating the Hoover Mason Trestle (which includes Sands Casino and live music venues), learning about the people and machines who built Pennsylvania at the National Museum of Industrial History, or visiting the Lehigh University Campus to see the community-made Lehigh Millennium Folk Arch. More local artistry can be found at The Banana Factory and SteelStacks, a multi-stage space where art films, documentaries, live music, and comedy performances take place regularly.
Must-eat foods: Oysters and butterscotch pudding (though not necessarily at the same time) at Bolete Restaurant and Inn, croissant French toast with bourbon bananas at The People's Kitchen, Mamma Goosey Stuffa Your Face at The Goose.
At the mere mention of Lancaster, you've surely already begun picturing horse-drawn carriages, vast fields, and unadorned cotton garments, but this little town is far more than the Amish lifestyle it's associated with. Less than two hours outside of Philly, it's the go-to destination for a weekend full of breweries, Pennsylvania Dutch cuisine, and vintage shopping. Seriously, there are so many things to do in Lancaster, we gave it it's own article. To sample some of Lancaster's locally made brews, head to Lancaster Brewing for a Baked Pumpkin Ale when it's in season or grab a Daily Planet hazy IPA at Spring House Brewing Company. But before you go ham on all those heavy beers, pick some apples, strawberries, or cherries, depending on the time of year, at Cherry Hill Orchards.
Must-eat foods: Chow-Chow at Kitchen Kettle Village, Whoopie Pies at Achenbach's Pastry Inc, Wilbur Buds at Wilbur Chocolate.
The name Ohiopyle is derived from a Lenape phrase ahi opihəle meaning "it turns very white," which refers to the dozens of frothing waterfalls that fill this region. The town of Ohiopyle is a permanent home to less than 100 people year round, but it's one of Pennsylvania's most sought-after tourist spots. The surrounding state park comprises more than 20,000 acres of hiking and endless wilderness, perfect for any time of year. Ohiopyle State Park is full of trails, including one around Ferncliff Peninsula that will take you to the Ohiopyle Falls, a National Natural Landmark. No one should come to this part of Pennsylvania without visiting what the Smithsonian has deemed one of 28 places to visit before you die, so you've got to check out Fallingwater. The organically designed home brought to life by Frank Lloyd Wright was built partially over a waterfall with an innovative structure built to complement its surroundings, and it's a must-see feat of 20th century architecture.
Must-eat foods: Apple dumplings from Ohiopyle Bakery & Sandwich Shoppe, fried pickles at Falls Market, fresh baked sourdough bread at Bittersweet Cafe.