Philly Is in the Middle of a Co-Working Boom. Here's Why.
Co-working is clearly having a moment.
WeWork has launched in Northern Liberties, with a sister location on Walnut St slated to open soon. Pipeline and Industrious recently swung open their doors in Center City. New York's The Yard will open a Philly outpost in the fall. They all join the dozens of already-active co-working spaces currently operating within city limits.
Independent contractors, frequent travelers, and freelancers looking to escape the isolation of working in cafes and the distractions of working at home seek out these shared office arrangements. It's a smart choice for people who want to make friends, boost their professional network, or give their day some much-needed structure.
"We're not a bar or a coffee shop, but we serve a lot of the same function."
But like colleges or restaurants, each co-working space is different. They may have differing goals, divergent philosophies, and totally opposite atmospheres. Some places are the equivalent of khakis, loafers, and espresso. Others are hoodies, flip-flops, and a beer.
Old City's Indy Hall has both the eager friendliness of a puppy and the chummy camaraderie of an arts collective. Center City's CultureWorks operates on a senior-year-finals-week kind of vibe: members are focused and independent, less interested in community and more interested in getting their work done. Most places are somewhere in the middle, situated in cool neighborhoods with nice views and free coffee. So it shouldn't be a surprise when I approached three of the leading co-working spaces and asked them why our city is undergoing such a monumental a co-working boom, I got three different answers.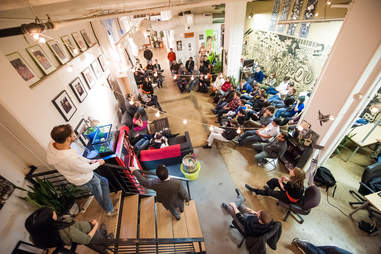 Indy Hall

| Courtesy of Alex Hillman
Sam Abrams,
Indy Hall
's den mother and self-described
tummler
-- a Yiddish word meaning "one who makes things happen" -- credits the co-working boom to people craving a close-knit creative community. "Working by yourself gets really lonely. That's the reason Indy Hall exists, because [founder] Alex [Hillman] and a few of his friends were lonely, and they thought there has to be other people like us who want to make Philly a better place by working together."
With over 300 members, Indy Hall is at the forefront of Philly's co-working scene. Started back in 2007, it was the first of its kind, acting as a vibrant home to artists, techies, accountants, lawyers, and everything in between. Today they've built a real community -- their dedicated Slack channel buzzes as members gab about everything from professional opportunities, happy hour plans, to last night's
Game of Thrones
episode. They throw art shows featuring works by their members and have indie rock songs playing on the overhead speakers.
"People have the need for flexibility, the need for not signing a lease."
"We have three promises here: take care of yourself, take care of each other, and take care of this place," Abrams said. It's basically the grown up version of a clubhouse, if it had fast Wi-Fi and a fridge full of beer.
"At the end of the day, people are looking for a place to get their work done that's not their living room and not a coffee shop," said Liz Sytsma, Associate Director of CultureWorks. Situated in a suite in the Philadelphia Building, CultureWorks has a rotating roster of about 150 current members. Unlike Indy Hall, they're more than just a space to work in. On the business level, they offer a range of services to help manage and direct the member organizations, both big and small. For them, offering co-working space is one piece in the larger business management puzzle.
Sytsma attributes the explosion of co-working spaces to the rise of the sharing economy, citing services like Airbnb and Uber as notable breakouts. "In the past, people would want their own everything: their own printer, their own office, their own accountant, their own lawyer, everything. It would make them feel like they're real or legitimate."
She feels that we, as a culture, are shifting away from that mindset. "People have the need for flexibility, the need for not signing a lease," Sytsma said. "They have a need for month-to-month flexibility in the way they get their work done."
CultureWorks also prides itself on how independent its members are. "People come here and they want to get their work done, not necessarily because they're going to [meet someone and] collaborate on some awesome new idea. They can just work side-by-side. There's way too much hype around that. Indy Hall is an exception to that. It has a real, true community vibe, and it makes sense there."
Adam Glaser, Chief Design Officer at Benjamin's Desk, touts sociability as the key to their multi-office success. "It's not like we're a bar or a coffee shop, but we serve a lot of the same function."
For his members, having a place to work and meet in a desirable location is the most compelling draw. Unlike Indy Hall or CultureWorks, which are standalone locations, Benjamin's Desk has hubs in Rittenhouse, Washington Square West, and West Philly. People want to be where the action is, and Benjamin's Desk is leveraging their desirable locations to build and support communities. "We're trying to use real estate to advance innovation," he said. "In our case, this is a really great way to transform parts of the city."
"It's one of those serendipitous things where you only understand how amazing it is when you do it."
In fact, a lot of larger corporations and established entities are taking notice that employees prefer the perks of shared offices. "You're going to see co-working across the board, tied to universities, tied to private sector groups. We primarily work with individuals, but what we're seeing is larger groups quietly saying, 'Let's talk about what you could do for us.'"
Glaser is especially enthusiastic about the magic that occurs when he sees professionals occupying space with like-minded cohorts. "What's neat about co-working is you make connections to people you'd never make in a million years," Glaser said. "You can't predict it. You have to go in and let it happen. It's one of those serendipitous things where you only understand how amazing co-working is when you really do it."
Glaser is also quick to to debunk the idea that there's any competition between these groups. "There's a perception that this is going to become gladiatorial, that some people win and some people lose. I think it's going to be like coffee shops. Dunkin' Donuts doesn't beat Starbucks, which doesn't beat La Colombe, which doesn't beat Elixir. They all serve a role. It isn't one size fits all."

Sign up here for our daily Philly email and be the first to get all the food/drink/fun in town.
Anna Goldfarb is a writer in Philadelphia and she is always excited at the idea of free coffee. Follow her @AnnaGoldfarb on Twitter and Instagram.