Philadelphians can't live in one of the most Instagrammable cities without being at least a little attached to their phones. Sure, we love to make the city look pretty online, but what about making it easier to live in? Like a way to figure out where the cheapest place to pay for parking is, or how to find the craft beer you so desire? Look no further than these 19 essential apps for daily Philly life.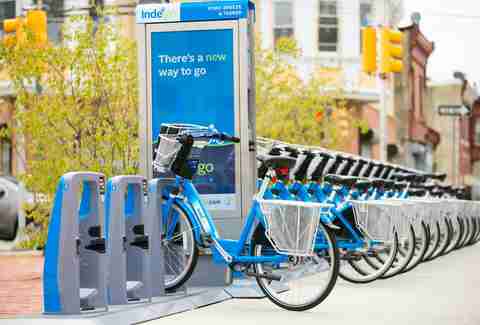 Getting around
CyclePhilly
Free
Android/iPhone
What it does: Records bike trips and suggests newer (and safer!) biking routes.
Biking in the city isn't always the safest way to go, especially when streets shift in and out of having bike lanes without warning. Instead of guessing as you go, CyclePhilly will show you safe routes already proven by your fellow cyclists.
B-cycle
Free
Android/iPhone
What it does: Remotely reserves wheels at one of the city's bikeshare kiosks.
The popularity of Philly's new bikeshare program has been spreading since its launch last spring. If you're a diehard, avoid showing up to an empty kiosk -- register on the app, pick out a station location, and just show up and ride.
Transit Tracker
Free
Android/iPhone
What it does: Finds the nearest SEPTA locations and shows upcoming departure times.
It can be tough to navigate the public transportation in Philly when it seems that SEPTA usually considers the schedule as a light suggestion. Next time you're waiting (and waiting) for your trolley, Transit Tracker can help you keep current on when the next one is scheduled.
meterUP
Free
Android/iPhone
What it does: Lets you pay parking meters and extends your parking time.
Finding parking in the city can be a grueling process, especially when your only affordable option reveals itself: metered parking. Instead of digging through every crevice for quarters, just tap, pay, and be on your way.
Waze
Free
Android/iPhone
What it does: Helps you navigate based on community reports of traffic alert, accidents, and other hazards.
Never dwell on whether to take Kelly Drive or I-76 again -- Waze has all the answers. (And will tell you them in the voice of C-3PO.)
ParkWhiz
Free
Android/iPhone
What it does: Compares prices for parking garages and claims your spot before arrival.
For long-term parking in a pinch, reserve and pay ahead of time at the closest parking garage. Plus, you'll avoid overpaying thanks to ParkWhiz discounts, including parking at the airport.
Eating & drinking
Insomnia Cookies
Free
Android/iPhone
What it does: Orders cookies online for pickup or delivery till 3am.
Just because most shops that sell cookies are closed by 3am doesn't mean you can't still have them on demand. Insomnia will still deliver a midnight snack without human contact through its app, which also dishes out coupons from time to time for excess gluttony.
goPuff
Free, $1.95 delivery free
Android/iPhone
What it does: Delivers convenience store or mini-mart items in 30 minutes or less. Sister app goBeer is the same thing, except for beer (obviously).
Delivery charges can be devastating in today's world of instant gratification, so it's a relief to find a delivery service that will bring you that light bulb, party favor, or other odd-end you need quickly and on the cheap. This is especially handy when you're sick, it's too cold out, or you're feeling too lethargic to leave the house.
Untappd
Free
Android/iPhone
What it does: Keeps track of the beers you and your friends are drinking.
Philly loves its beer, and there's no better way to determine which craft brew is the next to go down your gullet than to see what your friends think without actually asking them for anything. It can also help you pinpoint which bars are going to have the beer you're searching for.
Roaming Hunger
Free
Android/iPhone
What it does: Maps out the locations of your favorite food trucks.
Casually stumbling upon your favorite food truck is a nice coincidence, but what about when it's your lunch break and you want what you want now? Or you don't want to miss it when, unbeknownst to you, the truck was literally around the corner? Don't miss out -- check Roaming Hunger.
Reserve
Free
Android/iPhone
What it does: Recommends restaurants and makes your reservation. You can also use it to split the check with your group later.
Avoid the hunger-inducing waits at the city's finest restaurants by having Reserve's concierge service book a table for you in a few taps. Even better, avoid the brain-numbing process of calculating what everyone owes at the end of dinner.
GrubHub
Free
Android/iPhone
What it does: Saves you time ordering food for pickup or delivery from the comfort of your sofa (or wherever else you are).
It's very likely you already have this on your phone, because despite all the convenient ways to reserve tables and split the bill, sometimes you just want to eat your late-night happy meal of choice without changing out of sweatpants and your holey, two-decades-old T-shirt you refuse to get rid of.
Caviar
Free
Android/iPhone
What it does: Delivers food from top-tier restaurants across the city.
Consider it an elevated, more expensive form of GrubHub. You want to order food and not leave the house, but you also want more than regular takeout -- like that transcendent entree you had at one of Philly's best restaurants last week. The delivery fees may up the price, but keep this splurge in your back pocket when you're looking to treat yourself.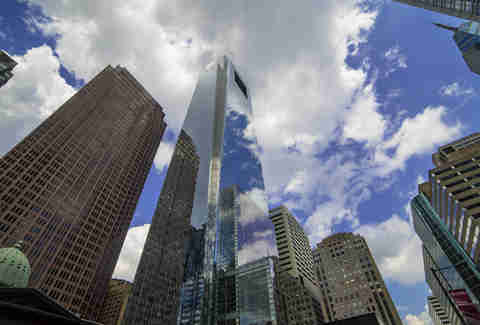 Essential information
Philly 311
Free
Android/iPhone
What it does: Lets you make service requests and checks on progress regarding non-emergency city issues.
Instead of letting a building violation or pothole go by without doing anything about it (ever heard of bystander effect??), complain the easy way with the 311 app. Even better, it's not the same as calling with a complaint that will disappear forever -- the tracking number will help you keep tabs on its progress.
DuckDuckGo
Free
Android/iPhone
What it does: Serves as a tracking-free search engine.
You know that Chrome's Incognito Mode isn't so incognito, right? Built in Philly, Duck Duck Go is like other search engines, but actually gives a shit about your privacy, and has a few shortcuts for getting the information you need a little bit quicker.
Thrillist
Free
iPhone
What it does: Suggests fun things to do and cool places to eat and drink.
We're sure you ALL have this already, but in case you don't, cue the shameless plug: one app detailing the best places to eat, drink, and go out, brought to you by (probably) your favorite website ever, right there when you need it. You can save the restaurants that pique your interest more easily now!
PhillyEmoji Keyboard
Free
Android/iPhone
What it does: Installs an extra keyboard with 60 Philly-themed emojis.
Though no one was holding their breath to see these in the next official emoji update, who wouldn't jump on the chance to send a soft pretzel or Rocky?
Venmo
Free
Android/iPhone
What it does: Sends money to your friends without fees.
This is the easiest way to pay people back, borrow money, and avoid getting stuck paying for the whole cab ride or take-out bill. And if you've scrolled to the end all of your other social media feeds, read through your friends' transactions to see that Charlie sent Kelsey $10 for 13 '100' emojis and 'Barolo Colon nudes.'
WXPN 88.5
Free
Android/iPhone
What it does: Streams Philly's NPR outpost, makes podcast playlists, and shows listings for all XPN concerts.
If you need your David Dye fix on a go, look no further. Stay up to date on the music scene in Philly with access to the Key music blog, concert calendar, and the tons of local artists XPN loves to promote.
Sign up here for our daily Philly email and be the first to get all the food/drink/fun in town.
Marielle Mondon is a writer from Philly who is devastatingly familiar with all these food delivery apps. See what she's up to on Twitter and Instagram @MarielleMondon.