How to Support the Asian-American Community in Philly
From AAPI nonprofits and restaurants to artists and small businesses.
Last Tuesday, eight people were killed in Atlanta-area spas, six of whom were of Asian descent. This comes after a year of racist bigotry aimed at the AAPI population, due in no small part to the former president's rhetoric when referring to the coronavirus as the "Kung flu" or "China virus." Over the last year, 3,795 hate incidents were reported to the Stop AAPI Hate Reporting Center, a nonprofit which tracks descrimination against Asian American and Pacific Islanders in the United States.
As a response to the shootings, Philadelphians gathered for a candlelit vigil in Chinatown to discuss the event's implications in our city. Here in Philly, we must also combat anti-Asian racism. There are a number of businesses and organizations that you can support in order to uplift the local AAPI community, now and always.
Donate your time and money to a local nonprofit or advocacy group
Asian Americans United is a Philly-based organization that promotes community building and social justice through youth development projects, civic engagement, and cultural events. You can volunteer your time or donate funds to support their advocacy work.
The Philadelphia Chinatown Development Corporation is dedicated to protecting and promoting the cultural hotspot, rife with the city's best dim sum houses, ramen spots, Korean barbecues, and karaoke bars. They're also responsible for popular events like the Chinatown Night Market, the annual Asian Pacific American Heritage Month Festival in Franklin Square Park, and the Chinese New Year Festival. You can volunteer with the organization or donate.
PCDC partnered with the Hall-Mercer Community Behavioral Health Center of Pennsylvania Hospital to launch the Chinese Immigrant Family Wellness Initiative. The program aims to introduce mental and emotional health practices to the Chinese immigrant community in Philly. You can volunteer to lead support groups, help with social media, or in community outreach—or donate directly.
The Cambodian Association of Greater Philadelphia works to provide social, health and education programs for Cambodian refugees and their families. Donate to help them continue supporting local immigrant families through health initiatives, youth programs, and social services.
The Asian American Chamber of Commerce of Greater Philadelphia supports local Asian American-owned businesses and helps promote them to the greater community. Throughout the pandemic, they've been helping local businesses navigate grant applications and how to adapt to the constantly changing landscape. You can donate to them online.
Philly Asian Queer is a volunteer social organization that strives to connect queer, Asian Pacific Islander people in the area. Through discussions, game and movie nights, and other events (held virtually for now), the group promotes social justice, intersectionality, and solidarity with others in the BIPOC community. Sign up for their newsletter to stay up-to-date on all happenings.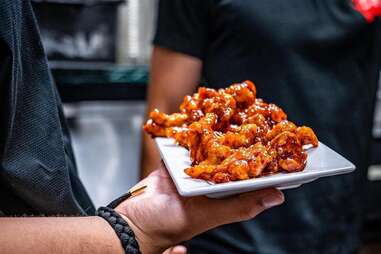 Support these AAPI-owned restaurants
Philly's reputation as a city for top-notch eats is due to the fantastic Chinese, Korean, Vietnamese, and Japanese restaurants here. Eat your way through Chinatown with dim sum at Tom's Dim Sum or Dim Sum Garden, hot pot dining at Chubby Cattle, Shaanxi cuisine at Xi'an Sizzling Woks, and Malaysian at Penang Malaysian Cuisine.
Elsewhere in the city, Sang Kee Noodle House serves up traditional noodle dishes as well as rice-based bowls and congee. Indonesian restaurant Hardena has been nationally recognized for its beef rendang and collard greens. For bibimbap and Korean barbecue, don't miss Seorabol, with locations both in Center City and Olney.
Pho lovers would be remiss not to try Thang Long, with locations in Fishtown and Kensington. If an upscale 20-course omakase experience fits the bill, head up to Fishtown and visit Hiroki.
This is by no means an exhaustive list, and for more options the Asian American Chamber of Commerce of Greater Philadelphia has a list of AAPI-owned restaurants to support in the area.
Patronize other small businesses
Using art to unify, Asian Arts Initiative hosts exhibitions spotlighting artists who identify as part of the Asian diaspora (and those working within the Asian American community), performances, artist residencies, youth workshops, and serves as a community gathering space. Make a donation to the Initiative or make an appointment to view the gallery.
Offering both skin treatments and products, live your most pampered life at Washington Ave. spa 2050's Beauty and Cosmetic. For small-batch, locally made beauty products, shop serums, masks, and more from Sabbatical Beauty.
Amid the bustle of Chinatown is the popular gift store Asia Crafts, an official retailer of Sanrio products like Hello Kitty and Chococat.
Kensington's Càphê Roasters is the first and only Vietnamese coffee roaster in the city, sourcing their beans from Vietnam as well as other Southeast and East Asian regions. Shop for beans online or at Riverwards Produce or Rowhouse Grocery, or pick up a freshly brewed cup at Federal Donuts and Queen and Rook Game Cafe.
Speak to local power players
The Mayor's Commission on Asian Pacific American Affairs consists of 25 commissioners, representing community centers like Asian Arts Initiative and Philadelphia Chinatown Development Corporation, who advise the mayor on policies important to Asian American communities in Philly. Connect with these commissioners to make your voice heard.