A New Magic Gardens Exhibit Highlights the Importance of Quiet Serenity for Black Women
"Wildest Dreams" by artist Zeinab Diomande runs until November 12.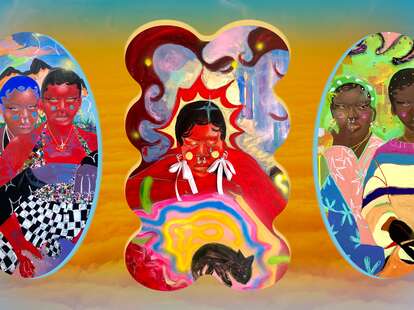 "Wildest Dreams" exhibit by artist Zeinab Diomande

| Design by Manali Doshi for Thrillist | Images courtesy Zeinab Diomande
"Wildest Dreams" exhibit by artist Zeinab Diomande

| Design by Manali Doshi for Thrillist | Images courtesy Zeinab Diomande
As a city, Philadelphia has a roughly 40 percent population of residents who identify as Black and/or of African descent, and has long been a unique hub of Black art, music, storytelling and creativity. Ranging from outdoor murals to the distinct sounds of native musicians like Jazmine Sullivan, Santigold, and Meek Mill, local Black visual art has also recently been on the rise—and further highlights Philly as a mecca for emerging talent.
On Friday, September 15, "Wildest Dreams," the solo exhibition of 24-year-old Ivorian American artist Zeinab Diomande, debuts at Magic Gardens, one of Philly's best-known landmarks, which constitutes a labyrinthine mosaic garden and an indoor gallery space on South Street.
Visitors entering the front gallery in Magic Gardens will find themselves immersed in vivid paintings against bright yellow walls before experiencing a sudden vibe switch as they cross the threshold into the smaller back gallery, which has a "nighttime starry atmosphere", according to Chelsey Luster, the Exhibitions Manager at Magic Gardens who curated the exhibition.
Showcasing surrealist self-portraits that glow with ethereal colors and drawing viewers into an almost psychedelic fantasy, Diomande's work spotlights Black women in states of leisure and relaxation without the stresses and pressure of laboring for others.
"Black women for the most part are always in motion, always asked to do things, to be the savior and fix things," says Diomande, who was born in Virginia in 1999 and lived on the Ivory Coast for most of her life, before studying at the University of the Arts in Center City.
"And I feel like the simple act of staying still is almost taking that power back: 'Like okay. I don't need to be on the go 24/7, I don't need to heal others. I need to heal myself first, and that's fine.'"
The figures in Diomande's paintings are in repose, standing still, or gently closing their eyes, and the bright kaleidoscopic colors have an overall soothing effect on viewers. While grappling with her identity crisis as an immigrant and the wider dehumanization that Black women are generally forced to confront, the element of fantasy in Diomande's paintings seeks to restore a sense of lost innocence through imagination and escapism.
"I feel like Black children always have their innocence stripped away from them, and I think I'm trying to give my inner child back the innocence she didn't fully have," says Diomande, adding that her artwork is also a personal process of therapeutic healing for her.
"Wildest Dreams" will be on view at Magic Gardens until November 12. The opening reception on Friday, September 15, is pay-as-you-wish. On Tuesday, September 19, Talk & Tour with Zeinab Diomande includes a behind-the-scenes tour and Q&A with the artist for $15 per ticket.
Iman Sultan is a Thrillist contributor.