Everything You Need to Know About Legal Weed in Pennsylvania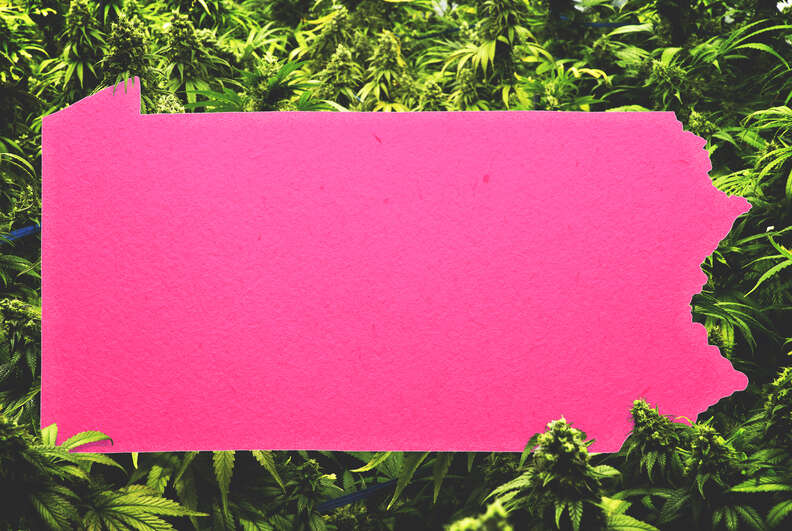 Last week, my Uber driver tried to sell me some weed; or, more specifically, he tried to sell me something called "Orange Monkey Creamsicle," assuring me it was "absolute fire." I declined, but ended up saving his phone number anyway, figuring that it couldn't hurt.
While it's true that Pennsylvania legalized medical marijuana back in 2016, recreational use remains out of reach (although an upcoming bill could change that). When it comes to buying weed, most people -- even many of those who actually have a prescription -- are still relying on the old, shady methods. So, don't plan on deleting your dealer's number anytime soon.
That being said, change rarely happens all at once, and the Medical Marijuana Program (signed into law on April 17, 2016), was undoubtedly a step in the right direction. But how big a step? To get a sense of how much movement has been made on Pennsylvania's weed front, I spoke with some experts on all things cannabis: Chris Goldstein, who teaches "Marijuana in the News" at Temple University and writes the Philly420 column for Philly.com, and Russ Cersosimo, chairman of the Pennsylvania Medical Cannabis Society. These bud pundits walked me through the ins and outs of legal weed in the Keystone State.
What qualifies me to get a prescription for marijuana?
Let's be clear at the outset: don't expect to waltz into your doctor's office, lay down some keywords about back pain, and then walk out with a pot script. It doesn't work like that. Like most states, access to medical weed in Pennsylvania is limited to serious -- and, in some cases, terminal -- conditions.
There are currently 17 qualifying conditions under the Pennsylvania Medical Marijuana Act, ranging from cancer and HIV/AIDS, to Crohn's disease and multiple sclerosis, to epilepsy. True, "chronic pain" makes the list, but you'd likely have to undergo some forms of conventional physical therapy before someone cleared you for a weed card.
Goldstein, the Temple U professor, noted that Pennsylvania was pretty innovative with two of its qualifying conditions -- Autism and Post-Traumatic Stress Disorder -- as the state was "one of the first" to add those to the list. See the full list of qualifying conditions here.
How many doctors offer cannabis prescriptions?
Maybe you can chalk it up to "Reefer Madness" stigma, or maybe there's just too much red tape at the moment, but Pennsylvania is suffering from a dearth of pot doctors. There are roughly 475 doctors approved to recommend cannabis therapy in the entire state -- out of about 56,000 physicians, estimates Goldstein. That's a massive disparity.
Part of the problem is that doctors have to register with the Department of Health and then complete a four-hour training program. For many physicians, the process doesn't seem worth the hassle. According to Russ Cersosimo of the Medical Cannabis Society, what's happening is "you have a slower patient onboarding rate because patients are having a hard time finding a doctor that's close to them."
Doctor scarcity could very well be contributing to Pennsylvania's seemingly low medical cannabis cardholder numbers, which hover around 7,000, out more than 26,000 registrants. In most states with medical pot programs, like Michigan, "any doctor can write a cannabis recommendation," said Goldstein. "That's why there are more than 205,000 registered patients in Michigan."
All that being said, the PA state website does provide a list of approved doctors. That would be a good place to start your search.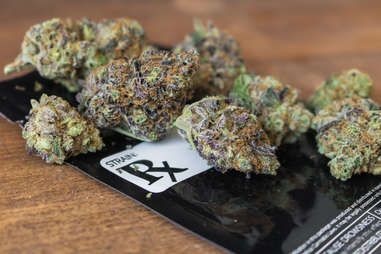 How can I actually get a medical marijuana card?
Allowing that you have one of the qualifying conditions and have also located a doctor on the physician registry, the process for obtaining a weed card is relatively pain-free. The first step is to create a profile on PA's Patients and Caregivers Registry; next, visit one of those approved doctors and get them to certify that you have one of the 17 qualifying conditions. Then, return to the online registry and submit payment for your medical marijuana ID card, which should run you about $50.
After that, you're off and running to the nearest dispensary.
Where are the dispensaries, and what can I buy?
Give or take a few, there are about 15 medical marijuana dispensaries open in Pennsylvania at the time of this writing, with even more in the process of opening. But don't expect the vibe of a California pot shop.
First and foremost, there is no actual flower (cannabis plant material) sold in Pennsylvania dispensaries. Fortunately, that sad fact may be changing within a year or so, now that the state's Medical Marijuana Advisory Board has voted to recommend the sale of dry leaves. So there's hope. For the time being, though, all products in PA dispensaries are concentrated resins and oils. This is very much a no-smoke situation, meaning nothing sold at the weed counter is bong-friendly, and you won't be rolling it in a blunt or joint.
However, the state is pro-vaping, so you'll be able to pick up vape-pen cartridges. Among the many other forms of weed sold in pot shops are pills, creams, ointments, tinctures, and liquids. There's also "shatter," a highly potent, glassy form of cannabis concentrate that sort of looks like the tree sap from Jurassic Park, minus the mosquito. You can learn more about shatter in our comprehensive guide to cannabis concentrates, and the dabbers who use them.
How much does medical marijuana cost?
Dispensary weed is expensive -- exorbitantly so. Medical cannabis in Pennsylvania is selling for anywhere between $60 and $144 per gram, according to Goldstein. That's right, per gram; we're talking anywhere from five to seven times the price of street weed, depending on the product. "The price is really where it gets most crazy," said Goldstein, who also referred to the state's medical marijuana law as "one of the most restrictive in the country." That's not counting Texas, though.
Will my insurance cover medical weed?
Nope. Everything pot-related must be paid for out-of-pocket, including the physician consultations, the marijuana card fee, and the product itself. That's why many dispensaries aren't seeing a ton of repeat customers right now; most patients just don't have that kind of scratch, especially not if they're already facing enormous medical bills.
There's also a bit of a weed shortage right now
Pennsylvania's medical weed rollout hasn't exactly been smooth. Right now, out of the roughly 18 licensed growers/processors in the state, only two are online and supplying dispensaries. This translates to a low -- or, in some cases, non-existent -- inventory. As Goldstein put it, "dispensaries have so few products that the low patient population has already sold them out."
But there's good news! The state advisory board's recent vote to recommend the sale of flower could mean an increase in product and a decrease in price.
The reason for this is pretty obvious: growing/processing the plant is simply faster and cheaper than growing the plant and then extracting its psychoactive chemicals. Once the state embraces dry leaves, the situation should greatly improve.
"Pennsylvania's really progressive, and they're starting to move and think about the patients," said Cersosimo of the MCS. "With the [potential] addition of flower, it could be less of a cost for the patient. Because those additional processing costs aren't being tacked on."
When will recreational weed be legal in Pennsylvania?
It's hard to say, but there are reasons to be cautiously optimistic. Even with all the current hiccups, PA's medical marijuana industry continues to evolve -- and that evolution could very well accelerate if the state goes blue in the upcoming midterm elections, Goldstein said.
Plus, if we look at Philadelphia there's even more reason to have faith. Back in 2014, the city implemented a landmark decriminalization policy, which resulted in police officers scaling back on possession-related arrests, and focusing instead on issuing citations for the most part. The result? Possession-related arrests have plummeted in Philly. By the end of 2017, pot arrests were down 75 percent.
Riding this wave of change, in 2017 Philly voters elected an unorthodox new District Attorney, Larry Krasner, who recently announced his office was deprioritizing simple pot possession. In that same announcement, Krasner directed his assistant district attorneys to drop possession charges against a whopping 51 people. Governor Tom Wolf has even said he's open to "taking a serious look at legalizing recreational marijuana." Philly's still a long way from being Amsterdam, but this is a hell of a start.
Statewide, there are plenty of kinks to work out when it comes to marijuana, but the future looks promising. And, if Philly is setting the pace for the state -- and we hope that it is -- then widespread recreational use may not be such a distant dream after all.
Sign up here for our daily Philly email and be the first to get all the food/drink/fun Philadelphia has to offer.
Dutch Godshalk is a writer living in Philadelphia. His words have appeared in
Men's Health
,
The Guardian
,
Billy Penn
,
Time Out London
, and various other media outlets. Follow him on Twitter: @DutchGodshalk.