Everyone You'll Inevitably Meet at a Phillies Game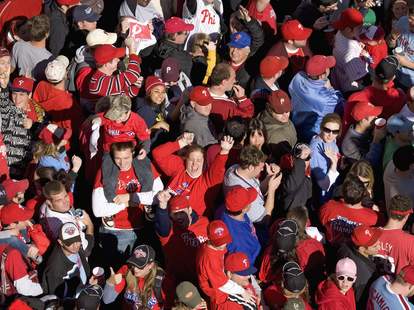 <a href="http://www.shutterstock.com/gallery-978674p1.html?cr=00&pl=edit-00">Joseph Sohm</a> / shutterstock
If you had to rank the cities with the most... lively... sports fans, Philadelphia would invariably top the list. Win or lose (and there has been quite a bit of losing), you can always count on the hardcore fans to turn out for games as the baseball season wanes. Aside from the diehards, you're likely to find a gaggle of other characters who, for better or for worse, play their own part in characterizing our rambunctious city. These are the people you'll inevitably come across at a home game.
1. High schoolers tailgating to country music
Usually with the music blaring out of cars waaaaay nicer than yours.
The real pros know to grab some before the National Anthem even starts.
<a href="http://www.shutterstock.com/gallery-978674p1.html?cr=00&pl=edit-00">Joseph Sohm</a> / shutterstock
3. Sad soul wearing an opposing team's jersey
We have to admit, that takes some courage. Or sheer stupidity. If nothing else, it has the potential to awaken the darkest depths of Philly fandom, such as...
4. The sloppy nostalgist
Hey, at least it's not all Phillies fans at this point! This person may very likely be wearing a 2008 World Series T-shirt and shouting, "When was the last time you won a World Series?" always confident it was before 2008, as time has stopped moving forward since then and will not restart until the Phillies are again World Series champs.
5. The believer
The believer isn't so much nostalgic as they are calculating. No matter how badly the team plays, The Believer has spent many hours pouring over articles and team stats to solidify their hypothesis as to when the Phillies will play in and/or win the World Series again.
6. The couple getting engaged on the jumbotron
… always accompanied by the troll people rooting for the proposee to say no.
<a href="http://www.shutterstock.com/gallery-77601p1.html?cr=00&pl=edit-00">Aspen Photo</a> / shutterstock
7. Ball girl superfans
Not to be trusted. Ball girl is just doing her job.
8. VIP suite regulars
These people know the good life: clean personal bathrooms, an ensuite bar, tall glass that separates them from the normies like zoo animals, and monogrammed Phillies sweater vests.
9. Confused person wearing an Eagles shirt
It's Philly-related, so they thought it would pass.
10. The College Night attendee
This lucky 18-year-old just got to Philly for their freshman years at St. Joe's/Temple/Villanova and got free Phillies tickets through their dorm building. Even better is they probably got to take a free shuttle to the game.
11. The dedicated book filler
Typically an old timer who's filling out the scorebook, counting balls and strikes at every single at bat.
12. The overdressed socialite
They came to the Phillies game to BE SEEN, which involves wearing uncomfortably tall shoes and spending more time primping than the actual game takes, which is saying something because baseball games can feel endless. They may also be wearing a form of "sexy" Phillies merch.
13. The young parents whose kid only cares about the Phillie Phanatic
Maybe mom or dad had hopes that their child was sentient enough to pick up on what was going on in the actual game, or maybe they thought it would help inspire their kid to sign up for little league earlier... but really, their kid only cares about figuring out what green animal the Phillie Phanatic is supposed to be.
14. The angsty bros
The angsty bros are fueled by excessive 'tailgating,' which is code for slamming lite beer in a parking lot, or, if they're out of school and have moved onto their respective finance gigs, dropping way too much cash on stadium Victory and Shock Tops. This will exacerbate the bros' latent angst, which they will make known by telling at any visible fans of the opposing team how much they suck at record volume, even as the Phillies are 10 games below .500.
<a href="http://www.shutterstock.com/gallery-503323p1.html?cr=00&pl=edit-00">Donald B. Kravitz, DBKphoto</a> / shutterstock
15. "I'll cheer for that" fans
They just came for the beer and food. They probably know very little about baseball. When other people cheer, they too will cheer. When other people boo, they too will boo. When they settle into their seats with beer and crab fries in hand you might hear them exclaim, "I just love Philly!" And who can blame them? They just wanted to have a good time with their friends, y'know?
16. Dollar dog night regulars
They come in groups with one goal: to eat more $1 hot dogs than each other. They also probably own a personalized jersey with their own last names on the back.
17. Fair-weather fans you won't see for a while
They were all over Citizens Bank Park from 2007 to 2010. You may see them again some day, and if the Phillies ever win another World Series, they will be among the most obnoxious during the victory parade.
<a href="http://www.shutterstock.com/gallery-978674p1.html?cr=00&pl=edit-00">Joseph Sohm</a> / shutterstock
18. Serious fans who show up even when it hurts
These are the ride-or-die Phillies fans who are nothing if not loyal to a fault. Season after season, even after disappointment persists, these people are why Philly has a rep for churning out the most intense fans around.
Sign up here for our daily Philly email and be the first to get all the food/drink/fun in town.
Marielle Mondon is a writer from Philly who is usually No. 15. Follow her @MarielleMondon on Twitter and Instagram.