Every Type of Eagles Fan You'll See at the Linc
Jed Jacobsohn/Getty Images Sport/Getty Images
Eagles fans just can't win. They are extremely passionate, yet often that passion is (perhaps correctly) construed as psychosis. Channeling Donovan McNabb's passive-aggressive behavior and Terrell Owens' flamboyant attitude, Eagles fans are both frustrated and hopeful. They have grown accustomed to losing, but that doesn't make them losers. No, they win every time their Birds take flight, and they aren't afraid to voice that swagger. Inevitably, these are the real-life diehards and outlandish characters you'll see at every home game.
1. The Face Painter Who Thinks He's in a Seinfeld Episode
You know the type. Delco's Shaun Young put them and Section 128 on the sports map. They make a ritual of it, making sure one side is the perfect shade of green (midnight green, to be exact) and lined evenly with metallic silver on the other cheek. Add a little eye black and shoulder pads, and you'll be seeing the devil faster than Elaine Benes.
2. The D5 Destroyer
Something special happens in Lot D5. Colin Ashmore -- anchored by his brother, Peter, and father, Frank the Tank -- have been serving up tequila shots while yelling, "MDK" and "Red Rum" at every single game since 2003. Each tailgate has a theme, complete with an ice luge and Christmas tree for the holidays. These days, they bring the ruckus out of a van emblazoned with logos and tributes to past greats. Their original short green bus has been retired and immortalized on the Eagles Mural over by Jetro on Darien St.
3. The Fan Who Forgot He's Not At Home
Wearing enemy gear at the Linc is a profile in courage. Some are harmless; others deserve their comeuppance. For example, we have no sympathy for someone donning a Troy Aikman jersey. To the guy wearing a Braylon Edwards' replica and fumbling a case of Budweiser: c'mon, as if being a Browns fan wasn't bad enough.
4. The "There's Always Next Year" Fans
This fan has likely held season tickets for 40+ years and rarely leaves their seat during the entirety of the game. He wears a "lucky" fisherman's hat he bought at Franklin Field during the 1960 NFL Championship. She shows off the "charmed" knee-high kelly green Eagles socks she made her dad buy for her during the 2002 NFC Championship at the Vet. How can you have a "lucky" anything if your franchise has never won the Super Bowl? Easy -- you have Tim Tebow levels of faith and end every sentence by saying, "wait until next year."
5. The Brawler (aka The Bro)
No, we're not talking about the Yards beer. This guy starts tailgating around 8am -- no matter if kickoff is at 1pm, 4pm, or 8:30pm. He shotguns cheap beers until he's 11 sheets to the wind -- 11 shots, one each for the number of QB Carson Wentz -- and looking to fight anything that moves. By halftime, he's back in the parking lot after being tossed out for picking a fight with a trash can. Good job, bro!
6. The Sign Man
Sign Man is a longtime season ticket holder whose words of wisdom are inscribed on white parchment that spans an entire row, near Section 120. The sign doubles as a barometer for the team and its fans, going all the way back to the days at Veterans Stadium. In 2012, he was asked by security to take his sign down after posting: "Andy, Quit, Your Team Has." Apparently freedom of expression only applies in the Linc when your message is under a certain size.
7. The Boy Who Cried "Dallas Sucks"
This frustrated fan constantly reminds everyone that "Dallas Sucks." Yelling random insults at every TV timeout. Never mind the fact that the Birds aren't even playing the Cowboys. It doesn't matter. They threw snowballs at Jimmy Johnson and booed Luis Zendejas, then bought a souvenir "Dallas Sucks" T-shirt in the parking lot. Why? Because win or lose, Dallas always sucks.
8. The American Idol
We all love the Eagles fight song and can recite it on demand at any time -- it's the ultimate test of a Philadelphian's fandom. But some guys take it one step too far. You know this guy. He probably lives next door to you. He sings it at the bar. He whistles it at the grocery store. He starts a chorus at the strip club. He yells it into the phone when his girlfriend calls. E-A-G-L-E-S!!!!
9. The "True American"
We proud Philadelphians have long had a sterling reputation for being patriotic. We start impromptu "USA" chants when Joe Biden sneezes or when Jon Dorenbos does a magic trick. But this is the guy that hustles to his seat before kickoff so he doesn't miss Timmy Kelly sing the National Anthem, hanging on to each lyric with his hand clenched over his heart, lecturing everyone in the section about taking their caps off.
10. The Bird Men
Adorned in a glistening green cape, custom tights, and a personalized helmet, Birdman was a fixture at the Vet. He would fly around the stadium, literally squawking E-A-G-L-E-S cheers out of his golden beak and chin strap. You couldn't miss him. You didn't want to miss him. While Birdman has since flown the coop, his legacy lives on through a series of imitators. Earlier this season, we went bird watching and spotted a fan with a painted Eagle protruding from his chest.
11. The Guy Who Puts His Last Name on His Jersey
You walked in on this guy ordering a blank Eagles jersey from the NFL team store, using dial-up internet in his mom's basement, then took it down to Triple Play Sports to get his real last name stamped on the back of it, even though he has never played a single snap in his life. It was the most exciting day of his life. This is only slightly worse than putting "Rocky" on your jersey.
12. The Overwrought Football Foodies
There are some Birds fans that are content with stopping at WaWa on their way. Then, you have the amateur chefs -- those that slave over brisket for 48 hours and arrive at the tailgate with a meat-laden buffet. We're talking short rib chili, buffalo wings, wild boar ribs, pulled pork, and, yes, a full-on pig roast. The flames from the spit are dually useful for burning those old Terrell Owens and DeSean Jackson jerseys.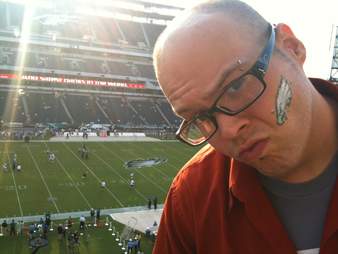 Flickr/Drew Olanoff
13. The View Blocker
It's a delicate balance once inside the friendly confines of the Linc -- when do you sit? When do you stand? The ushers do a good job limiting foot traffic in between plays. Once in your seat, it is important to practice proper etiquette. But there's always one guy who leaps up and blocks your view of that Darren Sproles' punt return for a touchdown. You officially have permission to kick his chair for the rest of the game.
14. The Hometown Hero
This guy is the world's biggest Birds fan; he even has the foam finger to prove it. The team can do no wrong. Every season is a fresh slate and the Super Bowl is forever attainable. He thought Nick Foles was Joe Montana. He even bought a Nnamdi Asomugha jersey. He'll cheer just as loud for a first down as he will for a touchdown. This is by far the guy to have in your section when you're in desperate need of any ray of positivity.
Sign up here for our daily Philly email and be the first to get all the food/drink/fun in town.
Mike Greger is a lifelong Birds fan who recently bought a Cris Carter throwback jersey. He firmly believes that Dallas does indeed "suck" and ironically blames not winning a Super Bowl on Sylvester Stallone. Follow him as he attempts to drink every "Citywide" in Philly @mike_greger and follow his sports blog @PhillySportsJab.