Fun Things to Do in Philly After Dark (That Aren't Bar Hopping)
Philly's endless array of exciting restaurants and revelrous bars make it easy to stay busy once the sun goes down; we all know this. Sometimes, though, you get a hankering for nightlife activities that are a bit more unique, cultural, interactive, and exciting -- like firing up a 5,000-degree blowtorch, entering a hatchet-throwing competition, or hanging out with Thomas Jefferson. Lucky for you, being in Philly is already the main ingredient for a fun night out that goes beyond posting up at a bar… and we've rounded up some solid nightlife options to get your evenings started.
Sneak into Independence Hall and eavesdrop on our founding fathers
Center City
If there was ever a city where you'd wanna time travel back to 1776, Philadelphia would be it. Watch the birth of our nation unfold during an exclusive Independence After Hours walking tour. The event begins with an 18th-century-esque dinner at City Tavern, followed by a behind-the-scenes trip to Independence Hall, where you'll witness Thomas Jefferson, John Adams, and Ben Franklin deliberating the Declaration of Independence in the flesh. Tickets are $85, and you should definitely book in advance.
Shout "yaaaaas queen" at a dynamic drag show
Rittenhouse Square
Since 1969, Bob and Barbara's Lounge has been home to Philly's longest-running drag show. The "lounge" has more of a lived-in bar feel, and is famous for its cheap beer-and-a-shot order (known locally as "The Special"). Every Thursday night, you're guaranteed to be singing and dancing along with the fabulous Lisa Lisa and her energetic crew until 2am.
Jump around at Glow, a blacklight trampoline disco
Northeast Philly
Leave your stilettos at home and slip on some grippy socks -- the club is jumpin', jumpin'! Every Friday and Saturday from 9-11pm, Skyzone Trampoline Park in Northeast Philly transforms into a blacklight off-the-walls dance party where you can take clubbing to new heights. Glow sessions cost $25, and you'll be bouncing around, doing flips, and soaring into the foam pit as music blasts and lasers fly.
Fishtown
Feeling lucky? Take a chance at the only casino in Philadelphia proper, situated right on the Delaware River. It's open 24 hours a day, so you have the whole night to cover ground: Pull the slots, spin the wheels, play the table games, dine at one of four on-site restaurants, and enjoy free waterfront entertainment and special live concerts. It's bound to be a winning evening -- even if you're $500 in the hole by the end of the night, with no clue how it happened.
Spring Garden
Formerly known as the Electric Factory, this historic Spring Garden concert venue is now under new management (and thus a new name, sans Ben Franklin's face on the building) -- but the show will go on! The 3,000-seat locale always has a great lineup of musical acts with something for everyone; upcoming shows include Lost 80s Live, Ja Rule, Jessie J, Moon Taxi, Dark Star Orchestra, and a ton more.
Old Town
Philly's historic Old Town is now energetic, brimming with art galleries, shops, studios, and delicious restaurants. It's also where the epicness of First Friday takes place every month: 40+ galleries open their doors to the public (for free, all year), encouraging visitors to immerse themselves in downtown's vibrant art and cultural exhibits. Mix, mingle, and enjoy live entertainment, free drinks, sidewalk crowds, and top-notch people watching from 5-9pm. The event's hotspots are located between Front and Third streets, and Market and Vine streets.
Center City
Indulge yourself (and maybe a date) by booking a room in the nation's first skyscraper. The luxury hotel is smack dab in the middle of Center City, but you won't have to leave the premises for a cultural experience. Their Past, Present, Philadelphia social media scavenger hunt allows you to explore and discover five of the hotel's historic hot spots; tag #LowesPhilly and score a complimentary Secret Knock cocktail from Bank & Bourbon. Before turning in for the night, be sure to head up to the 33rd floor to gawk at the entire cityscape.
Blowtorch glass treasures with a 5,000-degree flame
Bella Vista
The Jim Loewer Glass Co. lampworking studio offers evening private and group lessons in glass blowing for all skill levels ($150 per person; $270 for two people). You'll learn the art form's basic techniques, like heating and manipulating rods of clear and colorful glass, all by blowing your own pendant, paperweight, or ornament to life. Can't handle the (blowtorch) heat? Jim invites you to sit back in the studio, BYOB, and watch him work his magic. Pro tip: Check Groupon and LivingSocial for class discounts before you book.
Pedal your way through a pub crawl on a 15-passenger bike
Various locations
The infamous Big Red Pedal Tours are essentially al fresco city bus tours, except you're drinking beer, bumping your own playlist, and pedaling -- because you're riding a massive bike instead (don't worry, your driver will steer). Once the sun sets, recruit a big crew (it's more fun that way) and embark on one of six neighborhood-themed, two-hour pub crawls, making stops at notorious Philly watering holes like McGillin's,Fishtown Brewpub, Milk Boy, and Paddy Whacks. You can also bring your own food aboard to fuel up (or satiate the drunk munchies). Tickets are $25 a pop on weekdays, and $29 on weekends.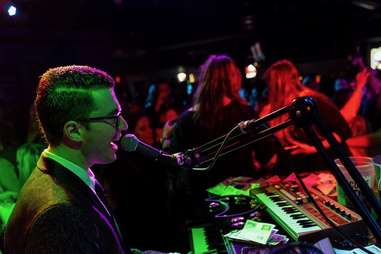 Rittenhouse Square
Scrap whatever low-key idea comes to mind when you hear the word "piano bar." Philly's Howl at the Moon is the perfect spot to get after it like you're 22, order a boozy bucket drink, and dance your heart out in the club to live cover music. The talented pianists duke it out on the keys and take even the most obscure requests (leave a nice tip and they'll play your jam sooner). Yes, there will be crowds and a few bachelorette parties, but you'll forget all about it once you hear the first note of blink-182's "What's My Age Again?"
Get tipsy while learning about strange science
Logan Square
Travel through time, concoct potions (and cocktails), and learn something new at The Franklin Institute's monthly series Science After Hours. From 7-10pm, adults (21+) can indulge their curiosity with impressive demos, hands-on exhibits, games, performances, and more. Upcoming events on tap include: Speakeasy, Wizard School, and Holiday Bizarre. Tickets are $20 ($15 for members) and should definitely be purchased in advance -- every series sells out fast.
Enjoy entertainment on America's largest revitalized brownfield
Lehigh Valley
Looking to escape the city hustle and bustle for an evening? Take a drive to the Lehigh Valley's Bethlehem, Pennsylvania, less than an hour outside of the city -- you'll find endless nightlife entertainment and culture at the ArtsQuest Center at SteelStacks, situated amongst ruins of the former Bethlehem Steel. The industrial-meets-modern grounds are home to tons of big events from comedy shows, concerts, Oktoberfest, art classes, tours, films, and more. If you're staying the night, lodge up somewhere equally historic, like the Sayre Mansion or Historic Hotel Bethlehem.
Hit a bullseye in an ax-throwing competition
Center City
Because dart practice won't help you survive a zombie apocalypse, step up your ax-chucking game at Urban Axes, a Center City hotspot. Roll deep with a group and try your hatchet hand in a 2 1/2 tournament, which includes one-on-one instruction with coaches and equipment ($35 per person, book in advance); or, walk in for an hour-long session with a few friends ($20 per person). Bring your own booze (beer and wine only), food (it's down the street from Pizza Brain, just sayin'), and ax if you want -- you know, if you have one of those lying around in your city apartment. Also, note that it's a cashless facility.
Mini golf and Skee-Ball (and beer) at Keystone
South Kensington
Grab your friends for a round of 18 holes on this eclectic indoor-outdoor mini golf course that lets you BYOB. Then, let your inner '90s kid out to play at the arcade with a few games of PacMan, Skee-Ball, and other retro faves. This place's quirky funhouse vibe sets the scene for a casually perfect end-of-week-night activity.
Knock down pins (& beers) until 2am
Center City & Northern Liberties
You've got a few options for nighttime 10-pin in Philly. Opt for a bowling/clubbing combo at Lucky Strike, with two floors of entertainment that includes 24 lanes, a DJ, billiards, pingpong, cocktail specials, and actually good chef-style food. There's also North Bowl, a former mechanic's garage turned '50s-retro-chic nightlife eden. It's a bowling alley and then some, outfitted with all the works: two bars, an upstairs semi-private lounge with pool tables, arcade games, and ample space for sprawling.
Rittenhouse Square
The Adrienne Theater in Center City is home to the Philly Improv Theater (PHIT), which offers improv, sketch, and stand-up comedy shows and classes seven days a week. Intro workshops are free, and show tickets are very reasonable (about $10-15). Thanks to the unscripted nature of improv, no two performances are ever alike -- so, essentially, every night is opening night.
Sign up here for our daily Philly email and be the first to get all the food/drink/fun in town.